Guide to floating floor over tiles
Discover how to fit a floating floor over tile with our easy-to-follow guide. Explore the world of floating floors with pros and cons, step by step guides and tips.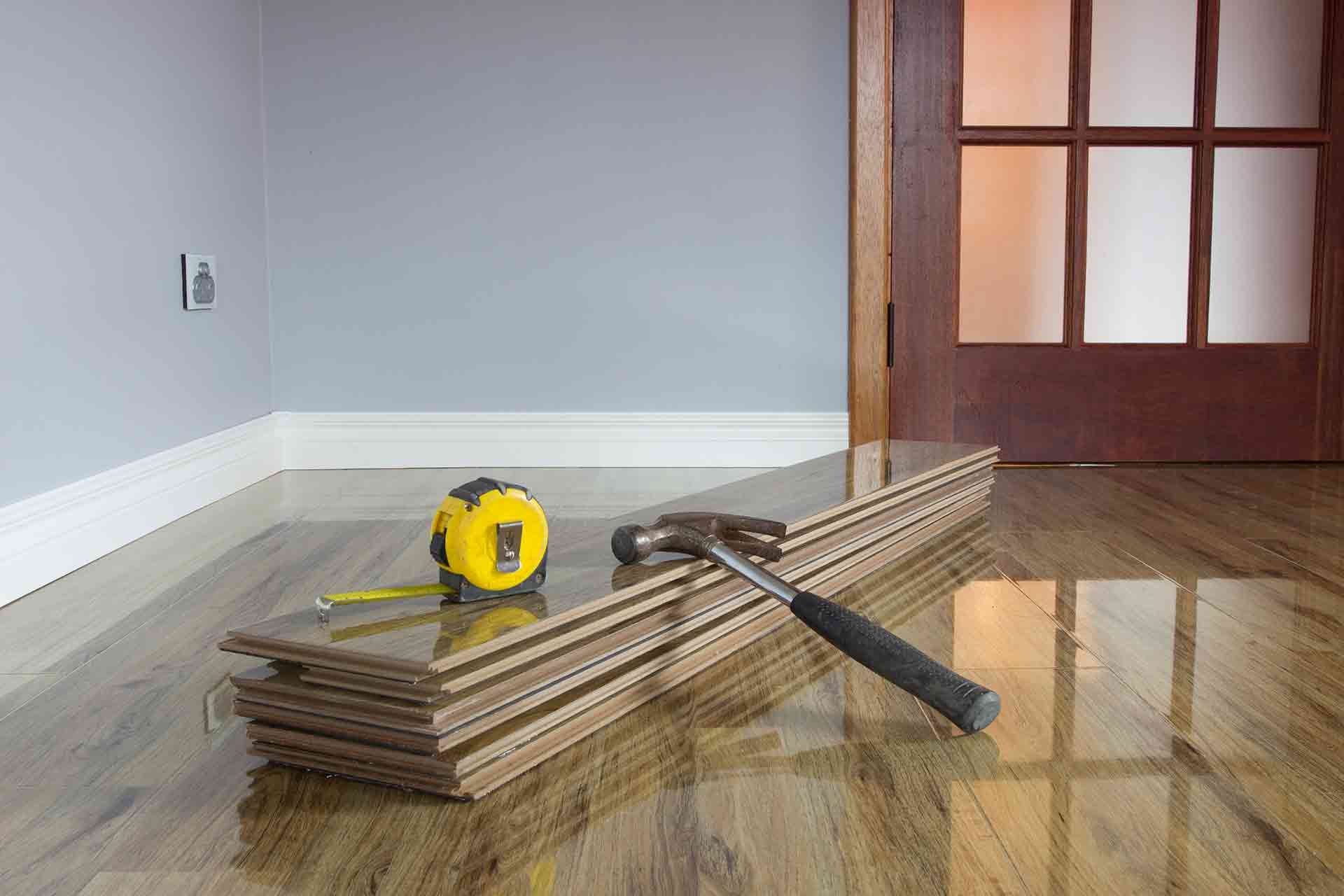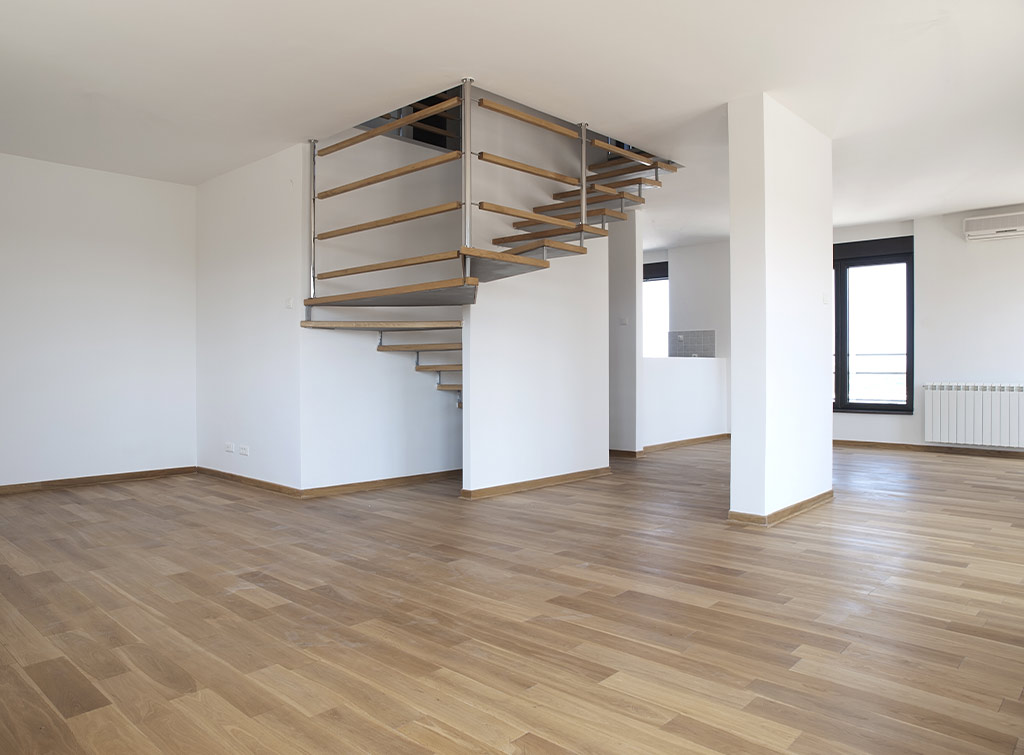 It's amazing that just by installing new flooring you can completely transform your home. Changing your flooring can add a touch of class, comfort, design and even colour to an otherwise plain room. One particular type of flooring that is becoming more popular is floating flooring.
This type of flooring can be laid over different types of surface, such as installing floating flooring over tiles. Not only will this save on the cost of professional installers, but floating flooring is also quick and easy to lay, especially if you choose laminate planks. This guide includes a range of step-by-step projects to follow as well as everything you need to know about floating floors.
What is a floating floor over tile?
Most traditional floors are nailed or glued to an absorbent base material like underlay or screeding. This is where floating floors differ, they are usually comprised of planks or boards that can be locked together creating a flat, level surface. They are called floating floors because they are not nailed or glued down, allowing for expansion and contraction during different seasons.
A 'floating floor over tile' is used when your current flooring is comprised of tiles. A sheet of underlayment or a levelling compound is used to cover the tiles and any cracks, then the floating floor is fitted above this. Most floating floors are made of laminate, luxury vinyl or wood.
See the tradespeople we've checked and recommend for your job
Pros and cons of installing a floating floor over tile
Floating floors are often given a bad reputation and are seen as inferior to other types of flooring due to the way they are installed. However, this opinion is quickly shifting thanks to advancements in quality.
Whether or not floating flooring is a good choice for you will depend on your requirements. If you are wondering about the pros and cons of a floating floor over tile, see below:
Pros: Easy and quick installation, quite affordable and less adhesive being used means floating floors are more environmentally friendly than other options.
Cons: May be noisy to walk on and can sound hollow, may also reduce the value of your home and can't be refinished.
Preparing to install floating wood floor over tile
When laying any floating wood floor over tile it's important to ensure the tiles are in good condition before proceeding. If your tiles are loose, cracked or damaged, you may need to remove all of the tiles and install your floating floor from scratch.
For any minor holes or cracks, you can use filler to create a smooth even surface for your floating floor. It's also a good idea to use a levelling compound to cover your tiles and any cracks, this will help your floating floor last longer and look great. Finally, make sure you only lay floating flooring on a level base.
How to install floating wood floor over ceramic tile
Ok, so you are ready to install your new floating wood floor. Firstly, you will need:
Engineered wood flooring planks
Foam underlay
Flush-cut dovetail saw
Pry bar
Adhesive
Once you have gathered everything you need, follow the below steps to lay a floating wood floor over ceramic tile:
Trim the bottom of any doors that will come into contact with your floating floor to allow them to open and shut easily.
Lay your foam sheet of underlay onto the old flooring. Trim to size.
Begin laying your wood planks. Use spacers to keep an even distance from your wall.
Glue the planks together as you go and remember to stagger the different pieces of wood.
You may need to trim the last row of planks to fit the remaining space in your room.
Finally, use a pry bar to fit the last row of your floating floor.
See the tradespeople we've checked and recommend for your job
Installing a floating laminate floor over tile
In addition to engineered wood and luxury vinyl flooring, you can also install a floating laminate floor over tile. This is a great option for bathrooms as it can get wet, unlike wood flooring.
Laminate floating floors are also more affordable and easier to install than many other types of flooring. Remember, before even attempting to install a floating laminate floor over tile, the tiles themselves must be in good condition. Follow the below tips for great results:
Check that your doors and fixtures won't be affected by the extra height from a floating floor.
Use a levelling compound to create an even, flat surface.
Add underlayment. Top tip: Underlayment creates a watertight, thermally efficient, padded barrier under your laminate flooring.
Lay your chosen laminate planks.
Further help
While we hope using our step-by-step instructions will help to guide you through this project, there are a few tricky steps to follow. If at any point you are unsure how to proceed, we would recommend hiring an expert to assist you.
It's never a good idea to just muddle through a DIY job or your risk making things worse. Plus, remember there is no shame in asking for help. Why not use our free search feature to find experienced professionals in your area today?
How much does flooring cost to be installed by a professional?
If you would prefer to get your laminate or wood floor installed by a tradesperson, you will need to pay for labour as well as materials. Hiring a professional will guarantee great results that will be long lasting.
The average cost of laminate floor installation is £20 per m2 for materials and £175 fitting cost per day. Alternatively, the average cost of engineered wood floor installation is £35 per m2 for materials and £22.50 per m2 for fitting.
To learn more about professional floor installation, please see our laminate flooring fitting cost guide and our wooden flooring cost guide.