Guide to green roofs
Thinking of installing a green roof? It's such an exciting idea, to have a roof that is bursting with life and greenery rather than plain old tiles or slates. Green roofs offer lots of benefits, from helping to insulate your home to boosting biodiversity. Here, we'll cover everything you need to know about green roofs, including the pros, cons, costs and other considerations.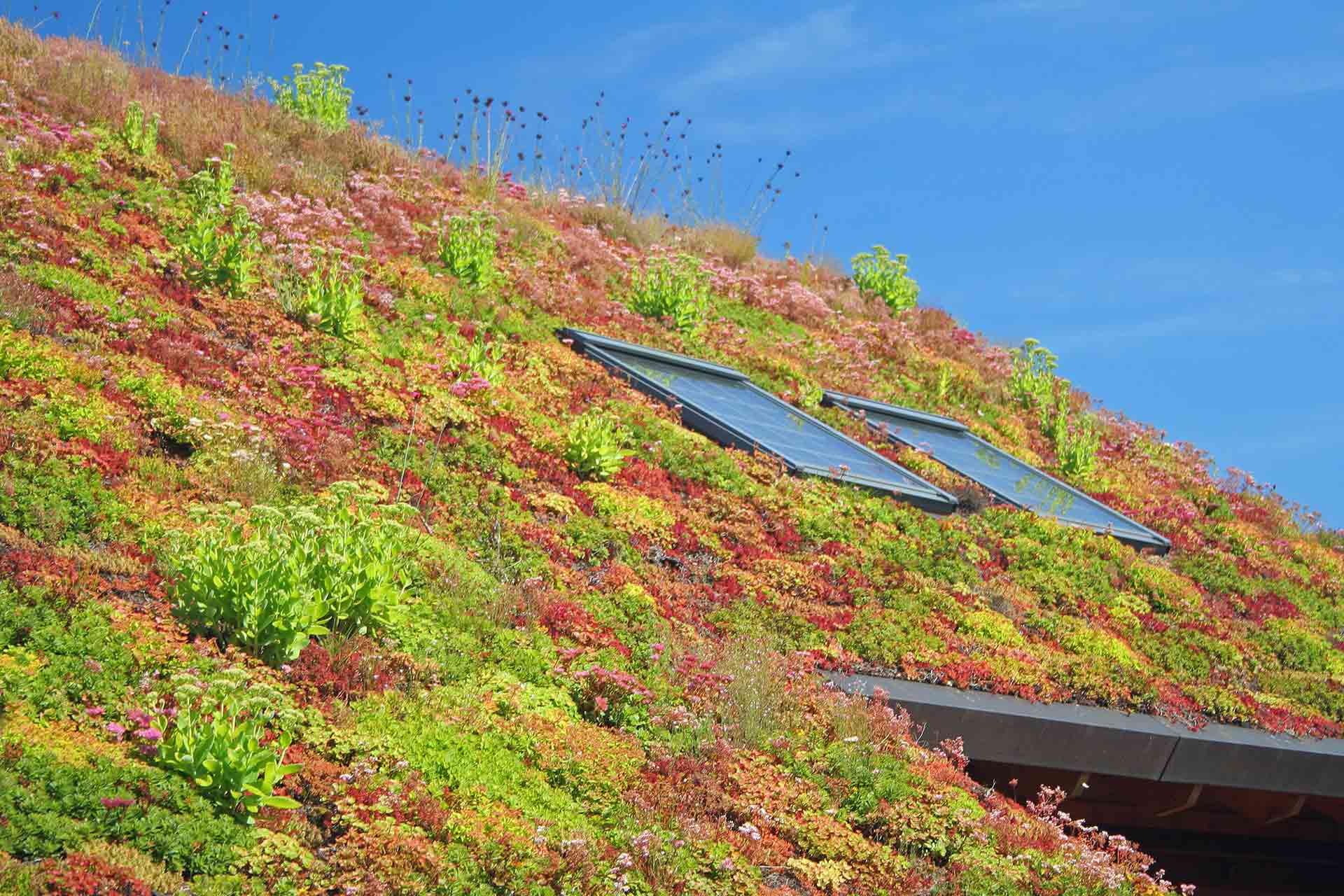 Thinking of installing a green roof? It's a great eco-friendly alternative to traditional plain tiles and slate options. Green roofs offer lots of benefits, from helping to insulate your home to boosting biodiversity. But there are also lots of things to consider. Installing a green roof is a big project, and it needs to be done properly or you could face problems further down the line.
Read on for the complete guide to green roofs, including the pros, cons, costs and other considerations.
What is a green roof?

A green roof is pretty much what it says on the tin. It's the roof of a property that is partially or wholly covered with vegetation. They aren't a new invention, as grass, turf and plants have been used to protect properties from the elements all the way back to Viking times.
They aren't so common in our towns and cities, but there are signs this is changing – especially in Europe. Green roofs offer many benefits for the environment, for homes and their energy requirements and for cities as a whole.
What is green roof technology?
A green roof is a mini-ecosystem. To work well, a green roof needs to be carefully designed and properly installed. This is where green roof technology comes in, where the roof is installed in layers – each with a different purpose. This includes the growing medium for the plants, waterproofing to protect the structure of the property and a system for irrigation and drainage.
Starting at the existing roofline and working our way up, here's what green roof technology consists of:
The roof structure
A waterproof layer
Multiple protective layers (for further waterproofing and to protect against root ingress)
A drainage layer
The filter sheet
The growing medium or substrate
Your plants and vegetation
See the tradespeople we've checked and recommend for your job
Types of green roof
There are two main types of green roof – intensive and extensive. The main difference between the two is whether or not people can access and walk on the roof.
In an intensive system, you're essentially creating a roof garden. This can be used for growing food, or for leisure purposes. Depending on the space available, it may have similar features to a traditional garden or park, such as trees, lawns and paving.
Extensive green roofs are not designed to be walked on. These are more common in residential properties, especially in urban areas where space is limited. Extensive systems are designed to improve biodiversity, insulation and offer other benefits, but without direct access.
Intensive roofs are thicker, heavier and can support a wider range of different plants.
See the tradespeople we've checked and recommend for your job
Benefits of a green roof
Green roofs offer many benefits for homeowners, the environment and towns and cities too. Here are just a few:
Provides a natural habitat for plants, animals and insects – helping to boost biodiversity and improve local ecology.
Utilises space for nature that would otherwise be left empty.
Reduces the risk of flooding by retaining rainfall and reducing the amount of water running off the roof into the drains.
Improves local air quality. The vegetation will help to reduce pollutants, dust particles and CO2, replacing it with oxygen during the photosynthesis process.
Helps to reduce the 'urban heat island effect', the difference in temperature between cities and surrounding countryside. A green roof can help to absorb some of this heat and both cool and humidify the air.
Reducing your energy bills and the running costs of your building, by providing thermal insulation.
Making it easier to get planning consent – many local authorities are keen for more buildings to have green roofs.
Increasing the value of your property, especially when the green roof can be used as a rooftop garden.
Noise reduction.
Protecting the waterproofing of your home from thermal movement and UV damage.
Disadvantages of green roofs
Like any roof system, green roofs do have their drawbacks too. Here are just a few things to think about:
Initial cost – green roofs can be more expensive to install than standard roof types.
Increase in the weight load – requiring additional structural support.
The potential risk of waterproofing, drainage or irrigation systems failing.
At least some maintenance may be required, depending on which plants you choose.
Green roof alternatives
If you don't want to green your whole roof, there are a few alternatives. These include installing a green roof on a garage or other ground-level structure, or a 'cool roof'. This is made from roofing material that is highly reflective to heat, although it offers none of the other benefits that a green roof does.
You could also consider having plantlife and vegetation in pots on an ordinary flat roof. This isn't considered to be a proper green roof and doesn't offer many of the same benefits. However, it can help you to create a food-growing space and encourage pollinators.
See the tradespeople we've checked and recommend for your job
How to make a green roof
Love the idea of a green roof? The first and most important thing to do is to consult an expert to help you plan your project. You need to make sure the structure of your property can support the extra weight, choose the right plants and make sure that all drainage, irrigation and waterproofing systems are in place.
Use our free search feature to find a green roof specialist near you.
Guide to green roof costs
The cost of a green roof varies depending on a number of factors. For example, the size of the roof, whether you choose an intensive or extensive roof and the quality and quantity of plants. Take a look here for an idea of the average green roof cost.
What plants should I choose?
It's really important to select the right plants for your green roof. Not just any old greenery will do. It's a smart idea to consult an expert for advice on plants that will help to manage water levels, suit the UK climate and require as little maintenance as possible.
You may also want to choose plants to help meet your specific aims, such as boosting biodiversity, encouraging pollinators or simply to create the most aesthetically pleasing green roof.
Common types of plants used for green roofs include:
Low-growing succulents
Herbaceous perennials, including flowering plants for seasonal interest
Turf and grasses.
Takeaways:
Green roofs require careful planning, but they can be valuable assets for any home.
You may pay more for a green roof initially, but they can pay for themselves over time due to their insulating and energy-saving qualities.
A green roof doesn't just benefit you – it has advantages for your neighbours and local wildlife too.