A guide to new bathrooms: design, planning and cost help
Discover our handy guide to new bathroom installation. We cover how to plan and design your new bathroom with prices, timescales and inspiration.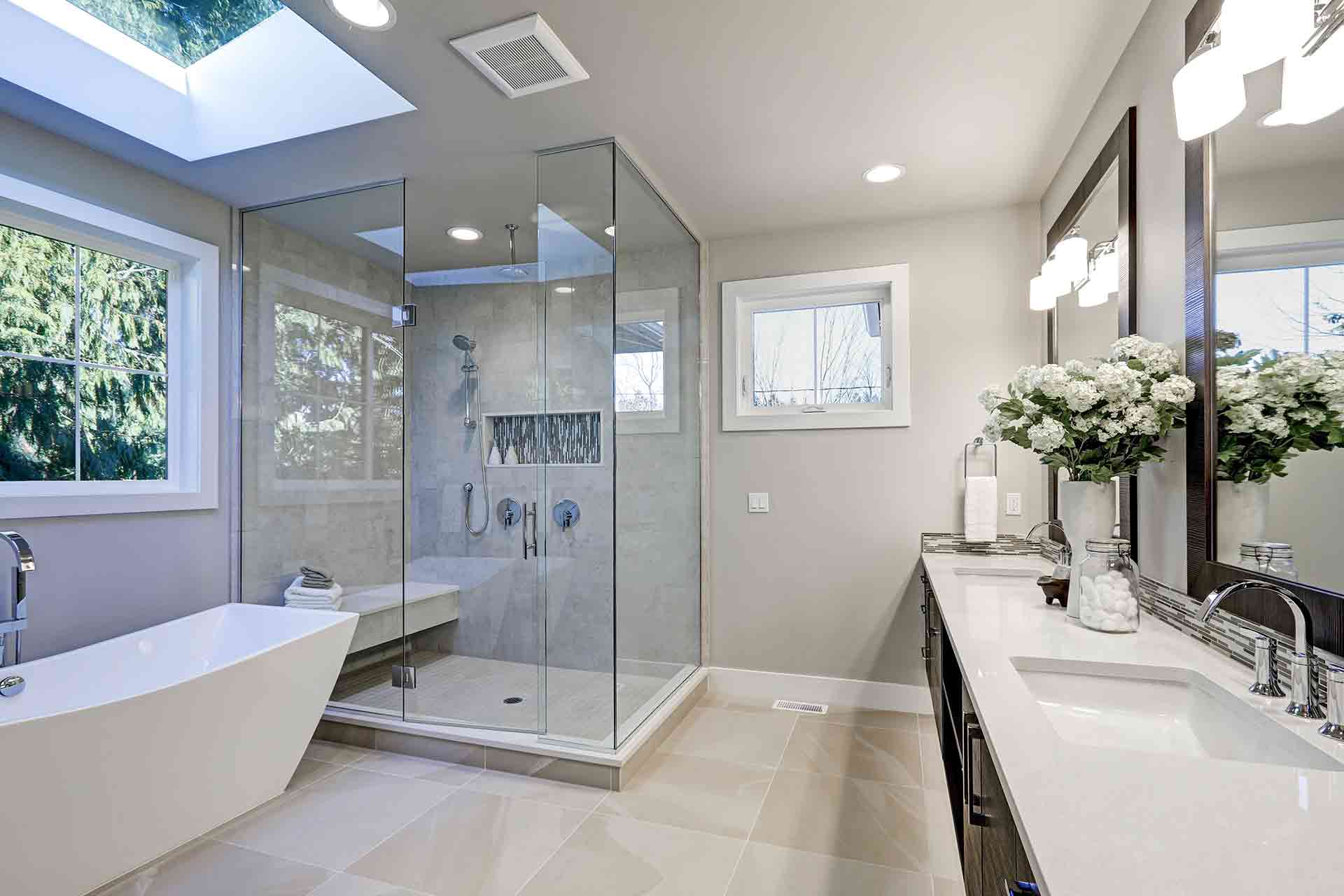 We've come a long way from when outhouses were used and now our bathrooms are a key part of our home's design scheme. Plus, when it's time to sell your home, one of the main things buyers look for is multiple, clean and well-designed bathrooms. So, when it comes to installing your new bathroom, it makes sense to take the time to plan ahead for great results.
Whether you're looking for new bathroom ideas, are considering adding an entirely new bathroom, or you're curious about installation times and costs, keep reading to learn more.
Planning a new bathroom in the UK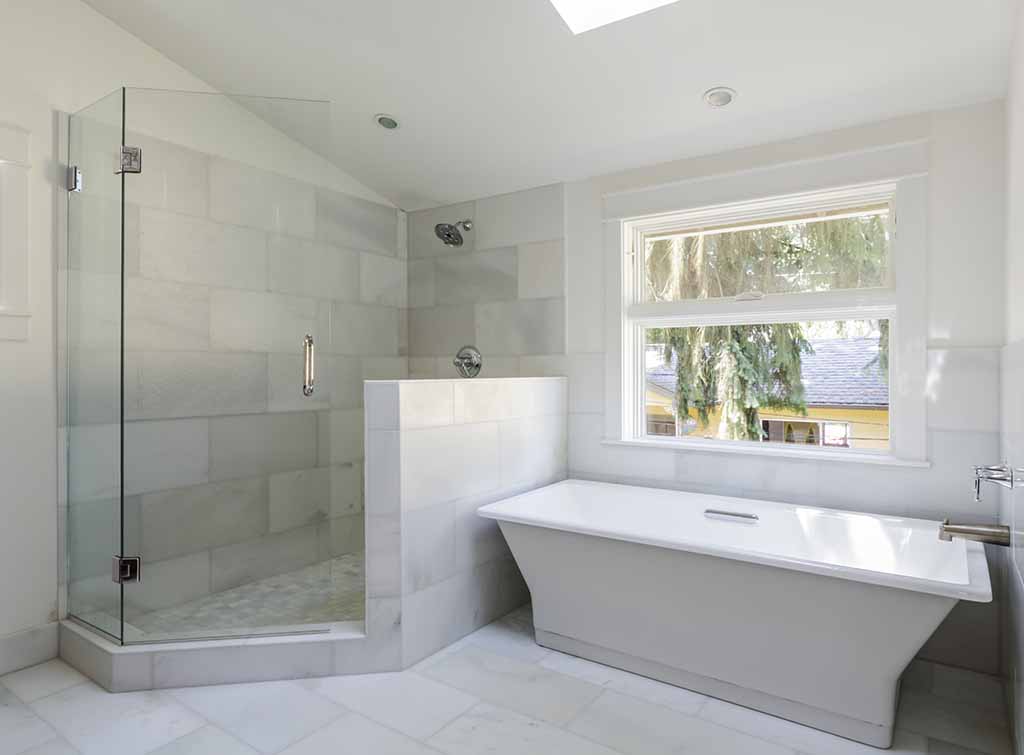 When planning your new UK bathroom, you'll need to do a little research to optimise the design of this essential room. It's important to build a space that's practical and aesthetically pleasing as this is a room you'll use every day. What's more, each homeowner has different requirements so creating a new bathroom that works for you is key.
For example, if you have young children then owning a bath is a non-negotiable, whereas if you and your partner plan to use the bathroom together, having twin basins may be essential to you. One of the best ways to build a functional bathroom is to ask an expert to create a 3D model of the space to help you visualise the finished room.
There are a few key steps to planning a new UK bathroom, as follows:
Accurately measure the room
Plan your new bathroom layout
Decide on a design scheme (more on this coming up)
Choose fixtures that work for you
How to choose a new bathroom design
There are so many colours, styles and designs to choose from when building a new bathroom. This means that no matter your interior design style, you'll be able to find the perfect bathroom for you.
Choosing a new bathroom design doesn't need to be complicated and time consuming. In fact, using the below tips can help to make this part of the decision-making process a breeze:
Look at the design style of the rest of your home. Your bathroom is an extension of your home so flow from room to room is important. Remember, your rooms don't need to be exactly the same, just repeating small details and colours can help tie your home together.
Consider how you'll use your new bathroom. For example, a family bathroom should be decorated very differently to a private, spa like bathroom.
Decide on what elements to incorporate in your new bathroom. The list of options is long, including baths, sinks, toilets, showers, storage and more.
Take a little time to plan how lighting will fit in with your new bathroom design. Adding lighting can totally transform a dull bathroom, making it feel light and spacious.
Once you have the foundations (tiles, flooring etc.) for your bathroom, consider how adding details and finishing touches can enhance the space.
See the tradespeople we've checked and recommend for your job
Finding new bathroom ideas, styles and designs
When it comes to finding inspiration for new bathroom styles, the latest shower designs, new bathroom tiles designs and more, there's a range of different options available to you. We'd recommend looking online and creating either a digital or real-life vision board to give you a rough idea of where to start.
There are many articles and magazines that can give you inspiration, but to find the best bathroom remodel ideas, check out our bathroom ideas guide. With current new bathroom design ideas, plus tips for modern, small and grey bathrooms, this guide is an excellent resource.
How long does a new bathroom installation take?
Fitting a new bathroom isn't always a time-consuming process that drags on for weeks. In fact, if you just choose to have new flooring or wall tiles fitted, your new bathroom installation may only take a couple of days.
It's quite difficult to give an accurate timescale for the installation of your new bathroom as this depends on a range of factors including:
Size of the bathroom
How much you are changing
How easy it is to access your bathroom
Whether you are adding new lighting, ventilation or heating
Whether any new pipework needs to be done
Considering all these variables, your new bathroom installation may take any time from days to weeks.
How much does a new bathroom cost?
In truth, the cost of your new bathroom will mainly depend on the options you choose and the size of your bathroom. This means that the price range is broad; from thousands to tens of thousands of pounds. It all depends on the products your choose, the style of bathroom, the size of it, and if you're hiring a professional to fit it all.
If you just need a new toilet fitted, this could cost an average of £150. A full bathroom renovation however will cost an average of £4,500. For more details about the cost of a new bathroom and factors that affect prices, please see our new bathroom cost guide.
New bathroom cost calculator
The best way to estimate the amount of funds you'll need to save is to use a new bathroom cost calculator. You'll need to choose from a range of different options such as bath tubs, shower heads & types, floor & wall options, mirrors and everything else you need in your bathroom. By looking at the products you want, you can get a rough price for the products and materials needed.
Labour on the other hand is an additional cost and will widely vary. We recommend reaching out to at least three tradespeople to get accurate quotes.
See the tradespeople we've checked and recommend for your job
Professional new bathroom installation
When it comes to fitting your new bathroom, it's highly likely you'll need the assistance of multiple tradespeople. Of course, you always have the option of doing the work yourself but be aware that even small mistakes could create a leak that causes untold damage to your home. If you want your bathroom to be fitted to the highest standards, we'd recommend hiring an expert.
This will give you the reassurance that your home is in safe hands and your bathroom will stand the test of time. Our handy search engine is the best way to find a variety of local professionals in seconds. You can even see customer reviews and testimonials before you pick the right tradesperson for your project.
If you feel you need more guidance on bathroom renovation or picking the best worker for your job, the HomeOwners Alliance website is packed with helpful tips and information.
Which tradespeople should you use for the job?
The type of tradesperson you need for your new bathroom installation will depend on which aspects of the room you are altering or replacing. If you're completely rearranging the room, you'll definitely need a plumber to alter your existing pipework. But when it comes to tiling, most general builders and plasterers will be well suited to the job. If you're changing your lights then you'll need an electrician.
Alternatively, if you're having an entirely new bathroom installed, hiring a bathroom fitter is the best option.