Pros and cons of hardwood flooring
Love the look of hardwood floors, but don't know which species or type to choose? Read on for a handy guide to the pros and cons of hardwood flooring, so that you can choose the right option for your home.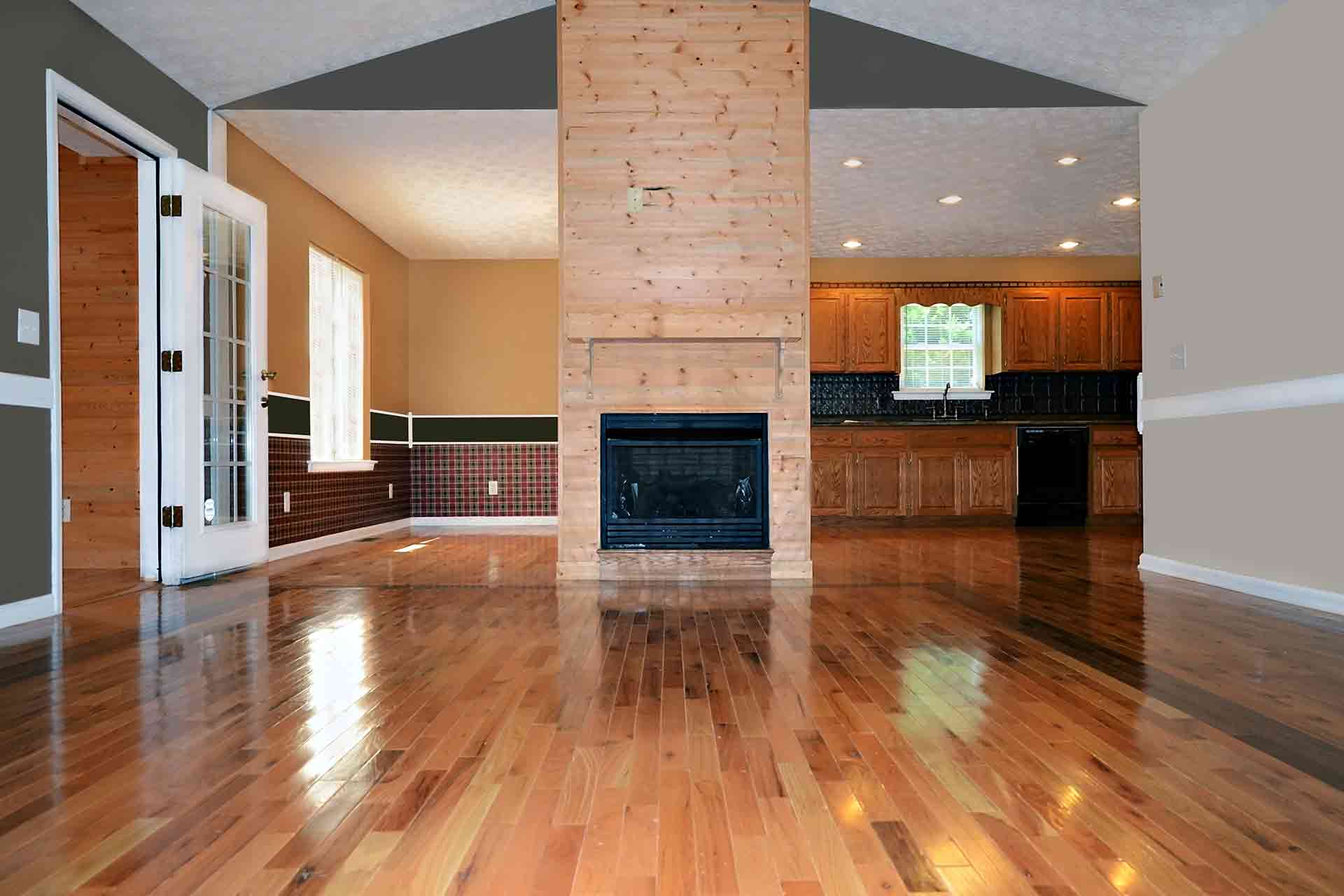 Love the look of hardwood floors, but don't know which species or type to choose?

Read on for a handy guide to the pros and cons of hardwood flooring, so that you can choose the right option for your home. We'll look at each species of wood in turn, including everything from oak and bamboo to exotic species such as Brazilian teak.
Types of hardwood floors – pros and cons
There are many species of wood used for hardwood floors, each with their own qualities and properties. And of course, benefits and drawbacks.
Let's take a look at the most popular types of hardwood floors, with a handy at-a-glance list of pros and cons for each.
Oak hardwood flooring pros and cons
Oak is a popular choice for hardwood flooring, as it looks good, lasts a long time and has bags of character.
Pros:
Oak hardwood looks great – it has knots, grains and attractive patterns which add to its characterful appeal.
Available in all kinds of shades, including white and natural to red and very dark.
Stability – oak is one of the most stable hardwoods.
Durability and toughness – oak floors can last for centuries if properly maintained.
Versatility – oak works well in both traditional and contemporary homes and can be easily stained in your preferred shade.
Widely available – this can make it a little cheaper than other hardwood flooring types.
Offers a decent level of water resistance.
Cons:
A little noisy compared to materials such as cork floors or carpets which have soundproofing qualities.
Oak is stable but is still prone to expanding and contracting due to changes in temperature and humidity.
See the tradespeople we've checked and recommend for your job
Maple hardwood floors pros and cons
Maple floors are another popular choice in modern homes. This tree species produces lighter, latte-coloured floorboards, with a predictable pattern and a less pronounced grain.
Pros:
Beautiful creamy colour and natural appearance.
Ideal for contemporary homes.
Hard and highly durable.
Able to withstand high footfall.
Naturally water-resistant.
Cons:
Limited variety of colours compared to oak.
Higher price tag for designer styles, such as rippled velvet.
More difficult to apply stain to maple, as it's less porous than other woods.
Pine hardwood flooring pros and cons
Pine isn't really a hardwood species, as it's a conifer with a low hardness score, which technically makes it a softwood. However, you can still buy pine wood floors, and they have many attractive properties.
Pros:
A sustainable choice compared to other wood species, as pine is easy to grow.
An attractive uniform, linear grain.
Easy to stain with your choice of colours – this is why it's often sold unfinished.
Durable – when properly maintained, pine will last for decades.
Lower cost.
Cons:
Pine is quite soft, which makes it very susceptible to wear and tear.
Not as water-resistant as other wood species.
Pine floors will require finishing.
Regular maintenance (re-sanding and finishing) is a must.
See the tradespeople we've checked and recommend for your job
Hardwood bamboo flooring pros and cons

Bamboo flooring is made from a fast-growing type of grass. When made into flooring, it has a grain pattern and texture that makes it look quite similar to natural hardwood.
Pros:
A more environmentally friendly and sustainable choice, as bamboo grows much faster than hardwood trees.
Tough and durable (even tougher than oak).
Good for people with allergies, as it repels dust, pollen and dust mites.
Water-resistant
Easy to keep clean.
Cons:
Some bamboo floors are made using toxic substances, which release small quantities of volatile organic chemicals (VOCs) into the atmosphere.
Not fully waterproof – a soaking could result in warping or damage.
Bamboo floors are tough, but they're still prone to scratching.
Brazilian teak hardwood flooring pros and cons
This exotic species of hardwood isn't actually teak, or even related to teak. But it does look quite similar, hence its name. Brazilian teak has a minimal grain and is known to be a super strong species of hardwood.
Pros:
Extremely strong and hard, in fact, Brazilian teak is considered to be one of the most durable wood floor choices on the planet.
Beautiful reddish-brown colour range.
Luxurious appearance.
Not as expensive as you may think, as there are ample supplies available.
Reasonably sustainable, as many supplies of Brazilian teak are responsibly sourced through forestry management schemes.
Cons:
Resistance to stains and adhesives which makes it potentially difficult to work with or customise.
Can expand or contract due to weather or humidity changes.
See the tradespeople we've checked and recommend for your job
Hickory hardwood flooring pros and cons
Hickory is a characterful wood species, with an interesting pattern, varied grain and a wide range of hues. It offers a rustic look, perfect for traditional homes.
Pros:
A unique grain and pattern variety offers a unique and characterful look.
Wide range of light, natural tones – making it easier to find the perfect hue for your decor.
Not too expensive – it costs more than oak, but not as much as other characterful wood species.
Ideal for traditional or 'rustic' homes.
Can be easily customised with stains.
Hard and durable.
Requires little maintenance.
Quite resistant to water damage and humidity changes.
Cons:
Some people find the pattern of hickory boards too 'busy'.
Doesn't always work in contemporary or minimalist spaces.
High cost compared to species such as oak, but less expensive than exotic hardwoods.
The hardness of hickory can make DIY installation difficult.
Not the most sustainable choice – as some hickory species have been or currently are close to 'endangered' status.
Engineered hardwood floors pros and cons
Engineered wood floors offer the best of both worlds, with the beautiful look of natural hardwood, but with added practicality and stability. They're made using other wood-derived materials, glued together with a layer of 100% real wood on the surface.
Pros:
Lower price than traditional hardwood.
Great-looking, as it can effectively mimic the appearance of a wide range of exotic and high-end hardwoods.
Greater temperature and moisture resistance.
Can be used with water-fed underfloor heating.
Cons:
Still requires some maintenance.
Potentially weak and unstable if bought from a manufacturer which uses cheap materials to make engineered wood boards, so, always do your homework to find a good quality supplier.
Engineered flooring can still fade or scratch like hardwood flooring.
See the tradespeople we've checked and recommend for your job
Hand scraped hardwood flooring pros and cons
Hand scraped hardwood floors are made from solid or engineered hardwood, which is finished with a specialist distressed look. This is carried out through hand scraping, which creates tiny dents, splits and curves on the surface. This creates an attractive texture and rustic or vintage look.
Pros:
Offers a rustic and characterful look – each board has a unique appearance.
Hides flaws in the wood – including scratches, marks and wear and tear.
Ideal for high traffic areas.
Can be stained with any colour of your choice.
Cons:
Can't be re-sanded or refinished without having to repeat the whole distressing technique.
Can be more difficult to clean.
Potentially more expensive than other floor types due to the labour-intensive finishing process.
Locking hardwood flooring pros and cons

Locking or click-lock hardwood floors are usually manufactured with tongue and groove edges. This is to make installation as simple as possible.
Pros:
Fast, easy installation, with no need for adhesive, glue or nailing.
Simple repairs, as a damaged board can be easily replaced.
Available in a range of wood species.
Reasonably cheap to buy.
Cons:
Limited installation options as some locking hardwood floors are specially designed for floating floors.
Requires a perfectly prepared subfloor and underlayment.
Can sometimes have a hollow, less solid feeling underfoot.
See the tradespeople we've checked and recommend for your job
How much is hardwood flooring?
Made up your mind? If you've got a wood species in mind, the next step is to buy it. To help you manage your budget as you start shopping, take a look at our handy guide to the average cost of hardwood flooring.
How to lay hardwood flooring
Some types of hardwood flooring, such as locking or click-lock floors, can potentially be installed by an amateur with some woodworking or DIY experience. But for the best finish, it's usually a good idea to bring in a professional.
An expert will lay the right underlay and prepare for the floor, before nailing, glueing or otherwise installing your boards. They can even stain, seal, gloss and finish your floors so that they fit perfectly, look beautiful and stand the test of time.
See the tradespeople we've checked and recommend for your job
Key considerations when choosing hardwood floors:
Durability, strength and hardness
Resistance to wear and tear
Water and humidity resistance
Maintenance requirements
Price
Appearance.