Tiled skirting boards: Is this stylish new design trend for you?
Timber is out, tiled skirting boards are in. Everyone is loving the new design trend on the block, but is it right for you? See how they look in bathrooms and in other areas of your home.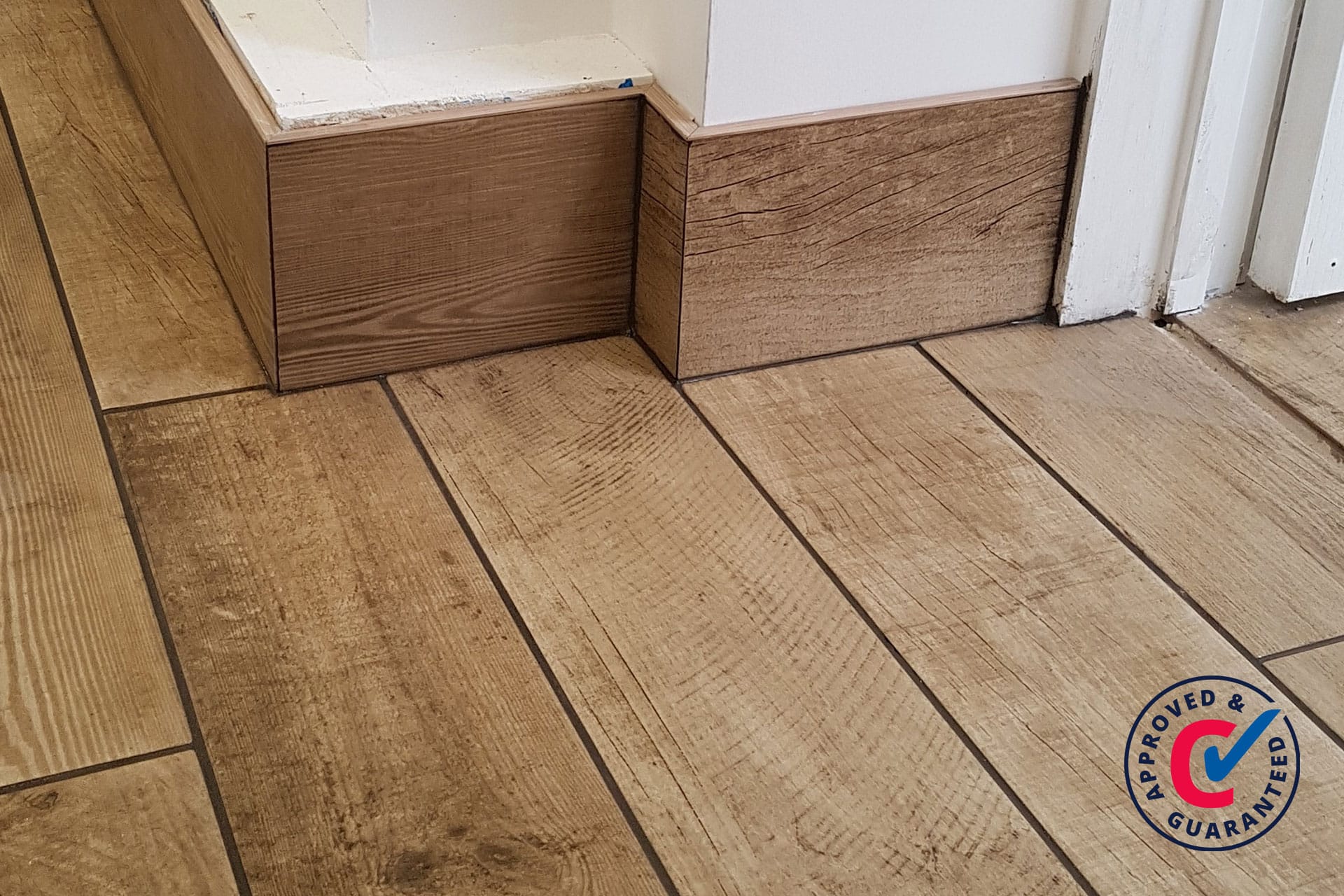 Tiled skirting boards are a durable and water-resistant alternative to wood boards. They're perfect for high-traffic areas and places where lots of splashes and spills occur, such as your kitchen or bathroom.
As they're a relatively new trend, getting some ideas about what look you can go for, how best to use them, and what materials suit each room is hard to come by.
Thankfully, our guide has everything you need to know. Read about what to consider when it comes to tiled skirting boards and how to get this stylish finish in your home.
Read on for our expert advice and top tips for making a statement in any room.
Can you use tiles as skirting?
Yes you can!
Check out the tiled skriting board one of our Checkatrade tradespeople completed.
Tiled skirting for your bathroom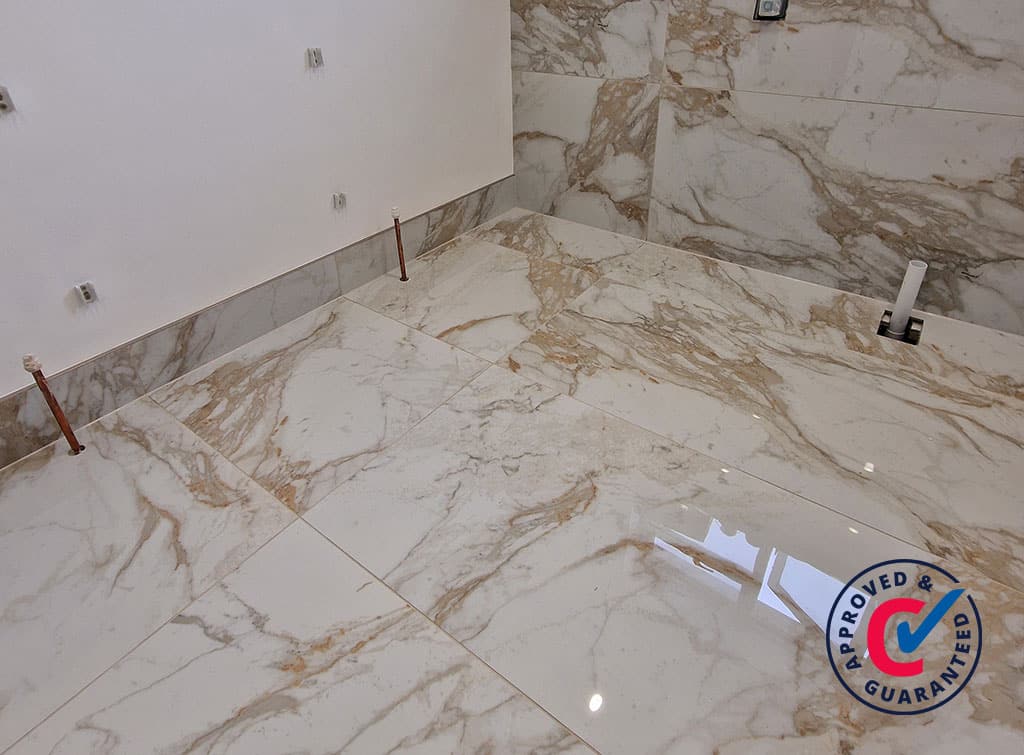 Your bathroom is one room that will benefit the most from tiled skirting, minimising the likelihood of warping or damp. Forget having to change your skirting every few years. Install a tiled border and enjoy the peace of mind their durability offers.
Checkatrade member, Gerard at GR Tiling, shared with us a project of his where there was a tiled floor with tiled skirting. It looks so nice!
This is what Gerard had to say about his tiled skirting: "You can see how I wrapped the vein of the white floor tile onto the skirting tile. It looks a lot better like this."
Looks awesome, here's another picture of his tiled skirting for his client's bathroom.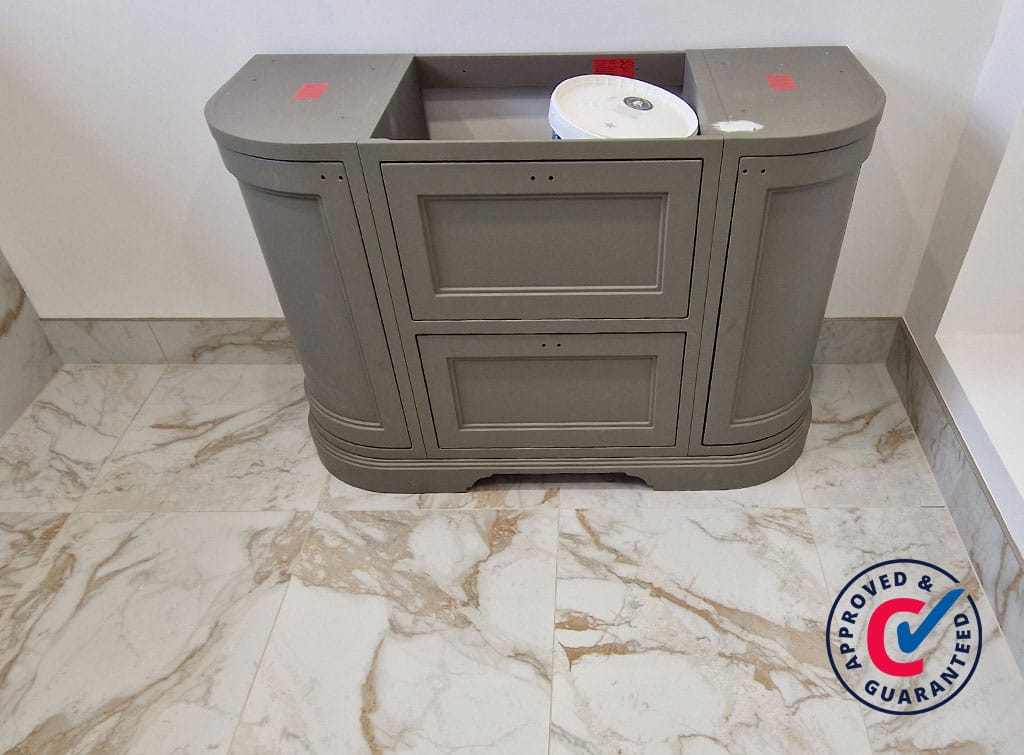 Designs of tiled skirting
When it comes to the design, there are a few ways to go.
Most bathrooms with tiled floors match their tiled skirting for a 'boxed in' aesthetic. Either use similar wood, stone or marble effects as your floor, or cut your floor tiles to the desired border size and use them for your skirting instead.
Tile skirting height
The height of your skirting boards is up to you. Opt for a short border and paint your walls a cleansing colour for a traditional look. Alternatively, tile halfway up your wall for a modern aesthetic and an extra waterproofing benefit.
Or, tile your entire room for a classic wetroom finish.
Curved skirting tiles
Create shapes and interest in your bathroom with curved tiles. Consider placing them around an awkward corner on the floor, a flourish around pipes and fittings, or bordering your top line to demarcate between the wall and your tiled skirting.
Curved tiles are also great for walls that concave or convex, allowing you to seamlessly create a neat and tidy border.
See the tradespeople we've checked and recommend for your job
The best ways to add tiled skirting boards to your kitchen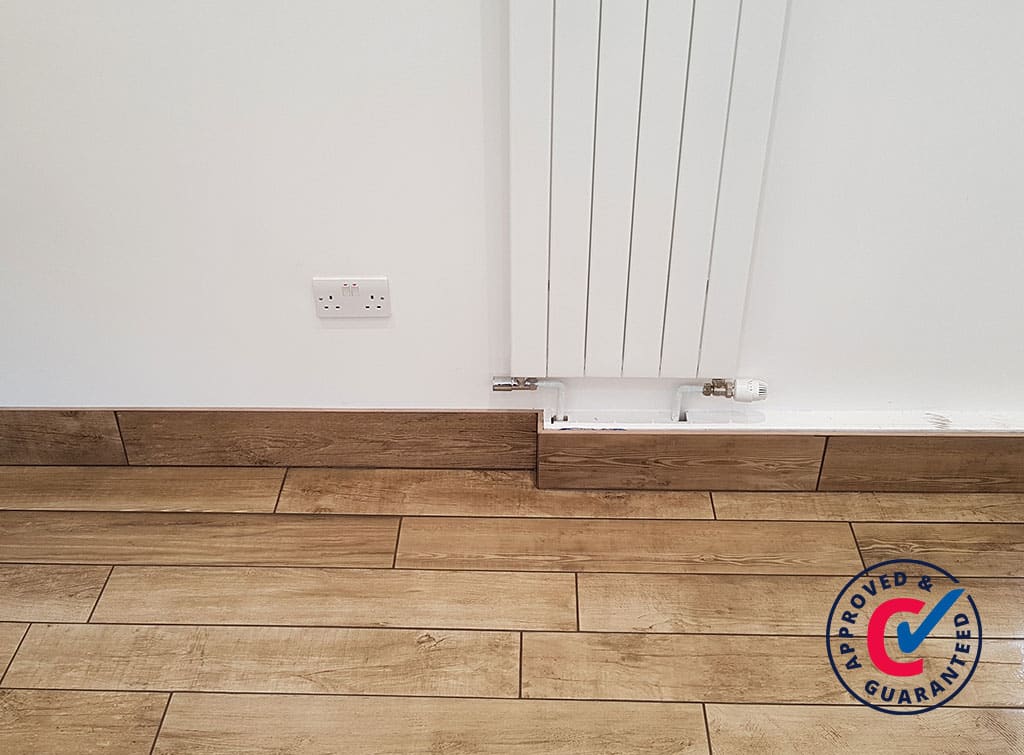 Your kitchen is a high-traffic area. It endures food and liquid spillages and plenty of footsteps. That's why hardy-tiled skirting is a great option for these home hubs. Not only do they make cleaning your kitchen easier, but they offer a stylish and flexible aesthetic to match any design you choose.
Tile skirting height
Kitchens usually have built-in cupboards, cabinets, and white goods, which means you're limited when it comes to your skirting board height (you want it to fit neatly beneath these items). However, that doesn't mean your design options are limited.
Create intrigue and style by using skirting tiles with various edging and shapes. Alternatively, if you have a tiled kitchen floor, simply cut some extra tiles to size and use those as your border accent.
Curved skirting tiles
Tiled skirting boards don't just come in squared edges. They're also available in various design finishes such as ogee, torus, pencil-round or chamfered and grooved.
Consider ways to use these 3D curves to create interest and style in your kitchen. For example, keep it contemporary with a square edge or add a vintage vibe with an ogee design.
Ceramic tile skirting vs Porcelain skirting tiles
Both porcelain and ceramic tiles are great skirting board options. However, they work best in different areas. For example, ceramic tiles are hardwearing and porous, which makes them perfect for walls. On the contrary, porcelain tiles aren't as porous, meaning they're better for areas prone to dampness, such as bathrooms and kitchens.
Thankfully, both ceramic and porcelain tiles come in high-quality finishes and plenty of design options. This makes them versatile and interesting wherever they're placed. They're also easy to clean, strong, and durable. However, it's worth noting porcelain tiles come with a higher price tag and they're harder to lay due to being heavier than ceramic.
Read more about ceramic vs porcelain tiles in our expert advice article.
Key takeaways
Tiled skirting boards are easier to clean
Steam cleaning the edges of your room won't be a problem anymore (no more worrying about warping wood or melted paint!)
Tiled skirting boards require minimal maintenance
Porcelain tiles are better for bathrooms and kitchens
Ceramic tiles are cheaper and stronger than porcelain, but more porous
The finished aesthetic of a tiled skirting board is on-trend
Did you enjoy this article on tiled skirting boards? If so, why not check out our blog for more top tips, expert advice, and how-tos. 
See the tradespeople we've checked and recommend for your job