Using recycled building materials
Discover the benefits of using reclaimed building materials for your construction project and learn where to buy used building materials from.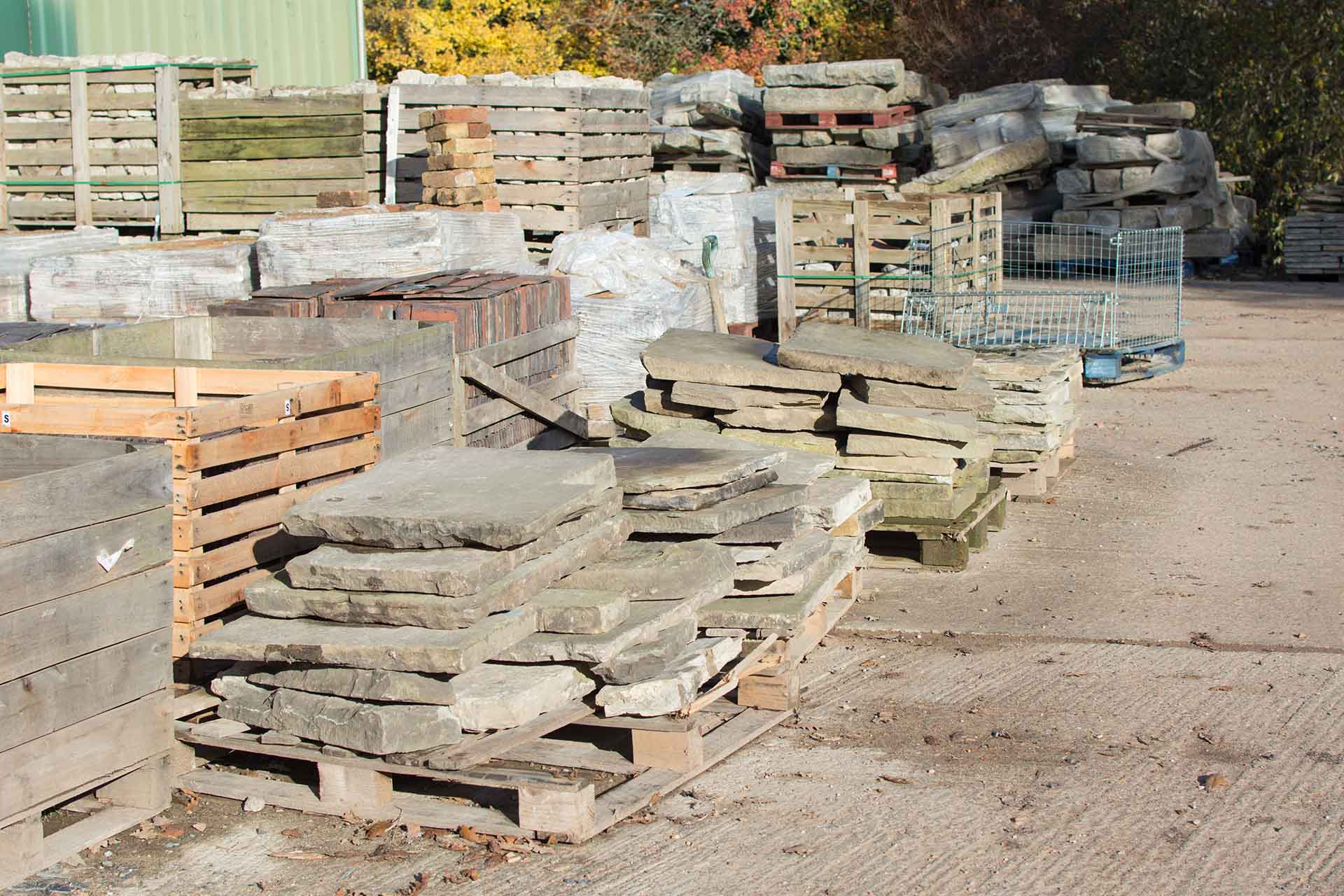 The idea of building using recycled materials may seem strange, but there are lots of benefits in doing so. Reclaimed building materials can have a lower cost than new materials, plus they're an environmentally friendly option for sustainable home construction. Find out everything you need to know about using used building materials for your construction project.
What are reclaimed building materials?
Used, recycled or reclaimed building materials are essentially bricks, tiles, wood and other materials that have already been part of a building. Typically, these come from a property that has been demolished, and the reusable materials have been salvaged by the demolition company to be sold on.
What are the benefits of recycled building materials?

The main benefits of going for used building materials over brand new are cost, sustainability and uniqueness.
Cost: In some cases, recycled building materials are cheaper than buying new ones, which can significantly reduce the overall cost of your construction project.
Sustainable: Used materials can be classed as environmentally friendly building materials because no new carbon emissions or chemical bi-products have been produced in their manufacture. They already existed, and at the very most the only carbon footprint is related to their delivery and use.
Uniqueness: Unlike mass-produced materials, recycled building materials can be one-offs or no longer produced, which brings a unique element to the design and finish of your property.
See the tradespeople we've checked and recommend for your job
Tips for recycling and the reuse of building materials

If you want to give the environment a helping hand, recycling and the reuse of building materials is the way to go. Rather than being old and damaged, recycled materials have stood the test of time and are a natural way of enhancing the structure and appearance of your property.
Recycled materials can often be found at reclamation yards and may include:
Plastic
Masonry
Timber
Steel and other metals
Concrete
Wiring
Insulation
Plumbing fixtures
How to recycle home building materials
Some of the most common uses for recycled materials are listed below but there are also other ways these materials can be used:
Metal: Once metal is melted down it can be transformed into the perfect shape and size materials for your project.
Concrete: Can be used in driveways, paths, and patios as a solid foundation.
Timber: Can be used for flooring, decoration, and outside decking.
Is my project right for reclaimed building materials?
The challenge with reclaimed building materials is supply and volume. As you'd expect, the unique nature of used bricks, for example, is that there will only be as many as were removed from another site. This means there may not be enough if you're planning on using them to build an entire home.
The best thing to do is locate the right amount of reclaimed materials you need for your entire project before committing to a particular style. This way you know you'll have enough alternative building materials to finish the job. It's always worth speaking to your local builder to find out
Using recycled building materials on an extension
Used building materials are particularly ideal for extension projects. This is because your home's existing bricks may not be manufactured anymore, so by using reclaimed bricks you may be able to find the same ones of ones similar to match the rest of your property.
Used materials are also ideal for an extension because of ageing. Even if you can still buy the bricks that were used to build your house, new ones will look different to your existing ones as they will be brand new, not aged. By using reclaimed building materials from a similar aged property, you can match the look ensuring your extension looks like it has always been part of your property.
How much do used building materials cost?
Due to the wide range of reclaimed building materials available, costs can vary greatly. Here's a breakdown of the average costs of the most commonly used building materials:
Recycled bricks: You can expect to pay on average between 35p – £2.00 per reclaimed brick plus VAT.
Recycled tiles: Tiles come in many materials, shapes and sizes, but typically you'll pay between 40p – £1.20 per tile plus VAT, depending on its rarity, condition and craftsmanship.
Recycled doors: Again, there are so many designs and types when it comes to reclaimed doors, but expect to pay from £120 plus VAT for a period wooden internal door, up to £1,000 or more plus VAT for a traditional glazed front door.
Recycled flooring: If you're wanting to use reclaimed floorboards or parquet on your project, then you should set aside on average between £25 per m2 – £55 per m2.
For practical suggestions on how to cut the cost of your construction project, check out our guide on how to save money when building a house.
Where to find reclaimed building materials
Reclamation yards are always a good bet, as well as demolition companies, but be sure to call ahead with both of these as they're not always open to the public.
Auction houses are also a good source of reclaimed building materials, particularly with items like chimney pots or garden ornaments to top walls. Beyond this, try online auction sites, but be aware that unless the seller is local, getting hold of your recycled building materials can be difficult and expensive.
Another way is to speak to your local builder. They may have some sustainable building materials that they can use for your project or are able to source for you. Simply enter your postcode below to find builders recommended by your neighbours.
What are the best ways to save money when building a house?
Building your own home is a dream for many people but there's no denying it can be an expensive process. To help you stick to your budget, we've put together a guide on saving money when building a house. Read our top tips for cutting costs including shopping around and keeping things simple.
See the tradespeople we've checked and recommend for your job
FAQs
What is a reclamation yard?
Reclamation yards are scattered throughout the UK and are great places to find recycled building materials. Unwanted materials and other items are brought to reclamation yards to be reused or resold. You may find anything from wood to concrete and metal at a reclamation yard. You can also find other items like doors and flooring.
What are reclaimed building materials?
The term reclaimed building materials refers to materials that have been previously used in construction and are now suitable for reuse. Choosing these materials is a great way of owning a piece of history and saving on the cost of new materials. You may find reclaimed wood, reclaimed bricks and reclaimed timber in your search.
Is building using recycled materials safe?
It's always recommended that you buy reclaimed building materials from a specialist supplier, this way you can be sure of the quality and safety of the product. You should expect to see weathering and some damage on bricks, tiles and doors etc, but remember these materials would've probably lasted another 100 years in the building they were originally part of.
Are used building materials easy to use when building?
Apart from existing holes in tiles bricks and doors, or wear on floorboards, there are few complications to using reclaimed building materials. Just be aware that sizes may not be standard, but that just adds to the unique look!
Do I get the same quality guarantee with used building materials?
It's unlikely a reclaimed building materials supplier, reclamation yard or auction house will give you the same guarantee as a modern manufacturer who is producing and testing their products en masse. That said, they may offer a limited warranty, so it's always good to ask before buying.