Last updated on March 31st, 2022
Best ways to save money when building a house
On a tight budget? No problem. You can seize the chance to create your dream home with our informative guide on the best ways to save money when building a house.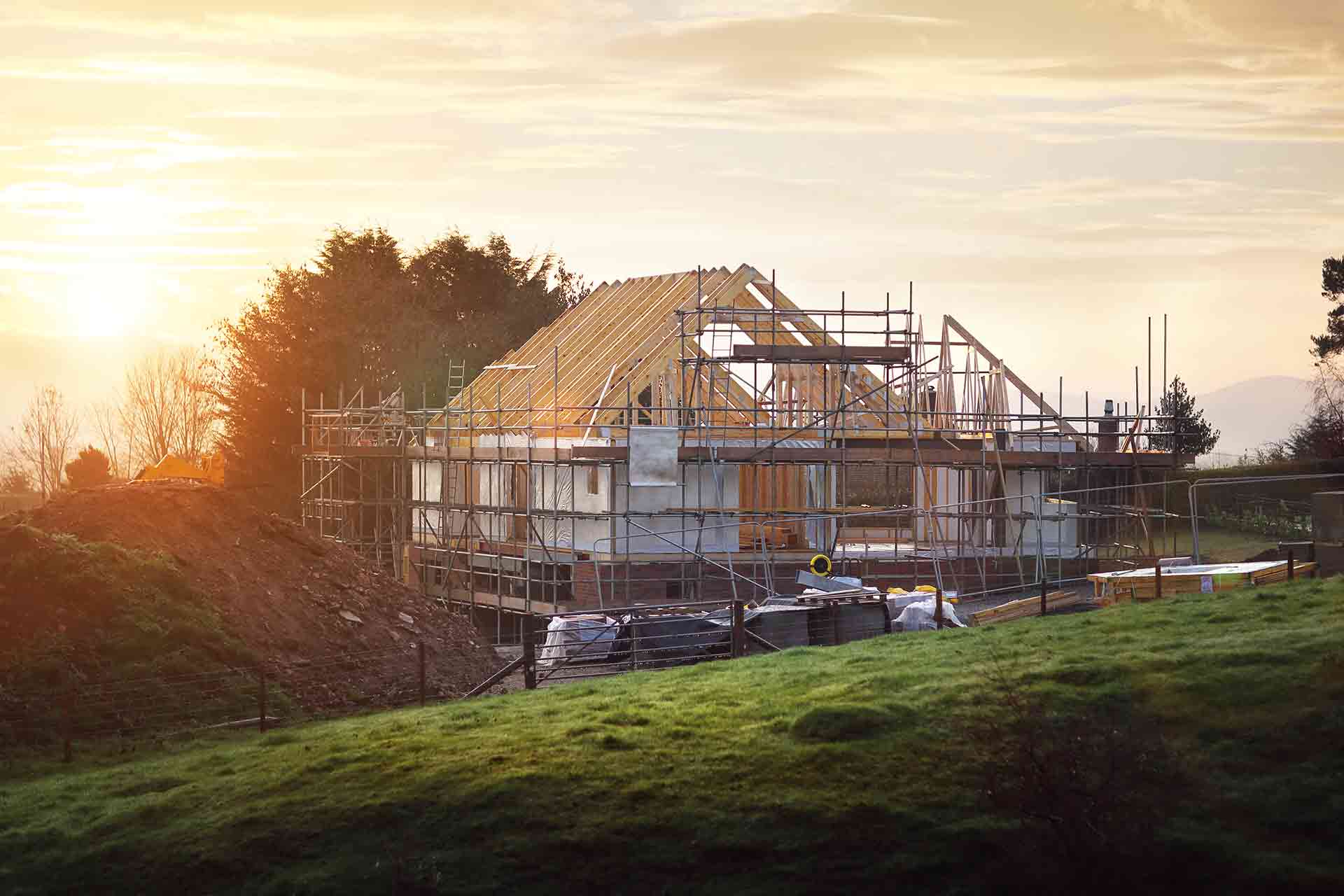 Why build your own house?
On paper, the opportunity to build your dream home is unsurpassed in terms of excitement and possibility. In reality, however, the process of building a house is fraught with issues, delays and stretching an already tight budget. It's no wonder many are keen to know the best ways to save money when building a house.
In fact, there are many ways to cut costs when building a home and still achieve your perfect design. You may need to put a large amount of time and energy into the process but the reward for your efforts can be huge in terms of cost savings.
Building your own home opens up so much potential to create a unique and completely customised house. You can choose the exact layout, size of rooms and decorate to your taste. Not to mention the chance to build your property in a location of your choosing.
Furthermore, why not take the opportunity to incorporate special features such as underfloor heating, solar panels, a basement or even a swimming pool! You also have the chance to create an energy-efficient home, from insulation to solar panels there are so many options.
We have compiled this guide of the best ways to save money when building a home to assist you in this incredible project. So, read on to discover more about self-building, ways to cut costs and other exciting tips.
Benefits of self-building a home
By building your own home, have the opportunity to create your perfect house, something most people only dream about. From practical to aesthetic, the following are a few of the benefits to self-building a home:
You will have complete control over the layout.
You get the chance to choose your ideal location.
You have the opportunity to create a beautiful, unique home.
You will have the ability to add unique features like a gym, basement or a home office.
You can build an energy-efficient home.
You have the chance to choose heating and ventilation options.
You get full control over decor and flooring.
See the tradespeople we've checked and recommend for your job
Factors affecting home building costs
When budgeting for a new home, you will come across a number of factors that either increase or decrease the price you will pay. Below are the common factors that have the most impact on your self-build price:
Materials: The materials you choose, and their quality will alter the cost of your home. Higher quality materials are more costly but are also more durable and will last longer.
Size of house: Unsurprisingly, larger houses will be more expensive to build due to increased labour and material prices.
Layout of the house: You can expect to pay more for adding extra walls and doors. In addition, more complex layouts will be more time consuming and will incur greater costs.
Shape of the house: Unusually shaped homes are more costly to build due to longer labour times and the need for extra materials.
Adding ventilation and heating: The type and number of ventilation or heating options you choose, such as windows and radiators, can also affect the price of your self-build home.
Finish: Remember to budget for decoration, flooring and other finishing touches as these will incur extra costs.
The condition of the land to be built on: Land that is in poor condition will need more work to make it structurally safe to build on, which pushes up the price you will pay.
The number of bathrooms: Bathrooms are more expensive than other types of room (apart from kitchens) as they need extra work. Adding plumbing as well as tiling and a bathroom suite will all add to the price of your new house.
How to save money when building a new house
In addition to thinking lean in the above areas, below are some of the best ways to cut costs when building a home:
Work with professionals to agree on a budget before commencing work.
Pick a simplistic style and layout.
Ask for a few quotes before choosing tradespeople to work with.
Shop online for deals and look out for sales (e.g. on flooring, tiles, windows, white goods and paint).
Combining rooms, like a kitchen/dining room can save on the cost of construction.
Ask friends or family, who have DIY skills, to help out.
Speak to a structural engineer. They can suggest ways of saving money plus the best methods and materials to use to stay within budget.
Use your DIY skills to take on easier tasks like painting. Or, if you do not have these skills, consider taking a course and learning.
Take advantage of trade discounts your contractors have access to.
Resist the temptation to add expensive features such as a whirlpool bath, a walk in-wardrobe or designer wallpaper.
Build an energy-efficient home to save on future utility bills.
Choose a prefabricated house. If you are considering this, please see our flat pack home cost guide.
What tradespeople can help with building a house
Building a home is not an easy process and you will need the services of a range of tradespeople across multiple disciplines. When choosing each professional, consider getting more than one quote and being clear about your budget.

In addition to general contractors, the following are the most important tradespeople you may need to hire. You can click on any of the below for more detail:
Although there are some jobs you can take on yourself, this all depends on your DIY skills.
It is never worth attempting a task that you have no skill or experience in, as this could jeopardise the structural integrity of your new home.
Building a house can be dangerous and is very time-consuming. As such we would recommend hiring a professional. To find a local, reputable, tradesperson in your area and get a personalised house building quote use our free search feature.
FAQs
What extra rooms could I include in my dream home?
If you have followed the previous tips on how to save money when building a house, you could end up with some money left over. In this case, it may be worth investing in one of the following additional rooms that may otherwise seem like a luxury:
Useful house building checklist
The benefits of building your dream home include control over the layout, choosing your perfect location and the chance to add extra features.
The best ways to save money when building a house include setting a clear budget, shopping around and asking skilled friends or family members to help out.
You will likely need to hire a number of tradespeople including contractors, electricians and carpet fitters.
It is a good idea to tackle some of the easier jobs like painting yourself and if you don't have any DIY skills, consider taking a course.
See the tradespeople we've checked and recommend for your job