How to find a surveyor when buying a house
When buying a property, one of the key decisions is choosing a surveyor to carry out your home survey. In this guide, we look at how to find a surveyor when buying a house and what a surveyor actually does.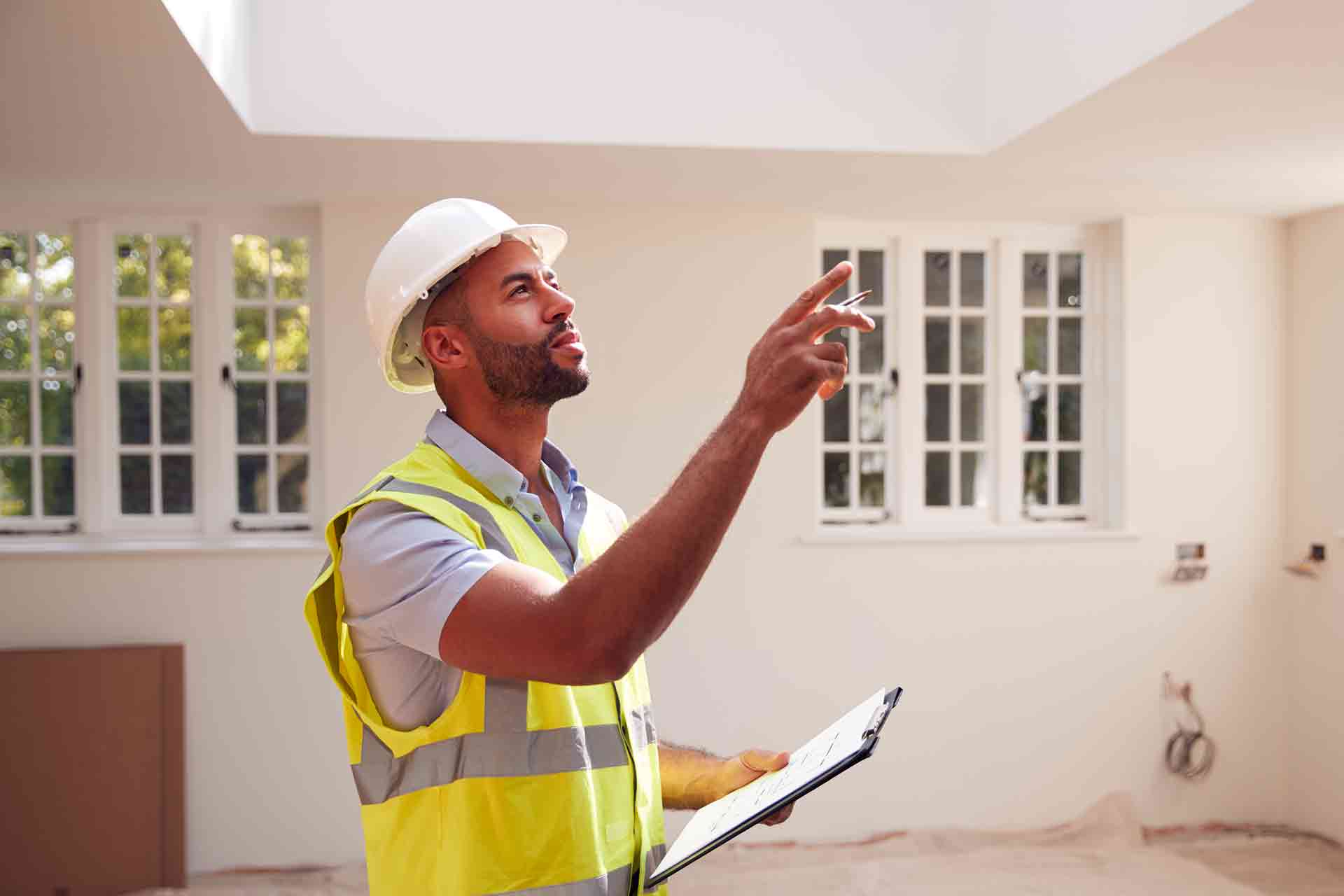 Not all buyers will hire a surveyor, but we highly recommend having a home survey done to give you the peace of mind that the home you're buying is a good investment.
A survey will reduce the chance of you having any nasty surprises down the line that could cost you a lot of money and hassle.
So here's how to find and choose the best surveyor for you.
Tips for how to choose the best surveyor when buying a house
Once you've found a property you want to buy and you've had your offer accepted, it's time to organise your home survey.
Here are our top tips for how to choose a surveyor when buying a house:
1. Choose someone local
Property surveys are best carried out by surveyors who know the local area, have experience with local properties, and know what common problems to look out for.
2. Make sure they're RICS qualified
When choosing a surveyor, make sure they're registered with the Royal Institute of Chartered Surveyors (RICS). All RICS regulated surveyors will have to adhere to their professional code of conduct and will provide a guaranteed level of service to you as their customer.

3. Check their references and reviews
As with all tradespeople and construction professionals, when deciding which surveyor to hire, make sure you check out their reviews and ratings online.
You can also ask for references from previous customers that you can follow up to check the quality of the property surveyor's work.
4. Shop around and ask for free quotes
Chances are you'll come across a number of great surveyors in your area, so you'll then want to shop around and see who's offering the best value for money.
We always recommend obtaining at least three quotes from different tradespeople in your area. That way you can make sure you're paying a fair and competitive price for the work. And, thankfully, we've got a tool that makes finding multiple quotes super easy.
Our request a quote feature is perfect for getting quotes: you post details about the work you need doing and we'll send it out to local tradespeople in your area. Try it out – it's quick and easy!
5. Don't just listen to your estate agent
With most property sales, the estate agent will recommend a surveyor that they work with. Those surveyors won't necessarily be the best or offer the most value for money. Take their recommendation to follow up on, but also do your own homework to see what other surveyors are available in your area.
See if the surveyor they recommend is a Checkatrade member.
See the tradespeople we've checked and recommend for your job
Questions to ask a chartered surveyor before they value your house
To make sure you're getting the right level of service from the surveyor, don't be afraid to ask questions upfront.
Here are some examples of questions you might want to ask before a chartered surveyor house valuation:
Have you worked in your local area with similar properties?
What other problems have you encountered with other properties in the area?
How long will the survey take?
How long will it take to get the results of the survey?
What is a property surveyor?
A property surveyor is a qualified professional who is trained in reviewing the physical condition of a property and identifying possible issues – including evidence of historic problems, current issues and signs of potential future risks.
As part of their work, a property surveyor will advise on the condition of the property you're looking to buy and will provide a written report of all their findings and recommendations.
It isn't mandatory to hire a property surveyor, but hiring one can prove to be an extremely valuable move – especially if they find major issues that would cause you to reconsider your property purchase.
What does a property surveyor do?
A property surveyor will carry out a physical inspection of the property you're looking to buy and will produce a report with the findings from their inspection.
In England, there are three different types of property surveys that you can have done by a property surveyor: a condition report, a homebuyer report, and a building survey.
Whichever surveyor you hire and the level of report you opt for, they will all use a traffic light system:
Red for severe issues requiring immediate attention
Amber for intermediate issues that you may or may not need to address immediately
Green for no issues
Condition report
A condition report is the most basic level of property survey you can have done. This is not to be confused with your lender's mortgage valuation report – which is carried out independently by your mortgage lender to confirm the value of your property.
A condition report will inspect most areas of the property and will summarise any visible defects. This type of report is the cheapest to have done but will provide you with the least amount of information.
Homebuyer report
A homebuyer report will go into more depth than a condition report, including looking for more serious structural issues, inspecting problems such as damp, providing a current valuation of the property, assessing insulation, providing background information and giving details of any major faults they come across.
Building survey
A building survey is a very thorough inspection that looks into the condition of the property in greater detail. It will involve the surveyor inspecting all visible and accessible parts of the property, including inside cupboards.
A building survey report will provide a very detailed report and will include expert advice on all the matters raised in the report. The surveyor will rest for damp and the presence of any hazardous materials, and check timber and roof conditions – including any signs of woodworm.
In addition to the report, they will also provide recommendations for specialists that will be able to offer further inspections of the property.
See the tradespeople we've checked and recommend for your job
FAQs
Difference between quantity surveyor and building surveyor
A quantity surveyor is a professional who is trained to carry out the costing of a building during all of the stages of construction. They're responsible for reviewing architects' plans and building schematics in order to estimate the total cost of materials and labour.
A building surveyor, on the other hand, provides technical advice about the construction of a building or property.
Building surveyors can also be responsible for structural surveys, advising on legal matters such as leases and party wall awards, and reporting on a building's overall condition, identifying any issues and making recommendations for the repairs.
What's the difference between a building surveyor and a structural engineer?
A building surveyor specialises in dealing with the integrity of a property, looking for evidence of issues on the surface of the building.
A structural engineer is trained to review and identify the strength and stability of the structure of the property – looking at the very core of what's holding the building up. You'll work with a structural engineer when completing any major structural changes to your home.
How do I know when to instruct a surveyor when buying a house?
After your mortgage offer has been issued, and ideally within 7-10 days of having your offer accepted, get the surveyor out.
What does a surveyor look for when valuing a house?
When a house is being valued by a surveyor, they're typically looking out for the following:
The physical condition of the property
Visible signs of any structural issues or potential problems, such as damp or roof damage
That all details declared about the property are correct and accurate
Any external issues or risks, such as flood risk or the property being above a shop or restaurant
How long will the surveyor be in the house?
The length of time a surveyor will be in your house will depend on the type of survey they're carrying out. Here are some average timings you can expect:
Condition survey – 60 – 90 minutes
Homebuyer survey – 90 mins – 4 hours
Building survey – 3 – 8 hours
How much does a property surveyor cost?
Here are the average costs you can expect to pay for the various types of property survey:
Condition report – £700
Homebuyer report – £800
Building survey – £1,000
To find out more, check out our guide to house survey costs.