How to build a log store
If you burn wood regularly, then having a log store is a great way to store your firewood. Find out how to build a log store.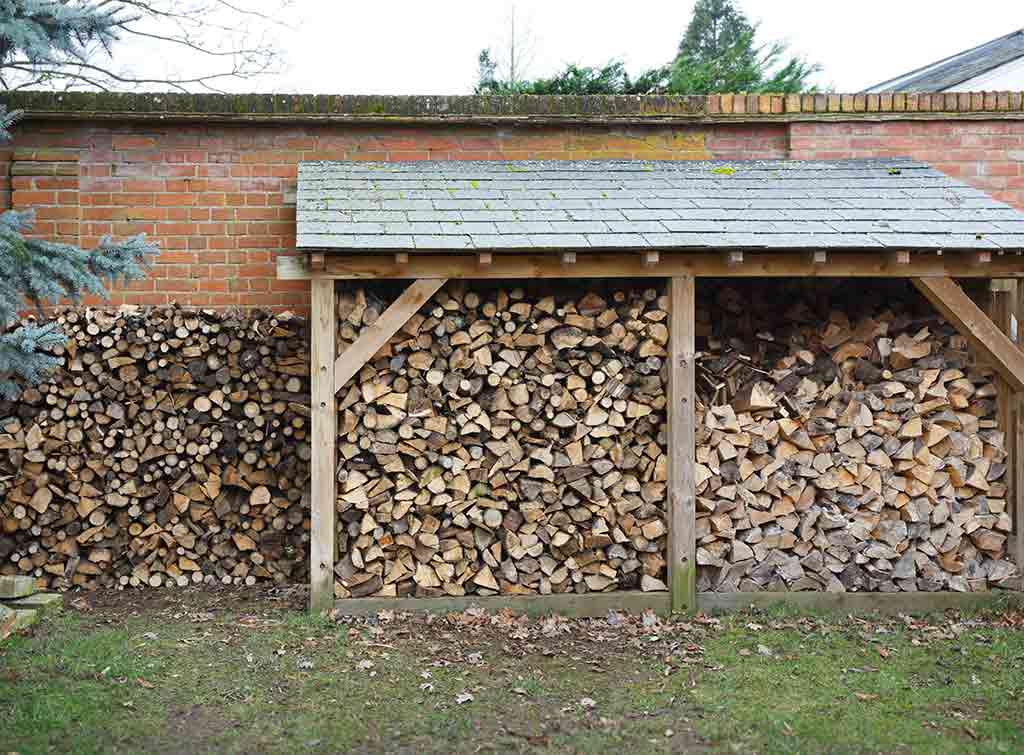 If you burn wood regularly, then having a log store is a great way to store your firewood. Whether you have a wood-burning stove or open fire, having a log store will not only keep your firewood dry but also tidy.
Thinking about building one yourself? Then take a look at our handy guide to see step by step tips. If you're not confident with DIY then you can find a local carpenter to build your log store.
Log store plans
There are lots of different log store designs out there to help you choose which design is right for you. Take a look at our stylish log store ideas if you need some inspiration on how to build yours. Alternatively, get in touch with a local carpenter who can carry out your log store plans professionally and safely, and provide expert advice and information.
Tips on how to build a log store in the UK
Generally, logs shouldn't be kept inside your home or garage. Keep firewood as far afield from your house as you can to avoid attracting pests. What's more, choose somewhere that's easily accessible and in sunlight. Lastly, your location should have ample air circulation around the wood and be off the ground.
When selecting the best place to build your wood store, your location should be easy to access and on level ground. If you decide to have your log store on the bare ground or in the garden, ensure the base is raised off the ground to prevent any damp from seeping into the bottom row of logs.
Use three narrow battens fastened underneath the base to give it an appropriate lift – several well-positioned bricks are a good substitute. If you'd prefer to place your store against a fence or wall, leave a tiny gap between any other construction and the back of the store to enable air to flow between both. This also assists in warding off any dampness.
Log store DIY tools
Want to build your own log store? It couldn't be simpler and costs next to nothing, too. All it takes are a couple of hours of your time (depending on how quick you are!) plus the following items:
Several old pallets
Screws
Screwdriver
Pencil
Tape measure
Saw
Drill
Drill bit
Wood for roof and supports
Roofing felt
Four wooden posts
Galvanised nails
A hammer
How to build a log store instructions
Make your store base using either one or two pallets wide, but this depends on the number of logs you want to store.
At each corner of the pallet base, secure your four wooden posts into the earth. For a more secure base, consider using cement mix or sand to fix it into place. To give a sloped roof, either the front or rear two posts must be a little higher.
Make your slatted side and back panels by breaking down several pallets or using wooden planks and ensure they're equally spaced out and affixed using nails.
Repeat this step for the roof. However, make sure you don't leave any space between the panels, as you don't want any rain getting in.
To allow optimum air circulation for effective log seasoning, store your logs inside according to their size or shape.
See the tradespeople we've checked and recommend for your job
How to build a log store using pallets
A cheaper option to build a log store is to make yours out of regular wood pallets. It's crucial to plan correctly, so firstly, be sure to:
Measure your pallet at the base
Select an area with plenty of room to build the finished wood store
Ensure the location is easily accessible and shielded from the elements
Look for places near your home, hedges, and garden walls
How to build a log store roof
While your log store roof won't be airtight, it will keep most of the rain off the logs and enable air to circulate into the firewood. To build its roof, you will need to:
Make sure the roof slopes away from the wall
Build it so it's cavernous enough to hold a few faces of logs
Use two posts that are either set in concrete into the earth or secured into paving using post fixers or bolts
Starting from the posts, extend two sections of wood to the wall then affix the roof to these
You can make the roof from a piece of overlap fencing or old roof tiles secured to cross beams
How to build a log store against a wall
You'll need to build a frame for the base and put posts at every corner – and potentially the centre, too. Next, wrap these around with additional lengths of wood and cover them with the roof.
See the tradespeople we've checked and recommend for your job
FAQs
What is a log store?
A log store is used for storing and drying logs and firewood to protect them from the elements.
What's a log store used for?
Fresh firewood needs to burn properly, which is where log stores come into play – they decrease a log's water content so it seasons in the right way. This ultimately allows it to burn correctly.
Why do I need a log store?
If you want to get the most out of your wood, then it's essential to build a wood store in the right way to enable the necessary seasoning, typically for six to 12 months. If you don't do this, you'll see less burn time and less heat which isn't good news. There's also the chance of environmentally harmful smoke being emitted, so it's vital to plan for the winter months. Building a log store will allow you to reap the full benefits from your fuel when you need a fire.
Log stores are beneficial for several reasons, including:
Keeping the rain off your log supply
Preventing ground moisture
Promoting airflow between logs
Stopping the bottom layer of logs getting wet
Preventing mould and rot from spreading to other logs
Keeping logs suitably dry for an immediate fire
More efficient burning of your fire as fewer logs are needed to heat your home
Where is the best place to put a log store?
The best place to put a log store is in a south-facing garden where there's a draft or wind. But bear in mind this location may be too far from your home. In the colder months, this isn't ideal, as you'll have to brave the cold to collect more firewood.
Do logs get wet in the log store?
No, your logs won't get overly wet in a log store, especially if they're kept in a construction complete with a sloping roof. Wood stores such as this help rainwater run-off. However, in particularly bad weather, it's best to place a tarpaulin over the front of the store to keep firewood dry.