In this blog, we're going to look at various stylish log store ideas and designs. You don't have to spend a fortune when it comes to building a robust log storage solution, but as the colder months start to roll in, it's worth investing some time and energy into keeping your wood dry.
What is the best way to store logs?
Poorly stored wood is bad for the environment. Burning wet logs produces more smoke and pollutants, so keeping them out of the elements is essential! Also, keeping logs stored nicely stops them from being a trip hazard or blowing/rolling away in the wind.
The best way to store logs is in a purpose-built shelter, be it a shed, shelter or sturdy metal unit. You need to ensure good water runoff on the roof and enough space to store enough logs to keep you warm throughout winter.
Now, let's take a look at some options in the carousel content below.
Like what you see? There's more where this came from. Check out Checkatrade's blog for more tips, ideas, how-tos, and inspiration.
Stylish log store ideas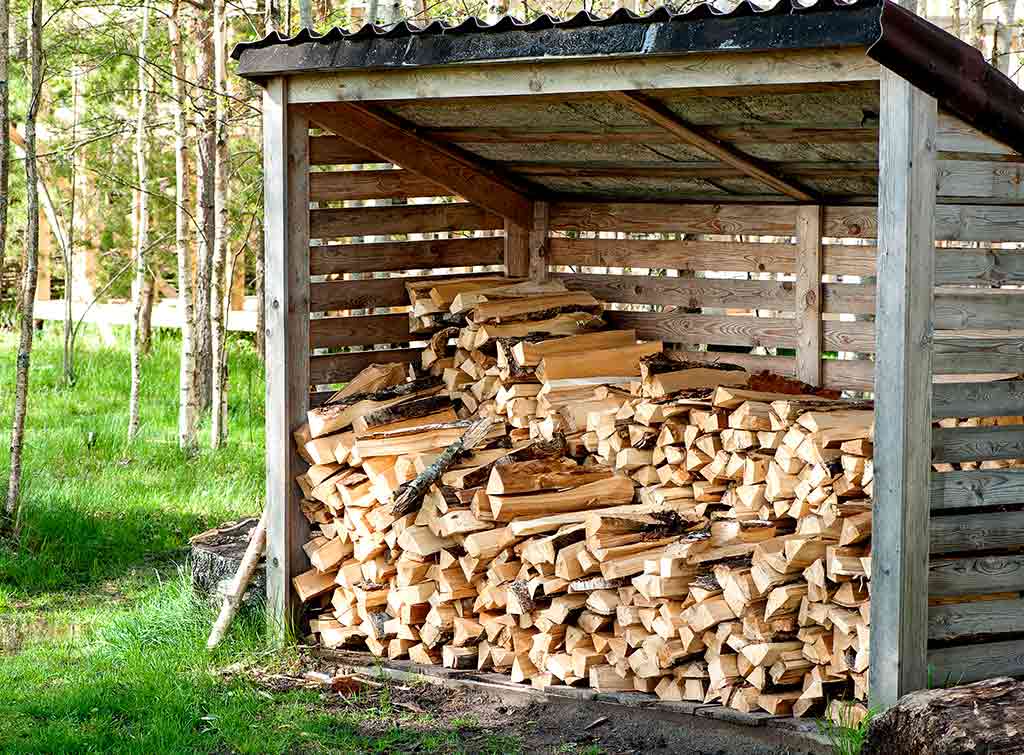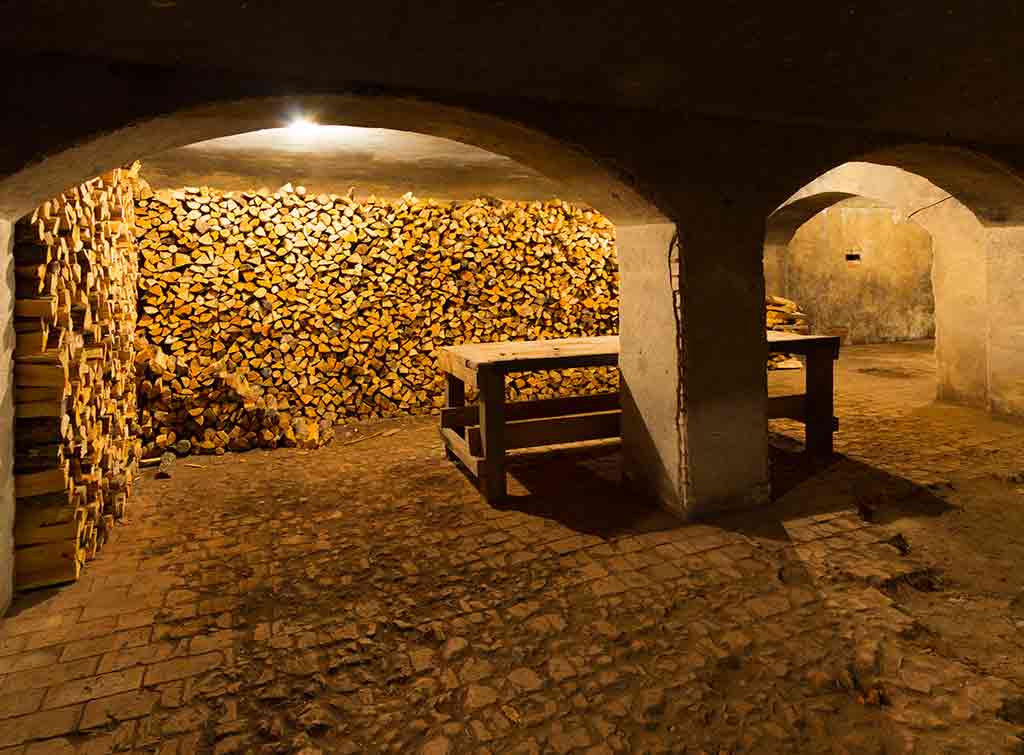 Log shed ideas
Extensions aren't just for homes. If your shed is otherwise occupied, adding a mini extension like this to house your logs is a perfect way to keep them dry throughout the winter months.
This timber is treated to withstand wet and cold conditions, while the slanted roof ensures rain runs off and doesn't linger long enough to cause damp or wood rot.
This is a great example of how to store your logs in a stylish and compact way. The potted plants and hanging baskets also finish the look nicely.
Indoor log store ideas
These classic firewood carriers are a lovely way to store your logs inside. Elegant and timeless, these designs have been used for centuries to carry logs to and from the home.
We love this bronze metal example, which is fashioned with the traditional curved lips and handle to have both an ornamental and practical use. It also perfectly complements a wooden floor, giving us woodland cabin vibes!
Garden log store ideas
Making sure you have enough firewood to last you through the winter is challenging enough. However, building a shelter to house said firewood is a feat of design skill and mathematics.
This log shed didn't quite get it right. However, the design itself is sturdy and robust, with a slate roof that slopes down from the wall to keep the logs housed beneath it nice and dry.
Why not hire one of our carpenters to help you build a bespoke log store?
Outside log store ideas
Depending on the amount of space you're working with, outside log stores are a great way to keep your firewood neat and dry.
This storage unit is housed beneath some trees for extra protection, but the tiled and felted roof will do most of the work when it comes to keeping these logs free from the elements.
As this design is slatted and more vulnerable to sidewind and rain, it's worth noting that it's more suitable for sunnier climes or areas with less drizzle!
What is the best way to store logs?
For those who live in wetter areas, keeping your logs underground, inside, or in your basement is a great way to ensure they stay dry and ready to keep you toasty.
This cellar uses the space effectively. However, even if you don't live above an ancient crypt, piling your logs in the corner of your underground bunker is a good way to keep them neatly stacked away.
Where is the best place to put a log store?
These homeowners have been incredibly resourceful with their log storage. Without wasting any precious real-estate, they've built theirs in the gap between the stairs leading to the house and the ground, resulting in a rather pleasing aesthetic.
Of course, this works well because they live on an incline, meaning there's a natural gap when building and levelling their house. But it's worth taking note of your own home's dimensions. Are there any nooks or crannies you can turn into a log store?
Does a log store need a roof?
Who needs to conform to traditional square and rectangular storage units? These tipi log stores are both a feature and a mood. What's more, they're compact and robust enough to withstand all types of weather, which gives you peace of mind regardless of what mother nature is up to.
The trick with storing logs in shapes like this is to start with the bigger pieces of firewood at the bottom, then build up to smaller pieces around the edges and the top. That way, you don't waste any space and maximise your storage capacity.
Stylish log store ideas
If you only occasionally use your wood-burning stove, then keeping your logs inside might be easier for you. This homeowner has used a large wicker basket to store their firewood, while the logs beneath the stove are kept warm and dry before use. This is a good way to make sure your logs are prepped and ready to burn beautifully.
Are you thinking of installing a wood-burning stove? Why not hire one of our professionals to ensure your home is kept toasty?
Not sure where to start? Read our blog on choosing a wood burning stove before you make a decision.
See the tradespeople we've checked and recommend for your job
Tell us what you think
What others think of this article:
Need More Information?
Related posts