How to build a pizza oven
Make amazing pizzas indoor and outside with our guide on how to build a pizza oven. With tips on building cob, brick and clay wood-burning ovens.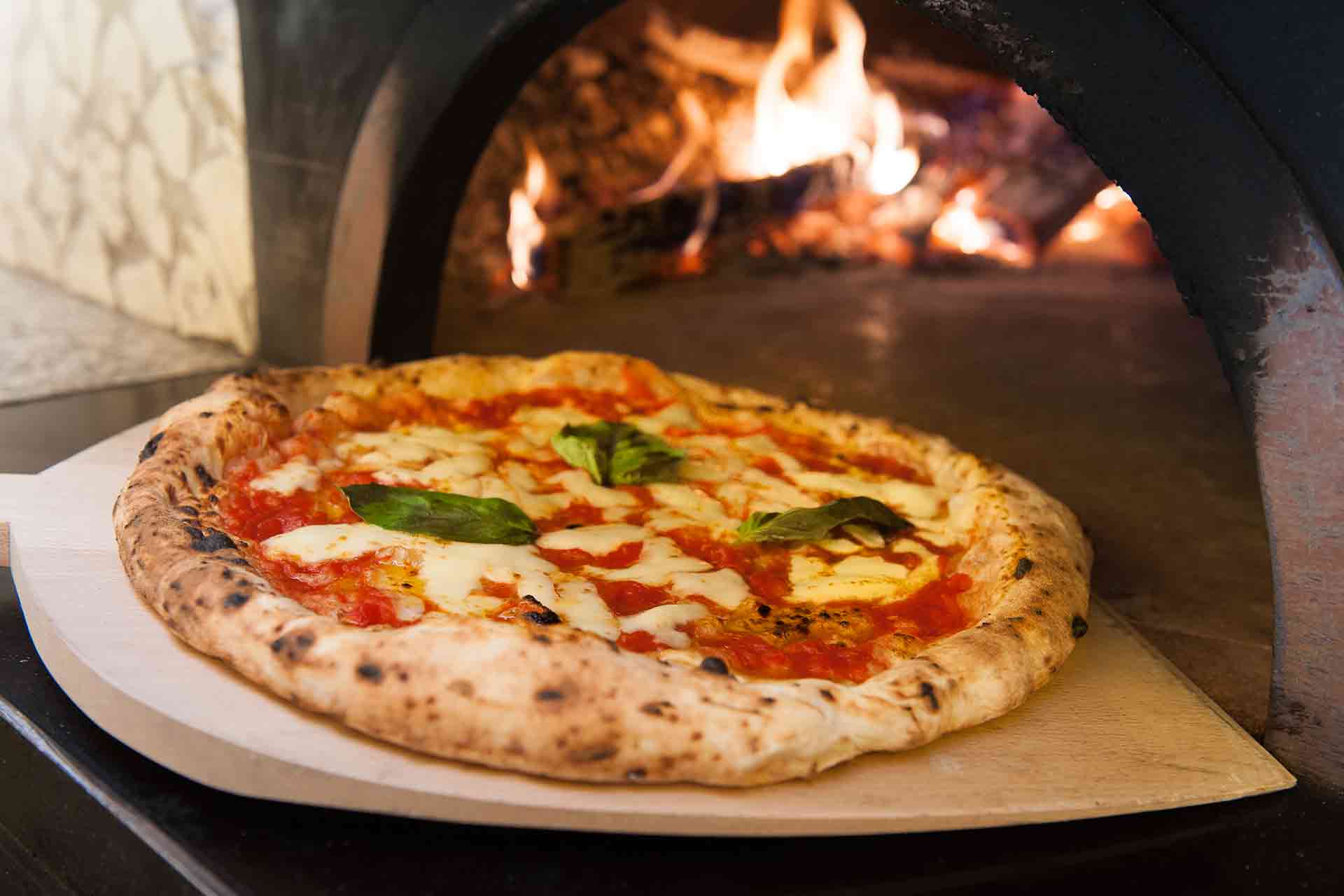 If you've ever had a pizza from a proper pizza oven it's hard to go back. That smoky taste, the crisp crunchy crust and cheese that is melted to perfection. Amazingly, you can make pizza this good in your own backyard. By learning how to build a pizza oven, you can turn your pizza night into a feast fit for a king.
In this guide, we look at how to build a pizza oven step-by-step, including wood-fired, brick and clay pizza ovens.
If you do want to build a pizza oven, you'll first need to decide where you want to place it. Do you want a wood-fired pizza oven in your backyard (for example on a patio or decked area), or an indoor pizza oven? We've got detailed guides for both options below:
How to build a pizza oven outside
One benefit of outdoor pizza ovens is that the chimney doesn't need to be piped outside, (e.g. via a flue). The fumes can directly go from the chimney, making the installation process easier. If you do position the pizza oven outside, make sure it's shielded from strong winds and isn't near flammable materials.
Once you've identified the ideal space then you will need to purchase the following materials:
Bricks
Rubble and stones
Glass bottles
Non-flammable insulation
Concrete mix
Soil mix
Sand
Clay
See the tradespeople we've checked and recommend for your job
How to build a pizza oven step-by-step
To build a wood-fired pizza oven in your backyard, simply follow these steps:
Choose an existing concrete surface. If you don't have this, then you can dig a hole for the foundations and fill it with cement.
Build a base for the pizza oven using materials such as bricks, cement slabs or lintels. This needs to be wide enough to have a base that can include a pizza and a fire. You can even leave a space under the oven for storing wood.
Use red bricks and cement to form the bottom layer of bricks.
Build up from the base to create an outer layer of bricks.
Build a layer of insulation, using bottles and clay or other non-flammable insulating materials. This is essential for keeping the heat trapped inside the pizza oven.
Once the insulation layer has set you can build the floor of the pizza oven on top of this layer. Add a flat layer of bricks.
Now you have a solid structure in place, it's time to move on to building the dome.
How to build a pizza oven dome
Placing a dome on top of your pizza oven will help absorb the heat and reflect it back down on to the pizza. To build a pizza oven dome:
On the floor, lay out low duty firebricks in the dome shape you'd like. Try to leave minimal gaps and create a neat looking shape. This will ensure you have enough bricks.
Mix the sand with the clay. Lay the bricks one by one, with a layer of sand-clay mix between them. You'll need a lot of mixture to keep things strong but ensure there are no air gaps as you work your way up. Alternatively, you can use high heat mortar.
Keep laying the bricks until they meet in the middle. Add additional mixture to any gaps by looking above and below the dome. Smooth it all down.
Build the next row of bricks and work your way around the shape. Ensure you leave a wide enough opening for the pizza to be inserted.
You can choose at this point to add a layer of concrete on top of the dome and base depending on the style of pizza oven you want – brick or concrete.
Leave everything to set and cover it if you're expecting rain. This can take anywhere from a few days to a few weeks depending on weather conditions.
See the tradespeople we've checked and recommend for your job
How to build a clay pizza oven
Whilst brick pizza ovens are more of a modern trend, domed clay pizza ovens can be dated back to over 9,000 years ago. Clay ovens do a fantastic job of trapping heat, allowing you to cook a pizza and have enough heat left over to make cakes and other items. They're also a truly unique feature for any garden.
They're fun to build too and are a great little craft project to get your hands dirty. Plus, they're easy to repair, with any cracks quickly filled with a sand-clay mixture.
To build a clay pizza oven you should:
Build a base from pallets or other wood such as sturdy tree branches.
Add a solid layer of cement on top, followed by sand and brick layers. These need to be as flat as possible.
Measure a circle top, which will be the diameter of your pizza dome.
Now comes the messy and fun part! Use sand to build upwards from the circle you drew. Pat it down and add additional layers. You'll remove this sand at the end.
Cover the dome with newspaper and spray water on top. Place the clay on top and build a thick layer over the top of the newspaper.
Smooth the clay layer. If you see any gaps start to appear, fill these in with more clay.
Before it dries, cut out a door shape, making sure it's wide enough for your pizza.
Once the clay is dry it's time to remove the sand. This can be dug out with a trowel.
Layers of aluminium foil or ceramic fibre can be added for extra insulation, with another layer of clay on top.
How to build a cob pizza oven
Cob ovens are made from natural materials, stone, clay and sand. Along with being a northern term for a bread roll, "cob" also means "mud building", hence the name.
If you're wondering how to build a cob pizza oven, you can simply follow the steps in our "how to build a clay pizza oven" above. The natural materials used mean it also falls in the category of being a cob pizza oven.
See the tradespeople we've checked and recommend for your job
How to build a pizza oven indoors
Whilst most pizza oven kits are sold for outdoor use, there are a few manufacturers who offer guidelines on how to install their products indoors. This can either be as a standalone unit or if you want to really create the style of a pizzeria you can build it into a wall.
For a wood-fired oven you should generally ensure you:
Check with the manufacturer of your kit if indoor use is possible and ask if there are any specific rules to follow.
You are in line with local building regulations and laws.
Achieve the necessary clearance around and above the oven and that it's far away from anything combustible.
Use all insulation materials that come with the oven.
Buy the necessary flue to ensure all smoke leaves the room (you may need to purchase this from a separate supplier).
Keep children and pets away from the oven at all times.
How to build a portable pizza oven
One downside of the above brick, concrete and clay pizza ovens is they're incredibly heavy when finished. If you change your mind, they're very hard to move. One alternate solution is to buy a portable pizza oven.
These pizza ovens come with instructions and can be built for outdoor use by beginner DIYers. There are even portable electric pizza ovens for indoor use which come pre-made. You won't get as good a taste as bespoke pizza oven but they're an option for the time short amongst us.
Want help building your pizza oven?
Building a pizza oven is a technically challenging project. You need to be good at planning and experienced in brickwork and laying concrete.
We have a range of trusted tradespeople that can help build your pizza oven here at Checkatrade. From bricklayers to garden landscapers. To find the right person for your project, use our free search feature.
But, why stop there? In addition to a pizza oven, why not view our garden bar ideas, to build a fantastic place to entertain. Or, view our outdoor dining ideas for ways to make eating outdoors even better with decking, picnic areas, outdoor lighting and more.