Last updated on March 25th, 2023
Cost to clean a driveway
Keeping your driveway clean through regular washing and sealing is recommended to keep it looking - and functioning - at its best. But how much does it cost to clean a driveway?
Hire right, hire once: How to avoid rogue trades
Protect your family and home by hiring the right tradesperson.
Beyond safety and functionality, a clean driveway can make all the difference to the appearance of your property.
Between exposure to the elements and daily use, it's not hard to see how driveways get dirty quickly.  If left unchecked, this will build up and cause unsightly additions such as moss, weeds and lichens. Eventually, this can even start to affect parking as areas of your drive start to sink due to damage.
Unless you have days to commit to scrubbing your driveway manually, we recommend hiring a professional for the job. Read our following guide to the average UK prices to help you budget for the job.
What is the cost to power wash a driveway?
| Size of driveway | Timescales | Average UK cost |
| --- | --- | --- |
| Small driveway | 4-5 hours | £200 |
| Medium driveway | 6-7 hours | £300 |
| Large driveway | 7-8 hours | £400 |
For an average-sized driveway, a specialist will usually take between 6-7 hours to complete the job. Overall, the cost to jet wash a driveway will be charged at around £300.
Costs will inevitably vary depending on the size of your driveway, your location and how much the tradesperson charges per square metre. Generally speaking, the cost to clean a driveway per square metre will typically fall within the region of £8.50 and £12.50. 
While the price of pressure washers has come down considerably over the years, the equipment used by professionals tends to be much more powerful and effective. A tradesperson may charge a daily rate, which is usually between £100-150 a day. Timescales will vary depending on the size, and costs may increase if you require resanding or sealing.
What does the process of cleaning a driveway involve?
After accepting a quote from a tradesperson, they will arrive at your property with a pressure or jet washer. Depending on the condition of your driveway, they may ask that you apply weed killer in advance to make power washing easier.
Cleaning a driveway will involve using a pressure washer to remove stains, weeds, algae and moss. Once clean, a professional will refill joints with kiln dried sand if required. Next, sealer is applied to any cracks to prevent them from getting worse.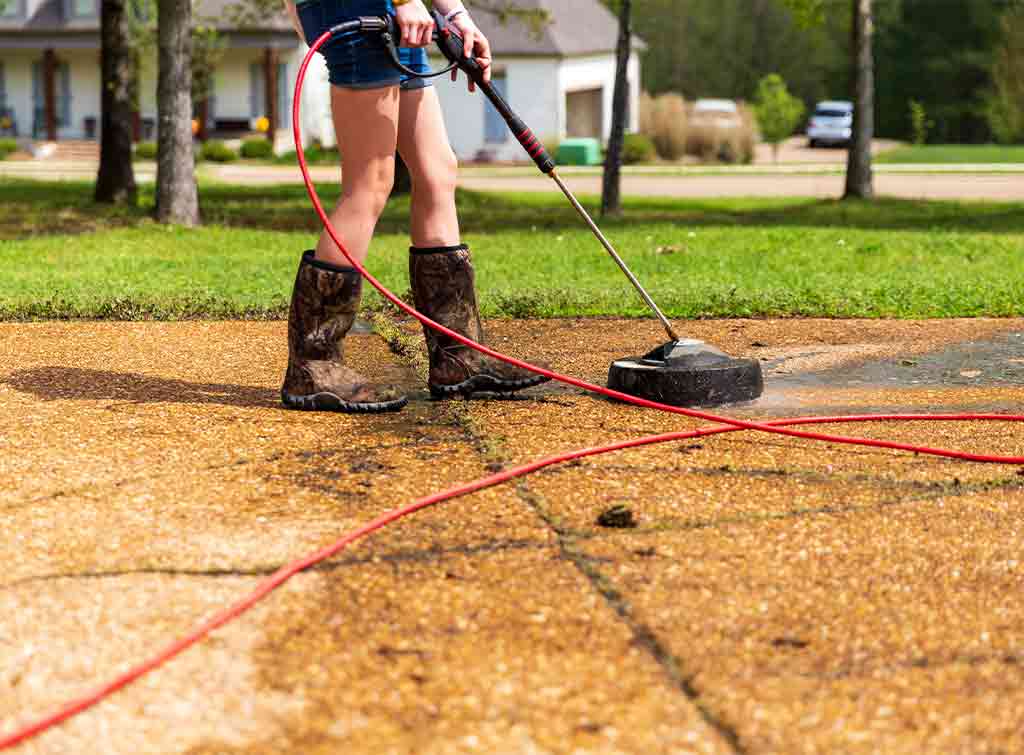 See the tradespeople we've checked and recommend for your job
How long does it take to clean a driveway?
The time it takes to clean a driveway will depend on the size of the surface area and the condition of the driveway. The average duration for power washing a driveway is 6-7 hours for a medium sized driveway. In some cases, a chemical fungicide will need to be applied post-clean to prevent future weed or moss growth.
Factors affecting driveway cleaning cost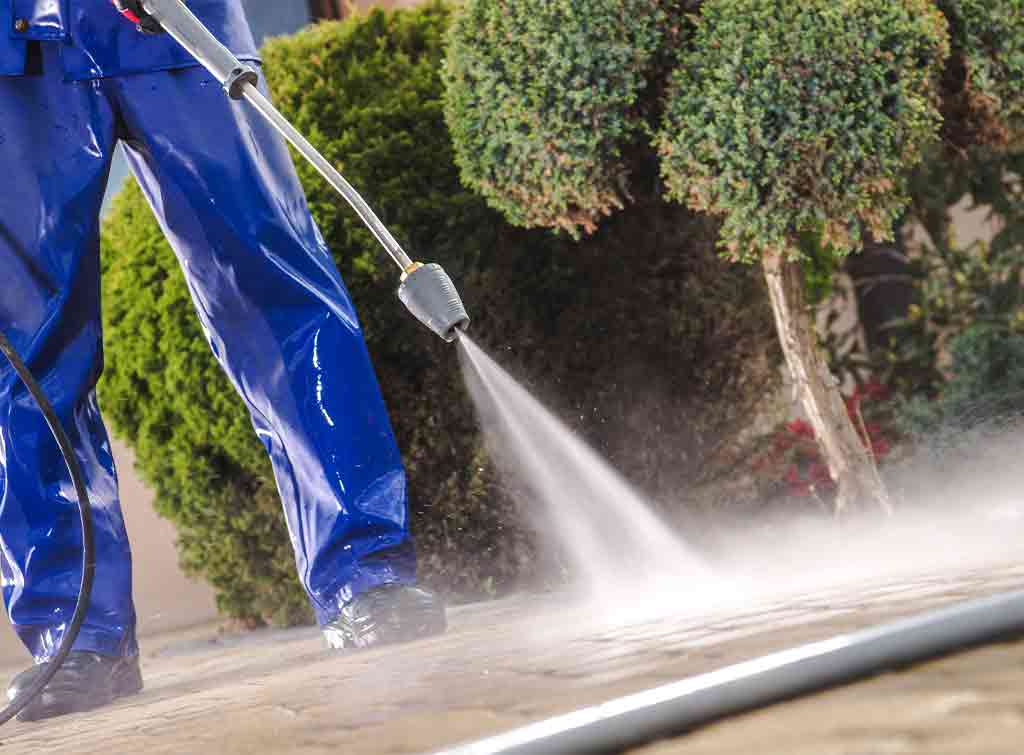 Size of driveway
Smaller driveways will naturally take less time to clean and will therefore cost less overall. The average cost of cleaning and sealing a driveway is around £10.50 per m². A professional cleaning company will typically come round, assess the area, measure up the driveway and give a quote.
Condition of driveway
If the driveway is in a poor condition – i.e. coated in moss, weeds or is cracked in many places, costs will be higher to reflect the time required to clean and seal the area. Labourers often charge at an hourly rate, so it's worth applying weed-killer in advance if you want to keep the costs down.
Location
Just like all home improvement or maintenance jobs, your location will affect the quote provided by professionals. Homeowners in London can expect an average of £40 more for the overall job than those situated in the North. Use our handy search to get quotes from tradespeople in your area.
Additional costs of cleaning a driveway
| Cost provided item | Price - Range low | Price - Range high | Average UK cost |
| --- | --- | --- | --- |
| Sealing a driveway per m2 | £2 | £4 | £3 per m2 |
| Installing a driveway gate for enhanced security | £500 | £1000 | £750 |
| Patio cleaning | £175 | £350 | £250 |
Cost of sealing a driveway
Many driveway cleaning services incorporate sealing cracks as part of the job, with an average of £300 charged for power washing and sealing a medium sized driveway.
If not, it's certainly worth adding this service on to prevent water from penetrating through the cracks in the driveway. Tradespeople specialising in this service tend to quote around £2-£4 per m² to apply sealer, with the current condition of the drive factoring into the total cost.
Cost to install driveway gate
Adding a gate to your driveway will not only help to improve security, but it can also increase the value of your property. Keep your home and your vehicles safe for an average additional cost of around £750.
Cost to clean a patio
Patio cleaning can help to enhance kerb appeal, boost the lifespan of the patio and keep it from getting slippery when wet. The average cost to jet wash a patio is £250. Combined with driveway cleaning, you can expect a quote of around £500 depending on the size and condition of your driveway.

See the tradespeople we've checked and recommend for your job
FAQs
Is it ok to pressure wash driveway?
Pressure washing is the most efficient way to clean your driveway as it can almost magically erase tough stains. However, with too much power, it is possible to damage the concrete. The most common reasons for damage through power washing is using the wrong nozzle, spraying too close and using too much pressure. The margin for error is large for those inexperienced with pressure washers, so it's worth hiring a professional to avoid irreversible damage.
How long does it take to pressure wash a driveway?
Time taken will ultimately depend on the size of the driveway and its current condition. For a small driveway, you can expect around 4-5 hours for the job. Medium-sized driveways take roughly 6-7 hours, while larger driveways take 8 hours maximum.
How often should I power wash my driveway?
We recommend having your driveway cleaned at least once a year. While pressure washing will remove the dirt stuck in the cracks and remove tough stains, regular maintenance will keep the timescales down in the long term. Plus, a clean driveway will be much more visually appealing and safe for you to use all year round.
What is the difference between power washing and pressure washing?
Although the cost to pressure wash a driveway and power wash the area are roughly the same, the technique is slightly different. The jet wash in a power washing machine uses hot water while the pressure washer does not. Power washers will be used for the removal of tougher stains, stubborn grime, grease, salt or mildew.
Looking for a quote to clean your driveway? Enter your postcode below to find specialists in your local area.
See the tradespeople we've checked and recommend for your job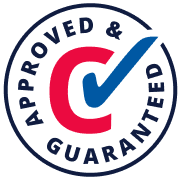 The Checkatrade guarantee
When you contact a trade through Checkatrade, our guarantee could cover you for up to 12 months. You can claim up to £1,000. Exclusions and T&Cs apply.