Over 30 tips for how to childproof your home
Protect your growing toddler with our how to childproof your home guide. Full of tips to prevent injuries and accidents in every room.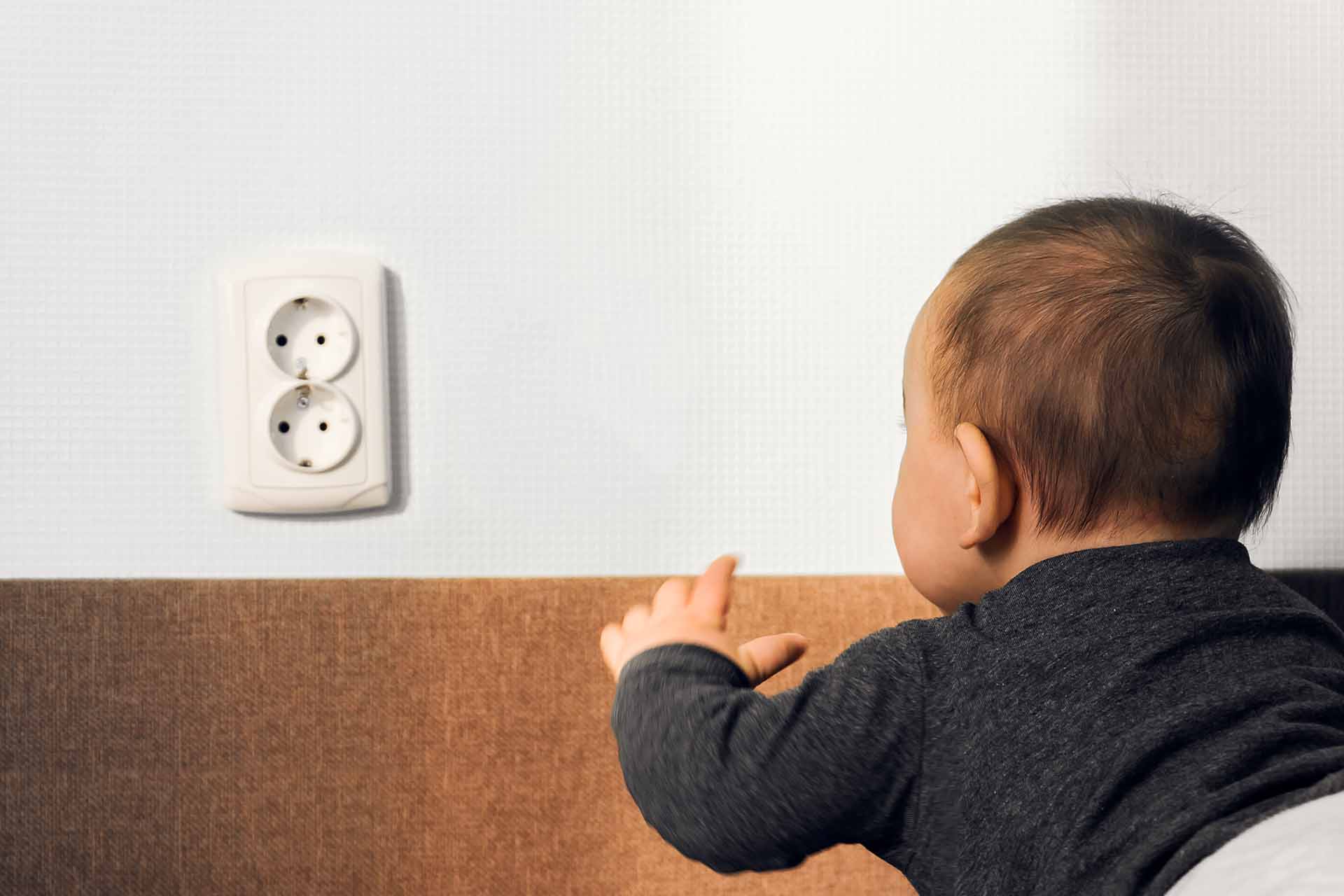 Bringing home a newborn child is incredibly exciting but can be stressful when you consider all the hazards in your home. Thankfully, you can eliminate these worries by childproofing before your little one starts to crawl and move around the house.
Have you ever wondered how to childproof your home? Well, this is the ultimate guide to protecting your baby at home. Today we'll be covering some of the best babyproofing products in the UK, as well as some of the dangers in your property and how to keep your baby safe.
First, let's look at the main threats in your home that need to be tackled before your child starts exploring. Below are a few of the ways to childproof your home:
Corners: Tables and cabinets will often have sharp, pointed corners that could injure your baby. Use rubber bumpers to prevent injuries.
Drawers and cupboards: Your child will love opening and closing any drawers or cupboards they can reach. This may mean they come into contact with harmful substances and objects. Add safety catches to drawers and cupboards to stop your baby from accessing these.
Electrical objects: Any electrical items in your home like hairdryers, irons, DVD players and floor lamps can be dangerous to a small child. So, move these out of reach and keep them unplugged between uses.
Cots: Always ensure that your baby's cot is not in a position that'll allow them to reach shelves, windows, radiators, lighting, and cords to prevent any accidents. Also, check the cot is sturdy and in good condition before you use it.
Rugs: Rugs can be slippery, especially on hard floors, which can cause your toddler to fall over. Adding non-slip patches under your rugs can eliminate this issue.
Power socket: You can purchase safety plugs to prevent your baby from sticking their fingers in sockets.
Furniture: Any piece of furniture that isn't heavy can be pulled over by an adventurous baby. The best way to stop your furniture from toppling onto your tot is to attach it to the wall.
Blind cords: Any blinds in your home that have dangling cords could pose a threat to babies, so tuck these away.
Ornaments: Move any ornaments or breakable objects from your toddler's reach.
Safety gates: You can stop your child from reaching the staircase and the kitchen by using safety gates.
See the tradespeople we've checked and recommend for your job
Best UK baby proofing products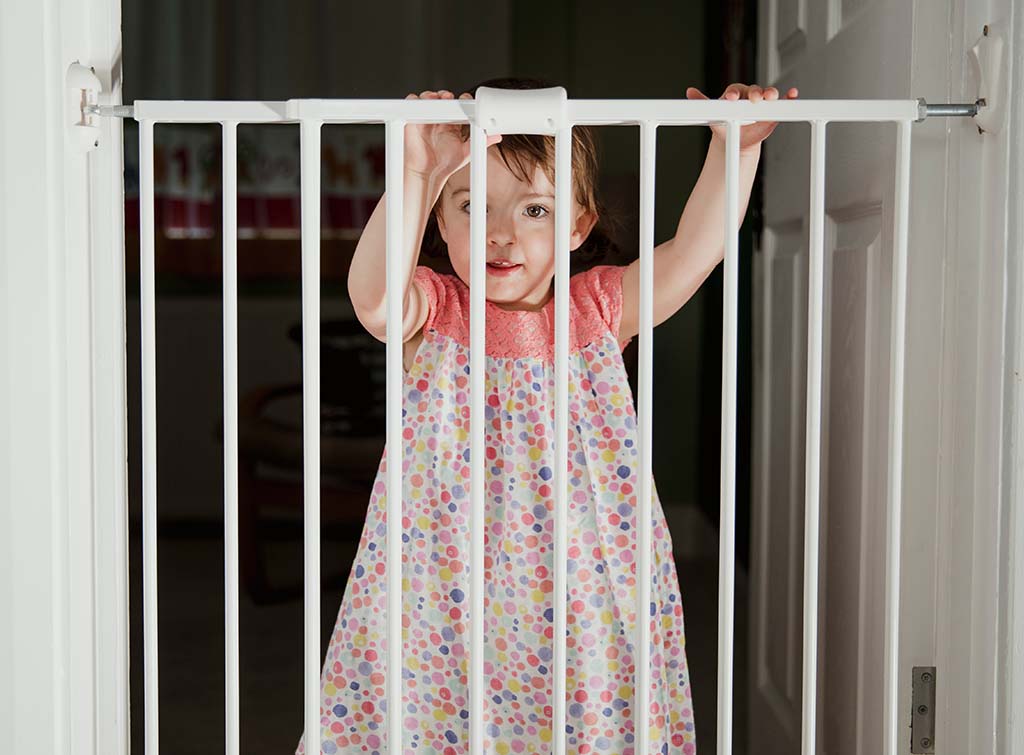 There are a range of different products you can purchase to safeguard your baby in your home. Some of the best baby proofing products in the UK include:
Stair gates: To stop your child from climbing the stairs and falling down.
Bath thermometers: To ensure that your baby's bath is at a safe and comfortable temperature.
Cupboard and drawer locks: To stop your child from opening cupboards with dangerous contents. You can even buy magnetic versions to make it easier for you to access them.
Wall anchors: To attach your furniture to the wall so it can't fall over.
Toilet lock: To prevent little fingers from getting squashed under your heavy toilet seat.
Corner bumpers: To cover sharp furniture corners.
Fireguard: To stop your tot getting too close to your fire.
Door locks: To keep doors to off-limit rooms closed while also preventing them from slamming onto your child's fingers.
Best UK child safety locks
Childproof safety locks are designed to protect your baby's fingers from cabinet and cupboard doors. They also ensure your little one can't access the cupboard's contents. This is especially important if you have dangerous chemicals or sharp items in the cabinet. Figuring out what is the best child safety lock for you will depend on your requirements.
You can choose between external and internal safety locks. External locks are fitted to the outside of your cupboards, either through the handles or at the door opening. They work best if you have two doors side by side that you can lock together.
Internal safety locks are fitted inside your cupboards and use either strong magnets, adhesive or screws. Internal locks are also more subtle and won't affect the appearance of your cabinets. Please note, if you buy a safety lock that uses a magnetic key, there is always a chance your child could get hold of it and open the door themselves.
Best UK corner protectors for babies
Corner protectors or bumpers are an essential part of childproofing your home. So, you're probably wondering what the best corner protectors for babies in the UK are? Well, firstly, you should ensure the protectors you choose are non-toxic- because babies love to put everything they find in their mouths.
Another thing to consider is appearance. It's worth doing a little research to find the corner protectors that work well with your interior design scheme. One of the best options available is the CalMyotis corner protectors, and these can be purchased from many online retailers. A full list of recommended corner protectors can be found on the Best Reviews Guide website.
FAQs
Do I need to baby proof my house?
Unfortunately, many children are seriously injured every year in accidents that could have been prevented in the home. While it may be time-consuming and certainly won't be free, you can help keep your toddler safe by babyproofing your home as soon as possible.
How do I toddler proof my house room by room?
Below we have summarised a few of the ways to toddler proof the different rooms in your home:
Kitchen: Adding cupboard safety locks, never leaving your child unattended around hot ovens (remember toddlers can reach your hob, so ensure you don't leave any pans hanging over the edge) and keeping sharp objects out of the way.
Living room: Anchor furniture to the walls, avoid using candles and matches, and install corner protectors.
Bedroom: Use safety plugs in your outlets, ensure there is nothing dangerous within reach of your child's bed, and use non-toxic paint.
Bathroom: Install a toilet lock, don't leave razors or scissors within reach, and don't leave full baths unattended.
What are five appropriate ways to childproof a house?
The five most important and appropriate ways to childproof a house are in our opinion:
Using safety corner protectors
Blocking any power outlets
Restricting access to the kitchen and staircase
Tucking away any loose cords or wires
Using cabinet door locks
Going the extra mile to protect your child
Of course, the safety and security of your baby is the most important thing to consider when it comes to childproofing your home. However, did you know that you can also seek professional assistance to protect your child further? If you're unsure how to install some of the more complicated childproofing products, you can hire a local handyperson to help you.
Not only will you save time and energy, but you'll have the confidence that your babyproofing items will be installed to a high standard. Are you looking for a handyperson? Check out our free search feature. Just use your postcode to find a range of professionals local to your home. Our members each pass 12 checks, so you can be sure you're hiring a trustworthy and experienced worker.
Another way to ensure you pick the best tradesperson for your job is to take a look at the HomeOwners Alliance website. With handy home improvement guides and articles designed to assist homeowners, this is a great place to go for tips and advice.
How much does it cost to baby proof a home?
If you'd like to save yourself the confusion of trying to install childproof products, you may be curious as to how much it'll cost for professional installation. Our baby proofing cost guide is full of prices, tips, and considerations to help you budget and plan for professional installation. For example, the average cost of cupboard and drawer lock fitting is £43.
Which tradespeople should you use for the job?
As we mentioned previously, the best professional to assist with childproofing your home is a local handypeson.