How to clean air ducts in 8 easy steps
Learning how to clean air ducts might not be on your list of home-care priorities. However, if you ignore them and don't stay on top of their maintenance, you run the risk of bacteria, fungi, and viruses entering your home.
Why clean air ducts?
Learning how to clean air ducts might not be on your list of home-care priorities. However, if you ignore them and don't stay on top of their maintenance, you run the risk of bacteria, fungi, and viruses entering your home. Don't invite pollutants into your domain. Make sure your air ducts are cleaned regularly so you can enjoy better overall health.
This is especially important if you suffer from any respiratory issues like asthma or dust allergies. A simple air quality test will help you determine whether your home is affecting your health. Alternatively, why not hire a professional to help you stay on top of your air duct maintenance?
How to clean air ducts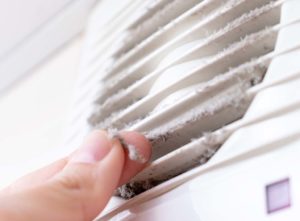 This guide is going to show you how to perform a basic clean on your air ducts. However, for a more thorough job, we recommend hiring an air ventilation expert your neighbours know and trust. Any home ventilation system is equipped with a variety of delicate components that only professional service providers can clean properly. For example, fan motors, cooling coils, and heat exchangers can all accumulate dust or grime that a professional will be able to examine and advise on.
For more extreme cases, a professional will need to use chemical agents to get rid of any pests or microbial pathogens present in your air ducts. It goes without saying that using pesticides and/or biocides should only be applied by an expert.
Tools you'll need for the job
Replacement air filters
Grate brush
Broom
Vaccum
Dust mask and goggles
Best way to clean air ducts
Now you know the risks and the steps to take before tackling your air ducts, the following section is going to focus on a basic DIY clean. It's worth noting that if you encounter more than dust, it's time to call in a professional.
Step one: Assess your vents
Before you tackle this job yourself, open the vent and examine what you're working with. Check whether there's any dirt, dust, or other matter you don't want in there. If you come across anything alarming, call a professional.
Step two: Check the grilles/air registers
An air register is a grille with moving parts that let you control the flow of air by opening or closing them. Check these for any buildup of dust and work out whether there's a thick layer of grime coating on them that requires scrubbing.
Step three: Remove the air filters
The air filters are one of the most important components of your air ducts because they stop particles and pollutants from entering your home. Check these by removing them and checking whether they're dirty or covered in dust. If so, it's time to change them.
Step four: Check the furnace vent
Your furnace vent is a compartment that opens up and lets you check the motor, blower fan, and furnace controls. Like always, you're looking for dust and build-up to see whether they need cleaning. If so, take a soft brush and gently clean the components. Use a vacuum fixture on a low setting to remove any loose debris.
Step five: Examine the air conditioning coil
Locate your air conditioning coil and check whether there's any dust present. If your air filter isn't working, you'll find grime on the housing walls.
Step six: Turn off any power going into your air ducts or vents
If you're cleaning a heating or air conditioning unit, turn off the power on the breaker panel or power switch on the furnace.
Step seven: Remove the air duct covers and clean
Your next step is to remove the air duct covers so you can begin to clean the grates. Give them a thorough scrub and follow up with a vacuum to ensure a deep clean. Consider using a vacuum with a nozzle that's easy to manoeuvre.
Step eight: Clean ceiling vents
Once your air ducts are spick and span, the last thing you need to clean are the ceiling vents. To do this, use a broom to clean off the dust and follow up by vacuuming thoroughly.
Note: Make sure you wear a mask, especially if you suffer from asthma or dust allergies. This will avoid triggering an attack.
Want to learn more about your air ducts? Take a look at our guides on air duct cleaning costs and air conditioner unit costs.
See the tradespeople we've checked and recommend for your job
FAQs
Should I hire a professional?
For the best results, we recommend hiring an air duct cleaning expert. This will ensure that your air ducts are fit for purpose and functioning well.
When you hire one of our trusted professionals, you're able to see their profile and view their customer reviews. Even better, those reviews are from your neighbours and checked by us to make sure they're legitimate so you can have peace of mind about who you're letting into your home.
How often should you clean your air ducts?
To extend the life of your air ducts and maximise their effectiveness, we recommend cleaning them every three to five years. However, if you live in a particularly dusty area, it's worth checking your vents every year to make sure they're in good working order.
Can I clean my air ducts myself?
Although it's easy to clean air ducts that just need a quick brush and vacuum if they require a more thorough clean, you need tools such as rotary brushes and a high-powered vacuum. Also, If there's a lot of dust, you need to unscrew the grills and run the vacuum along the inside of the vents.
Is duct cleaning a waste of money?
Dirty air ducts aren't good for your home or your health. So, if you leave them to fester, you run the risk of health hazards and a heftier cleaning fee further down the line. That's why it's worth staying on top of your air duct maintenance and avoiding the risk of dirt, pollen, and other allergens entering your home.