How much does air conditioning cost to install?
With summers in the UK becoming increasingly hot, more and more British homeowners are installing air conditioning systems in their homes.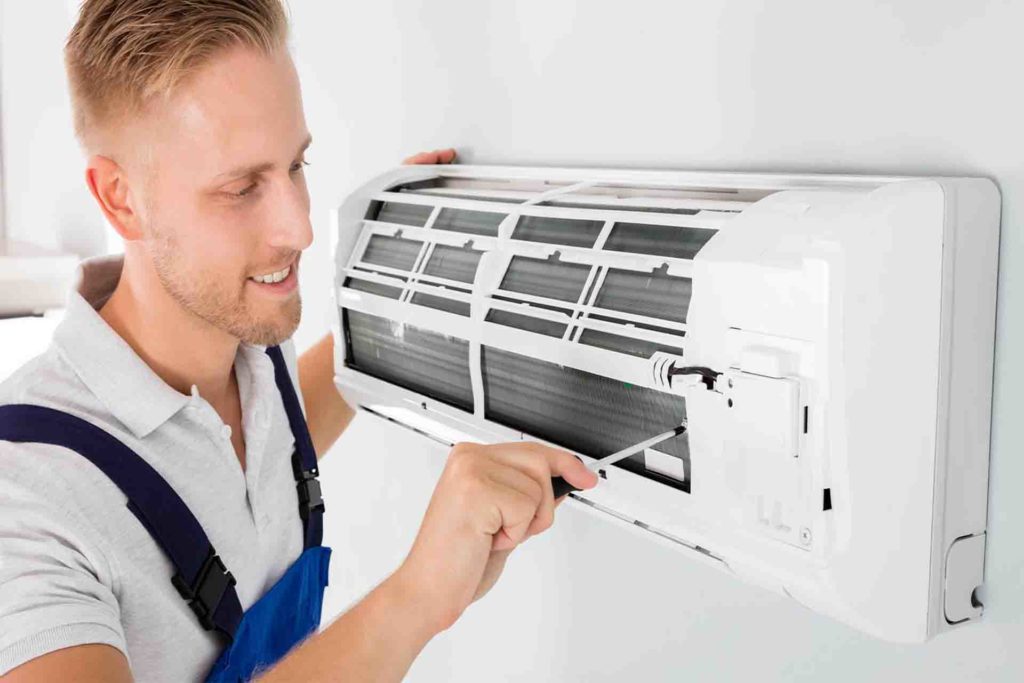 As well as increasingly warm summers and more frequent heatwaves, some properties are naturally warmer than others and could benefit from air conditioning.
If you're looking to maintain a stable temperature in your home all year round, air conditioning could be the answer. For the purpose of this guide, we're focusing on wall-mounted and ducted air conditioning systems rather than the portable units you can buy and plug in.
We recognise the importance of keeping within budget, so we've spoken to the online estimators at My Build Estimate – a professional estimating company monitored by the Royal Institution of Chartered Surveyors (RICS). They've provided us with their estimated average air conditioning installation costs in the UK.
How much does air conditioner installation cost?
| Item | Average cost |
| --- | --- |
| Split air conditioner system | |
| Small home office | £1,750 |
| Double bedroom | £2,250 |
| Conservatory | £2,000 |
| Six room multi-split unit | £7,500 |
| Ducted air conditioner system | |
| Small home office | £3,000 |
| Double bedroom | £3,000 |
The cost to install air conditioning in a house will depend greatly on the house itself and the type of air conditioning system you want to install.
On average, the air conditioner installation cost for a small home office is between £1,750 – £3,000. For a double bedroom, you're looking at an average air conditioner installation cost of £2,250 – £3,000.
The main factors affecting the cost of your air conditioner installation are:
Size of your house
Type of air conditioner system
Quality of air conditioner unit
Features available (e.g. remote control, timer, app access, and sleep mode)
Find air conditioning installers near you
Types of air conditioner systems
There are a few options when it comes to installing an air conditioner system in your home:
Portable air conditioning units
The cheapest and easiest type of air conditioner system for your home is a portable (or 'freestanding') air conditioning unit. These units don't require any installation and can be bought off the shelf and plugged in. They often come complete with a drain hose or exhaust duct to expel moisture via an open window.
Ducted air conditioner
Ducted air conditioning systems are the most expensive option, but they are also the most discreet for homeowners looking to have their air conditioner blend in as much as possible.
A ducted system has a fan that is attached to the exterior of the home, though instead it using a wall-mounted unit, the outlet is ducted to the ceiling.
Pros
Most discreet air conditioner option
Can easily be installed for one room or split into numerous controllable zones
Quietest of the systems
Ideal for larger homes
Cons
Not all properties will have the ceiling space for this system
Split air conditioner
Wall-mounted air conditioners, also commonly known as a 'split air conditioner' are the most popular type found in homes. They consist of a panel being fitted in a room, usually above head height, that circulates air over a refrigerant to cool the air.
Pros
A very efficient way to cool air
Doesn't take up any floor space
Cons
A large fan unit has to be fitted to the exterior of the property
Not as discreet as a ducted system
Domestic air conditioner installation costs
Split air conditioner installation costs
If you're opting for a split air conditioner unit, the installation cost will start at around £1,250 for a small home office at the lower end of the range up to about £2,500 for a more premium system.
The split air conditioner installation cost for a double bedroom is about £1,500-£2,500. And for a conservatory, the average installation cost is £1,500-£2,500.
If you're looking at installing a split air conditioner system for a whole house then a six room multi-split unit will cost £5,000-£9,000.
Ducted air conditioning costs
For a small home office installation, the average ducted air conditioning cost averages at £3,000. For a double bedroom, the cost averages £3,000.
How long does aircon take to install?
Depending on the size of your home and the type of air conditioner system you choose, it should take between 4-8 hours to install an air conditioning system. This can vary for larger homes or installations of more complex air conditioner systems.
Air conditioner cost calculator
The best way to calculate the cost of installing an air conditioner is to work out the space(s) that you want to benefit from air conditioning. By knowing the size and number of the rooms that need an air conditioner unit, you can speak to local experts to find out the cost of the materials and labour for the installation.
Air conditioner installation quotes
We always recommend obtaining at least three quotes from our trusted tradespeople. Our request a quote feature is perfect for getting quotes – you post details about the job you need doing and we'll send it out to local tradespeople in your area. Try it out!
Air conditioner installation hourly rates
The average hourly rate for an air conditioner engineer is around £50 per hour – though it's more likely that you'll be quoted a total cost for the installation, rather than hourly rates.
If you need your air conditioner to be repaired, however, that work is often charged at an hourly rate plus any callout fee for the job.
Other air conditioner costs
In addition to the air conditioner installation costs, there are a number of other financial factors you need to consider:
Running costs for using your air conditioning will impact your energy bills.
Maintenance to keep your air conditioner unit(s) in good working order.
Supplies such as coolant and batteries for the remote control (if relevant).
Useful air conditioning checklist
Decide which rooms/areas of your house require air conditioning.
Research the types of air conditioner unit to decide which might be best for you and your home.
Measure your room size to calculate the BTU output required to cool the room.
Speak to local air conditioner experts for professional advice and accurate costs.
Always shop around for fair and competitive prices for air conditioner installation.
When hiring a professional, always choose a tradesperson with appropriate experience and qualifications.
Find air conditioning installers near you