How to clean car seats
Eliminate stains and odours with our guide on how to clean car seats. Instructions for cleaning leather, fabric, Alcantara and suede seats.
No matter which material you choose to cover your car seats, over time they can become dirty and stained. Accidents can happen to even the most careful of vehicle owners and knowing how to clean car seats will be a skill that comes in handy again and again.
This guide covers all you need to know to keep your car seats looking brand new. We'll be looking at cleaning a variety of different materials and different stains. Please note, it's vital that you use the right products and methods for cleaning your seats or you risk damaging the material.
Some of the most common ways of cleaning car seats include vacuuming, using car seat shampoo, and using leather conditioner. So, read on to revitalise your dull car seats.
How to clean leather car seats

Leather is a popular car seat material, found more often in high end vehicles. It looks great, but without regular cleaning, it can become stained and dirty. Lighter leather tends to show up the dirt more, but luckily, learning how to clean white leather car seats isn't too tricky. Use the below steps to clean and treat leather car seats:
Firstly, check your seats for cracks and holes, you want to avoid getting any products into your car seats.
Using the hose attachment on your vacuum, pick up any crumbs and dirt from your car seats.
Next, use a damp cloth to sweep away any surface grime.
Adding leather cleaner to your cloth, wipe the material, getting rid of any remaining dirt.
Then, use a clean cloth to remove the leather cleaner from your seats.
To keep your leather looking great, we'd then recommend using a leather conditioner.
Test a small, hidden area of your seats to ensure the leather conditioner doesn't leave a stain.
You can then use a cloth to massage the conditioner into your leather and leave for a minimum of an hour to work.
Finally, buff the seats using a clean cloth.
Want to deep clean leather car seats? You can do this when applying leather cleaner. Use a soft-bristled brush to rub the cleaner into the seats. Keep gently scrubbing the seats until you've covered every area before wiping away the leftover solution with a clean cloth.
For best results, we always recommend hiring a professional cleaner. They'll have the tools and expertise to get even the toughest of stains out.
See the tradespeople we've checked and recommend for your job
How to clean fabric/cloth car seats
Fabric or cloth car seats can look as impressive as leather if they're kept in tip-top condition. What's more, you don't need to spend a fortune on fancy seat cleaners. Knowing how to clean cloth car seats with household products can save you money and time.
Low on funds? Here's how to clean car seat fabric yourself:
Start by removing any loose debris or pet hair from your seats using a vacuum. If you have an upholstery attachment, this is a great time to use it.
It's always worth giving tough stains a little more time to lift by applying upholstery stain remover (you can also use baking soda mixed with water) and leaving for a minimum of 15 minutes.
Next, mix a cleaner solution for upholstery or fabric with lukewarm water. Always follow the manufacturers instructions to avoid mistakes.
You can then spritz this over your car seats using a spray bottle. You'll want to make the material damp but not soaking wet.
Use a cloth or scrubber to rub the cleaner into your cloth seats. Make sure you don't miss any areas.
Dry the seats as much as possible using a clean, dry cloth before leaving your car to air dry.
How to clean suede car seats
Suede is a luxurious material in high demand, but it's particularly vulnerable to stains and dirt which can ruin its beautiful finish. That's why it's so important to know how to clean suede car seats properly, otherwise, you risk damaging the material.
Following the below instructions is the best way to refresh your suede car seats:
Use a suede brush to gently sweep any crumbs or dirt off your car seats.
You'll then need to remove any leftover grime. Do this by brushing your seats in every direction to clean the entire surface. You can also lift the nap by brushing in circular motions.
You can often remove stains from suede using a suede eraser. Gently go over any marks in circular movements until they disappear from your car seats.
Use your brush to get rid of leftover debris from your eraser.
Remember, if you spill any fluids onto your suede seats it's important to use a cloth to absorb as much of the liquid as possible to prevent damages.
How to clean Alcantara car seats
Alcantara is a synthetic material that gives the appearance of suede but is longer lasting and easier to clean.
To clean Alacantara seats, start by removing any loose particles with a vacuum before using an Alcantara cleaner solution to lightly cover your seats. You can then use a soft bristle brush to gently scrub the material. Finally, wipe with a soft cloth.
How to clean stained car seats
Children, pets and clumsy passengers can all cause stains to set into your car seats. These marks can affect the appearance of your car's interior so removing them should be a priority. One of the best ways to clean stained car seats is using vinegar and dish soap. Don't forget to test the mixture on a hidden area of your seats to prevent damaging the material.
Just mix together one cup of vinegar with two cups of water and a small amount of dish soap, before spritzing the stain using a spray bottle. Allow the solution to work before wiping with a soft cloth to remove the stain.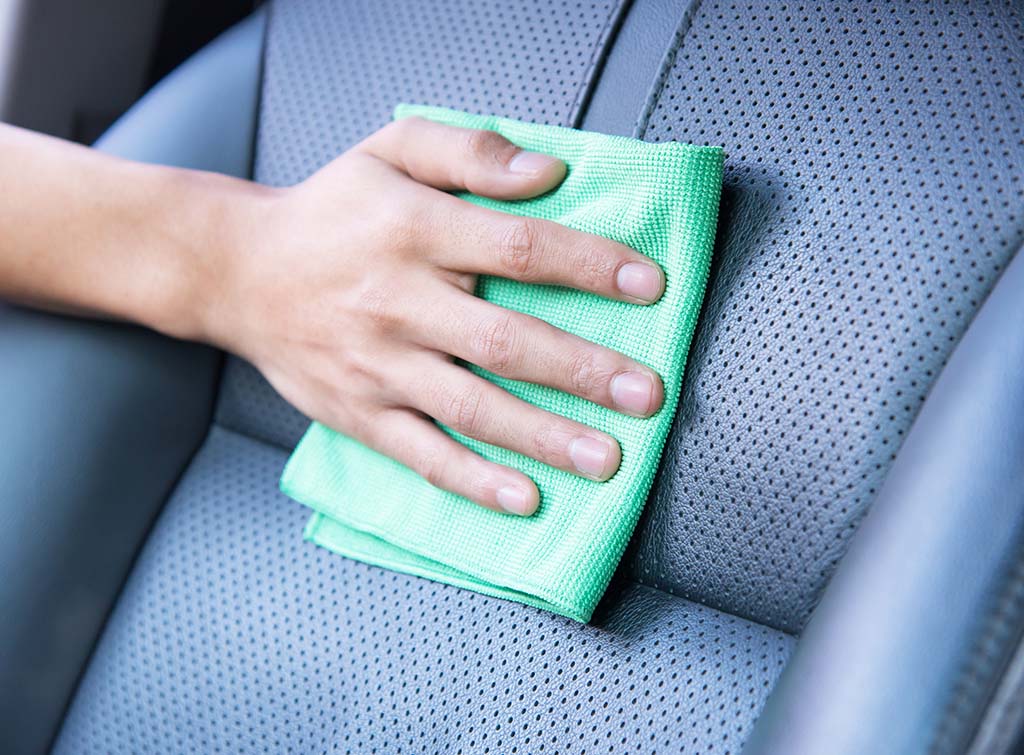 How to clean mud off car seats
If countryside walks are a must for your family, you'll likely end up with muddy car seats on a regular basis. Luckily, it isn't too difficult to learn how to clean mud off car seats. Just use the below tips:
Remove as much of the dry mud as possible using a brush and vacuum.
Use a damp towel to blot the mud stains, lightly scrubbing to pick up as much mud as possible.
Then, mix dish soap with a little water before scrubbing the mud stains gently.
Spritz a mixture of vinegar and water over any leftover stains before using a dry cloth to blot the area.
You can also use a car seat cleaning solution to lift any mud from your seats.
How to clean mould off car seats
Mould can be hazardous to your health and being cooped up on long car journeys with mouldy car seats can be dangerous. Here's how to clean mould off car seats:
Open your car windows and doors for about 20 minutes to let any spores escape from your car.
Make sure to wear a face mask to protect your lungs from the mould before using a toothbrush to remove loose patches.
Vacuum any debris off your car seats.
Next, mix white vinegar with water and apply to your car seats, covering any mouldy areas. Allow this to work for at least 15 minutes.
Once dry, you can vacuum the seats again to pick up any spores.
We'd also recommend sprinkling baking soda over your car seats to kill any remaining mould. Let this sit on your seats for about 15 minutes before vacuuming.
How to clean water stains off car seats
Frustratingly, any water that enters your car through open windows or doors can cause stains on your car seats. However, it's actually quite straightforward to clean water stains off car seats. Try the below method:
Remove any dirt or dust by vacuuming the seats first.
Using a dry foam cleaner, spray all over your car seats without missing any areas.
Gently scrub your seats using a brush, helping the cleaner to work.
Finally use a dry cloth to wipe away any remaining liquid.
How to steam clean car seats
An excellent way of deep cleaning your seats is to use steam. Thanks to its high heat, steam is great for killing any nasties and removing odours. Wondering how to steam clean car seats? Use the following instructions:
Make sure to buy or rent a steamer that's suitable for use on fabric and comes with a soft bristle brush head.
Vacuum the seats to get rid of any debris.
Next, add water to your steamer and allow it to heat up fully.
Similar to vacuuming, run your steamer over your seats, moving from top to bottom. Make sure to move slowly at a constant pace covering every part of your car seats.
Take a little more time over any stains. You can use your brush attachment to carefully scrub the stain without pressing too hard.
To finish, use a dry cloth to absorb any excess water and allow your seats to dry before using.
See the tradespeople we've checked and recommend for your job
Hiring a professional
If you're struggling to return your car seats to their former glory, you always have the option of paying for a professional to take on this job. The good news is that you can expect brilliant results in no time at all. What's more, a professional will have dealt with countless other dirty car seats and will know exactly how to revitalise your car interior.
Unsure how to find a local professional? No problem, just use our free search feature to locate a range of tradespeople who are recommended by your neighbours.
How much does professional car seat reupholstery cost?
If your car seats are worn, torn or damaged, it may be time to reupholster them. If you're curious as to the average cost of recovering your car seats, check out our reupholstering car seats cost guide. This article includes all the prices you need as well as the factors that affect these prices.
You can also replace your alloys which will make a huge difference to your car's appearance. Our alloy wheel refurbishment cost guide contains advice and a range of average prices.
FAQs
What can you clean car seats with?
You can use anything from vinegar to baking soda, leather cleaner or a steamer to clean car seats.
How do you get stains out of cloth car seats?
You can use a specific stain remover, but another option is to use vinegar, dish soap and water.
How can I clean my car seats at home?
You won't need any expensive tools, in fact, you can clean your car seats using household items like vinegar and baking soda. You'll also need a vacuum, a few clean cloths, and a soft bristled brush.