How to clean an induction hob in 6 steps
Discover how to remove burnt on food from your induction hob and professionally clean the surface using household liquids and a few cloths.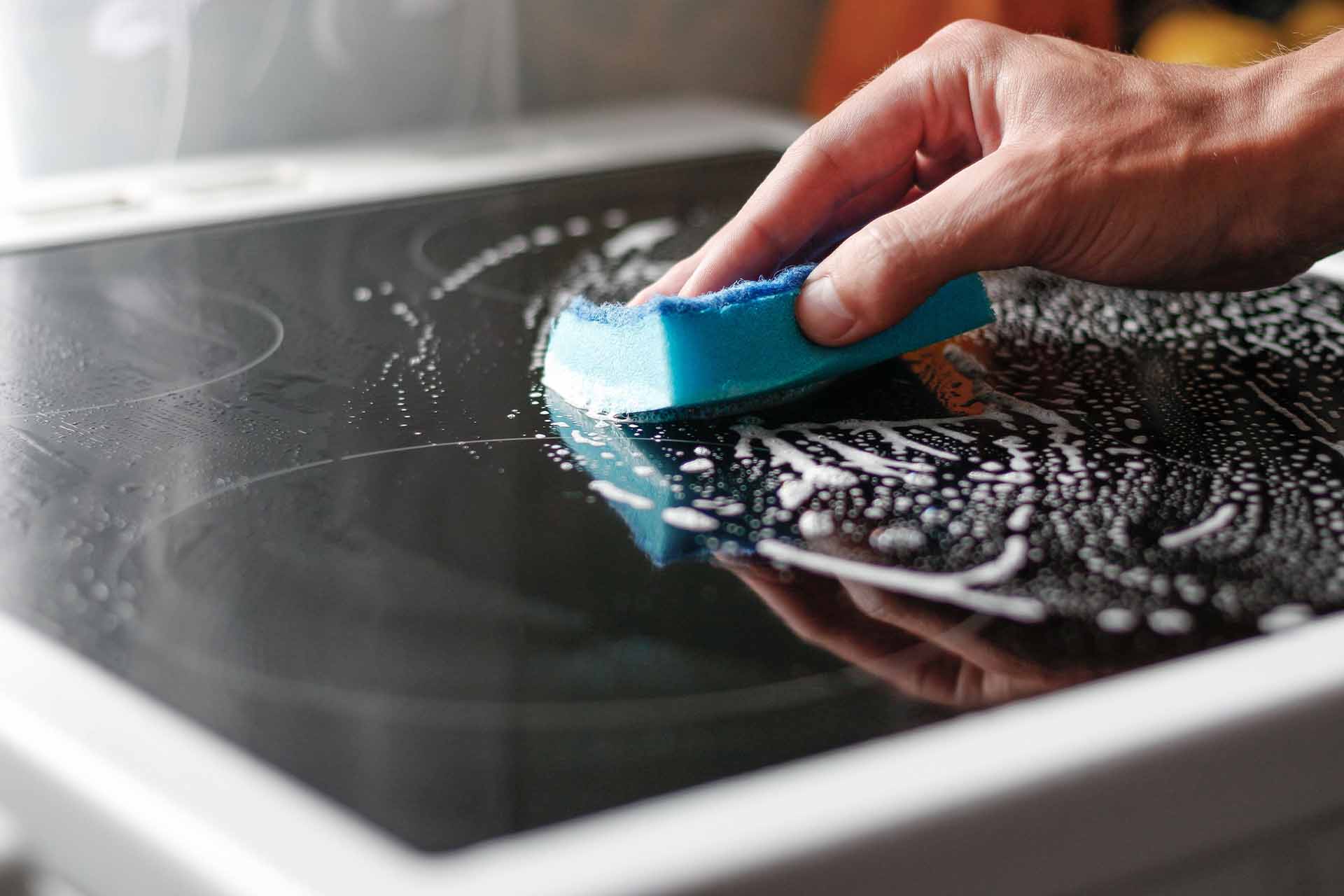 Keeping an induction hob clean and clear of any spilt food is essential for safety and the efficient operation of the hob. In this guide we'll explain how to clean an induction hob with burnt-on food, enabling you to take the polished glass surface back to its shiny self.
What you'll need to clean an induction hob
Burnt-on food spillages can be difficult to remove from an induction hob surface. And if you don't spot the spillage and then turn the heat back on, it can really cause some damage to your hob. Worst of all, it ruins the sleek look of your induction hob.
Did you know you can actually use common household liquids to clean your induction hob? With the help of a few pieces of cleaning equipment too.
Here's what you'll need:
Vinegar
Baking soda
Washing up liquid
Microfibre cloth
Tea towel
Non-scratch sponge
Paper towels
Bowl
Sink
Spray bottle
How to clean an induction hob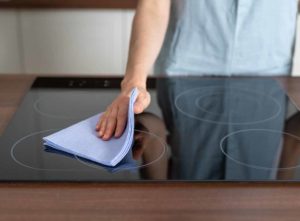 First, always ensure your hob is turned off and cool to prevent injury. Turn it off at the wall switch if possible, just in case you accidentally touch the controls when cleaning.
Fill your sink with warm soapy water and add a few drops of dishwashing liquid. Using your microfibre cloth, dip it in the water, wring, and wipe any surface dirt away from the hob.
Wipe dry with paper towels.
Add one-part baking soda and one-part vinegar to your bowl to create a thick paste. Spread the paste all over the hob and leave it for 45 mins to break down the burnt-on food.
Using a sink full of warm soapy water, wet 

your microfibre cloth again, wring and wipe away the paste.

Dry your induction hob surface with paper towels and use a dry microfibre to polish the clean surface.
While the idea of cleaning your induction hob seems fairly straightforward, it isn't always. Some stains on your hob can seem like it's etched into the hob itself, and your natural reaction will be to scrub harder and faster and to put a bit of weight behind it. Do not do this. This will either scratch the glass or even snap it.
You need to be careful when cleaning that you do not end up causing more damage. Using an experienced cleaning professional will get the best results for you. Enter your postcode in the free search tool below to get quotes from local kitchen cleaning specialists.
See the tradespeople we've checked and recommend for your job
FAQs about induction hob cleaning
How do you get marks off an induction hob?
On all induction hobs, gradually food items that get burned over time start sticking onto the glass surface, reducing the appliance's efficiency and creating an eyesore.
To clean marks on your induction hob, simply follow the steps above, focusing on the specific marks you want to remove.
How do you clean an induction hob with burnt on food?
Burnt-on marks are a nightmare for any induction hob owner and seem like they have fused to the glass surface with no chance of removal. It isn't true thoguh and you can get rid of burnt-on food from your hob.
To find out how to get burn marks off induction hob surfaces, follow the steps above and to discover how much it would cost to get a professional to clean your hob and oven.
Take a look at our oven cleaning prices guide.
How do you clean an induction hob stain?
Fear not, that stain on your lovely induction hob can be removed, all you need is some household liquids and a few cleaning cloths. Use the steps laid out above to get rid of that annoying stain.