How to clean a microwave
Learn how to clean a microwave quickly and effectively. Using natural, household items like baking soda, vinegar, dish soap and lemon juice for great results.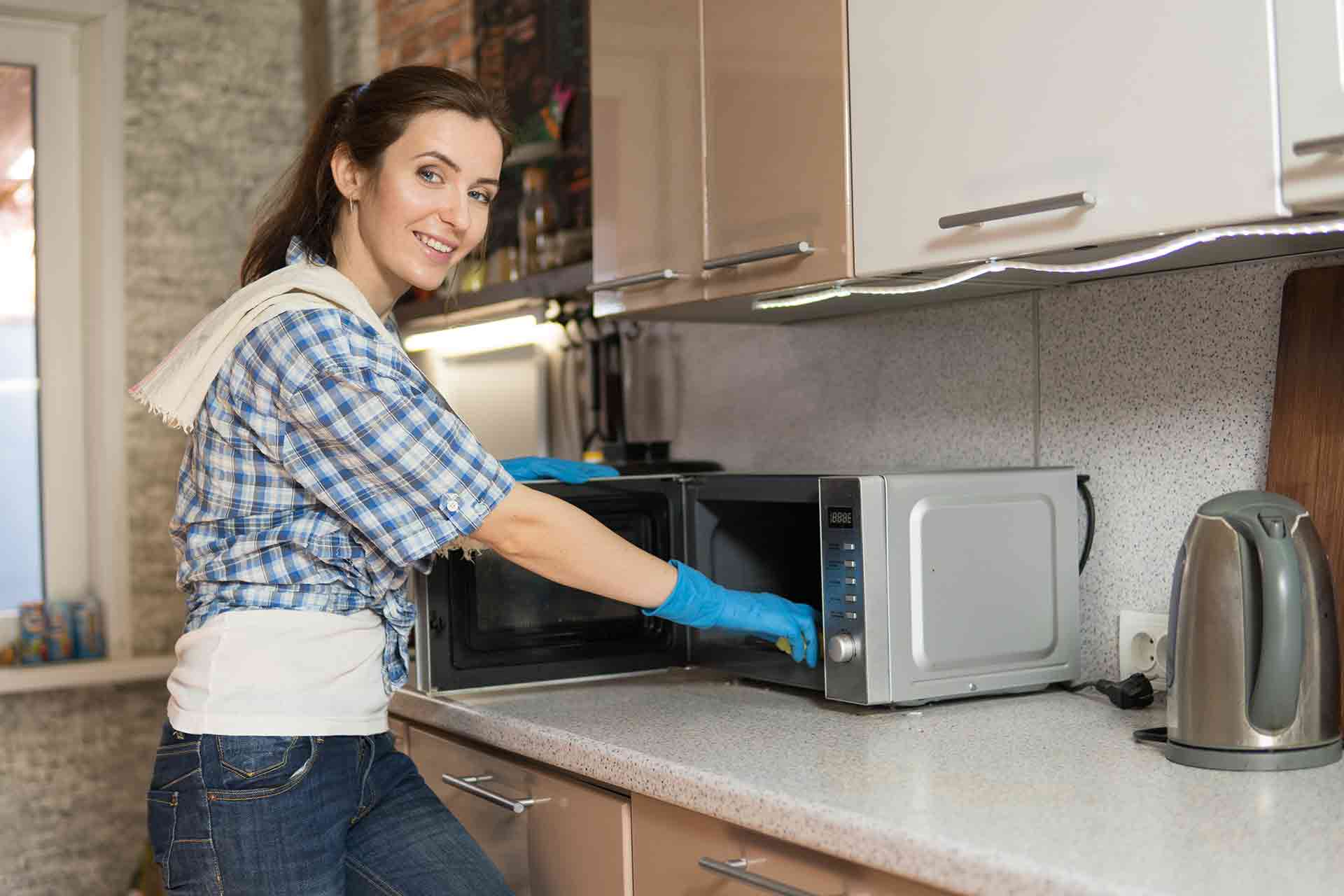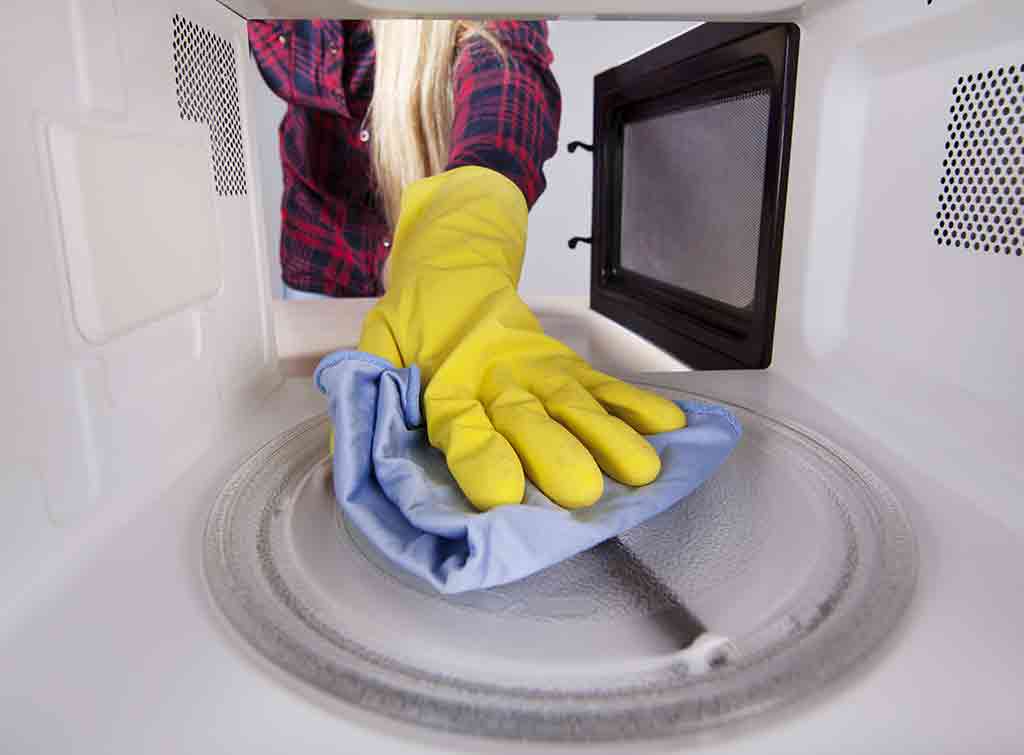 A staple in most homes, microwaves offer a convenient, quick way of cooking many different types of food. From popcorn to soup and even jacket potatoes, these handy appliances are integral to modern living. So why is it we neglect our microwaves, ignoring bad smells and burnt-on food every time we use them? In this guide, you will learn how to clean the inside of a microwave thoroughly.
You will also learn about the different methods of cleaning a microwave, such as, how to clean a microwave with vinegar and how to clean a microwave with baking soda. So, grab your rubber gloves and let's get cleaning.
Common sources of dirt
When getting your microwave into perfect shape, you will need to not only remove old pieces of food but also remove any odours to create a sanitary space for cooking. There are a number of different ways that a microwave can be dirty, these include:
Grease
Leftover food
Odours
Burnt remnants
Each of these can be eliminated in a different way and we will be looking a number of different methods to clean a microwave in this guide. For example, you can treat:
Grease with vinegar
Leftover food with a sponge and lemon juice
Odours with baking soda
Burnt remnants with dish soap
See the tradespeople we've checked and recommend for your job
How to clean your microwave
One of the most important tools in your cleaning arsenal is a sponge with a scourer. This can help to loosen debris while also holding water and dish soap to thoroughly clean any surface. Use the below tips to clean your microwave with a sponge:
Start by loosening any food remnants. If they are burnt on, skip to our 'how to clean a microwave with dish soap' section.
Remove the microwave turntable and dunk in the sink, wiping with your soapy sponge.
Scrub the interior of your microwave with your soapy covered sponge. Always wring out your sponge before use to minimise the amount of water in your microwave. Top tip: Try not to get any water in your microwave vents or this could cause future issues.
Rinse your sponge out as necessary and keep using clean water and soap.
Use a slightly damp kitchen roll to absorb any soap suds.
Then, use a dry cloth to completely remove any traces of moisture in the microwave.
Put the turntable back into the appliance and it is ready to use.
How to clean a microwave with lemon
Using lemon juice to clean a microwave is the ideal solution to not only loosen food and dirt but lemon juice also gives your appliance a clean, lemony scent. Wondering how to clean a microwave with lemon juice? Use the below instructions:
Start by cutting a whole lemon in half down the centre.
Fill a measuring jug about two-thirds of the way up with water.
Then, squeeze as much lemon juice as you can into the jug. Top tip: You can also put the leftover lemon halves into the jug for extra freshness.
Shut the microwave door and using a high setting, cook for between five and ten minutes.
Carefully remove the hot measuring jug, then take a sponge or cloth and wipe all the surfaces of your microwave clean.
See the tradespeople we've checked and recommend for your job
How to clean microwave with vinegar
Vinegar is a great item to have in your home, whether you love cooking with it or not. It is even great at cutting through grease, particularly in dirty microwaves. What's more, learning how to clean a microwave with vinegar is as simple as following the below steps:
Combine half a cup of water and half a cup of vinegar in a bowl or jug that is microwave safe.
Turn your microwave to a high setting, checking regularly, until the mixture comes to a boil. Top tip: Wait until the microwave door steams up before moving on to the final step.
Being careful not to burn yourself, remove the jug from the microwave and wait a few minutes until the machine has cooled down.
Finally, take a cloth or sponge and wipe down the microwave interior.
How to clean a microwave with dish soap
In addition to washing up, dish soap can be used to clean other areas of your kitchen. As this liquid is found in most homes, you can save time and money by learning how to clean a microwave with dish soap on its own.
Grab a sponge and follow these steps for a sparkling microwave:
Pour warm water into a bowl and mix with dish soap. Top tip: Submerge your sponge in the bowl of water and soap then squeeze repeatedly to increase the amount of bubbles.
Remove your turntable and wash up, leaving it to dry while you continue.
Wipe any large pieces of food out of your microwave using your sponge or a cloth.
Dampen any burnt food remains and give them a good scrub with your sponge and dish soap.
Being careful to avoid the vents, use your soap dipped in the soapy water to wash the sides and bottom of the microwave. Top tip: Try not to get the appliance too wet by thoroughly wringing out the sponge each time you dunk it.
Keep rinsing the sponge to remove dirty water and debris before filling it with clean, soapy water.
To finish, use a damp cloth to wipe away any soap suds that are left in the microwave then dry with a piece of kitchen roll and replace the turntable.
How to clean microwave with baking soda
Unfortunately, it isn't uncommon for microwaves to start smelling, especially if you have been cooking strong scented food. Thankfully, you can get your microwave back to a clean and fresh state by using baking soda.
Unsure how to clean a microwave with baking soda? It couldn't be easier, just follow the below steps:
Pour your baking soda into a small bowl or jug.
Next, add water and combine.
Put the bowl in your microwave and turn it on for about five minutes.
Finally, remove your jug and use a cloth to wipe the microwave surfaces clean.
See the tradespeople we've checked and recommend for your job

How to clean a microwave without vinegar or lemon
While vinegar and lemon are excellent options when it comes to achieving a sparkling microwave, there are other choices available to you. Instead, why not check out our other step-by-step guides covered in this article. Please see the following sections:
How to clean a microwave
How to clean a microwave with dish soap
How to clean a microwave with baking soda
Professional cleaning options
If you have tried to clean your microwave and none of the above methods has been successful, or you simply don't have the time or energy to try, calling an expert can be a brilliant choice. When hiring a qualified tradesperson, you can look forward to a high quality, efficient job with fantastic results.
In fact, if you are considering getting outside help, use our free search feature to contact a range of trusted professionals instantly. Another option for anyone who wants to learn more about hiring an expert to clean their home is to explore our oven cleaning prices guide and our house cleaning cost guide.
Below are a few average costs:
Standard oven cleaning – £50
Double oven cleaning – £70
House cleaning per hour – £12.50 – £16
Carpet cleaning – £47