How to create a green roof
Discover how to create a green roof on your home or shed in a safe way, including the essential considerations you need to make before planting.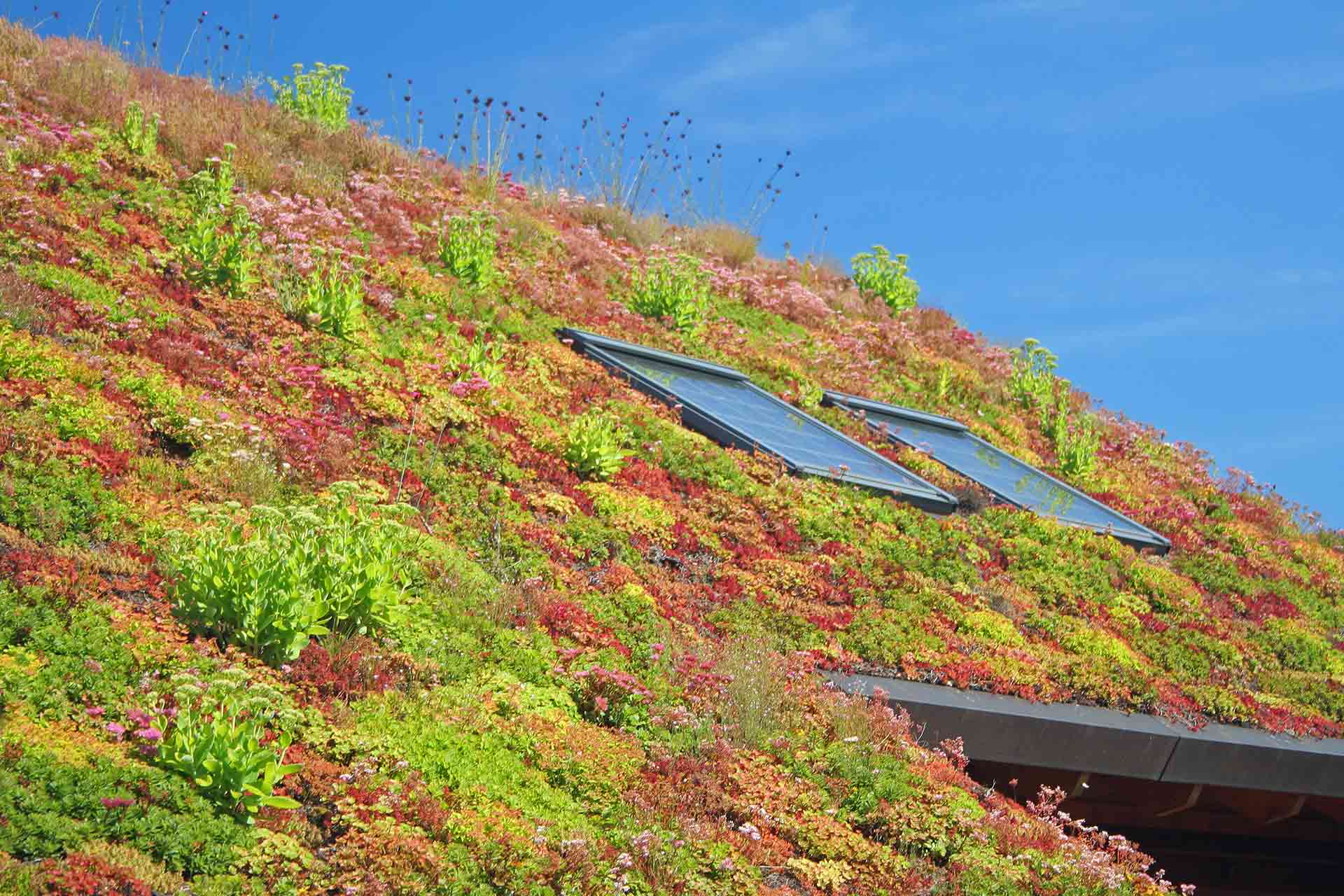 Green roofs are a great way to utilise what is effectively dead-space in order to create life. A green roof done right has the potential to improve the environment, insulate your home and support biodiversity. Here's how to make a green roof on your property.
Choose a safe and suitable roof
Before you purchase any plants, materials or equipment, you need to establish whether you have a safe structure for your green roof. The structural requirements for a green roof include:
Being structurally capable of carrying the significant weight of everything needed to support a healthy green roof. This includes soil, plants and water for irrigation. This is unique to every green roof installation and should be assessed by a roofing specialist.

The correct angle of the roof. A maximum of 10 degrees is classed as flat and anything more than this will begin to create a much more challenging, and potentially dangerous, installation.
How to make a green roof
With your roof confirmed as able to support a green space, you need to purchase all of the materials needed to create a sustainable, low-maintenance green roof. You'll need waterproofing layers, root barriers, drainage membranes, geotextiles and they all need to be right for your roof before planting:
Waterproofing: One of the most important steps in creating a green roof is ensuring that your roof deck is waterproof. This will protect your home from leaks and ensure that the soil and plants on your roof are able to get the water they need. You can use a m

embrane such as PVC, rubber or EPDM to create a watertight seal between the roof deck and the soil. A

bituminous coating is also an option.

Add a root barrier: 

A root barrier is an impermeable membrane that prevents plants from causing root damage to your roof structure. For this, geotextile 

and

 

HDPE membranes are commonly used.
Drainage layer: A drainage layer is essential to collect and channel excess

 water away from the roof surface. Aggregate, fibre mats or hydro-retentive materials can all be used, and always ensure you install a filtration layer to prevent soil from getting into drainage channels.

Planting: 

Once your green roof is in place you can add soil and fertiliser, water thoroughly and start planting. Choosing the right plants for a green roof is important as they need to be durable and able to thrive in full sunlight with limited access to water.
Please note: Creating a green roof on your home is a potentially dangerous job as you'll be working at height with heavy materials. Added to this, it takes skill and knowledge to get it right. Enter your postcode below to find professional green roof installers that your neighbours recommend.
See the tradespeople we've checked and recommend for your job
How to build a green roof on a shed
If you want to start small, and lower to the ground, a green roof can also be installed on a timber structure such as a shed. The process is much the same as when installed on a house, with a few key differences:
The roof of the shed will need to be reinforced to support the weight of the soil and plants.

The timber of the shed will need to be thoroughly waterproofed to prevent rot.

The drainage layer and filter layer are not usually necessary as the volume of water is less and can easily drain off.
A green roof on a shed is a great place to start if you're considering a DIY approach. Not only is it safer and cheaper, but it also gives you an opportunity to experiment with plants, watering and maintenance ready for any projects that involve your main roof.
FAQs
Can I make my own green roof?
Yes, you can. But as stated above, there's a lot to get right if your green roof is to thrive. Plus, if it's on the roof of your home, there's also a lot of safety factors to consider. If you feel confident, then the steps above will help you make your own green roof.
How do you make a simple green roof?
There's not really such a thing as a simple green roof, as their construction requires a number of structural, waterproofing, damage-prevention and planting considerations. If you want your green roof to be an asset and not an expensive eyesore, then you'll need to design and build your green roof professionally.
How is a green roof constructed?
As stated above, you'll need a roof structurally capable of supporting a considerable weight. Then you'll need to waterproof the roof deck, add a root barrier membrane, drainage, filtration, soil and finally plants.
How much does it cost to make a green roof?
The average green roof cost including installation is around £7 – £12 per square foot. You can find out more in our green roof cost guide.
How do you lay a green roof?
There's a strict process you need to follow in order to lay a safe and sustainable green roof. This includes a waterproof layer, a root barrier membrane, drainage provision, filtration and finally a growing substrate, such as soil.
Whatever type of green roof you're planning to create, we always recommend hiring a professional. Enter your postcode below to find your local green roof installer.
For more roofing advice check out the NFRC website.