How to fill holes in a wall
Need to repair deep cracks & large holes or plaster a damaged wall? Our guide on how to fill holes in a wall will help you tackle these jobs step-by-step.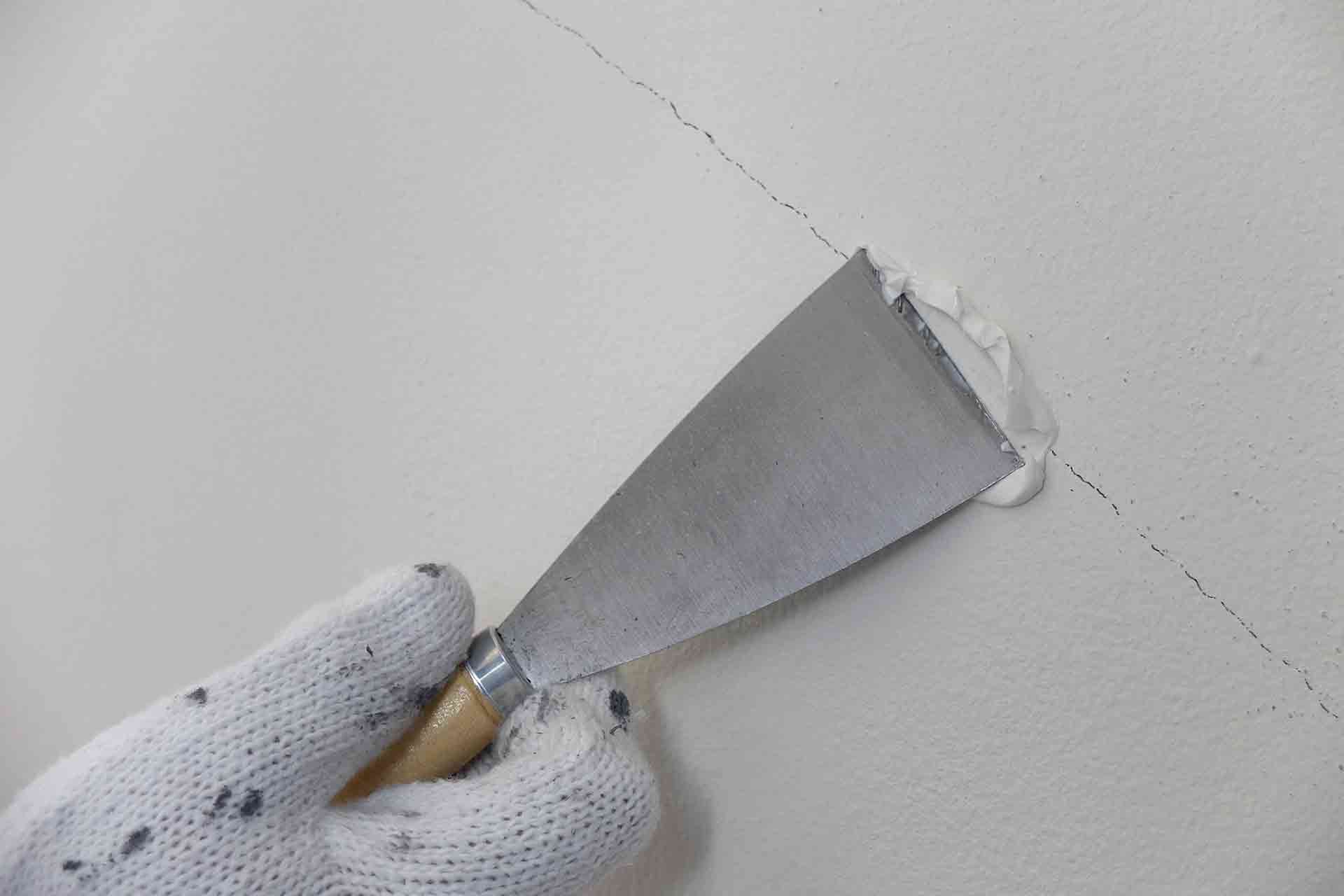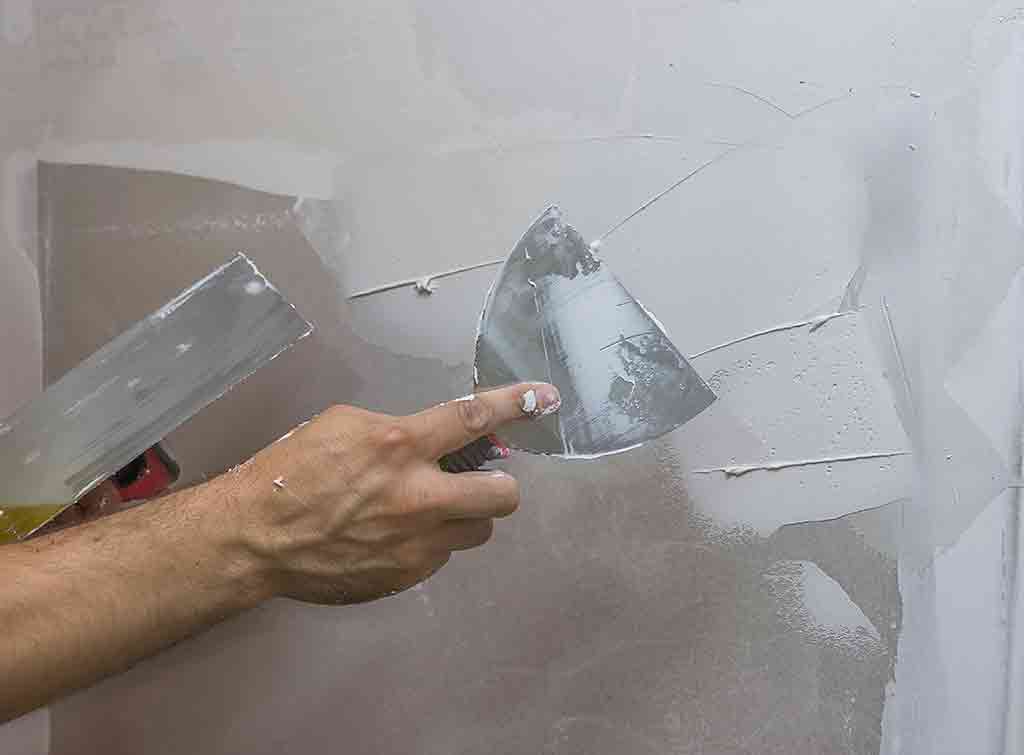 From small cracks to large holes, a variety of cosmetic and structural problems can occur with our walls, and often at the worst possible times. When this happens, you'll want to fix the problem as soon as possible to prevent further issues and to remove the unsightly damage. As such, you may be wondering how to fill holes in a wall.
Whether you want to know how to plaster a damaged wall, how to smooth walls without plastering, or even how to batten a wall for plasterboard we've covered all of the main ways to fix holes big and small.
How to fix a hole in a plaster wall
Whilst the below tactics are good for fixing smaller holes and cracks, you may be wondering how to repair deep cracks and large holes in plaster walls. Before we go any further, it's vital we state that cracks that are larger than 5mm in width can point towards serious underlying structural defects. If this is the case, you must speak with a professional.
If the hole is under 5mm then you can have a go at fixing it yourself. To start with, it's important you have the right equipment. You will need:
Face mask and eye protection for sanding
Gloves
Wall filler
Medium-grade sandpaper
Damp sponge
Paintbrush
Putty knife
Dust sheet or newspaper
Repair kit
See the tradespeople we've checked and recommend for your job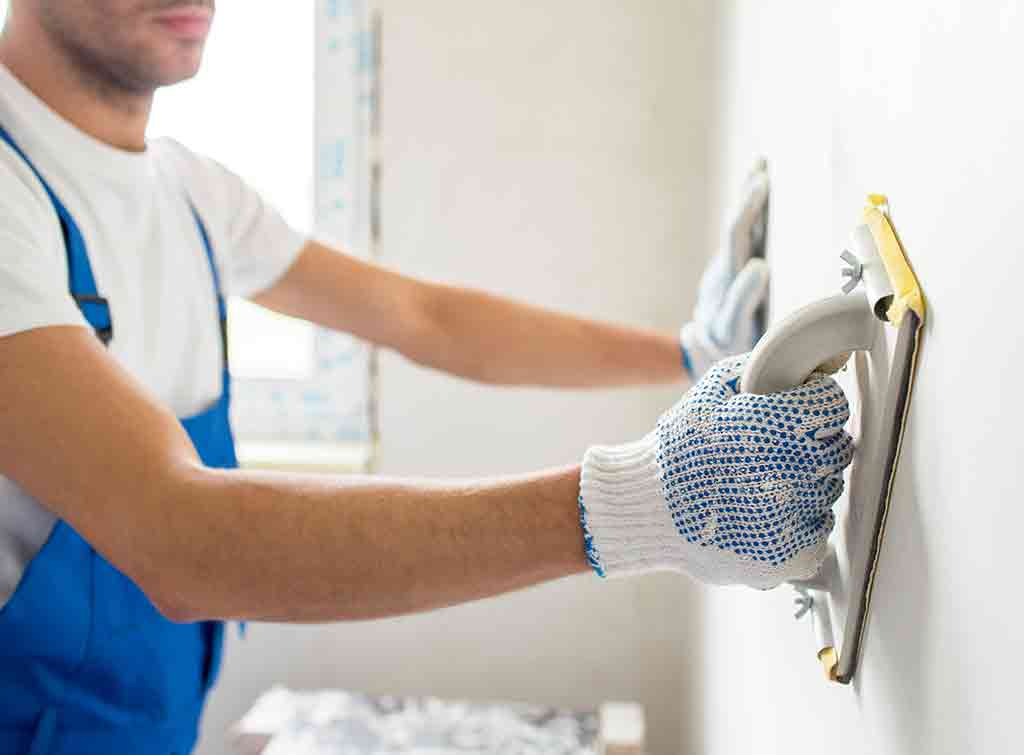 With your tools at the ready, follow the below steps:
First of all, make sure any heat sources are turned off. This will ensure the filler doesn't dry too quickly.
Protect surrounding areas with a dust sheet or newspaper.
Read the manufacturer's guidelines on how to use the filler. For example, they may have a maximum depth it can be used to fill.
Remove any loose plaster, dust or debris from inside and around the hole.
For larger holes, use screwed up newspaper as a base for the filler.
Use a paintbrush to dampen the crack/edge of the hole with water. This helps to prevent the filler from drying out too quickly and shrinking or cracking once dry.
Apply the filler. This can be done by using a putty knife and positioning it at a right angle to the hole. You want to apply a small amount of filler inside, with a pushing and scraping motion (i.e. push the putty into the hole with the flat of the knife and use the sharp edge to smooth it out and remove the excess).
If you are filling multiple areas then you should clean your knife each time. This will help to prevent dirt, dust and debris from being transferred.
Repeat this step as required, especially if you're wondering how to repair deep cracks in plaster walls.
Wait for the filler to dry before moving on to the next layer, or sanding and painting.
Once dry, the filler can be smoothed out with medium-grade sandpaper.
You can find further details on this process in our guide on the cost to plaster a room.
See the tradespeople we've checked and recommend for your job
How to fill a large hole in a brick wall
We've discussed above how to fix cracks but what about holes, specifically how to fill a large hole in a brick wall? As above the larger or wider the hole the more critical it is that you should speak with a professional. In this case, we highly recommend you consult a competent bricklayer rather than attempting to fix this yourself.
In terms of how a specialist will fill a large hole in a brick wall, they will typically follow the below steps:
Initially, they will carefully cut out and rotate the brick in order to hide the damage.
Then they'll use tinted lime mortar to make up the damaged brick's face.
Replacement bricks will be ordered that have similar size, colour, texture and durability to the originals.
Severely damaged bricks will be cut out and replaced in the same way as the original.
How to plaster a damaged wall
Instead of using filler, you may instead be wondering how to plaster a damaged wall, which is also known as patch plaster. This is ideal for larger gaps, or if multiple areas need to be worked on at the same time.
In terms of how to patch plaster a wall, you will need:
Plasterers hawk and trowel
Bucket for mixing plaster
Water
Face mask (when mixing plaster)
Paintbrush
Dust covers or newspaper
Before we move on to our step-by-step guide on how to plaster a damaged wall, we should mention that timing is really important.
It's best to use small amounts of plaster on the hawk and trowel at a time. This is because it can dry quickly, so you need to get it on before this happens.
Follow the steps below on how to patch plaster a wall:
As with using filler, you first want to turn off any heat sources and apply dust covers/newspaper around the surrounding areas.
Remove any loose plaster, debris or dust.
Dampen or prime the area to be repaired with a PVA glue and water mix. This should be made of one part PVA to five parts water.
Read the manufacturer's guidelines on the plaster and mix it accordingly. This can be done outside with a breathing mask to avoid dust.
Place a small amount of plaster onto the plasterers' hawk by using the trowel.
Apply the plaster to the damaged area in a left to right, up and down motion.
Ensure the plaster is worked into the area by pressing it firmly.
Let the plaster dry – again refer to the manufacturer's instructions here – and then dampen the area.
Clean the trowel and smooth out the area.
See the tradespeople we've checked and recommend for your job
How to smooth walls without plastering
If you're wondering how to smooth walls without plastering, the good news is it is possible. You can use filler as we've shown above, or you can use plasterboard as we look at below.
If the wall just needs a general touch-up you could also consider sanding it and applying wallpaper or lining paper over the top.
How to fix a hole in a plaster wall (plasterboard)
Another tactic for those wondering how to fill holes in a wall is to use plasterboard, although this should only be done for smaller holes. For larger holes please consult with a professional.
You'll need the following tools and products:
Adhesive
Plasterboard offcut
Cable and pipe detector
Tape measure
Pencil
Straight edge
A common nail (ensure the head of the nail is bigger than the shaft)
Stanley knife
Drill
Plasterboard saw
Once you've got those tools, you can begin to fill holes in a wall with plasterboard:
Before doing anything else, turn off any sources of heat and protect the surrounding areas.
Use a cable and pipe detector around the area of damage to check the walls and that it's safe to cut into the existing plasterboard.
Next, measure the hole and add 25mm to the top and bottom. Mark the new measurements onto the plasterboard offcut.
Once that's done cut the offcut with a Stanley knife.
On the wall, you'll then need to mark the measurement with a pencil (without the additional 25mm). Create a square or rectangle around the hole.
Starting from the hole, draw diagonal lines into each corner. This will form a cross that goes through the hole.
Cut along the diagonal lines with a plasterboard saw, working from the hole to the outer corners.
Take the damaged plasterboard and using a knife and straight edge score along the guide marks. Remove the excess plasterboard.
Drill a hole into the centre of the plasterboard offcut. This should be big enough to easily fit a nail, which should be placed into the hole.
Apply a bead of adhesive (such as 'No More Nails') to the 25mm overhang at the top and bottom. Then, slide the offcut through the hole.
You can then pull the nail towards you, which will form a bond between the offcut and the plasterboard. Hold the nail in place until the adhesive has stuck firmly.
Allow the adhesive to dry by following manufacturer's guidelines.
You can then remove the nail.
Mix and apply the repair plaster/filler. Use a flexible filling knife to apply it to the hole in a left/right, up/down motion. Fill the hole so it's completely level with the plasterboard. NB – Always follow the manufacturer's guidelines. Some fillers have a maximum depth to be filled to at one time.
 Lastly, you can create a smooth, level finish with sandpaper and a sanding block.
See the tradespeople we've checked and recommend for your job
How to batten a wall for plasterboard
In addition to the above, you may also want to know how to batten a wall for plasterboard, such as if you want to add additional insulation. This is no easy task, especially if you have uneven walls or odd dimensions and if not done correctly the first time can lead to movement and structural issues.
It's also highly demanding work. Plasterboard sheets can be heavy and awkward, and holding them in place as you screw them to the battens can be difficult. Plus, you have to make sure to avoid services buried behind walls, such as pipework and electrics. As such, this is another task where we would highly recommend you hire a professional.
If you still want to know how to batten a wall for plasterboard, then consider the following.
First, gather these tools:
25mm battens
Tape measure
Pencil
Spirit level
Wood saw
Drill
Screwdriver
Screws
Wall plugs
Then follow these steps:
Positioning is very important, as battens must be as close to 400mm apart as possible. This is because you need the end of a plaster lath to fall on the centre of a batten so the next board can be attached to the same batten.
Let's take an example for a 1.22 m plasterboard, with a batten in the corner. In this case, you would measure from the left of the first batten to the centre of the last batten.
Measure from the centre of each batten to the next. Once you reach the last one in the corner of the walls you're done.
If your wall is not straight, then make sure you follow the wall or line.
Regardless of wall shape there must be battening all the way into the corner and all battens not in corners must be upright. Those on doorways and windows must also be right against the edge.
Put simply, an edge of plasterboard must always be attached to a batten so it's secure with no movement as this can lead to damage.
If putting battens in corners, make sure they meet each other.
Once all the upright battens are secure, you then need to add further battens to the top and bottom of the wall. The more you add to the bottom, the easier it will be to attach the skirting boards.
I'm still having issues!
Now you've read our top tips on how to fill holes in a wall, you may still have concerns about taking on the job. For example, plastering must be done with speed and confidence as you don't have a great deal of time to work with the product before it goes off. In inexperienced hands, it can be messy to work with and leave an end result that can look lumpy, uneven and draw even more unwanted attention to the wall.
Plasterboards and battens too can cause all sorts of problems and damage if they are not securely fastened, as well as leading to uneven surfaces. Once the job is finished you may want to look at painting and decorating to make the space look nice again. Our guide to painter and decorator prices can help you work out the costs.
For these reasons and more you may be leaning towards hiring a professional. They can resolve many of these problems in as little as half a day, making your life easier and ensuring you get a top-quality job. You can search our entire list of trusted trades right here.