How to fix carpet burn
As frustrating as it is when it happens, all it takes is a dropped iron or misplaced pair of straighteners to accidentally burn a hole in your carpet.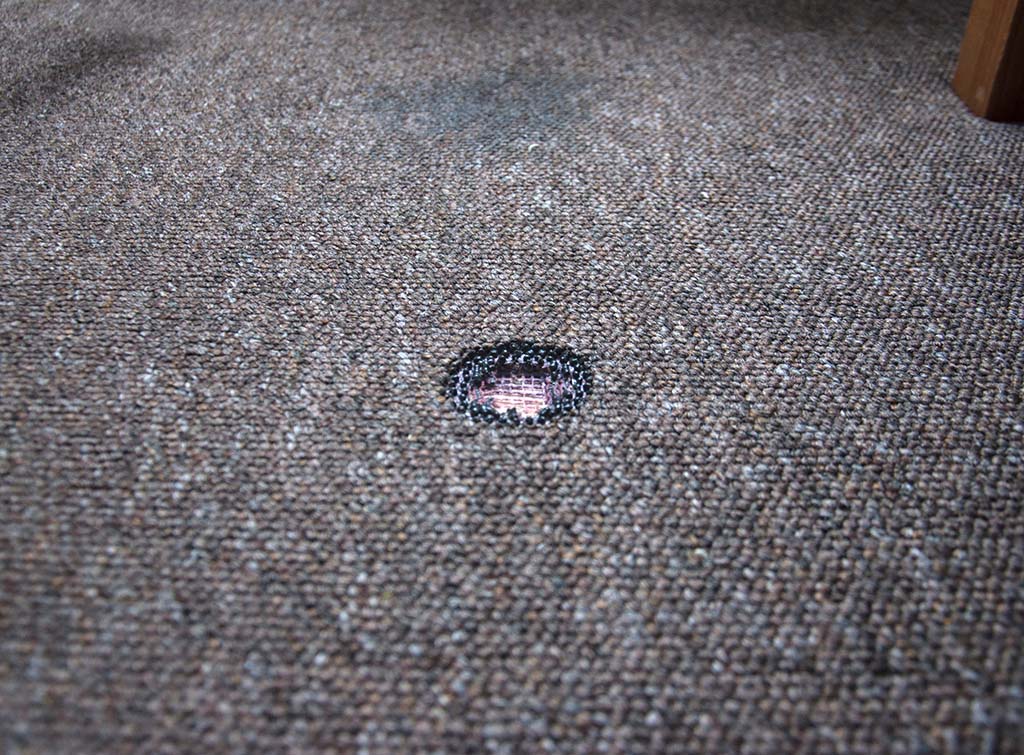 If you're looking up 'how to fix a carpet burn,' then you're probably hoping there's a simple solution. As frustrating as it is when it happens, all it takes is a dropped iron or misplaced pair of straighteners to accidentally burn a hole in your carpet. However, fear not! Although you might think it's super expensive to replace your carpet or call in a professional, a simple fix can cost as little as £65. (Check out our carpet burn repair cost guide for more information).
However, if you're looking for a DIY solution to fix your carpet, with a little care and attention, it's possible to do it yourself. Unfortunately, size does matter when it comes to burns as the smaller a burn is, the easier it is to fix.
How to fix a burn spot on a carpet
Tools you'll need for the job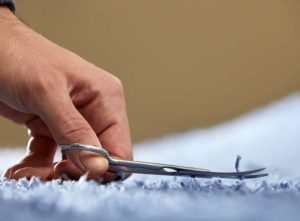 Smaller burns
Sandpaper
Vaccum
Watered down bleach solution
Sharp scissors
Replacement fibers
Superglue
Larger burns
Craft knife
Extra carpet (or a close match)
How to fix a cigarette burn in the carpet using sandpaper
Tiny burns are easy to fix with sandpaper, a vacuum, and a bleach solution. Using the sandpaper, gently sand away the burn marks before using the vacuum to remove extra residue. If there are any leftover black fibers, you can use watered-down bleach to remove them. Gently dab on the solution with a paintbrush and leave for half an hour to see the result. Repeat until the carpet reaches a lighter shade.
How to fix burn marks on the carpet using scissors
If the burn is too big to simply sand away, small burns are relatively easy to fix with a sharp pair of scissors. You can cut away the burned carpet fibers and replace them with fibers from an area of carpet you can't see. For example, a patch from under the sofa or at the very edge of the room. To replace the burnt fibres, all you need to do is use a small amount of super glue to attach them to the damaged area. Once the glue is dry, you can trim them to size to ensure they're even with the rest of the carpet. This will leave such a seamless finish, you won't be able to see where there used to be a burn mark!
See the tradespeople we've checked and recommend for your job
How to fix an iron burn on the carpet
It's much harder to repair larger burns, especially if you don't have any extra carpet. However, if you're lucky enough to have some extra carpet or a similar swatch from your local hardware store, then the process is similar to repairing small burns.
Using a craft knife, cut around the burnt area while making sure to avoid the underlay. Then, using that piece as a guide, cut out a new piece of carpet and glue it to the affected area. Leave something heavy on it while it dries and avoid walking on that area for a few hours. Once it's set, gently comb the replacement scrap to blend it in with the existing carpet.
An iron burn is very similar to a hair straightener burn on a carpet, so follow the same steps above.
How to fix a burnt carpet without extra carpet
Sadly, there's not a quick or easy method for fixing burns without extra carpet or fibres. However, if the marks are small, you can try one of the above methods to see if they work. Alternatively, try cleaning the area with some carpet cleaner before using a comb to 're-tuft' the fibres. If there's minor damage, this might do the trick. Another method is to pluck out the burn damage, dab a small amount of latex adhesive into the hole, and carefully re-insert tufts of new carpet (from less traversed areas of your home) into the hole using tweezers.
Thankfully, most burn marks on carpets can be fixed with some time and attention, so there's no need to hide them with new pieces of furniture or completely rearrange your room! If you follow these steps, you'll hopefully be able to fix the mark by yourself without having to buy a new carpet or replace your damaged one.
See the tradespeople we've checked and recommend for your job
FAQs
Should I hire a professional?
For the best results, we recommend hiring a carpet repair expert. This will make sure your carpet is restored to its former glory without any obvious signs of trauma.
When you hire one of our trusted professionals, you're able to see their profile and view their customer reviews. Even better, those reviews are from your neighbours and checked by us to make sure they're legitimate.
Can you repair a carpet burn?
It's possible to repair small carpet burns from items like irons, straighteners, or cigarettes. However, it's difficult to repair areas with more extensive damage without the help of a professional.
How do you get rid of carpet burns?
Follow one of the above methods to see if that does the trick. Alternatively, hire a professional to fix larger areas or more severe amounts of damage.
Check out our blog for more how-tos, tips, advice, and inspiration.