How to fix creaky stairs
If you find yourself living with creaky stairs, you'll understand how annoying it can be every time you're going up and down the stairs – especially early in the morning or late at night. But help is here and we've put together this guide to explore how to fix creaky stairs in your home.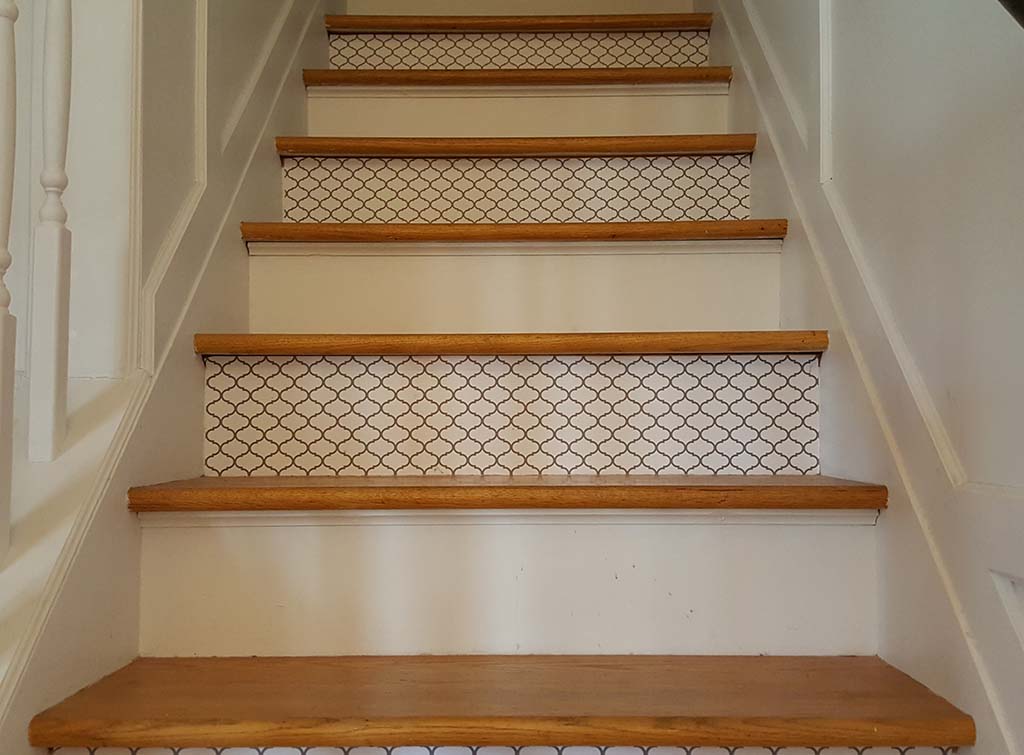 Keep reading to find out more about how to stop stairs creaking, so you can go back to having lovely quiet stairs that you enjoy using.
If you need help with creaking floors, rather than stairs, check out our guide on how to fix squeaky floorboards.
4 methods for how to fix creaky stairs from above
When it comes to banishing those creaks there's actually more than one solution when you're trying to work out how to stop stairs from creaking. Below are four common ways to fix squeaky stairs.
1. Use a dry lubricant
One quick way to tackle creaky stairs is to fill the crack between the tread and the riser with a dry lubricant, such as powdered graphite or talcum powder. You don't want to use an oil-based lubricant because they can cause additional problems of warped wood and slippery stairs.
Using a dry lubricant doesn't stop the wood from rubbing together, but it does remove the friction that causes the noise. In some cases, it won't completely eradicate your squeaky stairs, but it should at least muffle the creaking sound to a much lower level.
2. Screw down the treads
One of the most popular ways of fixing creaking stairs is to screw the treads firmly to the riser. Three screws per tread should be enough, and you'll need to pre-drill a hole through the tread at the point level with the riser. You'll also want to make sure that the screws are sunken below the surface of the tread and, for uncarpeted stairs, ideally finish with a coloured wood filler.
3. Tighten treads with nails
Similar to screwing down the treads, you can use nails to fix creaking stairs to provide a more permanent solution than a dry lubricant. You want to nail any loose tread firmly into its stringer at a 45-degree angle. By doing this, you're tightening the tread to the stringer and stopping the wood from rubbing together. Just make sure all nails are below the surface of the tread with a few extra taps, and then finish with wood filler.
4. Use a quadrant moulding
If your stairs are creaking because of a loose tread or riser, you can glue on a quadrant moulding to fix the problem. A quadrant moulding is a long piece of wood that you can glue at the top or bottom of the riser (or both). It's also a good idea to pin the moulding to the riser and the tread to get extra adhesion.
This option is often considered more visually appealing than screws or nails, but it's worth noting that if you have carpeted stairs you probably want to add quadrant mouldings to all the treads so that you have a consistent look to your stairs.
See the tradespeople we've checked and recommend for your job
How to fix squeaky stairs from underneath
Depending on the design and layout of your stairs, you might have easy access to the area underneath your stairs. In which case, you can fix the squeaky stairs from underneath – which actually gives you the best results.
You'll need three glue blocks for each creaky step – glue blocks are small triangular wedges of wood that you should be able to get from your local hardware shop. And here's what to do with them:
Apply wood glue to the two shorter sides of each glue block
Press each block firmly into the right angle of where the underside of the tread meets the riser – two at the edges of the step and one in the centre
As you position each glue block, give them a little wiggle to remove and any air bubbles in the glue
Once in place, screw each glue block into place with one screw running horizontally into the riser and the other running vertically into the tread.
How to fix squeaky carpeted stairs
When it comes to carpeted stairs, fixing creaks can be a little more complicated. But it's not impossible. You have a number of options: a) remove the carpet and fix the stairs from above, b) fix them from underneath so you're not disturbing the carpet on the stairs, or c) use a special carpeted stairs repair kit.
If you're happy to go with the option of removing the carpet from the stairs then you can follow the methods we've mentioned above. However, if you want to fix squeaky carpeted stairs without removing the carpet then keep reading…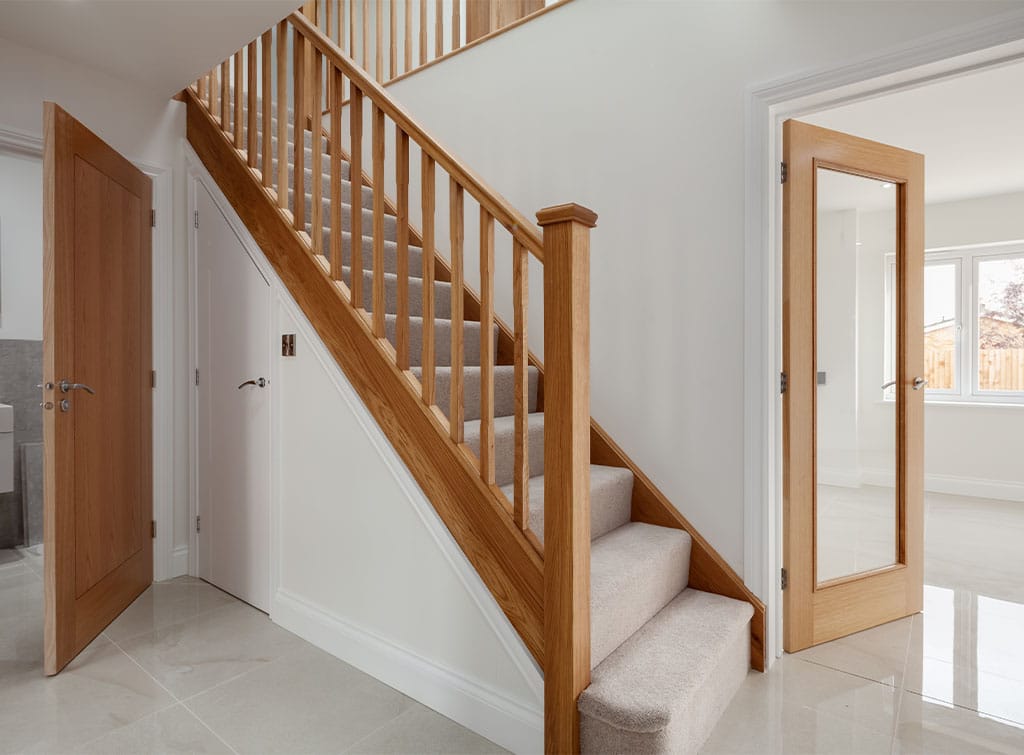 How to fix squeaky stairs without removing carpet
If you have beautifully carpeted stairs that have started creaking and you don't want to start ripping up the carpet, don't worry there is a solution for you. You can use a specially designed repair kit for fixing creaking stairs that are carpeted.
These repair kits work by using a 'snap-off' screw that goes through the carpet without damaging the fibres. Locate the creak of each step and then follow the manufacturer's instructions to use the repair kit.
See the tradespeople we've checked and recommend for your job
How to fix squeaky hardwood stairs
If you have hardwood stairs, you can use the methods we mention in this guide to fix your squeaking stairs. However, if you're worried about damaging your hardwood stairs then you might want to consider hiring a professional to carry out the work. That way, you can ensure the squeaking will be fixed and the finished results will be safe and effective.
As with all home improvement projects, we always recommend obtaining at least three quotes from different tradespeople in your area, to make sure you're paying a fair and competitive price for the work. And, thankfully, we've got a tool that makes finding multiple quotes super easy.
Our request a quote feature is perfect for getting quotes: you post details about the work you need doing and we'll send it out to local tradespeople in your area. Try it out – it's quick and easy!
To find out about the costs of repairing stairs, check out our guide to staircase renovation costs.
FAQs
Are squeaky stairs dangerous?
Not usually. Squeaky stairs are annoying, distracting and can disturb a peaceful household, but they're not often signs of any major issues that pose a danger in your home. That said, if your stairs feel like they're bending or spongey under foot, or you can see cracks forming in the stairs, they might need more immediate attention from a carpenter or handyman.
Why are my stairs creaking?
Stairs creak when the tread rubs against the top of the riser, causing the creaking or squeaking sound. The main reasons why this happens include timber shrinkage, general wear and tear, and/or stair adhesive coming unstuck. Creaking stairs aren't usually a sign of major issues, but can be pretty annoying to live with.
How do I make my stairs quieter?
If you've noticed creaking stairs in your home, don't suffer with the squeaking. It's time to take action:
Find out where the squeak is coming from
Identify the extent of the issue
Address the problem either from above or below, using one of the methods we've outlined in this article.
If you're still unsure of exactly how to fix creaky stairs, or don't fancy doing it yourself, hire a local handyperson to fix it for you.