How to hide pipes in a bathroom
Create a beautiful, sleek space with our how to hide pipes in a bathroom guide. Including advice and guidance for hiding sink, toilet, waste and water pipes.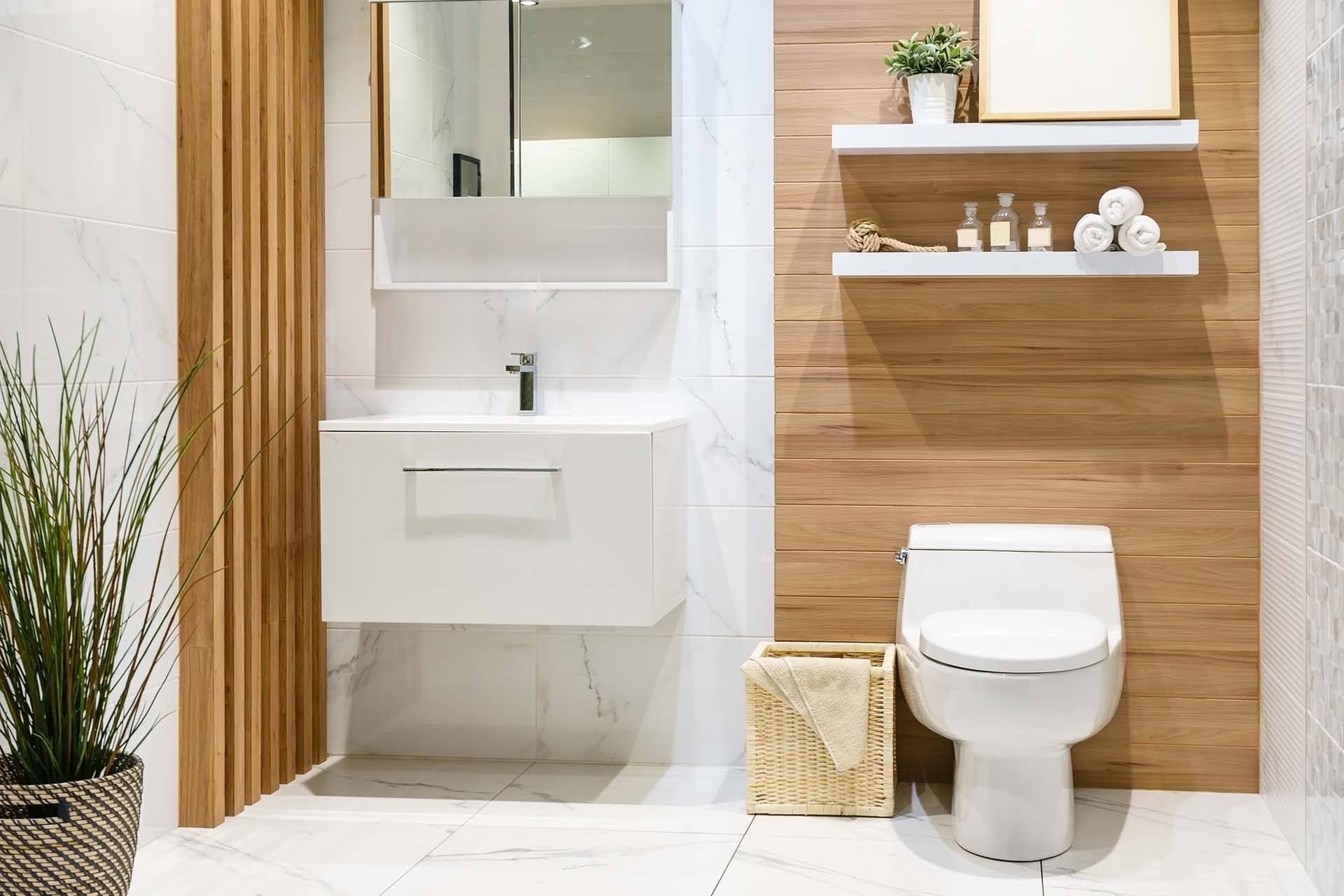 There's no avoiding bathroom pipes, as they're vital for carrying water and channelling waste from your bathroom. Unfortunately, these pipes tend to look quite ugly and can make your bathroom feel messy and crowded if they're on show.
Today we'll explain the different ways to hide your bathroom pipes. From boxing in to concealing pipes behind a wall, we've got you (and your pipes!) covered. With tips for anyone on a budget, as well as guidance for disguising toilet, waste and sink pipes.
How to hide plumbing pipes in a bathroom
There are a few different ways to hide the plumbing in your bathroom. This means you can pick the best option for your home. In fact, learning how to hide plumbing pipes in a bathroom isn't too complicated, just consider the following methods:
Boxing pipes in: This method involves surrounding your bathroom pipes with a box made of wood.
Hiding pipes in a wall: It's possible to run any pipes straight into a wall to avoid exposed piping.
Choosing bathroom fixtures with inbuilt pipe space: Buying a pedestal sink, for example, will mean your sink pipes can be concealed in the stand of the sink itself.
Using bathroom furniture: Some people choose to buy bathroom furniture like an under-sink unit to hide unsightly pipes.
Adding a fake/stud wall: One of the more complicated methods, here you build a false wall to conceal any bathroom pipes.
See the tradespeople we've checked and recommend for your job
How do you hide exposed bathroom pipes?
You can hide exposed bathroom pipes by boxing them in. You'll need the following tools and materials:
Tape measure
Spirit level
Wooden 2 x 4s
Saw
Strong wood glue
Caulk
Paint
It'll also really come in handy if you have some kind of clamp to hold your pieces of wood together while they dry. Once you have everything you need, use the below steps to beautifully conceal your pipes:
Using your tape measure, carefully check the length of your pipes, their width and their depth. Make sure to recheck your measurements to be sure they're accurate.
Mark and cut the 2 x 4s to the sizes you took down in step 1.
Apply your wood glue to the middle piece of wood where it'll meet the other pieces. Remember, you're leaving the top, bottom and back of your box open.
Clamp the pieces of wood together and leave to dry overnight to ensure the glue has properly set.
Use caulk to seal your open box to the wall, floor, and ceiling of your bathroom. Make sure it's completely flush for a neat finish.
You can then paint or tile your new pipe box to match the rest of your bathroom.
How to hide pipes under a bathroom sink
Your bathroom sink is often one of the main areas where pipes can be seen running from the basin to your bathroom floor. To help with this, we've gathered a few different ideas for hiding exposed pipes under a bathroom sink. These methods are perfect if you're unsure how to hide pipes under your bathroom sink.
Why not consider:
Adding storage to conceal the pipes
Positioning a plant to cover the pipes
Building a shelf or box to hide the pipes
Installing a sink skirt
How to hide pipes under a hanging bathroom sink
Hanging bathroom sinks look stunning and are a great way of saving space in a small bathroom. Unfortunately, these sinks will still need pipes to function which can take away from your carefully decorated bathroom.
So, let's look at how to hide pipes under a hanging bathroom sink. In fact, the best ways of hiding wall hung basin pipes are to:
Wrap the pipes with coloured, patterned or textured insulation wraps.
Buy a pedestal that fits underneath your sink to hide the ugly pipes from view.
Choose a sink skirt that suits the style and design of your bathroom.
How to hide toilet pipes
Let's be honest, no one considers a toilet waste pipe to be glamorous. Wide and unattractive, these pipes carry out an essential job but are certainly not going to win any beauty contests.
Hiding your toilet waste pipe can be done in a few ways but some of the best ways to hide toilet pipes are as follows:
Using a cistern unit: This piece of furniture will disguise your toilet cistern and pipes.
Buying a wall hung toilet: The cistern and pipes will be hidden in your bathroom wall for a streamlined, clean finish.
Building a fake wall: Time consuming and potentially expensive, this method is highly effective but is by no means the simplest choice.
How to cover pipes in a bathroom affordably
For those on a budget, there are ways of concealing your bathroom pipes without breaking the bank. Below, we've gathered a few methods to cover pipes in a bathroom affordably:
Painting: If you don't mind the look of your pipes but hate the colour, a very cheap way of improving the way they look is to paint them. You can choose a colour that blends with your bathroom, or even one that stands out to make a feature of your bathroom pipes.
Fitting a sink skirt: Made from fabric, these skirts hang from your sink using Velcro and hide any pipes.
Wrapping: You can also wrap the pipes in your bathroom with insulation that co-ordinates with the rest of the room.
Finding a reliable, local tradesperson
If you'd prefer to hire a local professional to hide your bathroom pipes, why not trust us to find someone qualified and experienced to take on your project? We even use recommendations from your neighbours to locate the best tradesperson for your job.
How much does a plumber cost?
Any bathroom work that involves pipes and plumbing will need to be dealt with by a qualified plumber. This will help you to avoid any mistakes and ensure your job is in the hands of the best professional available. So how much does it cost to hire a plumber? Generally, the average cost for a plumber is £50 per hour but this will vary from job to job.
If you'd like to learn more about hiring a plumber as well as the factors that affect the price you pay, our plumber cost guide is bursting with information and tips.