Last updated on August 17th, 2022
Plumber cost guide
Whether you're looking to make home improvements or you need to fix an issue with your plumbing, you'll need to find a good plumber. But how much does a plumber cost?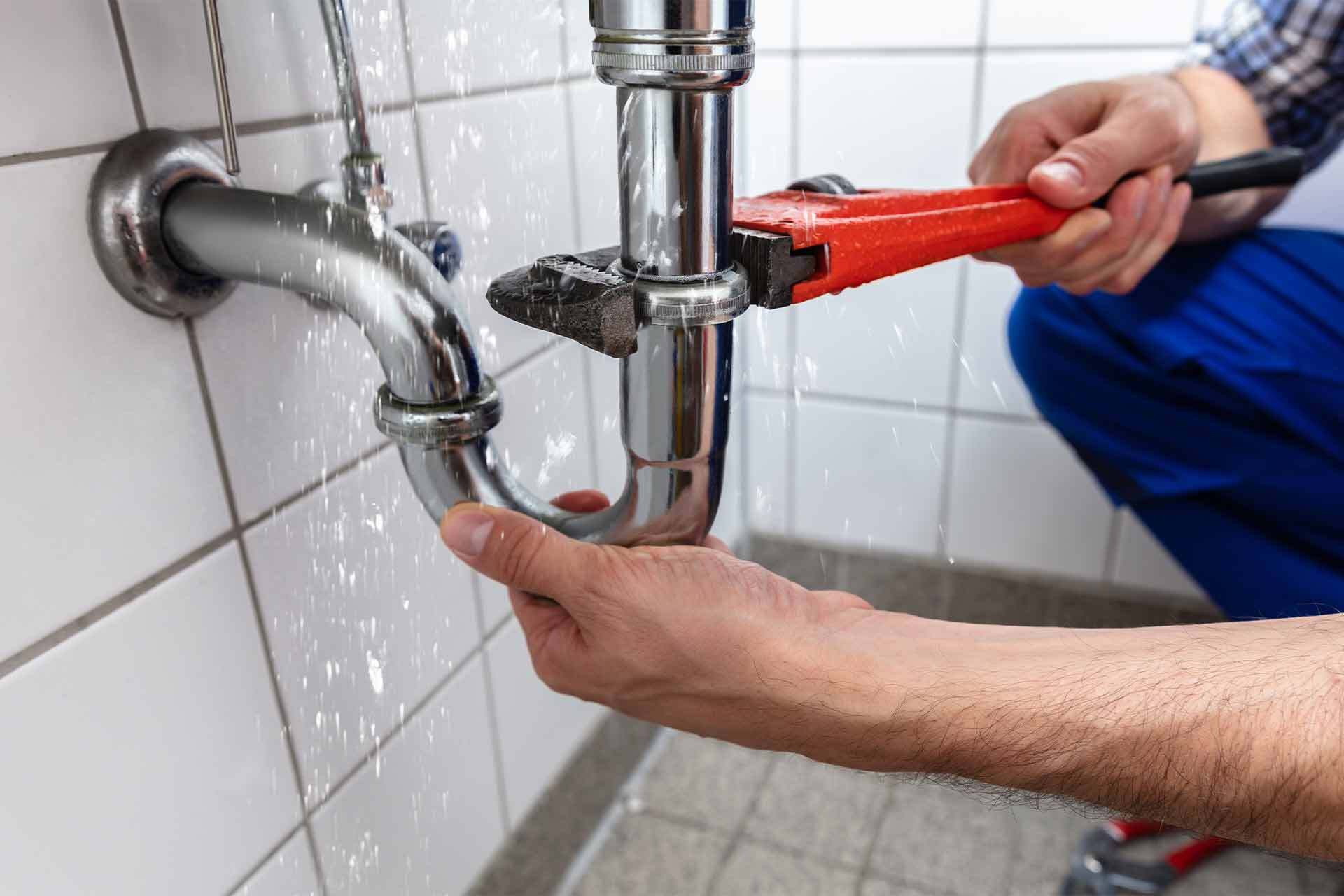 Not all plumbing jobs revolve around fun renovations. Unfortunately, plumbing systems break and cause issues for us in our homes.
Plumbers cost much less than the damage caused by leaving an issue unfixed. They're highly skilled professionals who cover a wide range of issues, including fixing blocked drains or toilets, repairing broken fittings, replacing unsafe water heaters and fixing leaks.
Read on to discover common issues, costs and important considerations with our guide to plumbing costs.
How much does a plumber cost?
| Plumber costs | Unit | Price range - Low | Price range - High | Average cost |
| --- | --- | --- | --- | --- |
| Plumber hourly rate | Per hour | £40 | £60 | £50 |
| Plumber day rate | Per day | £325 | £375 | £347.50 |
| Plumber (emergency call out) | Per hour | £75 | £150 | £112.50 |
| Emergency plumber call out fee | Ea | £100 | £120 | £110 |
Every type of plumbing job requires different materials, skills and labour times. This is why your plumber may charge an hourly rate, a day rate, or quote an overall cost for the job.
It's useful to get several quotes as different plumbers will have different prices, however, it's important to also take the plumbers' level of experience into account as this will affect the cost.
Simply put, the cheapest quote will not always be the best option.
The average plumber cost is £50 per hour or £347.50 per day.
What's the average hourly rate for a plumber?
Most professionals will have a minimum charge, usually the cost of an hour's work.
The average plumber hourly rate is £50.
In addition, many plumbers will charge a call out fee which they will ideally explain to you before they arrive. If your job takes longer than an hour the additional work will usually be charged per hour.
Plumber day rate
With quick and easy jobs it is usually best to get quotes based on an hourly rate. However, if your issue will take longer to resolve it may be wise to use a plumber who charges on a daily basis, which can work out cheaper than paying per hour.
The average plumber day rate is £347.50.
Emergency plumber call charges
Unfortunately, not all plumbing issues occur during standard working times and outside of these times, you will need to hire an emergency plumber. Working overnight, during festive holidays and on weekends, emergency plumbers will charge an increased rate for their inconvenience.
Usually, emergency plumbers will charge up to twice their normal hourly rate and may have a call out charge in addition to this. Of course, if you can wait until normal operating hours you will save money but certain issues such as broken pipes and rapid leaks simply must be dealt with as soon as possible to prevent further damage.
The average emergency plumber cost is £110 for the callout fee, with an extra cost to complete the work depending on the time taken.
What are plumber call out charges?
The average plumber call out charges are usually around £100. Though if it's an emergency or out of hours then the plumber could charge a call out fee of nearer £110.
For more information on prices, check out our guide to plumber call out charges.
Costs by region
Plumber cost (Edinburgh)
Cost + VAT
(Range low - high)
Average cost
Plumber hourly rate
£40 - £60
£50
Plumber day rate
£300-£400
£333
Emergency plumber cost (callout fee)
£100-£120
£110
Average plumber cost in Edinburgh
Want to know how much a plumber costs in Edinburgh but don't want to spend ages calling around? We spoke to five vetted tradespeople in Edinburgh to find out for you. The average Edinburgh plumber cost ranges from £40 - £60 per hour, with an average cost of £50.
Day rates for plumber costs in Edinburgh varied from £300 - £400, with several plumbers happy to price for specific jobs. Some even said they would offer free callouts for emergencies.
If you want to save money on plumber costs in Edinburgh try to book work for a weekday. One company quoted double rates for weekends, so it pays to plan ahead and schedule work for Monday to Friday.
For other regions, please refer to our pricing table above, or use the search function below to find costs for plumbers near you.
Find an approved plumber in Edinburgh
Find plumbers your neighbours recommend
How much does it cost to fix specific plumbing jobs?
Work required
Cost + VAT
(Range low - high)

Average cost
Unblock a toilet
£75 - £150
£100
Repair burst water pipe
£50 - £200
£150
Install a radiator
£150 - £180
£165
Replace a water tank
£360 - £450
£405
Cost to fix a leak
£77 - £128
£100
Usually, plumbers charge an hourly or daily rate but sometimes they will charge per job. As we have explained, every plumbing job will have a different cost due to labour times and materials required. Below are some of the common tasks dealt with by plumbers and their associated costs:
Toilet unblocking: Unblocking toilets is a common job and is usually quite quick with an average cost of £100.
Repair a burst water pipe: This needs to be dealt with urgently at an average cost of £150, but if it happens at night or at the weekend, you will have to factor in the emergency call out fee too.
Install a radiator: Central heating serves a very important function in keeping us warm and luckily radiator installation costs are not too high at £150.
Installing a new water heater: This is not a quick and easy job and this is reflected in the price of £405.

How much does it cost for a plumber to fix a leak?
Leaks can be frustrating and dangerous, especially if the leak is upstairs where water may collect and burst through your ceiling.
Add to this the fact that a leaking tap can waste nearly 100 litres of water a day and this becomes an emergency issue.
As such it is vital to fix any leaks before they have the chance to do any further damage.
The average plumber cost to fix a leak is £150.
Common plumbing jobs
Becoming a plumber requires learning a huge variety of skills. It is not an easy job and experience is necessary to ensure a plumber is competent in every area.
Below are some of the most common jobs dealt with by plumbers on a regular basis:
Bathroom fitting: An exciting part of any plumbers' job is fitting new bathrooms. Installing sinks, baths, toilets, showers, taps and other fittings can completely transform a dated, damaged bathroom. If you wish to learn more view our guide on plumbing installation costs.
Blockages: By comparison, one of the more unpleasant sides to being a plumber is the process of unblocking pipes, drains and toilets. Blockages are a very common occurrence and your plumber will be used to dealing with the less enjoyable sides of their job.
Repair and replace: Plumbers can quickly and easily repair many issues but sometimes replacing the damaged item is the only option. They can often source the necessary parts, or if you prefer you can order them yourself, such as if you want a specific style.
Water heaters: When a water heater breaks it should be repaired or replaced on an urgent basis, especially during winter. A damaged water heater can mean you have no central heating or warm water for baths and showers, and elderly people, in particular, can be at risk of hypothermia.
Find plumbers your neighbours recommend
Factors that affect the cost of common plumbing jobs
Type of job
It's no secret that certain plumbing jobs are charged at different rates to others.
For example, fitting a new bathroom is a much more involved job than unblocking a toilet and as such, you'll incur greater plumbing costs.
Repair or replacement
Whilst some repairs are simple and easy to complete others are so complex and costly to fix it may be a good idea to invest in a new replacement part.
Small repairs will be much cheaper than a whole system replacement.
Time
In general, the longer a job takes to complete, the higher the labour costs, increasing the overall price.
Number of issues
In many instances, a repair simply involves fixing or replacing a part. Despite this, there are some issues that may affect multiple parts of your plumbing system. When this happens both the labour and material costs will increase.
System drainage
With certain plumbing jobs, it may be necessary to completely drain your system. This will increase the time taken and will come at an additional cost but is necessary to protect your home from water damage.
Finish
There are different levels of finish that a plumber can achieve depending on your preference.
For example, you may simply wish for your bathroom furniture to be fitted but plan to tile the walls yourself. This may save money but unless you have experience with bathroom fittings it may not be a wise idea.
Accessibility
Any difficult to reach areas increase the time of the job and therefore increase the total cost your plumber with charge.
Can I tackle plumbing issues myself?
Not all plumbing jobs have the same level of difficulty or potential for danger. You may be able to unblock a toilet but installing a new bathroom is complex with a high likelihood of damage and injury unless you have the right training and take proper precautions.
If you do decide to tackle a plumbing job there is a high chance the finished appearance will not be as professional or aesthetically pleasing.
Finally, if the damage is not resolved correctly, you are open to further issues down the line.
To find a local, reputable, tradesperson in your area and get a personalised plumber cost use our free search tool.
Key takeaways for plumber rates
Common plumbing jobs involve unblocking pipes, fitting new bathrooms and installing radiators.
The type of job, the time taken and whether or not your system needs to be drained will affect the overall plumbing costs.
Getting several quotes is important and plumbers may charge per hour, per day or per job.
Plumbers are trained in a large variety of areas.
Plumbing can be complicated and difficult to repair so it is usually best left to professionals.
Find plumbers your neighbours recommend