How to hide TV wires
Are your TV wires driving you to distraction? Well, with this handy 'How To' guide on how to disguise annoying cables, you'll have a smart, seamless and calming space in no time.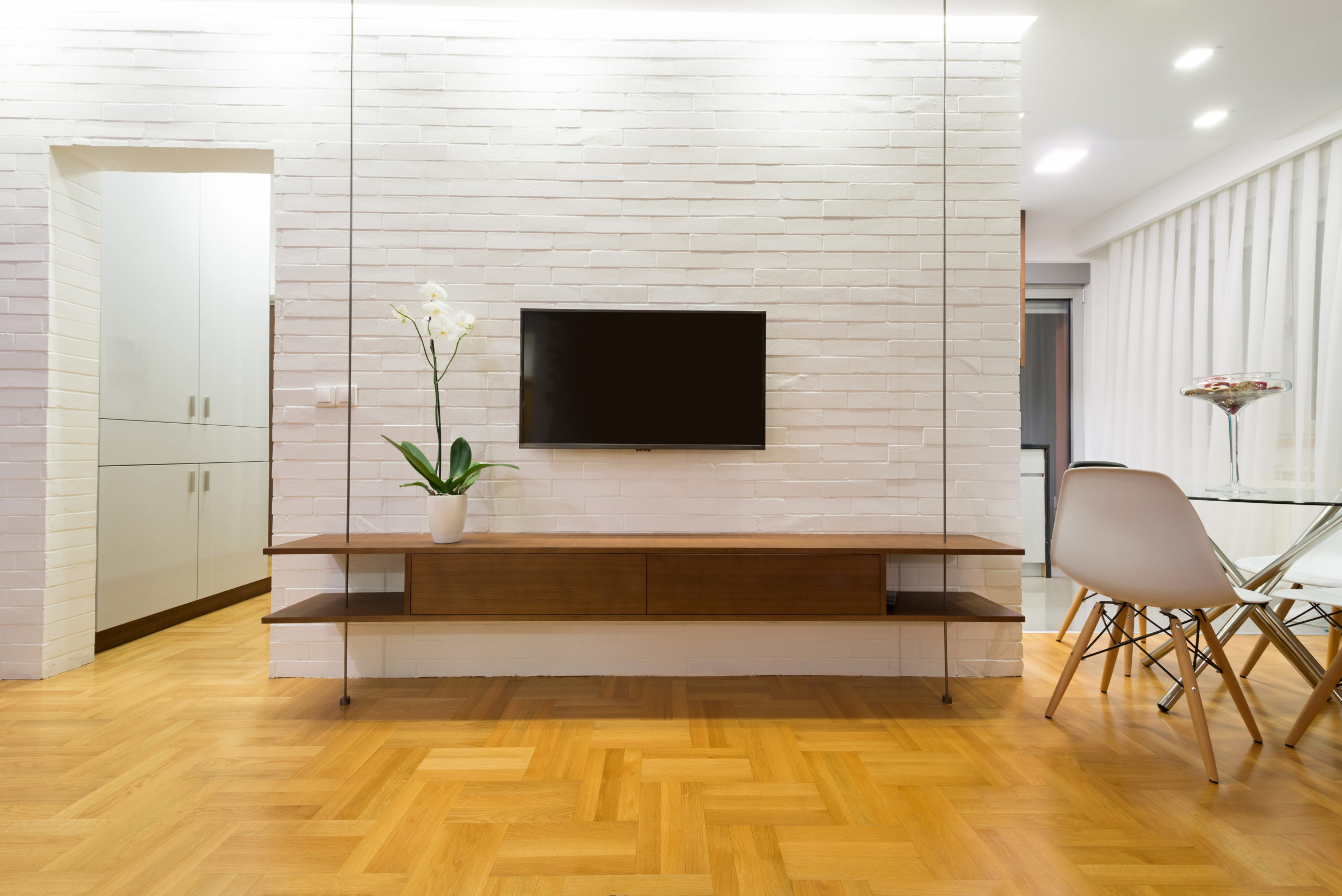 TV wires driving you to distraction? We feel your pain! There's nothing worse than fitting a new and undoubtedly expensive TV to the wall only for the wires to mess up your sleek room scheme. But just how can you hide these pesky wires from view without hacking huge holes in the wall?
Step forward our handy 'How To' guide offering you tips and advice on disguising those annoying yet essential cables. Read on and find super clever solutions that are quick to apply and won't cost the earth.
See the tradespeople we've checked and recommend for your job
How to hide TV wires without cutting wall
Here are some simple ways on hiding TV wires without making holes in the wall:
If you have a wall-mounted TV, use a self-adhesive wall cable tidy to conceal your wires. Usually made of plastic, you can cut it to the length you need to cover and stick it to the wall below your TV. Hide your wires inside the tidy before snapping the cover on. You'll usually be able to purchase a cable tidy kit for less than £10.
For extra style points, paint your cable tidy the same colour as the wall and it really will disappear!
If your TV sits on a media unit, hide the cables inside. Most TV units will have a ready-made hole for feeding the wires through, otherwise, you'll have to make one yourself. Search for a local carpenter or handyman who can help.
Another solution is to disguise the wires behind the furniture it sits above. Using adhesive cord clips snake wires behind the TV and the back of furniture without the worry of damaging anything or the cables getting tangled.
D-line cable trunking can be used around the skirting to neatly hide away wires, particularly if they need to extend into another room.
How to mount TV on wall without wires showing
A creative and attractive solution is to make a light wood frame behind the TV that you can either paint or wallpaper as a statement piece. Prepare the frame by covering it in your chosen fabric, paper or paint, and cut a hole in it for the TV mount. Use picture hangers or adhesive strips if the frame is light enough to hang the frame on the wall, then attach the TV to the mount and hide the wires behind the frame. Voila!
How to hide TV wires in a wall
If you determined to get rid of wires altogether, here's how to hide them in a stud wall and a brick wall:
Stud wall – It's relatively easy to hide cables behind the plasterboard in a stud wall. Simply cut a hole behind the TV and another lower down where you want to bring the cables back out again. Tape your cables to something that you can feed down behind the plasterboard, such as a piece of trunking, and then pull them out of at the bottom. A socket box at both ends will create a smart finish. If you're unlucky enough to hit a stud mid-way, you'll have to cut another hole in the wall and a hole through the stud, then filler the mid-way hole when you are done. For help, seeing our guide on how to use a stud finder.
Brick wall – Hiding wires in solid walls is a bigger and messier job, but the end result is seamless. Here's how to run a tv cable through walls: you'll have to chase away the plaster and brickwork with a hammer and chisel. Add your length of trunking or conduit into the chasing to protect both the wall and the wires. This will also useful if you need to add more cables in the future. Then it's a repair job, replastering and redecorating the area until the wall is back to normal and the wires have gone. We would strongly recommend getting a professional electrician in for this. They will know exactly where to chisel the wall away and the best ways to direct the wires. This will save you any unnecessary damage to your walls. Find out about the cost of hiring an electrician in our handy guide.
See the tradespeople we've checked and recommend for your job
How to hide wires for wall-mounted TV over fireplace
The easiest and simplest solution is to arrange a pile of books, a candle, or other decorative ornaments in front of the wires to hide them away. Alternatively, using adhesive cord hooks, stick the wires along the bottom of the TV where they can't be seen, and feed them down from the bottom corner. Then you can arrange a small houseplant in front of it, concealing the wires and not interrupting the screen.
FAQS
How much does it cost to get TV wires chased into the wall?
You're looking at an average cost of around £100 to £180 to get wires chased into the wall. Find out more in our TV set up cost guide. Costs will vary depending on the type of wall, but a professional can get the job done and dusted in a day and can also ensure that the wires meet building and fire regulations.