Creating your ideal home can take time, energy, and a lot of paint!
Even homes with wallpaper will need to have their ceilings and woodwork painted, generating many empty paint tins. Wondering how to dispose of paint? This guide will answer all your questions and teach you more about safely disposing of it.
We will look further into areas such as how to dispose of paint tins, how to dispose of paint thinner and more. Plus, we will discuss how improperly throwing away paint and materials can be dangerous for you and the environment. So, to stay safe and protect our planet, continue reading.
The wrong way to dispose of paint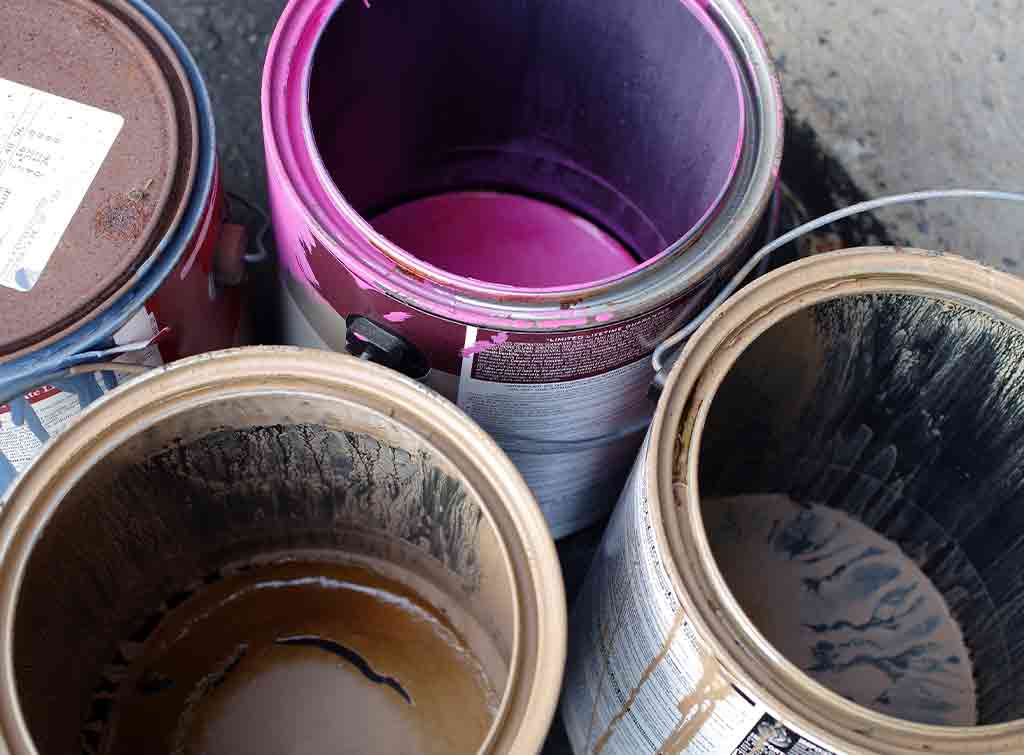 There are many ways of throwing away old paint but not all of these are safe or legal. Paint is classed as hazardous waste and can have serious consequences for people as well as the environment.  It contains many chemicals, metals and even solvents that need to be disposed of safely. This is why it is essential to learn how to dispose of paint in the right ways.
Many people think pouring paint down your drain is ok, however this is not the case. Paint can flow from your kitchen drains into lakes and streams, causing contamination and damage.
Another common mistake to make is throwing paint away with your general waste. This can end up running from landfills into groundwater.
How to dispose of old paint safely
When clearing out your garage you may unearth numerous old paint cans that you no longer need. Unsure how to dispose of old paint responsibly? There are a few different ways to correctly deal with old paint, the first of which is to return the paint to where you bought it if the paint is unused.
You may even be lucky enough to receive an exchange or refund if you have the old receipt. If the paint has been opened, however, you will need to consider alternative methods of disposal. You could pass it on to a friend or family member for them to use or you could give it to a charity project.
Unfortunately, local recycling centres cannot accept liquid paint due to issues with contamination. Frustratingly, you will need to wait until the paint has hardened before taking it to your local tip. You can speed this up by adding soil or sand to the tins.
Alternatively, if you only have small amounts of paint left over, why not paint an old piece of card and wait for the paint to dry before throwing it away?
Find a trusted painter and decorator near you
How to dispose of emulsion paint
Emulsion paint is available in many colours and is perfect for making your home look amazing. It becomes an issue however when you have finished painting and are left with half-full paint cans.
Many people search for 'how to dispose of emulsion paint' and it really isn't too difficult. Emulsion paint can be disposed of in a similar manner to old paint. You will need to wait until the paint has hardened before throwing it away. It is always worth looking into alternative ways to recycle emulsion paint too, see our below 'how to recycle paint' section.
How to dispose of paint tins
Once you have figured out how to dispose of paint, you may be wondering how to dispose of paint cans. However, this really depends on the type of can you have. Paint will usually come in plastic or metal tins, both of which need to be disposed of properly.
Plastic paint cans are usually not suitable for household recycling, although your local tip may accept these and can properly dispose of them. Metal paint tins can also be disposed of at your local recycling centre.
In fact, you can even pay a specialist paint disposal service to safely get rid of old paint cans, this can be a fantastic option if you have a lot of paint and tins to recycle.
How to recycle paint
As it is illegal to improperly dispose of paint, recycling is a great alternative. While waiting for liquid paint to harden and then taking it to your local tip is an option, why not find an alternative use for it. If you're unsure of how to recycle paint, the following ideas are great options:
Give leftover paint to a family member, friend or neighbour.
Look into local charity organisations like Community RePaint where your paint will go to a family in social need.
Check out websites like Freecycle that put you in touch with someone in your local area who needs paint.
Remember that paint can have a serious effect on the environment and contaminate bodies of water if poured down a drain.
Find a trusted painter and decorator near you
How to dispose of paint thinner
Similar to paint, paint thinner and solvents are extremely damaging to the environment and the health of individuals. Never pour paint thinner down a drain, throw it in your household waste or put it in a skip, even though it may seem like the easiest option.
Paint thinner is also a fire hazard so great care should be taken when disposing of any cans. Furthermore, as it is classed as hazardous waste, paint thinner should be disposed of at your closest hazardous waste disposal service.
Wondering how to recycle paint thinner? You can pour your used paint thinner into a transparent pot with a sealed lid then wait for the paint to sink to the base of the pot. You can then reuse the paint thinner by siphoning off the paint free top layer.
Please note, you will then need to dispose of the paint as described in our 'how to dispose of old paint' section.
How to dispose of paint thinner rags
Using rags with liquids like paint thinner, varnishes and sealers is very common, however, this creates an issue when it comes to later disposing of these rags. Paint thinner rags are a fire hazard, which is why learning how to dispose of paint thinner rags properly is crucial for your safety.
Follow these steps to protect your home from fires:
Put your rags in a metallic pot or can with a sealable lid.
Completely soak the rags in water by filling up the container.
Seal the lid in place and then you can safely take the can to a hazardous waste disposal centre.
Professional painting solutions
A coat of paint can completely transform your home inside and out and hiring a professional to paint your home means you're guaranteed a high-quality finish.
If you are considering hiring a professional painter to decorate your home interior, please see our painter decorator price guide. Alternatively, to learn more about external house painting please see our guide on the cost to paint a house exterior. In addition, using a professional painter will mean your leftover paint is disposed of in a responsible, safe manner.
Whether you need help with interior or exterior painting, we have a range of tradespeople in your local area so please use our free search feature to take your first step to achieve your dream home.
FAQs
Can I throw away dry paint?
Yes, once the paint is completely dried out it can be safely disposed of at your local tip.
What organisations help to reuse leftover paint?
Consider contacting charities like Community RePaint or using Freecycle to connect you with local families who need paint.
Is it possible to hire a company to deal with my unwanted paint?
Yes, many private companies will collect and safely dispose of your old paint for a cost.
What are the effects of improperly disposing of paint?
Aside from being against the law, effects included contamination of water sources, clogged drains, health impacts on individuals and damage to local wildlife.
Useful paint disposal checklist
Paint should be disposed of or recycled in a safe way that will not adversely affect our planet.
Paint cans can be taken to your local recycling centre if empty.
It is possible that others may need your leftover paint so this can be a great opportunity to help your local community.
If you choose to hire a local painter, they will dispose of the remaining paint for you.
Find a trusted painter and decorator near you
Tell us what you think
What others think of this article:
Need More Information?
Related posts