How to install smart locks
A smart lock is a great way to bring your locking system into the 21st century. Looking to install a smart lock yourself? Say goodbye to annoying keys and hello to slick keyless entry in this step-by-step guide.
How does a smart lock work?
A smart lock does what it says on the tin. It's a locking system that doesn't require physical keys, and instead can be controlled and operated by a smartphone or other device.
Smart locks typically use Bluetooth or wifi to connect with your smart device. Being able to control it on your devices means you can lock and unlock the door remotely – this is especially handy if you're the type of person who panics that you've left the door unlocked!
Some smart locks also have a touch screen/keypad for manual entry and you can also link your smart locks to Amazon Alexa or Google Home.
Smart locks can also provide additional security features such as automatic locking, real-time notifications, and tracking of who enters and exits your home.
How to install a smart lock
If you're confident in installing a smart lock yourself, then follow these steps.
Preparation
First up, you'll need to make sure you buy a smart lock that is compatible with your door (and one that you like, of course).
Then you'll need to grab the necessary tools such as a drill, screwdriver, measuring tape and level. It's always worth putting a dust sheet down too.
Installation
Once you have everything you need, then you can start the installation process:
Remove your existing lock by unscrewing or drilling out the lock mechanism
Measure the distance between the centre of the lock hole and the edge of the door to make sure that the new lock will fit properly
You'll then need to follow the manufacturer's instructions to install the new lock. This may involve attaching a mounting plate to the door, connecting wires, and programming the lock to work with your smartphone or other devices
Once the lock is in, make sure you test it to check it's working properly and make any adjustments
Note: The manufacturer's instructions will be key to follow as each lock will be slightly different. If you're at all unsure, we strongly recommend hiring a professional locksmith. That way you can have peace of mind that your home is secure.
See the tradespeople we've checked and recommend for your job
Risks of installing a smart lock yourself
Installing a smart lock yourself comes with several risks, including:
Potential damage to the door or lock
Security risks if the lock is not installed properly
Incorrect wiring
You could void your warranty if you install it yourself
It is always recommended that you consult with the manufacturer's instructions and if you are not comfortable with installing the lock yourself, consider hiring a professional locksmith to do the job for you.
How to turn off a smart lock
Turning off a smart lock will depend on the specific brand and model of lock you have. It's best to check the manual before you start fiddling with your lock.
Some common ways to turn off a smart lock include:
Switching it off physically with a switch on the lock itself
Using the app/software to lock it or put it in 'offline' mode
Disconnecting it from the power source (if it is battery-powered, remove the batteries)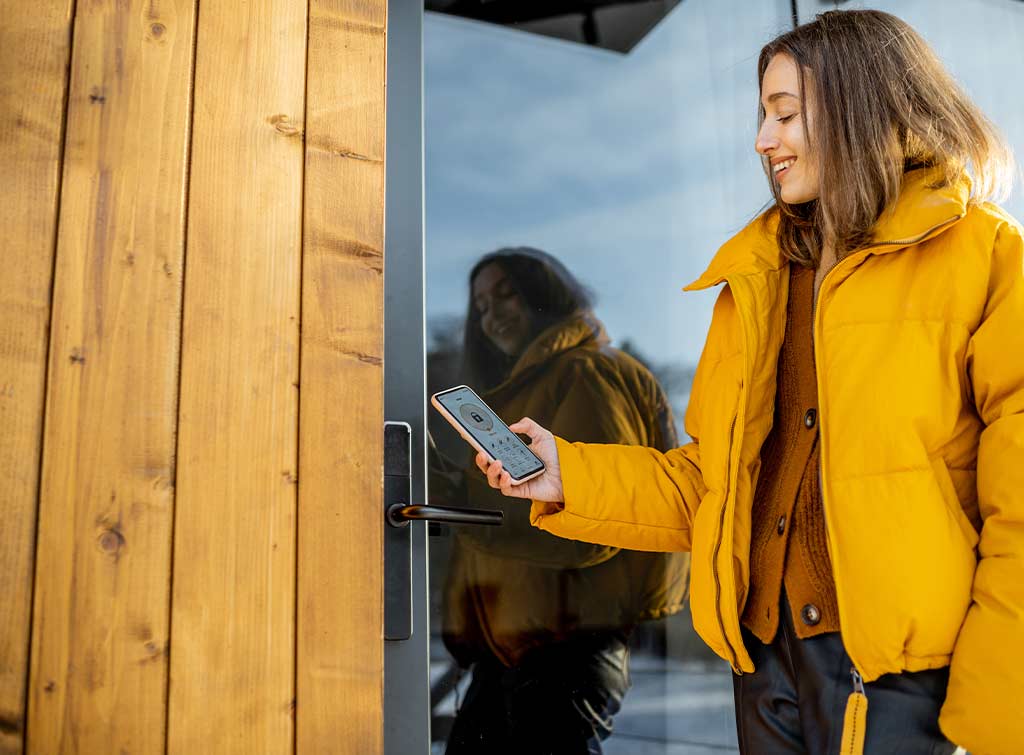 Advantages and disadvantages of a door lock system
There are advantages and disadvantages of a smart lock system.
Advantages include:
Remote access – so you can let people in when you're not physically there
Convenience – you can give people temporary access codes (such as a dog walker or cleaner)
Increased security – you can keep an eye on who enters and exits your home as well as automatic locking
You can link your locking system to other smart home devices
Disadvantages of a smart door lock system include:
You're dependent on technology, so if your smartphone or device is lost or stolen, you may not be able to get into your home
They cost more than traditional locks
As with anything on the internet, there is a chance your system could be hacked
Potential loss of power or malfunction
Overall, a smart lock can provide added convenience and security to your home, but it's important to weigh the pros and cons before making a purchase, and also consider the risks and vulnerabilities of the technology.
Hiring a professional
If you're considering installing a smart lock but don't want to install it yourself, take a look at our smart locks cost guide to see how much a professional installation could set you back.
FAQs
Can keyless door locks be hacked?
Smart locks can potentially be hacked, as they are connected to the internet and can be vulnerable to cyber-attacks. However, this is very unlikely to happen. As with any internet-connected device, it is important to keep the software and firmware of your smart lock up to date to ensure that you have the latest security features and patches.
Additionally, you can take some steps to help secure your smart lock, such as using a strong, unique password, and avoiding using easily guessable codes such as 1234.
Are smart locks easy to install?
In general, smart locks are relatively easy to install and can be installed on a DIY basis. However, some smart locks may require professional installation if the lock is complex or you need to integrate with other smart home devices.
See the tradespeople we've checked and recommend for your job