How to paint a radiator
Want to know how to paint a radiator but don't know where to start? We've got you covered, including how to paint behind a radiator without removing it.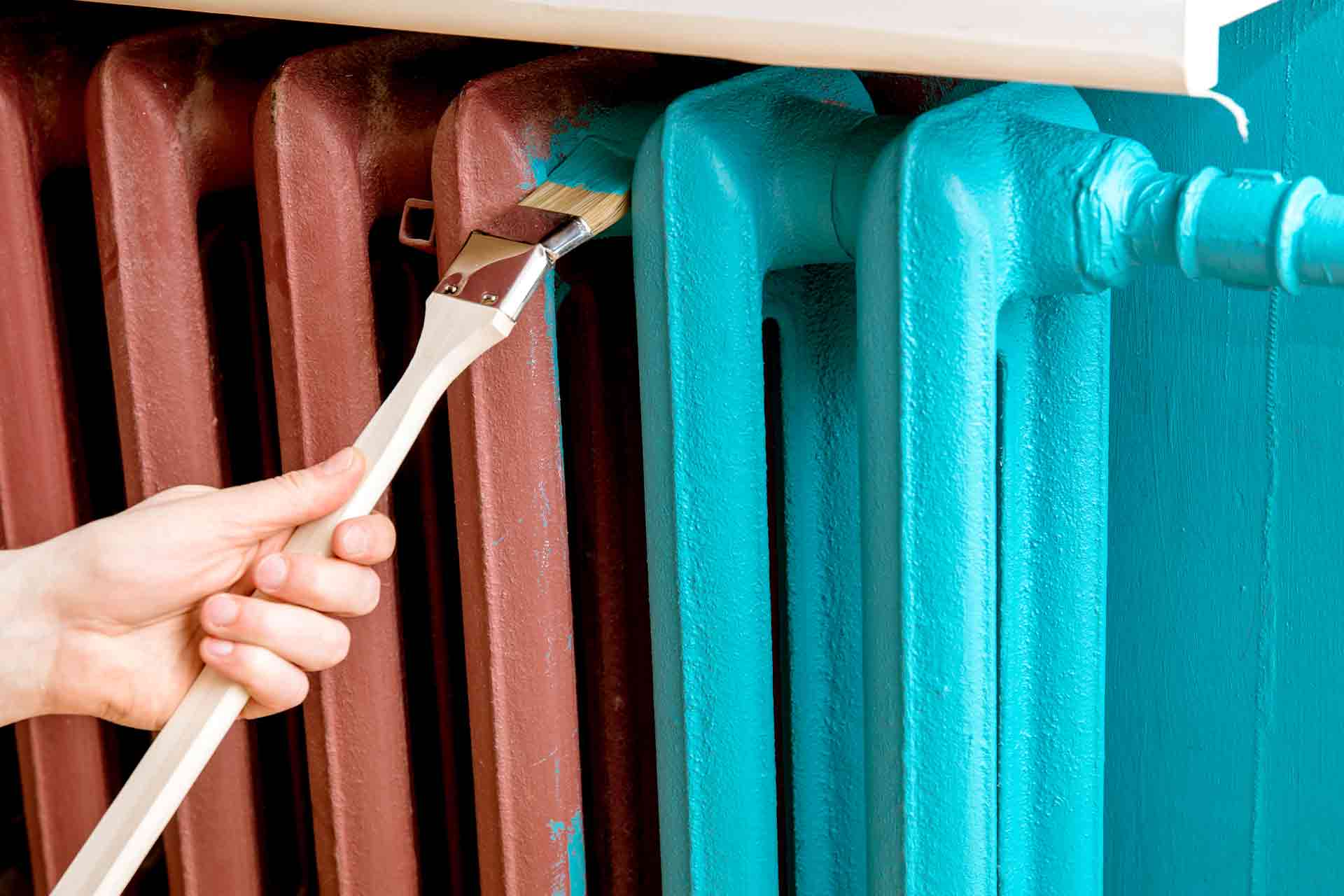 In most homes, radiators are plain white and really not that interesting. But, it's surprising just what a huge effect painting a radiator a different colour can have on a room. That's why learning how to paint a radiator can help you to completely transform your living space, even if you are on a tight budget.
Most radiators take up a sizeable amount of the wall space in a room, as such a little colour can go a long way to enhancing the aesthetics of any home. You can even make the radiator a stunning, unique feature.
Stick with us for a step-by-step guide to radiator painting. We also look further into how to paint a rusty radiator and how to paint behind a radiator without removing it.
What's needed to paint a radiator?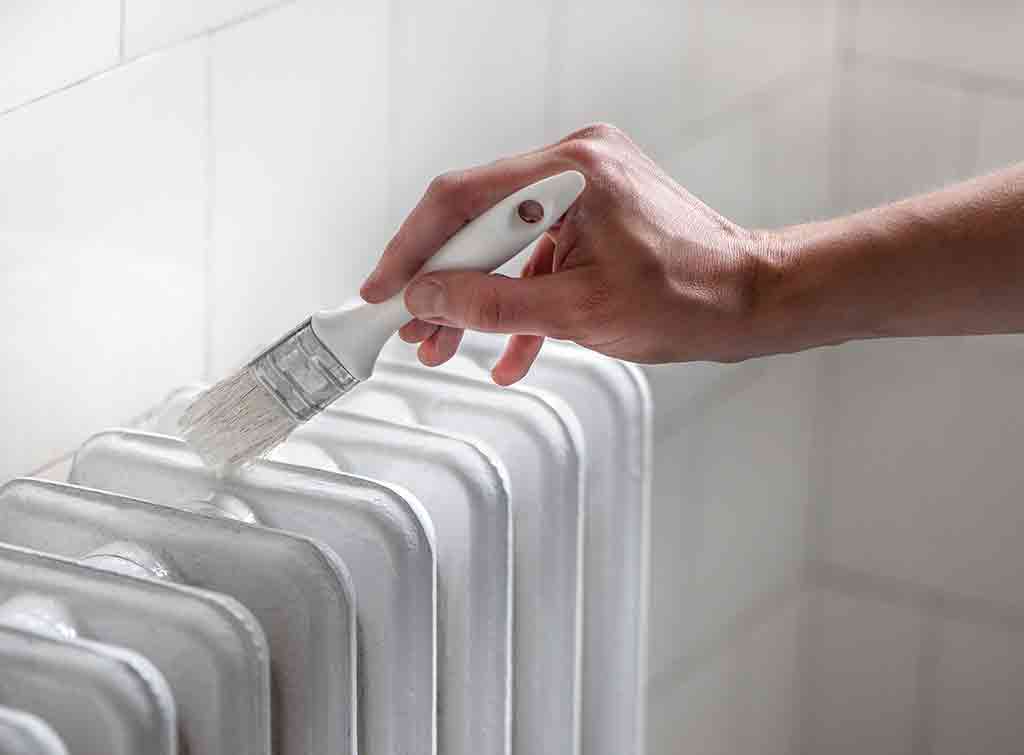 Tools and materials
Ready to begin? Start by gathering all the tools and materials you will need for your project. This will prevent any urgent dashes to the DIY store mid painting. The below tools and materials will be needed:
Paint
Dust sheets
Masking tape
Soapy water
Soft cloths
Sandpaper
Vacuum cleaner
Paintbrushes
How to paint a radiator – Step by step instructions
It is a good idea to scan through the below steps to ensure you are confident you know what you are doing. This will help to eliminate mistakes further down the line.
Carefully follow the below instructions:
Firstly, ensure that the radiator is turned off and has fully cooled down. It may be worth ensuring that no thermostatic timers will activate, and that the radiator won't become hot whilst you are painting. While you're unlikely to get burned, it may damage paint that hasn't fully dried.
Place a dust sheet around the bottom of the radiator to collect any paint drips and protect the surrounding floor area. Secure in place with masking tape.
Clean the radiator using soapy water and a cloth to remove any dirt and grease. Allow the radiator to fully dry before continuing.
Once dry, use sandpaper to rub down your radiator, creating a smooth surface for painting.
Next, use a dry cloth or even a vacuum cleaner to remove any dust particles completely. Getting dust into your paint mix will give the radiator a rough feel and an uneven finish.
Ensure that your paint container is placed on a steady surface to prevent spills, ideally on a mat to protect the flooring. Follow the paint manufacturers' instructions with regards to mixing paint prior to use.
Apply paint initially to the fiddly, tricky parts of the radiator. Start at the top and then move to the bottom.
Finally, fill in the main body of the radiator, again painting from top to bottom. Try to move the brush in a single motion to avoid any lumps and bumps from forming.
Once dried, consider a second coat, if necessary.
Well done, you now know how to paint a radiator!
See the tradespeople we've checked and recommend for your job
How to paint behind a radiator without removing it
It is always easier to reach the wall behind your radiator if the radiator has been removed. However, removing a radiator can be tricky due to its weight and the complexity of the removal process.
It is possible to do this and a lot of homeowners find this option preferential to removing and reattaching the radiator. To get the best results, use the following tips:
Consider buying a radiator roller. These are small rollers with smaller than usual poles. This makes it easier to access the area immediately behind the radiator.
For complete coverage without removing a radiator from the wall, consider fashioning a tool using a sponge stapled to a piece of recycled timber. Although, it is worth noting that this isn't always the easiest of tasks.
You can also slide a large piece of cardboard down behind the radiator to shield the wall or radiator when painting one or the other.
How to paint a radiator cover
Radiator covers are a great option to hide unsightly radiators. In addition, they can protect small children and animals from being injured when coming into contact with hot radiators. You may decide you would like to paint yours, to keep it looking fresh or change its appearance.
Follow the below guidance to paint a radiator cover properly:
Firstly, ensure any areas nearby are adequately covered up with dust sheets and/or masking tape.
Next, sand down the cover to remove any old paint and create a flawless surface for painting.
Use a quality gloss paint, varnish or stain as you would with other fittings like doors.
Start using a small amount first until you know how easily it applies.
Paint around the openings and edges initially, and then the front top to bottom sections on the main area of the radiator.
Paint quickly to avoid lumps and bumps which form if the paint dries too quickly.
How to paint a rusty radiator
Frustratingly, some radiators may become rusty over time. This often happens when the paint is chipped and moisture sets in. Don't feel disheartened, it is possible to bring your radiator back to life and in turn revitalise the room.
Wondering how to paint a rusty radiator? Then follow the below method:
Begin by sanding any light rust spots with sandpaper.
For more substantial rust spots you will need an aggressive sandpaper or a metal scraper to achieve a flat surface.
Remember to remove all rust before continuing for the best results.
Now follow our 'how to paint a radiator' step-by-step guide to finish.
See the tradespeople we've checked and recommend for your job
How to remove a radiator to paint behind it
While it is definitely easier to paint behind your radiator when it is removed, this can be too complex a process for DIY beginners. One idea for how to remove a radiator to paint behind it is to hire a plumber to do the hard work for you. They will charge a fee to assist and to ensure that the radiator can be safely removed.
Want to tackle this yourself? See our how to replace a radiator guide for clear instructions on removing a radiator.
Please note, a lot of modern radiators are installed with plastic pipework which is considerably easier to remove than those with older copper pipes.
How to remove paint from a radiator
It can be time-consuming and hard work to completely remove paint from an old radiator but, there are a few alternative options:
Sand down your radiator until you reach a smooth, even surface where you can apply a new coat of paint.
Buy a new radiator and follow our how to replace a radiator guide.
Hire a professional to remove the paint or install a new radiator.
If however, you have decided that learning how to remove paint from a radiator is your best option, follow the below steps:
Use coarse sandpaper to sand away as much paint as possible.
Apply a coat of paint remover to the entire radiator. Please ensure you wear the proper protective equipment including gloves and goggles when working with paint remover.
Use a scraper to remove the soft paint.
It may take several coats of paint remover to fully remove the paint from your radiator.
Finally, make sure the radiator is completely dry and dust-free before painting as described in our 'how to paint a radiator' section.
FAQs
Can I do this task myself?
Yes, but always bear in mind a professional will achieve a cleaner, better quality finish. If you would prefer to hire a decorator take a look at our painter and decorator price guide.
Do I need any specialist products?
Typically, no. Just make sure that the paint you choose is suitable for use on a surface that is going to get hot, like a radiator. If you are unsure, speak to manufacturers or your local specialist at a DIY superstore.
How long is it likely to take?
This depends on the size of the radiator and the number of coats required. For example, a small radiator with only one coat of paint will be much quicker to finish than a large radiator with three coats of paint.
Can I complete this task on my own?
Yes, unless you are planning to remove the radiator. Radiators are heavy and lifting one is a two-person job. If you are considering removing and replacing the radiator yourself, please see our how to replace a radiator guide.
Could a tradesperson do this job for me?
Yes, we recommend hiring a professional painter for the best results. Use our free search feature to find painters and decorators in your local area.