How to paint a wall
Our clear and simple guide will teach you how to paint a wall. With brilliant tips and step-by-step instructions for painting properly using a brush and roller.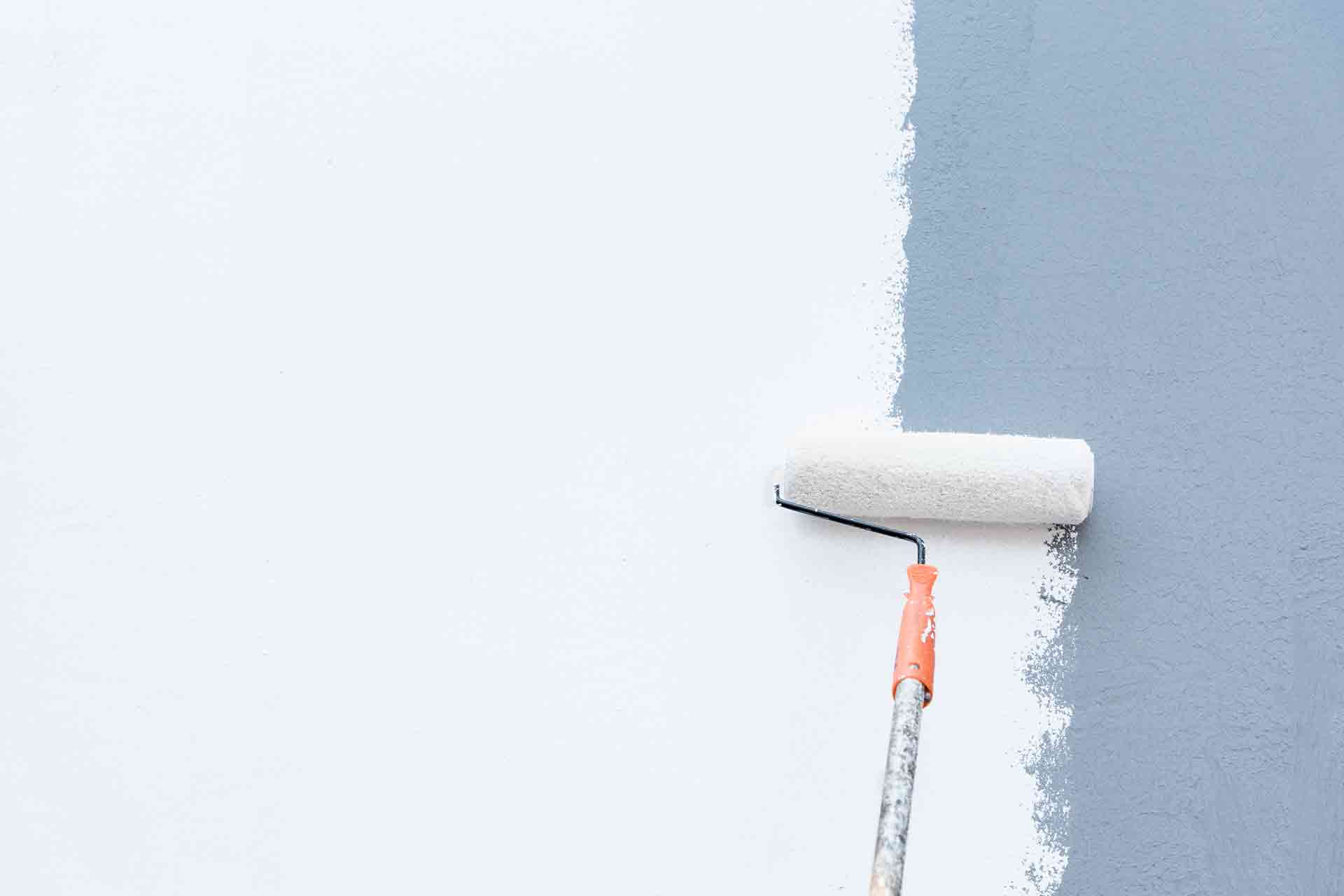 Paint has the power to alter the look and feel of any space completely. Painting the walls in your home is an exciting process with fantastic potential. However, it is also possible to end up with a huge mess that will be difficult to remedy. That is why learning how to paint a wall properly is essential.
In this article, we will cover everything you need to know about painting a wall, including some great tips to help you with your project. As well as a step-by-step guide to painting, we will cover different areas like how to paint a wall with a brush and how to paint a wall white.
For the best results, we always recommend hiring a professional painter and decorator to do the job.
How to paint a wall yourself
Ready to begin? Follow our below three-step guide to discovering how to paint a wall yourself.
 Step 1: Preparation
Before beginning, remember that preparation is the key to smooth, even walls that last for years to come. Prepare for painting by following the below steps:
Wallplates, including light switches and plug sockets, will need to be loosened. Please note, when dealing with electricals, extreme care must always be taken!
Use decorators' tape to protect the edges of your wall and give a smooth finish around doorways, windows, skirting boards and ceilings.
Always lay down protective sheets to protect your furniture and flooring from paint splatters. It is best to remove furniture from the room where possible.
Clean your wall with a damp cloth and mild soap to remove any dust or debris that would cause imperfections in your painting.
Tools and materials
Now your wall is prepared, gather the below tools and materials to prevent any interruptions to your painting:
Paint
Primer (white is a great option for most painting jobs)
Paintbrushes (for cutting in and smaller areas)
Rollers
Paint pads
Paint trays
Brush cleaner
Cloths/ wipes (for spills – white spirit will be needed for oil-based paints)
Steps/ ladders (to reach high areas)
Protective clothing (to prevent staining)
See the tradespeople we've checked and recommend for your job
Step 2: Priming
Consider the colour and type of paint you are using as often a primer is needed to get the best results. For example, if you paint your walls a dark colour, then primer will really help achieve a rich, flawless finish.IF you need help to pick the perfect palette then we recommend reading this colour selection guide,
If in doubt, use primer as this will only serve to enhance your painting project. To do so, follow the below steps:
Choose your primer. White is a great all-rounder and will especially help to cover up darkly coloured paint. Always check the tin to ensure you are using the correct primer for your job.
Open your windows or doors to prevent fumes from building up. This will also help to dry your primer after applying.
Put on your protective clothing to prevent your clothes from being ruined.
Please note that it is possible to buy an extending paint roller for higher walls, or you may need to use a ladder.
Use a paintbrush to carefully paint primer around the edges of the wall, filling in any gaps and alcoves.
Now pour your primer into a paint tray, then use a roller to fill in the space. Ensure your primer is applied in smooth, clean motions.
You might be eager to apply your paint but waiting for the primer to dry fully is essential. Leave at least 4 hours before continuing.
Clean your brushes and rollers before using them to paint.
Step 3: Painting
Now comes the exciting part of the project. You will see your room instantly transform with the addition of paint. As with the primer, paint should be applied in the correct way for perfect results, as follows:
Begin by mixing your paint, being careful not to spill any. You can use a proper stirrer or even a screwdriver if you are desperate.
Work around the edges of the wall with a paintbrush and paint. Ensure you reach into corners or dents to get an even finish.
Next, use a roller to cover the centre of the wall. Using it in a W or M shape can help you to get the best results. Make sure the whole wall is thoroughly covered with no thin or thick patches of paint.
Wait approximately 3 hours until the paint is dry before applying your second coat in a similar way to the first coat.
Thoroughly clean your brushes and rollers.
After 2 days, it is safe to take down your decorator's tape.
See the tradespeople we've checked and recommend for your job
How to paint a wall with a brush
Brushes make excellent tools for painting, especially smaller areas where a roller couldn't fit. Around the edges, in corners and alcoves, a paintbrush is the right tool for the job. But you may be wondering how to paint a wall with a brush without brush marks.
There are a few little tricks to preventing brush marks, including using gentle, smooth, continuous strokes. You can also paint in multiple directions. For example, cover an area of your wall with vertical strokes, then go over the same patch with horizontal strokes. It can also help to use a larger brush for wider areas of painting.
For the best results, we recommend hiring a professional painter. They will be able to give your walls a smooth finish.

How to paint a wall with a roller
Creating even coverage when using a roller is essential. Follow these steps:
Use a bucket screen to load the roller with paint properly.
Use continuous, light, vertical strokes. Roll from the bottom of the wall to the top and back in the opposite direction.
Purchase a high-quality roller cover to achieve brilliant results. Wool roller covers can be an excellent choice, although they do shed. This can be prevented by removing any loose fibres with sticky tape before beginning.
Don't take any breaks during painting as the sections you already have painted will dry, and you will end up with lines where the two areas meet.
Make sure you use the same coverage density as you did around the edges of the wall to prevent obvious lines.
See the tradespeople we've checked and recommend for your job
How to paint a wall white
White is a great shade to give any room a clean, fresh feel. In fact, white is such a peaceful colour it can be used in bedrooms to create a calming, soothing effect. Painting your home white is also a fantastic idea if you are looking to sell, as this will allow buyers to imagine their possessions in the house better.
It seems simple but learning how to paint a wall white begins with colour variation. Not all white paints are actually white and there are a range of white paints available. It is possible to choose white paint with hints of pink, yellow or even blue.
What's more, paint can look different depending on the time of day and what other colours are used in the room. White is also a shade that can easily pick up dirty marks from children and pets, so choosing a paint that wipes clean is essential.
Once you have chosen your white paint, try a sample in your room before you decide to purchase large quantities of this. Make sure you check the sample at different times of the day to be sure you are happy with your decision. Next, follow the step-by-step guide in our 'how to paint a wall yourself' section.
How to paint a wall without getting paint on the ceiling
Nothing is more frustrating when painting a wall than the paint accidentally dripping or smudging onto your ceiling, skirting board or light switch. This is particularly an issue when it comes to painting near a ceiling. The angle is awkward, hard to reach and can feel incredibly frustrating.
Wondering how to paint a wall without getting paint on the ceiling? Try this great painter's hack of purchasing a roll of builder's tape and carefully positioning a strip where the wall meets your ceiling. You can then paint the top of your walls without any worries.
Once the paint is completely dry, peel off the tape for a perfect result.
Wall painting costs
Hiring a professional to paint your walls will guarantee excellent results, but how much exactly will it cost? As a ballpark cost, decorators will charge between £20 – £25 per hour, so it really depends on the size of your wall as well as how many walls you need to be painted.
If you are considering hiring a professional painter to take on your project, please see our painter and decorator prices guide for more information. Once you have made up your mind, try our free search feature to find skilled painters in your area.
Happy to tackle things on your own? The following prices give a rough guide to how much painting a wall will cost you:
3 litres of emulsion paint: £16 – £18
5 litres of moisture-resistant paint: £20 – £22
250 ml of primer: £8 – £10
750 ml of gloss: £10 – £12
Various consumables (drop cloth, tape etc.): £10 – £15
Painting kit: £20 – £45
Working platform (for safely working at height): £40 – £45 per week hire
See the tradespeople we've checked and recommend for your job
FAQs
Will I need to move out while my home is being painted?
Usually, no, the painter will often be able to work around your routine. Despite this, there may be instances where you cannot use a certain room for a while, so if this is an issue, you may be happier staying somewhere else.
Can I get away with just one coat of paint?
In some cases, only one coat of paint may be needed, for example, if you are painting a white wall white again and the wall is in good condition. Having said this, two coats of paint are always recommended to make the paint more durable and easier to clean.
Is painting dangerous for animals and young children?
Some paint fumes can indeed upset animals and young children, which is why proper ventilation is essential. While these fumes aren't necessarily dangerous, they can be unpleasant. It is possible to buy paint that is pet friendly to keep our furry friends happy.
What is the best way to dispose of old paint and paint cans?
It is illegal to throw away liquid paint in our normal household waste, and many recycling centres will not accept paint. The best option is to give your leftover paint to a friend or neighbour who can use it. For more information and tips on dealing with old paint, cans and more, please see our how to dispose of paint guide. Also, we recommend after you have cleaned your brushes and pots read our how to safely dispose of white spirit guide.