How to repair a patio
Want to learn how to repair a patio? Our guide is packed with easy-to-follow step by steps guides to repair cracked slabs, damaged grouting and sinking patios.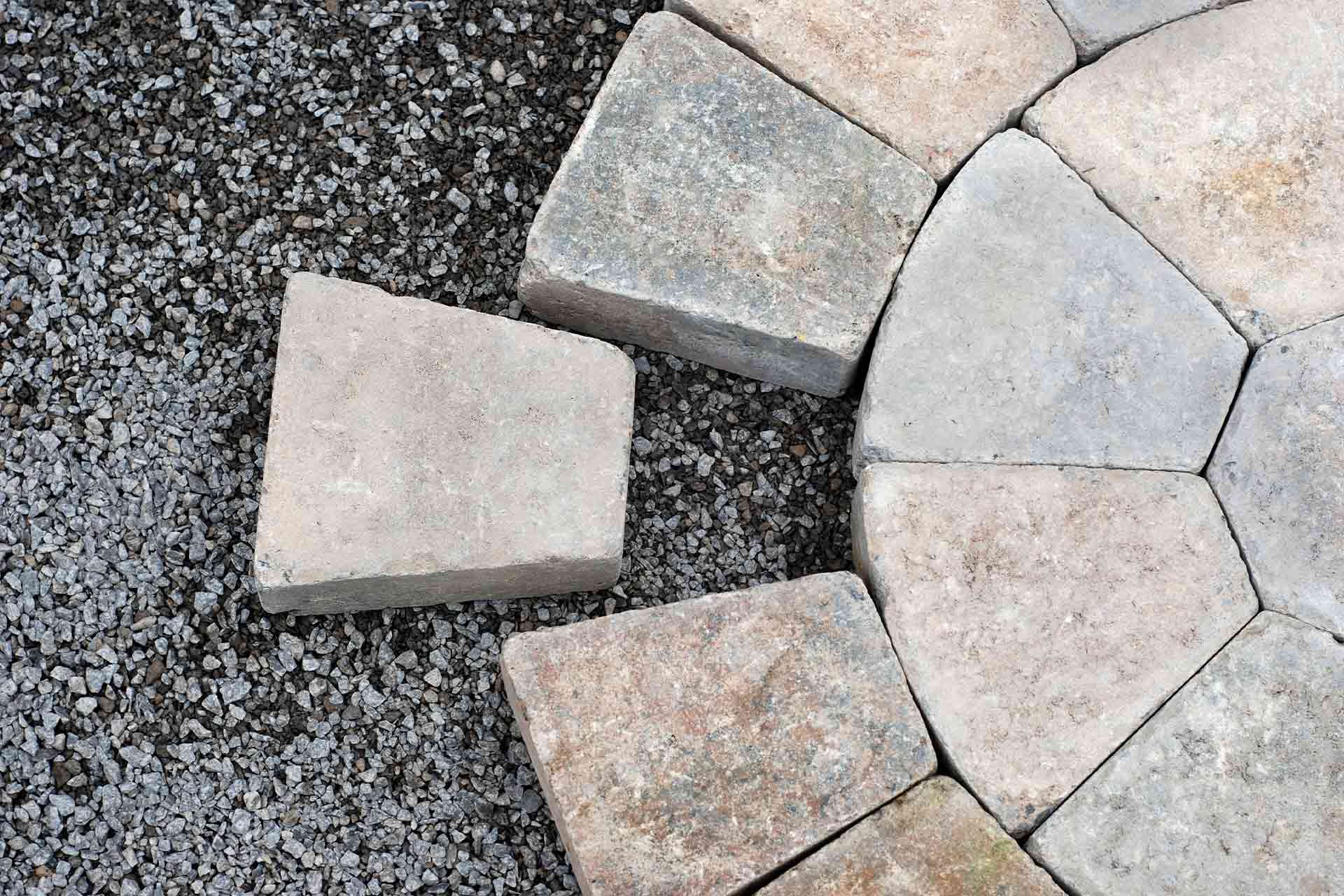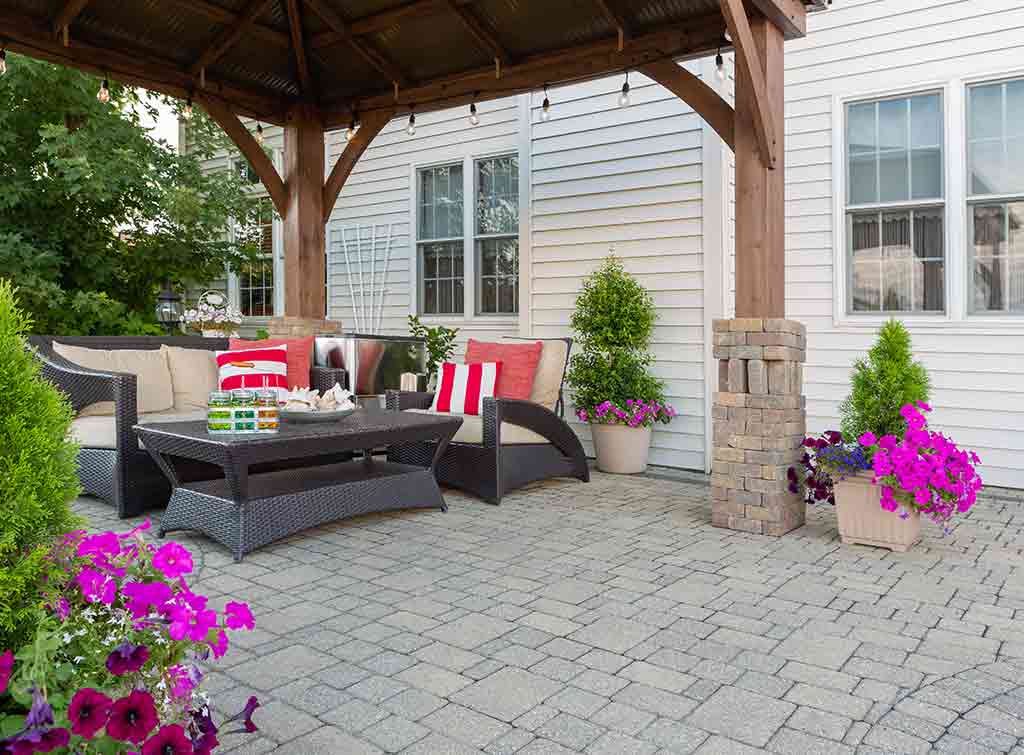 Patios are incredibly common in the UK, and for good reason. They make the perfect location for socialising with friends and family or even just relaxing after a long day. Despite this, many patios become damaged and neglected over time making patio repair a handy skill to have.
If you do notice that your patio looks less than perfect, it's important to tackle the issue sooner rather than later or it will become much worse, causing expensive patio repairs. In this guide, we will give the lowdown on DIY patio repair, including how to repair a brick patio, patio slab crack repair and even how to repair patio pointing.
How to repair a patio step-by-step
Whether you can repair a patio yourself will usually depend on the extent of the damage and your knowledge of DIY. If you have no idea what is causing the damage to your patio, it may be wise to speak to a professional before continuing. Please use our free search feature to find trusted tradespeople in your area.
One of the most common issues with patios is when one or more paving slabs become cracked or start to sink. Luckily, it is possible to replace just those damaged slabs without needing extensive patio repairs. In order to replace damaged paving slabs you will need the following:
Goggles
Gloves
New paving slab(s)
Hammer
Spade
Chisel
Sand or mortar and cement (depending on which was used on your patio originally)
Timber pieces
See the tradespeople we've checked and recommend for your job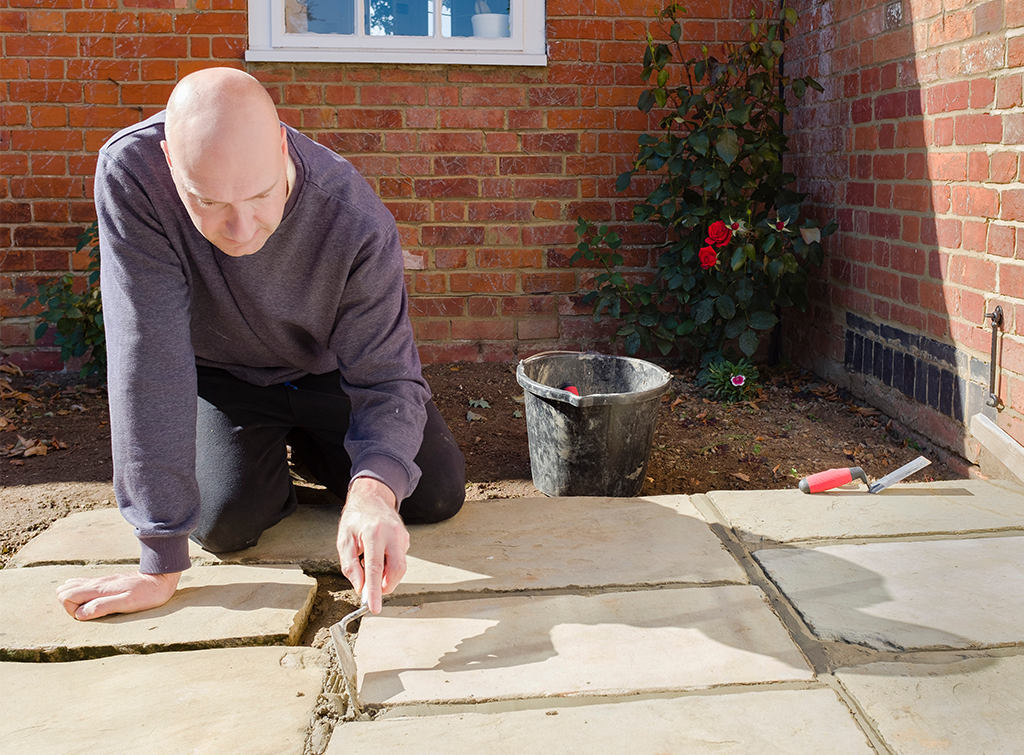 Once you have everything to hand, follow the below steps to replace your old slabs:
Break down the old mortar used to hold the damaged slabs in place using a hammer and chisel.
Use a spade to lift out the slabs.
Top tip: Use a piece of timber under your spade to prevent damage to the adjacent slabs.
Remove the rest of the old mortar under the slabs using your hammer and chisel.
If mortar was used under your slabs, you will need to mix the mortar with cement and sand and create a layer of this mixture before you position your new slabs.
If sand was used under your slabs, level it out and add new sand if necessary, then position your new slabs.
Finally, push the slabs down into their new position and fill the cracks with mortar.
How to repair a brick patio
Not all patios are comprised of paving slabs. Brick patios can look stunning if properly cared for and maintained. But what happens when your brick patio starts to sink? To repair a brick patio, just follow the below steps:
Remove all the bricks from the area of the patio that is sinking.
Use a trowel to remove all the old clay and softened soil from under the old bricks.
Use ground limestone to fill in any holes in the lower bed of sand.
Push the limestone down until it forms a level, even surface.
Pour about an inch of sand on top of the limestone.
Position your new bricks and gently tap with a mallet.
Fill the cracks between the bricks with sand.
Top tip: Keep any spare sand until your patio has been rained on as you may need to add a little extra to the joints.
Sinking stone patio repair
As we mentioned above, patios can be strongly affected by sinking and unstable ground. This is particularly an issue if your patio is at the lowest point of your garden. Thankfully, sinking stone patio repair is possible no matter your DIY experience, using the following instructions:
As with brick patios, you will need to remove any stones affected by sinking.
Excavate the ground under the stones to about three inches.
Pour around two inches of coarse stones into the holes and ensure they create a level surface.
Add another one to two inches of fine gravel to the holes.
Place your patio stones back in place and check they are straight using a level.
Top tip: Ensure your new patio stones sit a little higher than the other paving stones as they will settle over time.
Sweep a layer of sand into the cracks between the stones.
See the tradespeople we've checked and recommend for your job
How to repair patio pointing
The joints, or pointing, between your patio slabs can become cracked or chipped over time. This is quite common and can be repaired as a DIY project, adding another feather to your DIY cap.
Wondering how to repair patio pointing? Simply follow the below steps:
Remove the old material between your patio slabs. You can use a hammer and chisel to chip away at the joints in your patio.
Create a mixture of sand and cement. You may wish to make only a small amount at a time to prevent it from drying out before you can use it.
Pour your mixture over your patio, using a brush to sweep the sand and cement into the gaps between your slabs.
Ensure each gap is full. You can even press the mixture down using a piece of timber.
Brush away any leftover sand and cement, then allow your pointing to set in place.
Patio slab crack repair
Cracks in your patio slabs not only look unsightly, but they can also be dangerous, causing a potential trip hazard. Before you consider replacing your whole patio, know that it is possible to repair patio slab cracks. Follow these steps for an easy repair job:
Gently remove any loose or damaged concrete from your cracked slab. You can do this using a chisel and wire brush to sweep away any remaining debris.
Choose your preferred concrete repair product – mortar and latex are good choices – and mix as directed in the manufacturer's instructions.
Use a trowel to cover the crack with your mixture, pushing it all the way down to the bottom of the crack.
Remove any excess product and smooth the surface before allowing the mixture to dry.
Patio grouting repair tips
There is nothing worse than having your beautiful patio ruined by damaged grouting. This may be due to settling, sinking or even age. You may even see plants pushing through your paving slab joints, which can make your patio look old and untidy.
Luckily, it is possible to repair patio grouting by removing the old mortar and resetting your paving slabs. Just follow the steps in our 'how to repair patio pointing' section.
How to repair a concrete garden path
Figuring out how to repair a concrete garden path will come down to what type of damage it has and the cause of the damage. For example, concrete garden paths are vulnerable to sinking, cracks and grout damage.
Once you have established the cause, concrete patio repair is not too tricky, just skip to the appropriate section of this guide. To fix:
Cracked slabs: Go to our 'patio slab crack repair' section.
Grouting issues: Go to our 'repair patio pointing' section.
Sinking slabs: Go to our 'sinking stone patio repair' section.
See the tradespeople we've checked and recommend for your job

Help, I'm stuck
Patio repair can be done as a DIY project but may be a little too complicated for DIY beginners. If you reach an impasse and need help, contacting an expert can be an excellent choice. This way you can be sure your patio will be repaired to a high standard. Thankfully, our free search feature allows you to easily reach out to trusted professionals near you.
How much does professional patio installation cost?
If your patio is in terrible condition, it may be beyond repair. In this case, you will need to completely replace the patio, which can be costly. Although this will require an investment, you can be confident that your new patio will look amazing and be durable. What's more, if properly maintained, a new patio can really stand the test of time.
Sound tempting? You can choose to lay your new patio yourself using our how to lay a patio guide or hire a professional. Generally, you can expect to pay £25 – £75 per metre square of patio for professional installation, although this will vary depending on your circumstances. For more prices and information, please see our patio laying cost guide.