How to protect your decking for the winter months
Keep your decking looking great no matter the weather with our handy guide. Including step by step instructions for painting, sealing and oiling decking.
Decking is a great addition to any garden, especially for creating a separate entertaining or chill out area. In order for your decking to look good and last, you will need to properly maintain it all year round, especially before the winter months.
The winter means your decking will have to face rain, lots of debris and potentially ice and snow, but this weather doesn't mean that your decking has to suffer. We've pulled together the best expert tips on how to protect your decking in the winter months, from cleaning to sealing and oiling.
How important is it to keep decking clean?
The first step to protecting your decking is to keep it clean and debris free. It's essential that you keep your decking clean even when you aren't using it as this can make a huge difference to its lifespan.
In order to clean your decking, you'll need a stiff wire brush and some cleaning solution. You can also use a pressure washer. You just need to follow these simple steps:
Sweep any leaves and dirt away from your decking using a wire brush
Use a cleaning solution and cloth to scrub the boards clean
Use a pressure washer (if needed) to remove difficult patches of dirt.
See the tradespeople we've checked and recommend for your job
How to seal decking
A great way to make your decking look great as well as protect it is to seal it.
You'll need to apply this once a year to keep your decking looking bright and shiny.
Use the below tips to seal your decking:
Make sure to do this on a dry day with a clear forecast to prevent rain from ruining your efforts. Also, ensure that the weather isn't too hot and sunny, or this could impact the results.
Start by thoroughly cleaning your decking as described in the previous section.
If your decking has been previously treated, it's worth sanding before you apply your sealer. Once you have sanded the entire deck, clean again and allow it to dry before continuing.
Mix the sealer in the can, then using a roller or brush start applying the solution to your decking.
Apply in thin coats for beautiful results and allow the sealer to dry completely between each coat and before you walk over the decking.
How to paint decking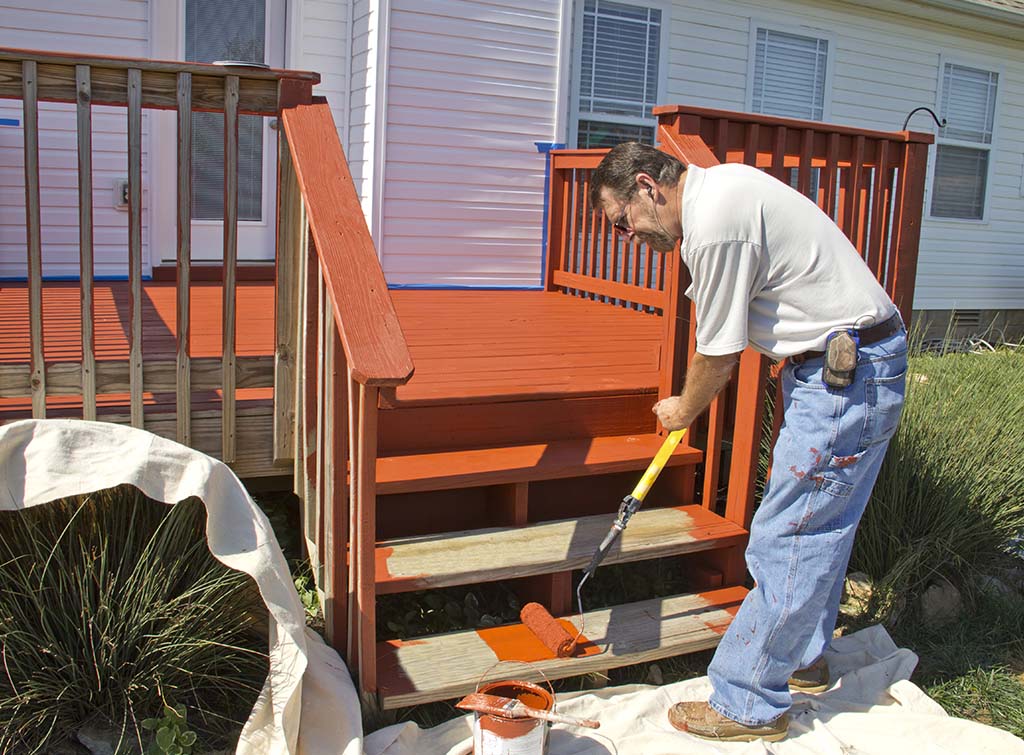 Unlike sealer, paint can completely transform the colour and finish of your decking. This is perfect if your decking has seen better days, as the paint will cover the surface of the wood for a smooth, even finish. Again, before painting, you'll need to clean and sand your decking for the best results.
Pick up your paintbrush and follow the below steps:
Make sure you have clear weather with no rain in the forecast. Also, ensure it isn't too sunny or this may affect your paint.
Start in a corner away from your back door to allow easy access to your home.
Stir the paint well and dip your brush into the pot.
Ensure your brush is well covered in paint and begin working back towards your door.
Let the paint dry before applying a second coat.
How to oil decking
Another way to naturally enhance the appearance of your decking is to use oil. This will also protect the boards over winter, so your decking looks amazing by the time you come to use it during warmer days. Oils won't cover stains or damaged patches, but they'll help to create a beautiful finish.
To save time, why not try using a paint sprayer by following these steps:
Clean and dry your decking and ensure you pick a day with clear, dry weather.
Cover any furniture, surfaces or fences that are near to your decking, so you don't spray them with oil.
Stir the oil and pour into the paint sprayer.
Always start in the corner furthest from your back door to allow access.
Begin spraying evenly cover your decking, working backwards as you go.
When finished, allow the oil to dry before applying a second coat if necessary.
Remember not to walk on your decking until the oil is dry.
How can I guarantee flawless results?
Learning how to protect decking for the winter months can be a tricky skill to master. Plus, if you have little DIY experience, it's unlikely you'll achieve professional results the first time. In order to ensure that your decking looks its best, we'd recommend hiring a professional to do the work for you. So, how can you be sure you're hiring the right worker for your project?
Well, our members are thoroughly checked to ensure they're qualified and trustworthy. Plus, to give you further peace of mind, we're now offering a guarantee covering up to £1,000 if the unexpected happens and something goes wrong. This cover is completely free and an indication of the confidence we have in our qualified members.
Ready to get in touch with a professional? Just use our free search engine for a variety of professionals in your local area who are recommended by your neighbours. If you're looking for further guidance, visit the HomeOwners Alliance website for a range of home improvement guides, helpful articles and much more.
Which tradesperson should I use for the job?
Most general builders or painters/decorators will be happy to take on your decking project, just use our online search feature to find a professional you can depend on.