How to remove an asbestos soil pipe
Asbestos is dangerous and hazardous and should never be dealt with without proper precautions.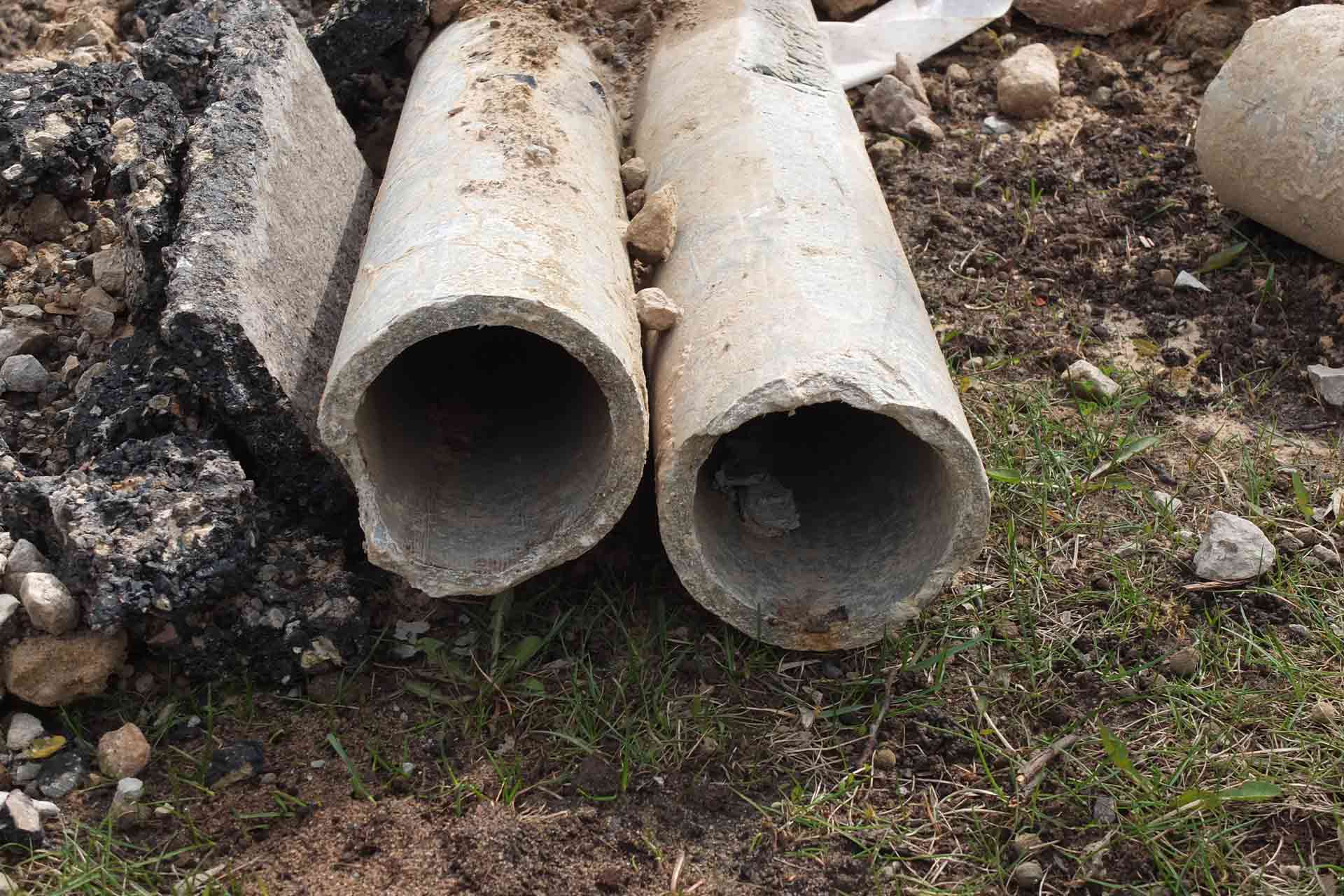 If you are adamant that you want to do the job yourself, you may be wondering how to remove an asbestos soil pipe safely. This guide is designed to keep you protected while taking on this challenging project. If at any time you feel unsafe or confused, stop what you are doing and contact a professional.
What you need to know
While you do not need a licence to remove asbestos cement products, if you do decide to work with asbestos yourself, then it MUST be handled with great care. HSE have comprehensive guidelines for safe practices, so please refer to these prior to starting work.
Firstly, you will need to identify the type of asbestos that makes up your soil pipe. The best way to do this is to get an asbestos survey done. If the asbestos is deemed safe for you to remove, then the following dos and don'ts should be considered before beginning this job for safety, and best practice:
Dos:
Use the correct protective equipment.
Clean up as you go.
Make sure all waste is double bagged and disposed of at a licenced tip or by pre-arranged council asbestos collection.
Wash your hands during breaks and when finished for the day.
Follow the correct personal decontamination process.
Make sure you have fully researched the correct methods of work prior to starting.
Don'ts:
Use tools that create dust.
Sweep up debris. Instead, use a Type H vacuum cleaner, or wet rags.
Reuse disposable clothing or masks.
Smoke, eat or drink in the work area.
Tools and materials
Before beginning, you should grab the following tools and materials so you have them to hand.
You will need:
A vehicle to carry the waste if you are disposing at a licenced tip.
Heavy-duty 500-gauge and 1000-gauge polythene.
Heavy-duty tape.
Asbestos bags for waste.
Asbestos warning stickers.
Disposable overalls with a hood.
Wellington boots or similar. They shouldn't have laces, and you must be able to wash them down.
Disposable face masks rated FFP3 (special care must be taken if you have a beard. Seek advice on face fit).
Eye protection.
Gloves – Single use only. If using latex gloves, use only 'low-protein powder-free' gloves.
Bolt cutters.
Dampener/garden sprayer.
Damp rags.
Asbestos pipe removal step-by-step
Only once the site has been deemed safe for you to remove/dispose of the asbestos cement products yourself, you should follow the below step-by-step guide:
Ensure you are wearing the correct PPE. Please note an overall hood should be worn over the straps of your face mask.
Using 500-gauge polythene, protect nearby non-asbestos surfaces from contamination. Then cover and tape this securely in place.
Identify where the pipe runs (as per the diagram).
It is important you do not break the asbestos pipe. Always try to minimise damage where possible.
If the pipe is held in place with fasteners, use the garden sprayer to dampen the area and carefully remove the fixings. Always dispose of these fixings in an asbestos waste bag.
Remember to completely avoid contact with the asbestos cement.
Ensure you handle large pieces carefully. Do not drop!
Next, double-wrap the large pieces in 1000-gauge polythene sheeting then seal securely with heavy-duty tape.
Make sure to attach asbestos warning stickers to the sheeting.
Finally, place small pieces, debris and fixings into the asbestos waste bag.

See the tradespeople we've checked and recommend for your job
Cleaning and disposal
Once you have finished removing your soil pipe, clean up the space to remove all traces of asbestos. Make sure you:
Clean all your equipment and the entire work area with damp rags.
Check for debris and remove, then also clean the area with damp rags.
Put all debris, used rags and polythene sheeting used to protect the area along with all other waste into the asbestos waste bag and securely tape shut.
Next, put the asbestos waste bag into a clear polythene bag and tape it closed.
Check with your local authority what the best way to dispose of waste is. You may be able to use a council asbestos collection service or licenced tip.
Personal decontamination
Now is the time to decontaminate yourself to eliminate any risk of asbestos contact. You will need to:
Clean your boots with damp rags.
Use the damp rags in a gentle patting action. Be careful not to rub as this can disturb fibres.
Peel off your disposable overalls. They should be inside out when removed and disposed of in an asbestos waste bag.
Remove your face mask last of all and also dispose of it in an asbestos waste bag.
How to stay safe and save time
Removing an asbestos soil pipe is no mean feat. It involves handling hazardous substances and dealing with large, heavy objects. As such, this is not a job for a DIY beginner. In order to stay safe, we would strongly recommend hiring a professional for this project.
That way, you can guarantee yours and your family's safety, plus be confident that the job will be done efficiently and to a high quality. If you are considering hiring a professional, please use our free search feature to find a trusted tradesperson in your area.
For more information about expert removal and prices read on.
See the tradespeople we've checked and recommend for your job
How much does asbestos soil pipe removal cost?
Deciding to hire a professional to safely remove and dispose of your asbestos soil pipe is a wise decision you will not regret. Wondering how much asbestos soil pipe removal costs, see our below guide prices:
Asbestos survey: £150 – £350 for a survey of a 2-3 bedroom property.
Professional asbestos removal: Prices vary depending on local authority tips, the volume of waste, travel time and more. For further information, please see our asbestos soil pipe removal cost guide.
Local Authority asbestos collection: £0.90-£1.50 per kg. Please note local council charges may vary.
Licenced Tip: £0.60-£0.90 per kg.
Disposable coveralls: £4-£9 each.
Disposable FFP3 masks: £3-£15 each.
Disposable eye wear: £2-£11 each.
Boots: £11-£30 each.
Disposable powder free gloves: £5-£7 each.
Asbestos waste bags 30kg: £0.50-£1 per bag.
Tapes: £14-£55.
500-guage polythene: £30-£40 per roll.
1000-guage polythene: £40-£60 per roll.
Absorbent rags 10kg: £8-£15.
Useful links
The below links are great sources for guidance during the asbestos removal process:
For local council disposal costs, please click here.
For information from HSE about how to stay safe when dealing with asbestos, please click here.