How to remove a tree
Dead or diseased trees ruining your outside space? Our how to remove a tree guide is the perfect solution, with clear steps to remove stumps, roots & trees.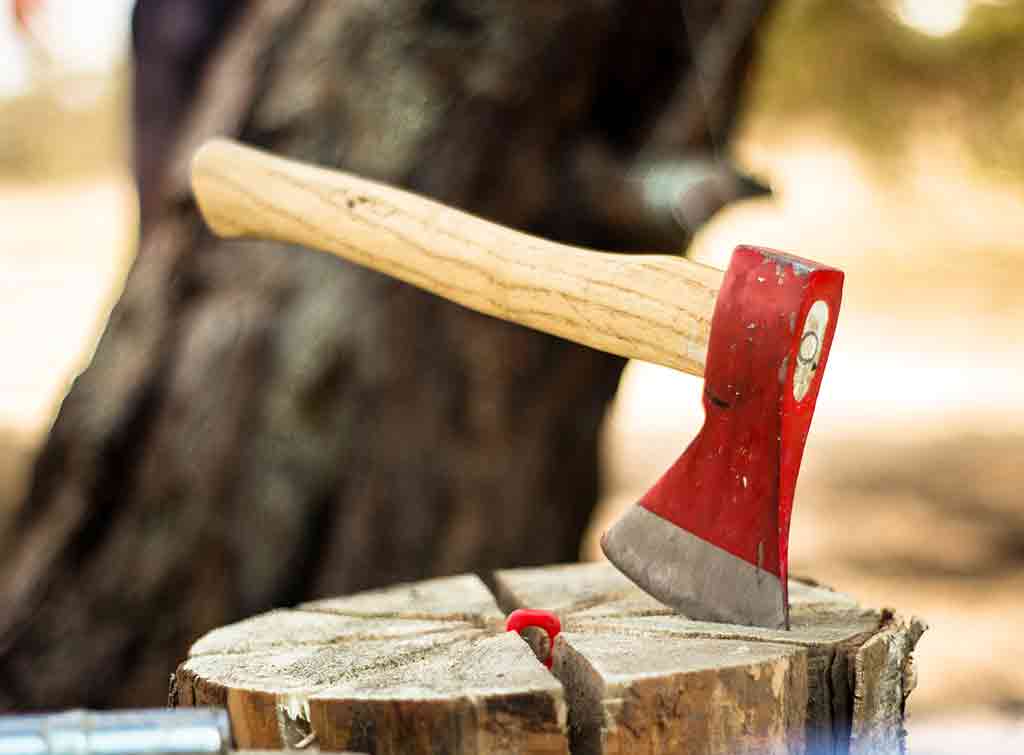 From tiny saplings to mighty oaks, trees play a vital role in our outside spaces. They provide oxygen, offer shade, bring life to our gardens and even help to prevent flooding. Despite this, trees can be a nuisance and an eyesore. No matter your reasons, learning how to remove a tree can be a useful skill, whilst greatly improving your outside space.
In this guide, we'll be taking a closer look at tree removal, with handy sections like how to remove a dead tree, how to remove a tree root and even how to remove a tree stump. So read on for easy-to-follow step-by-step instructions.
Why remove a tree?
Although trees offer privacy and can look stunning, they may die and look terrible or cause issues in your garden. The following are all great reasons to remove a tree:
The tree is blocking the sunlight into your garden
The tree has died
The tree has become damaged during a storm
The tree is diseased
The roots are affecting the structural integrity of your home
The tree is growing underneath power lines
Legal issues affecting tree removal
Removing a tree is a drastic measure and should only be used as a last resort. In fact, there are a number of legalities regarding the removal of trees and you may need a permit before beginning.
Important legal issues around tree removal include the following:
Tree preservation orders (TPO): Ensure your tree isn't covered by a TPO that protects certain trees against removal.
Conservation areas: It's illegal to remove a tree in a conservation area without submitting written notice to your local planning authority.
Please note if you decide to hire an arborist (which can be done by using our handy search feature) they will ensure all the legalities are followed, saving you time and energy.
See the tradespeople we've checked and recommend for your job
How to remove a tree
Removing a tree can be dangerous if not done correctly so ensure you wear protective gear and follow our safety tips. Before you dive in headfirst, take a little time to gather the necessary tools. This way you'll have everything you need to hand while learning how to remove a tree.
Collect the following:
Gloves
Goggles
Helmet
Ear protection
Long sleeved top and bottoms
Axe or saw (you can use a chainsaw to save time but remember these are dangerous tools)
Once you have everything you need, use the below safety guidelines to prevent accidents and injuries:
Put on your protective equipment.
Make sure your children and pets are somewhere safe and there's no chance of them disturbing you.
Plan two escape routes. Ensure you know exactly where to run when your tree is falling and that you have a backup plan in case it falls in the wrong direction.
If you wish to use a chainsaw, always follow the manufacturer's instructions.
Now use the following steps to safely remove your unwanted tree:
Completely clear the area around the tree, removing anything that can be damaged like garden furniture.
Decide the best direction for your tree to fall. If the tree is already leaning to one side, it'll naturally want to fall that way so choose that direction for best results.
Using a saw or an axe, start cutting at a 70 to 90-degree angle on the side you want the tree to fall. Keep cutting the tree until you reach about 25% of the way through the trunk.
Cut a wedge out of the tree's trunk by making a horizontal cut at the bottom of your 70-degree angle cut.
Next, cut horizontally from the opposite side of the trunk. Make this cut about 2 inches higher than the wedge cut. Continue until only about 10% of the tree's diameter is left.
As soon as you finish cutting, follow your escape route quickly as your tree should begin to fall. If it doesn't start to fall, push it in the direction of the wedge in the trunk.
Wait until the tree has completely fallen down before returning to prevent injury.
See the tradespeople we've checked and recommend for your job
Other types of tree removal
How to remove a tree stump
Once you have felled a tree, you'll be left with a tree stump. You may be happy to leave the stump, however, if you want to find out how to remove a tree stump, we have the perfect guide. Full of tips including several different removal methods, our guide covers everything you need to know about how to remove a tree stump.
How to remove a tree root
Frustratingly, after cutting down a tree, you still have the issue of roots to deal with. You can of course leave them in the ground, but if the roots have become a problem, removal is best. Whether you want to eliminate tree roots for aesthetic reasons, to prevent them from damaging your patio or from affecting water pipes, read on for our step-by-step guide to digging out tree roots:
To begin with, ensure you won't damage any pipes running under your garden. You may need to speak to your local utility company to check this.
Remove any soil covering the roots using a spade.
Start pulling out any smaller roots that have been uncovered.
Keep digging and exposing the roots then use loppers to cut and remove them.
Remove any cut roots with a grub hoe or by hand if possible.
Keep wiggling the roots and stump to loosen any stubborn roots then if necessary, use an axe to cut them.
A tree surgeon will know exactly how to target the tree roots for removal, so if you're at all unsure, it's best hiring a professional.
How to remove a dead tree
Unfortunately, sometimes trees die. There's a wide range of reasons including disease and weather damage, but once a tree is dead, removing it is the best option.
Wondering how to remove a dead tree? Firstly, consider the size of the tree. If it's large you will need to cut it down using the instructions in our 'how to remove a tree' section. For smaller dead trees, use the following guidelines:
Remove any weeds and flowers from around the tree base. Plus, if the tree is surrounded by grass, trim it down before continuing. This'll allow you to clearly see the tree base.
Use your spade to uncover the roots surrounding the tree. Chop up the roots using an axe, removing them as you go.
Once you have removed as many roots as possible, use your spade to dig under the dead tree and rock the spade back and forth to loosen the tree.
You may need help as this part can be hard work. Consider asking another person to put pressure on the tree, pushing away from you. Keep wiggling and cutting the roots until the tree lifts out of the ground.
For safety reasons, if the tree is particularly large, we strongly recommend hiring a professional to take on the job.
How to remove a small tree
Removing a small tree is generally less dangerous than a large tree, although you should still follow the safety measures mentioned earlier in this guide. Depending on the size of the tree, figuring out how to remove a small tree can be done by following one of two different methods.
For really small trees, use the steps in our 'how to remove a dead tree' section.
For larger trees, use the steps in our 'how to remove a tree' section.
How to remove a tree and replant it
When landscaping your garden, you may find that a small tree you love is in an inconvenient location, ruining the flow of your outside space. Luckily, it's possible to move that tree to a new, better spot in your garden.
If you're unsure how to remove a tree and replant it, just use the below instructions:
Decide where you want to replant your beautiful tree. Make sure the conditions in the new location are exactly what your tree requires e.g., shady or sunny. Also, check there's sufficient space for your tree to grow.
Dig a hole in the new location. Make sure it's deep and wide enough to support the root ball by digging a hole double the size.
Add a good amount of compost to the new hole.
Dig around your tree, avoiding the root ball. You may need to cut some of the longer roots using secateurs but keep the root ball intact.
Push your spade under the tree and wiggle back and forth to loosen the tree.
Lift the tree out of its hole, making sure not to injure the roots.
Lay a sheet of tarpaulin next to the tree and cover the root ball to prevent damage.
Carefully move the tree towards its new location.
Place the tree into the hole you dug previously and hold it upright while surrounding it with soil and compost.
Use your weight to firmly compact the soil around the tree.
Remember to keep watering your tree to prevent it from drying out.
See the tradespeople we've checked and recommend for your job
Emergency tree removal
Unfortunately, it can be impossible to predict when a tree will fall down. Storms, decay and other causes may knock down a tree with no notice and disastrous consequences. Falling trees can damage buildings and cars, block roads and paths, and even knock down fences or gates.
When this happens, you will need to call an emergency tree removal service. Most of these companies will charge a call-out fee which may or may not include the removal of the tree itself. In addition, it's common for emergency tree removal to be more expensive than the normal cost of removing a tree, especially if the emergency happens out of working hours.
If you do need the services of an emergency tree removal professional, why not use our search engine for instant results. Always check what the cost will be before hiring a professional arboriculturist. For more information on prices please see our tree removal cost guide.
Tree removal services
If you're unsure about removing a tree or the tree in question is large, it's wise to leave the job to a professional tree removal service. They will be able to advise on the best method of removal, any legal issues and can even help with tree maintenance.
Hiring a qualified tradesperson or tree removal service will also ensure that any debris leftover will be properly disposed of. Using our free search feature is an excellent way of contacting a trusted professional near your home.
Christmas tree removal
It's possible to recycle an old Christmas tree and this can be reused in a number of ways. Your old Christmas tree can be turned into mulch, used as a soil erosion barrier or for a number of DIY projects.
Need a Christmas tree removal service? In the first place contact your local council, they may collect old Christmas trees with your normal rubbish, or you may have to pay a fee for this. Another option is to use a drop off service. Often set up following Christmas, these centres may offer free tree recycling.
Another option is to cut up the old Christmas tree and recycle it in your garden waste bag. Always check this is allowed with your local council first. Finally, some third-party Christmas tree removal services exist, although there will be a charge for this.