How to replace a front door
Replacing your front door can transform the appearance of your home, boost your energy efficiency and increase home security. This how to guide will help you to understand all you need to know about how to replace a front door.
Hiring Advice
Practical measures for preventing scams and choosing reputable trades
Can I replace my front door myself?
The first thing to decide is whether you want to try replacing your front door yourself or hiring a professional door installer.
Planning is key. The more thorough your plan to replace your front door, the higher the likelihood of a successful replacement project.
This will depend on two main factors; your skill level and experience. If you are a confident DIYer, then you might want to tackle the project yourself. If not, it's best to use a professional.
Secondly, are you replacing the door with a door which is exactly the same size? If so, the replacement will be far more straightforward and for experienced DIYers, a job you may want to tackle yourself.
If, however, you are installing side lights, replacing the entire door surround, or altering the dimensions of the door, we recommend using a skilled glazing installer.
What tools do I need to replace a front door?
Before you start, you should make sure that you have all the tools you need for a successful door replacement. These include:
Spirit level
Caulking gun
Mitre saw
Hammer
Pry bar
Screwdriver set
Tape measure
Stanley knife
Depending on the door set you have chosen, you may also need to buy additional materials and fixings. Although screws, nails, and trims are usually supplied, you may need to purchase additional polyurethane sealant, expanding foam, and waterproof membrane.
Tip: Hiring a professional will mean you don't have to go and buy lots of new tools and materials.
See the tradespeople we've checked and recommend for your job
How do you replace a front entry door?
The first thing to do when replacing your front door is to take accurate measurements. The more precise your measurements, the easier it will be to install your new door.
We recommend taking the following measurements:
Door width
Door height
Jamb width
Exterior opening width
Interior opening width
Once you have measured the size of your door, it's time to remove your existing door. Carefully unscrew the door from the frame. Use the pry bar to remove any areas of trim being careful not to damage the surrounding brick and plaster work.
Once your old door is removed, it's time to fit your new external door.
Next, fit the hinges of the new door set to the existing door frame. You can now hang your new front door into the door space.
Once the door is correctly hung, it needs to be sealed and insulated. Insulate the space around the door with expanding foam. Install the interior and exterior trim to create a neat finish.
Finally, seal around the door frame with polyurethane sealant. Your new front door should now be weather tight and open and close smoothly and easily.
How easy is it to fit a new front door?
How easy it is to fit a new front door will depend on the complexity of the project. Fitting a like-for-like front door could be doable for an experienced DIYer.
If you are replacing the entire door frame or replacing your door with a larger door or a door made from a different material, the job will be more difficult.
For best results, we always recommend hiring a professional.
See the tradespeople we've checked and recommend for your job
How much does it cost to change the main door?
The main factor that will affect your main door installation cost, is the door material. Timber front doors can cost anywhere between £550 – £1,800 to install.
Composite doors start at around £750 to install and rise to around £1,400 depending on the specification.
uPVC doors can cost anywhere from £580 – £1,200 to install. Have a read of our door installation cost guide for more detailed information.
FAQs
Can I replace the door and not the frame?
Yes. A front door can be replaced using the existing frame. If you would like to keep your existing door frame, however, the new front door must fit perfectly to avoid any problems arising.
This is where your measurements need to be as accurate as possible. Any incorrect measurements will lead to a poorly fitted door.
This may cause the door to stick or be difficult to open and close. It could also compromise the door's weather protection capacity, thermal performance, and home security.
How long does it take to remove and replace a front door?
An experienced door installer will usually be able to remove and replace a front door within 2 – 4 hours. This time may increase will more complex door replacements involving fitting side lights or bespoke security systems.
As a DIY project, door replacement will usually take a whole day to complete. If you are in any doubt about replacing your front door yourself, it's always best to use a professional installer.
See the tradespeople we've checked and recommend for your job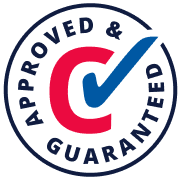 The Checkatrade guarantee
When you contact a trade through Checkatrade, our guarantee could cover you for up to 12 months. You can claim up to £1,000. Exclusions and T&Cs apply.