How to repressurise a boiler
Boilers work tirelessly to provide us with a constant supply of warm water and keep our homes toasty warm. Given their essential nature, having a boiler lose pressure and performance at the worst possible time isn't ideal. So, taking the time to learn how to repressurise a boiler is a wise choice.
Keep reading to discover how to repressurise a range of different boilers. We'll also be covering the cost of a new or replacement boiler in case it's time for you to upgrade.
What does repressurising a boiler mean?
Boilers are designed to control your central heating system, funnelling water throughout your home to warm your radiators and supply hot water to your taps. They're essential to keeping things running smoothly but can start to lose pressure over time. Repressurising a boiler involves topping up the water level in your central heating system to allow it to function properly.
Why would you need to repressurise a boiler?
You can check your boiler pressure by looking at the gauge on the front of the boiler itself. There'll be a needle that indicates the boiler pressure. If it's low you've got a problem.
So, what are the reasons you may need to repressurise a boiler? There are two main causes of low boiler pressure, the first of which is that you have recently bled your radiators. This allows air to escape your system, lowering the pressure.
The second cause of low pressure is that you have a leak somewhere in your home. You should keep an eye out for any drips or damp patches throughout your property and if you find a suspected leak, call a professional to make the necessary repairs.

See the tradespeople we've checked and recommend for your job
How to repressurise a boiler
Not every boiler is the same, so the process may be different for each machine. We'll be exploring a few different methods to repressurise a boiler so you may prefer to skip ahead to the relevant section of this guide to save time.
First, we'll be looking at how to use a filling key, which can be done as follows:
Verify that your boiler pressure is low by checking the needle on the front gauge
Completely switch off your boiler and leave it for at least four hours to cool down
Unclip the filling key from the tray below your boiler
Next, push your key into the manifold keyhole, located adjacent to the manifold nut, and turn to unlock
The pressure in your boiler should begin to rise. Wait till the gauge reads 1.5 bars before turning the key backwards
Reclip your filling key to the underside of your boiler and push the tray back into place
You can now turn your boiler back on
Top tip: If the pressure in your boiler rises too much, you can bleed any of your radiators to reduce this.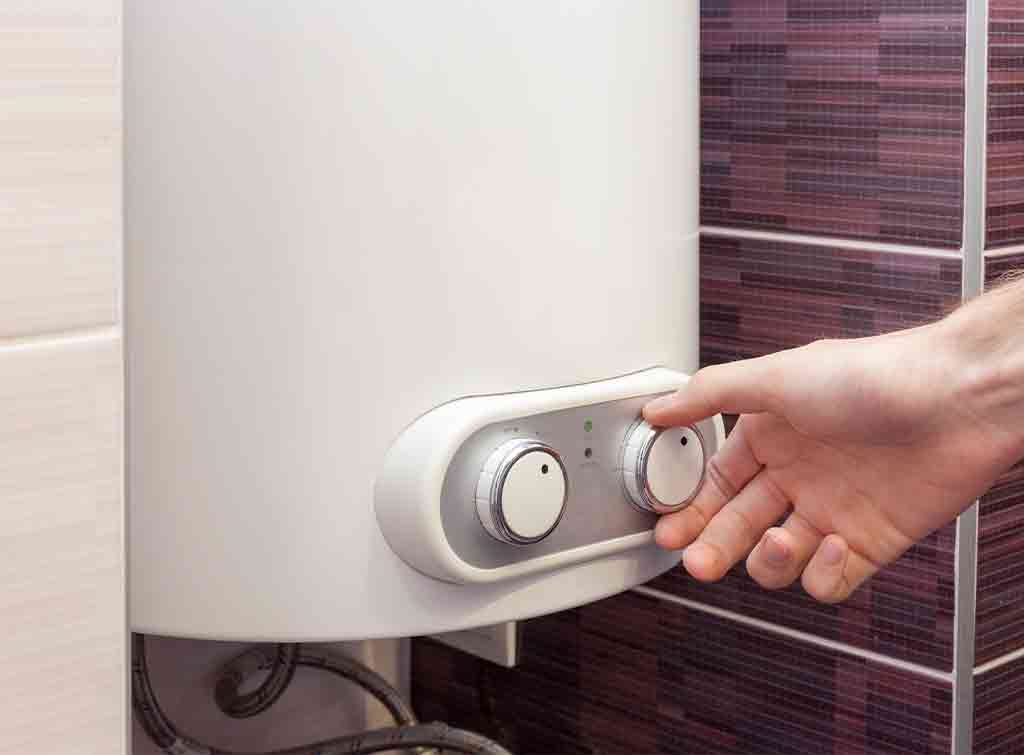 How to repressurise a combi boiler
Combi boilers house a water heater and a boiler in one unit, meaning there's no need for a large water tank. Water is heated as it runs from the water mains, making these boilers very efficient and space-saving.
Unfortunately, combi boilers can also lose pressure but don't worry, the below steps will teach you how to repressurise a combi boiler using a filling loop:
As in the above section, make sure to completely switch off your boiler at least four hours before you start work to give it sufficient time to cool down
Take a minute to check that both filling loop hose ends are properly attached
Open both of your filling valves using their handles (you may need to use a screwdriver) to allow cold water to flood your system
Watch the pressure gauge rise to between 1 and 1.5 bars before you close the filling valves again
Finally, turn your boiler back on
How to repressurise a Worcester boiler
Worcester is a fairly common brand of boiler but there are a range of different models available. Let's look at how to repressurise a Worcester boiler using an external filling loop:
As always, start by switching off your boiler and allowing it to cool for at least four hours
Grab your external filling loop and attach both ends to the valves on your boiler
Open the taps on both valves letting water flow from the mains and enter your central heating system
Carefully watch the gauge on your Worcester boiler and once the needle reaches just over 1 bar, switch off both taps
Detach the external filling loop at both ends, being prepared for drips
You can then switch your boiler back on and check it is functioning correctly
How to repressurise a Baxi boiler
Learning how to repressurise a Baxi boiler will depend on the type of model you own. There are many different types of Baxi boilers, each with its own differences.
How to repressurise a Vaillant boiler
Vaillant is another popular brand of boiler. If you find your hot water or central heating system isn't running as well as it should be, it may be time to learn how to repressurise your Vaillant boiler. You can check the pressure on your boiler by looking at its display panel. You'll see one of two types of gauge; digital or physical.
As with other boilers, you're aiming for a pressure of between 1 and 1.5 bars so if your boiler pressure is lower than this, you'll need to top up the pressure. You can do this using the instructions earlier in this guide, but it's likely you'll need to use a filling loop as discussed in our 'how to repressurise a Worcester boiler' section.
Other types of boiler
As with any type of home appliance, boilers are available from a wide range of different brands. This can make it tricky to know exactly how to increase your boiler pressure if this falls below 1 bar. Thankfully your boiler should come with a manual that'll cover how to do this.
Boiler repressurising from someone you can trust
If you're struggling to repressurise your boiler don't worry, our highly experienced members are here to help with any job no matter how big or small.
Looking for recommendations for tradespeople you can trust? Inviting someone into your home can be a gamble but our tradespeople are recommended by your neighbours, taking away any risk and anxiety.
You can find reliable tradespeople in seconds on our website. Every member has to pass 12 checks to join and then Checkatrade checks their reviews to make sure they're written by real people, about real jobs.
If you'd like more guidance on choosing the right tradesperson for your project, take a look at the HomeOwners Alliance website. There you'll find easy to read guides and articles full of essential advice for homeowners, buyers and sellers.
How much does a new boiler cost to be installed by a professional?
If you're having issues with your boiler, it may be time to invest in a new one. Depending on the type of boiler you choose this can be quite expensive so it's worth doing a little research to find the best boiler for your home. With a wide range of boilers on the market, things can get a little confusing. Take a look at our new boiler cost guide for more information.
Having your boiler regularly serviced is key to keeping it functioning at its best, ensuring it lasts longer and preventing any future issues. Boiler servicing also reduces your risk of carbon monoxide poisoning, keeping you and your family safe and healthy.
So, how much does boiler servicing costs? Well, this will usually be an average of £80. If you'd like to learn more, explore our boiler service cost guide.
Which tradesperson should you use for the job?
When it comes to issues with your boiler pressure, you'll need a heating engineer to tackle this. You can easily find a heating engineer you can depend on our website. Each of our members have their own profile page where they proudly display their reviews to help with your choice of who to hire. We even check these reviews making sure they are from real customers.
Short on time? Use our request a quote feature and we'll find three specialists that are trusted locally.