Knowing how to treat damp walls before painting them is an issue most homeowners dread having to learn. Whether it's condensation, rising damp or penetrating dampness, you need to deal with the underlying issue before even attempting to paint your walls.
This how-to blog is going to take a deep dive into everything you need to know about preparing and painting damp walls.
Can you paint over damp walls?
No. Even if you use waterproof emulsions, damp will eventually seep through and restain your walls, so it's a waste of time and money. You need to treat the cause of the damp and eradicate it before applying any new coats of paint.
Check out our damp proofing cost guide for guidance around fixing and preventing dampness in your home.
What do you put on damp walls before painting?
Once the cause of the damp is under control, you need to let your walls dry out. Give it a week or so and then check for any wet patches. If your damp proofing is successful, they'll be touch dry and ready for their renovation.
Note: Bubbling, peeling and/or stains are common. What's important at this stage is how dry your walls are. In more extreme cases, you might need to use a dehumidifier.
Find an expert damp proof painter
How to treat damp walls before painting
Tools you'll need for the job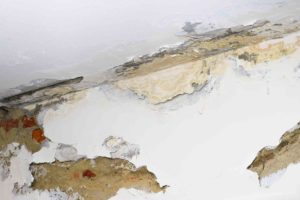 Once your walls have dried out, it's time to prepare them. For this, you'll need the following:
Plaster patches
A sander
A paint scraper
Damp seal paint
Sealant
Mould remover spray and sponge
Step-by-step guide
Remove damp or mould stains
Wash the infected areas with a good damp remover spray and sponge to rid yourself of any mouldy patches.
Repair cracks and holes
Use a plaster patch or waterproof sealant to fill any cracks or holes. For bigger jobs, plaster patches work best, whereas sealant is easier to apply on smaller problem areas.
Sand down the area
Once your plaster or sealant is dry, sand down the area so it's smooth and flat to the surrounding wall.
Wash away the residue
Use your sponge and spray again to wash away any residue. Then, leave your walls to dry out overnight.
Apply a waterproof seal
It's good practice to apply a coat of damp seal paint before adding your chosen colour. Not only does it give you peace of mind, but it also helps prevent any dampness from seeping into your walls. Bathrooms and kitchens particularly benefit from this extra step, so be sure to keep that in mind when you're deciding on whether to use a primer or seal.
Paint your walls
Once everything is dry, it's finally time to paint your walls. If you've completed all the above steps, then you have given your walls the best chance of survival against the scourge of damp.
Key takeaways
Damp walls are a pain; however, tackling the issue head-on and ensuring you follow a thorough cleansing and drying regime is paramount to success. It is important to ensure that damp is properly dealt with and gotten rid of and we would strongly advise hiring a professional to ensure this is done correctly. Why not hire a professional painter and decorator to help you prime and fix your walls too? That way, you're guaranteed an expert finish that prevents further issues from occurring.
Find an expert damp proof painter
Tell us what you think
What others think of this article:
Need More Information?
Related posts