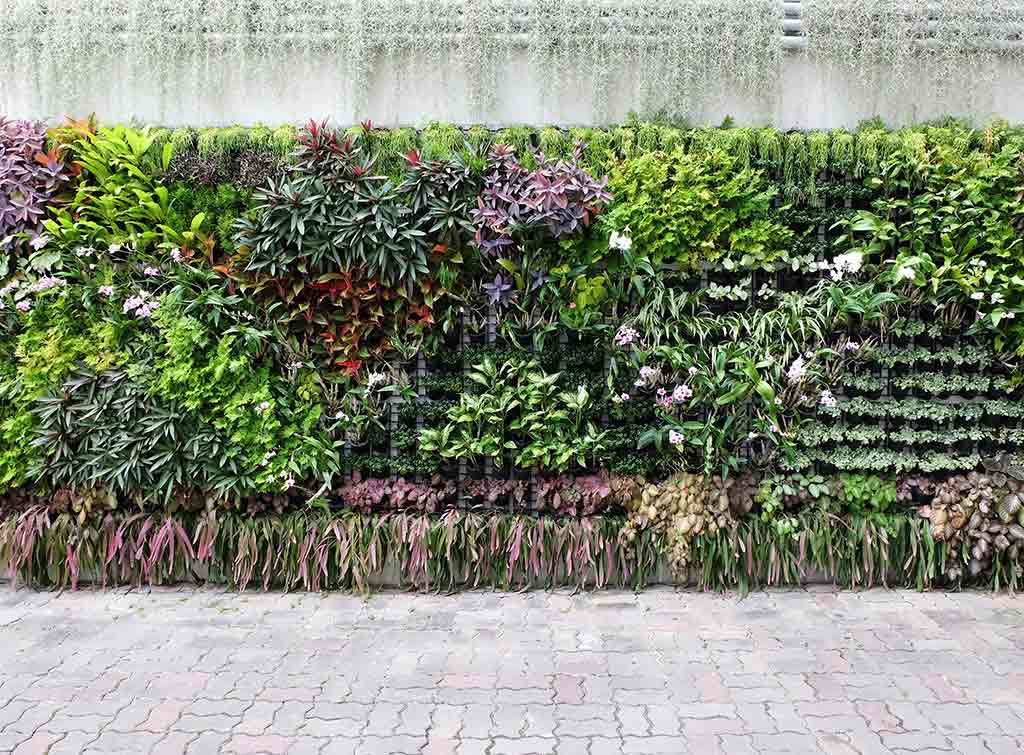 Creating a beautiful garden needn't be difficult. There are endless possibilities to upgrade and enhance your outside space. One of these is using a garden screen. Versatile and practical, these additions look fantastic while keeping your garden private.
This guide is full of innovative garden screening ideas, perfect for any outside space.
Whether you want to prevent nosy neighbours from looking into your private space, section off different areas of your garden or just add a beautiful garden feature, screens are incredibly versatile. So, keep reading to discover our natural, modern and tall garden screening ideas.
Garden screening ideas
Garden screens come in a wide variety of colours, sizes and designs to fit any outside design scheme. A brilliant garden screening idea, perfect for larger gardens, is to create zones in your outside space. You can use screens to section off secluded areas for dining, relaxing and socialising.
High garden screening ideas
If your neighbours overlook your garden and you feel constantly on show, it can be difficult to relax outside.
This is where high garden screening ideas come into play. While fences and screens are limited to 6.6 foot, hedges and trees can be allowed to grow much higher.
For complete privacy, consider using a gazebo in conjunction with screening.
Furthermore, using tall pieces of bamboo is an excellent option for an authentic, sturdy garden screen.
Looking to inject colour into your garden? Use brightly coloured paint to decorate your screen. It is even possible to create a wildlife wall, a screen used to give insects a safe home.
Modern garden screening ideas
If your home design scheme is modern, it makes sense to extend this to your outside space. A great modern garden screening idea is to use fencing with clean lines and a simple finish. You can even paint any screens white, grey or black.
To really embody a modern theme in your garden, why not use silver or metallic accents to complete your vision. Keeping the rest of your garden neat and well cared for will ensure the space looks great all year.
Natural garden screening ideas
Gardens are an escape from reality, somewhere to relax, socialise and play. So, it makes sense to use natural materials to build your garden screens. The best natural garden screening ideas involve using living plants to create a striking wall that is bursting with life. Why not consider using bushes, trees or vines?
In fact, bushes are both dense and easy to shape, giving a luscious, natural screen around your garden. Also, consider growing and trailing ivy over a metal fence or to create an eye-catching feature, build a green wall. Green walls are alive and are great at absorbing sound, keeping your conversations confidential.
Garden trellis screening ideas
Trellises make beautiful screens, fitting perfectly in any cottage or countryside garden. Stuck for garden trellis screening ideas? Why not incorporate climbing plants with a wooden trellis for extra privacy. For pretty gardens full of life, choosing an intricately patterned trellis can be a practical finishing touch with great aesthetics.
You can even use colourful transparent tiles as part of your garden trellis screening, for a stunning visual effect on sunny days.
View our guide to garden trellis ideas for more design tips.
See the tradespeople we've checked and recommend for your job
Garden screening examples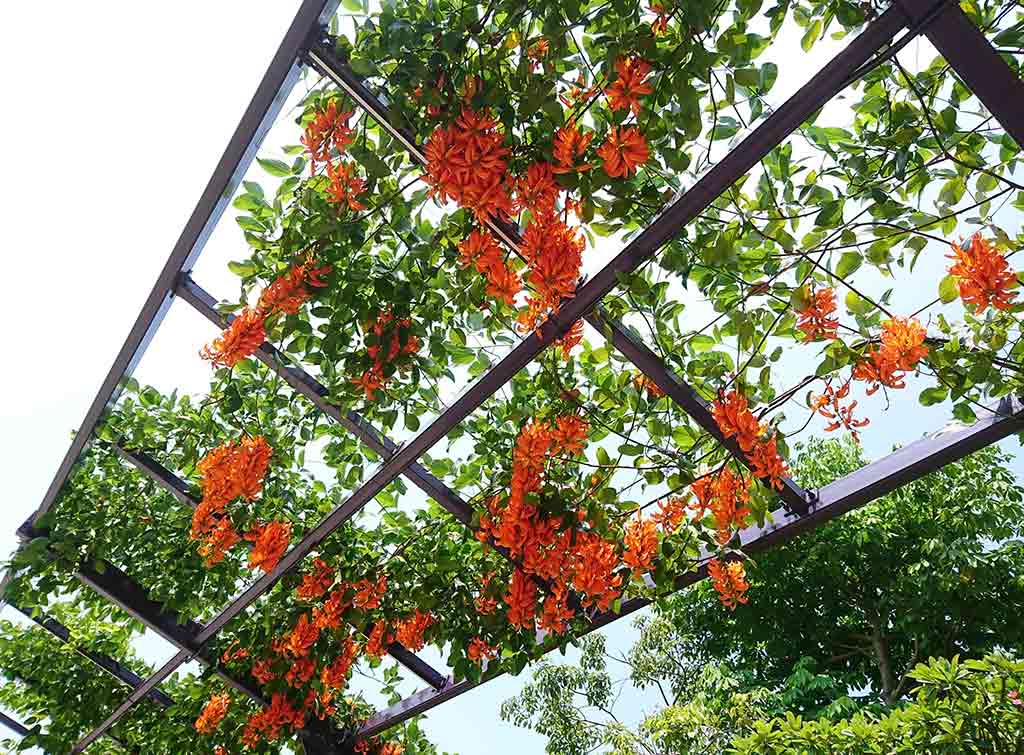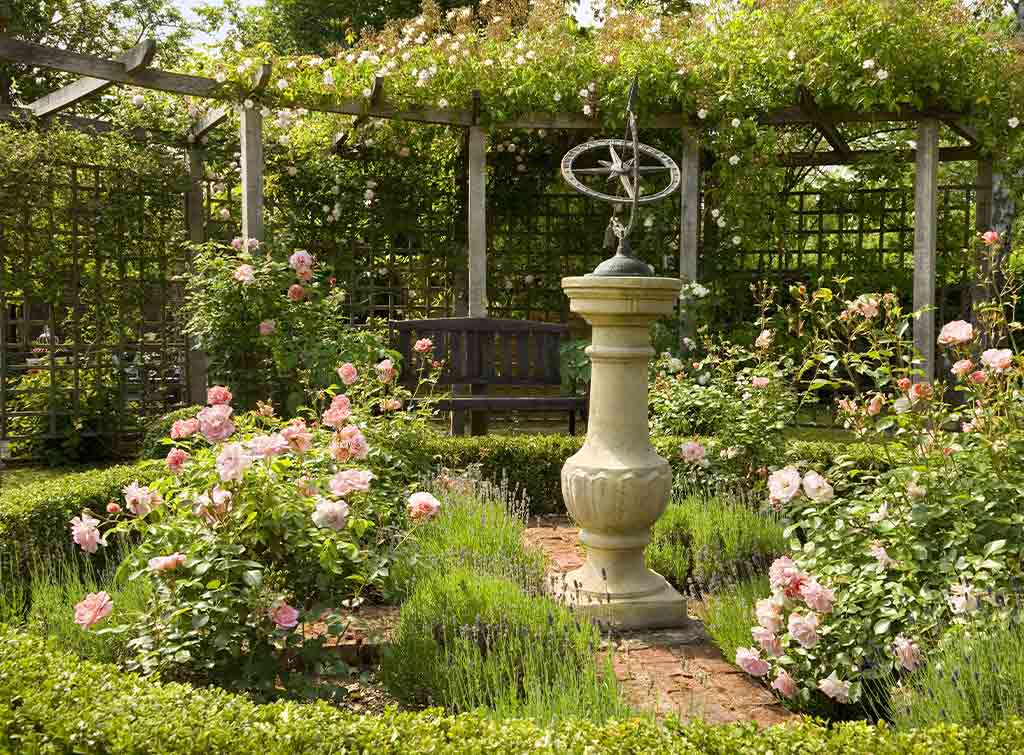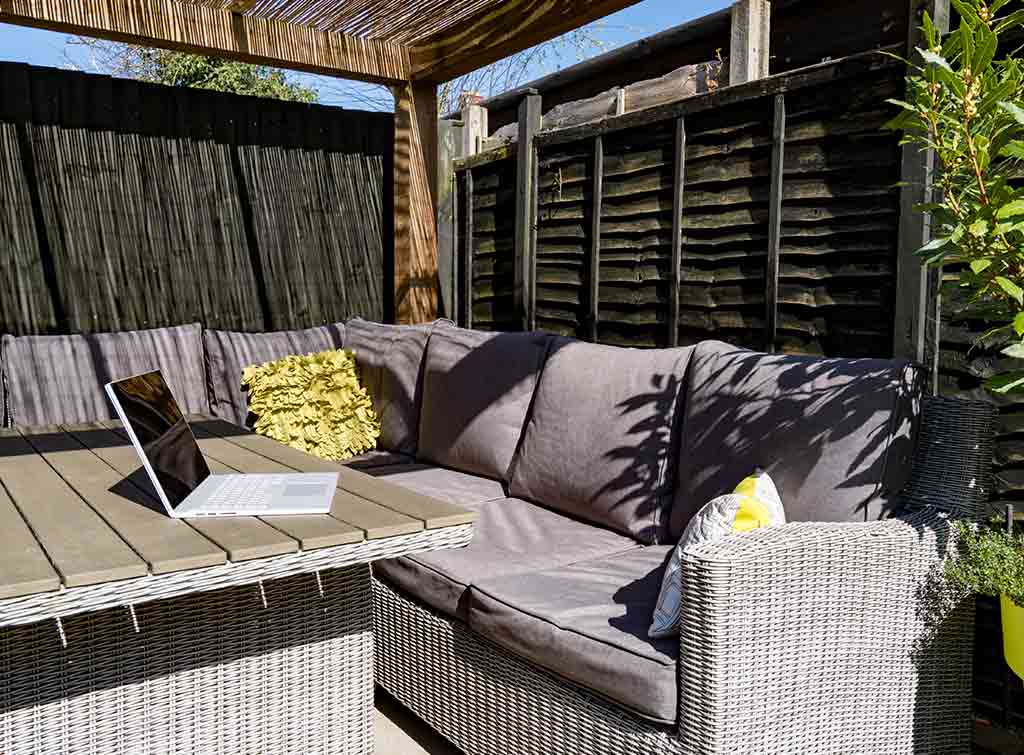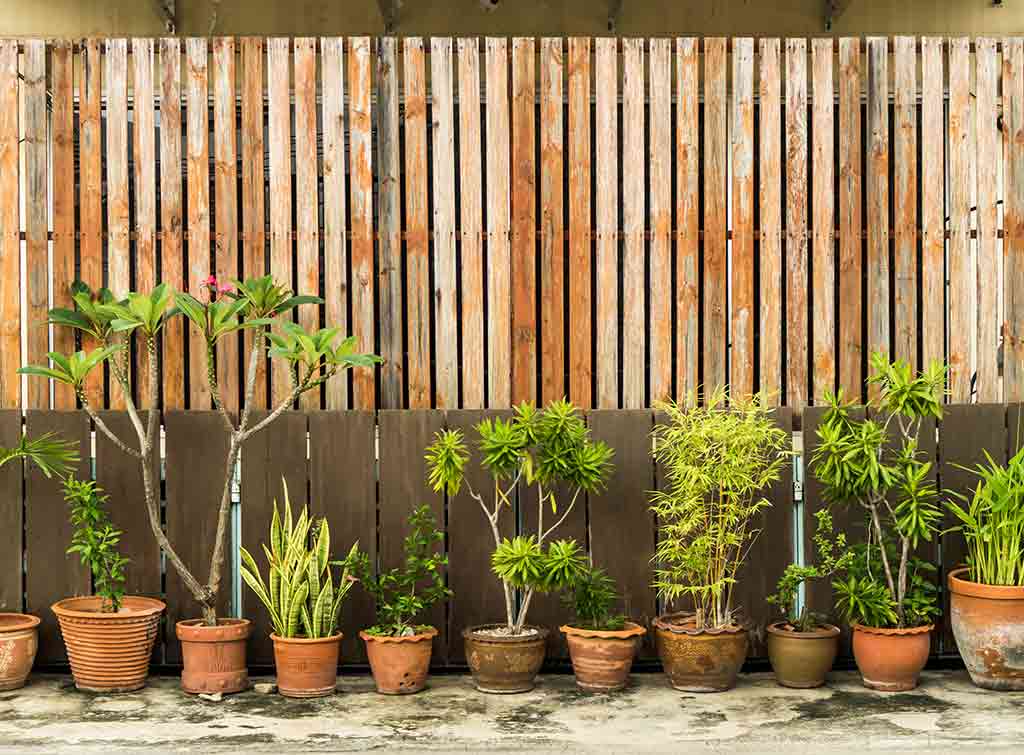 Living natural screening idea
Instead of creating a solid or patterned screen, consider using plants to build a natural, living screen. A galvanised steel structure has been constructed with stunning red jade vines interwoven throughout. Ensuring the garden will stay private while also allowing light to filter through the screen.
Furthermore, the dark metallic structure perfectly complements the lovely flowering vines.
Tall garden screening idea
While man made fences have a height limit, natural screens like trees and bushes can be allowed to grow much taller. When your outside space is overlooked by neighbours this extra height can be essential.
In this garden, both types of plant have been used in conjunction to create a tall and vibrant screen. The bush is neatly trimmed and tidy while the trees are a little more natural, creating an appealing visual contrast.
Beautiful trellis screening idea
What English country cottage garden couldn't benefit from this beautiful timber trellis? This screen is a showstopping fusion of the manually constructed trellis and the flowing roses.
With delicate, pink petals and light green stems, these flowers are interwoven to create a functional screen, keeping the garden safe from prying eyes.
View our garden trellis ideas piece for more examples.
Zoned garden screening idea
Screens aren't only used for privacy; they can also help to emphasise different zones or areas in a garden.
In this example, the homeowners have crafted a stylish seating area, using a wooden screen as a backdrop. Great for working from home or as a dining area, the bamboo screen keeps the space feeling intimate and cosy with great aesthetics.
Wooden screening idea
Wooden screens are extremely popular, particularly in the form of fences. Whether slatted, ridged or patterned, wood makes an excellent garden screen due to its natural appearance. It is true however, that some timber fences can be a little plain and dull.
In this example a range of differently coloured wooden planks have been used for natural effect with vibrant green plants to enhance the overall feel of the screen. You can choose also paint your fence a bright colour to bring it back to life.
See the tradespeople we've checked and recommend for your job
Tell us what you think
What others think of this article:
Need More Information?
Related posts