You've got fitness goals, but you've also got a busy life, so how on earth are you meant to fit in regular workouts? One idea is to create your very own home gym!
Whether you're working from home, caring for your kids, trying to keep the spark alive, or unable to motivate yourself unless your personal trainer is screaming in your ear, then carving out time for a daily workout seems impossible.
That's why we've put together these inspiring home gym ideas to keep you on the move. Build up a sweat and reap the rewards of all those endorphins by incorporating a few key design elements within the four walls of your home.
Benefits of a home gym
Exercise is proven to reduce stress, help you sleep and improve your mood. That's why enabling these benefits is great for your mental and physical health.
A home gym also offers several other benefits, such as:
Flexibility: A home gym lets you work out when it suits you. Fitting your session around your daily routine means you don't have to schedule a gym visit to reap the benefits.
Comfort: Forget activewear fashion trends. Working out at home means you wear what you want and sweat as much as you want without anyone seeing you.
Savings: Gym memberships don't come cheap. Save money by building a home gym and only filling it with the equipment you need. That way, you don't pay a premium on the equipment you don't use!
Variety:  No more queuing to use the machines or floor space you need. Building your own gym means you get as much variety as you want. You're no longer confined to the opening times, capacity or capabilities of your local gym.
Like what you see? There's plenty more where this came from. Discover more ideas, inspiration, tips and how-tos via Checkatrade's blog.
Home gym ideas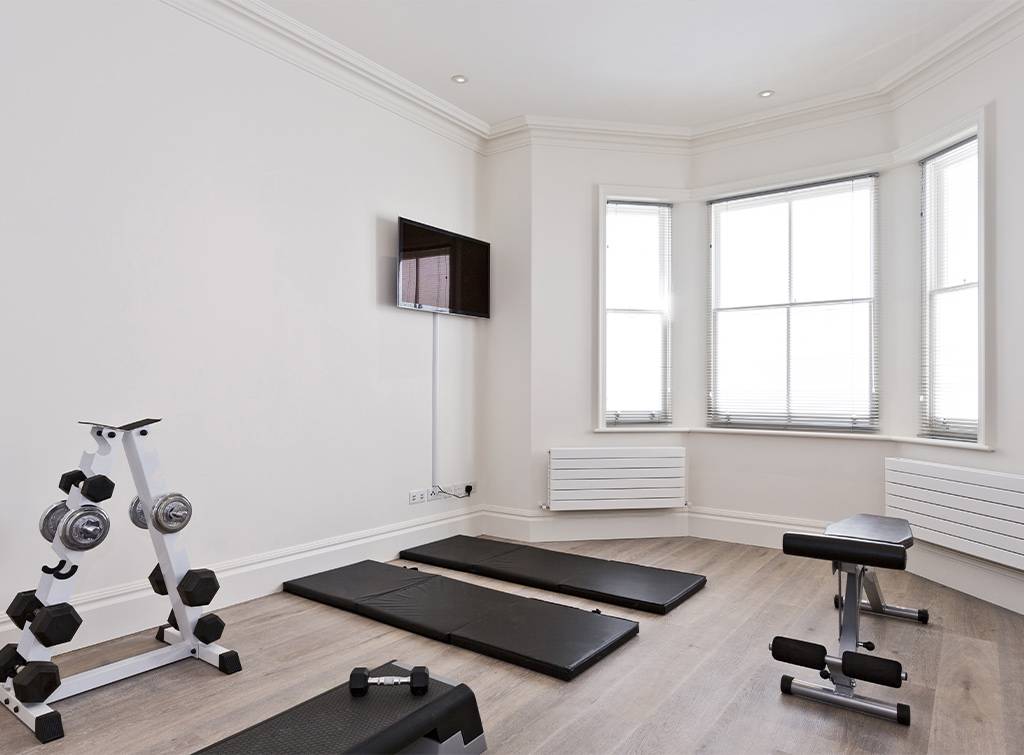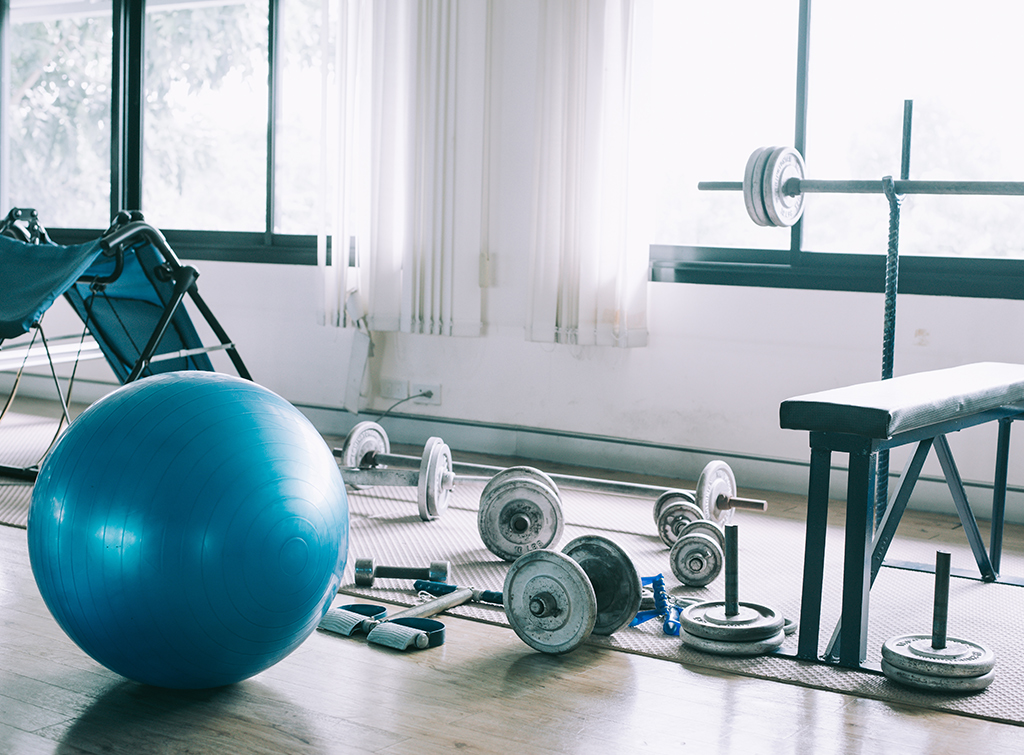 DIY home gym ideas
One great way to work up a sweat is to use items around your house. For example, fill up large water bottles and squat or lunge with one in each hand, or makeshift a water ball for a cheap and handy (pardon the pun) training tool.
You can also use your own body weight by doing planks, yoga or sitting against a wall for a few minutes.
Better yet, incorporate a daily run up the stairs in your flat or home and time yourself daily to see if you can beat your personal best.
Small home gym ideas
For those who don't have much space, getting fit is still possible. Floor workouts with the right YouTube tutorial are great for those who don't have much running room. However, if you're looking for a decent cardio hit, skipping on the spot is one of the best ways to burn some extra calories.
If you don't have a skipping rope to hand, consider making one for yourself.
Home gym ideas garage
If you're blessed with some garage space, then incorporating the desired equipment for your needs is the best way to go.
Variety is key here. A static bike and some dumbbells might be all you need for a quick burn, while floor mats and an abdominal bench are great add-ons for exercises that require more floor work.
We also love this aesthetic. Matching grey wall and floor tiles with orange and black equipment keep the space looking fresh and open-plan. This is a place you're going to sweat, so keeping the decor cool is an ideal choice for those essential warm downs.
Homemade gym equipment ideas
Gym equipment can get pricey, which is why making homemade alternatives is one of the top 2020 trends this pandemic year.
Whether you're making your own kettlebells or fashioning some sandbags, there's a myriad of tutorials online that teach you how to build your own equipment and save you time, money and stress.
Basement home gym ideas
Transforming your basement or garage into a home gym is one of the best ways to use these often neglected spaces.
This gym incorporates various benches, plates and barbells, but you can fill it with punch bags, floor mats, a running machine, an exercise bike or anything else that makes your heart pound and body shake.
Decorating home gym ideas
Creating the right aesthetic isn't just about making your DIY home gym look good. Studies show that clean, bright and fresh spaces are naturally more desirable.
This means, if you make your gym look nice, you'll want to spend more time in it, which increases the likelihood you'll work out and, in turn, reap the copious benefits of an active lifestyle.
Teal is a popular 2020 interior design colour trend that's perfect for a gym because it evokes the sea. After a hard work out, we want nothing more than to cool down. And whether we do this via a thirst-quenching gulp of water, a dip in the nearest cool water lake, or by drenching our hot skin with cold ocean spray is irrelevant. What matters is being surrounded by cool tones and fresh colours that evoke a positive psychological effect to both relax and refresh our aching bodies.
Outdoor home gym ideas
Use that daily exercise allowance by making use of the great outdoors via a cycle, run or walk. You can even consider finding your local park and pretending you're on an assault course or training for the latest iron man.
For those with a garden, consider making battle ropes from old hose pipes to help you let off some steam. In lieu of a tractor tyre, you can even consider fashioning a Bulgarian training bag and throwing it around your garden for a deep muscle strengthening exercise.
Simple home gym ideas
Converting your space into a simple gym set-up is easy.
Consider an exercise nook for some basic gym equipment like this all-in-one machine, or jump on the boxercise trend and buy a freestanding punchbag, which is great for homes or exercise rooms with less floor space.
You don't need to buy huge amounts of equipment to make the most of an exercise room. A few basic items you can store away can be the difference between a sedentary lifestyle and an active one.
Other simple ways to get enough exercise is to make it a fun family activity. Set aside 10 minutes a day to do something that gets your heart beating faster and you'll soon reap the benefits of all those happy hormones.
See the tradespeople we've checked and recommend for your job
Tell us what you think
What others think of this article:
Need More Information?
Related posts