Indoor gardens are a great way of bringing the outdoors in, so if you don't have a garden, live in a challenging climate, or just love house plants, you can make your home an oasis.
House plants have always been popular, but in recent years, the likes of TikTok and Instagram have helped to grow their popularity with homeowners.
Here's a rundown of some of our favourite indoor garden ideas.
Different types of indoor garden
There are so many types of indoor gardens to choose from to match your style and environment. We'll look at the best indoor plants to choose from and how to get started with your indoor garden ideas.
Indoor herb garden ideas
A popular and economical choice for an indoor garden is to grow your own herbs.
The best herbs to grow are ones you like and regularly use in your cooking. Basil, oregano and mint are herbs that are plentiful in many dishes and are easy to grow all year round indoors.
For best results growing herbs indoors, you need to make sure that your plants can get daylight but are not left in direct sunlight for more than a few hours. If you're lacking space on your worktop, then you can use hanging pots to keep your counters clear.
Growing herbs indoors has become even easier thanks to indoor smart gardens. These smart gardening systems come in a range of sizes and offer everything an indoor gardener needs, from self-watering pots to mini-greenhouses with lighting and humidity controls.
If you're keen on the idea of growing your own herbs, then you don't need fancy equipment or special pots. You can use old containers or jars to boost your green credentials whilst being green-fingered.
See the tradespeople we've checked and recommend for your job
Indoor cactus garden ideas
If herbs aren't your thing, then what about an indoor cactus garden? Cacti are easy to look after and don't require a huge amount of maintenance.
Cacti come in many shapes, sizes and varieties and are visually very interesting to look at. If you're looking for indoor cactus garden ideas, a popular and economical option is to plant in a terrarium or container garden.
Terrariums are great for indoor cactus gardens as they protect the plants from paws or little hands, but they also help to create the perfect microclimate for cacti to thrive.
Cacti prefer to be kept on the dry side with good airflow, so make sure if you choose a terrarium that it has a large enough opening to let air circulate, and for you to put your hand in to do any maintenance.
Another indoor cactus garden idea is to have a cacti container garden. These arrangements look like your own mini desert and are the perfect option to brighten up a wall unit or windowsill.
Cacti have shallow roots, so you don't need a large container, which is great if you are short on space.
Indoor zen garden
Gardens are well known for bringing a sense of peace and tranquillity. If you don't have an outdoor garden space, an indoor zen garden is a simple way to induce calming vibes still.
Zen gardens often combine a plant, stones, and sand in a small or medium-sized containers. For an indoor zen garden, the idea is for it to be visually pleasing as well as easy and relaxing to maintain. They can also be easily relocated throughout your home if needed.
An indoor zen garden can be a great stress reliever as you can wind down after a long day by raking a pattern in the sand. You can also get your day off to the best start by using your indoor zen garden as a focal point for morning meditation.
Indoor water garden
Do you find being by water a calming experience? Many people enjoy the mindfulness benefits of being by the water, but if you don't have any outdoor space, an indoor water garden is a perfect indoor garden idea.
An indoor water garden is very similar to a terrarium, but instead of being filled with earth and air plants, it is filled with water and aquatic plants that are submerged or float.
If you're someone that easily forgets to water conventional houseplants, then an indoor water garden is your perfect match.
Indoor moss garden
Have you ever dreamed of your own enchanted forest? Well, an indoor moss garden comes pretty close. Moss is really easy to grow indoors and creates a magical-looking miniature garden.
Creating an indoor moss garden is simple, and you can forage for a lot of the raw materials. All you need is a container such as a terrarium or even a large glass jar, pebbles, potting soil, and some twigs or small sticks to get started.
Choosing the best plants for your indoor garden
Mood-boosting plants
A snake plant or a peace lily are two of the best plants to have in your indoor garden. Snake plants need very little care and attention.
Not only do they release oxygen into the air, they also add moisture too and are a great choice for anyone with allergies.
Peace lilies are very clever as they soak up mould spores from the air, so they can help to improve air quality, as well as look pretty.
Productivity inducing plants
English Ivy and red-edged dracaena are both well known for absorbing toxins found in interior furnishings and synthetic fibres such as detergents, paint and carpets.
Toxins can be harmful to the body and cause side effects that reduce productivity, such as headaches.
A dual-purpose indoor garden idea could be to introduce some of these plants in an office environment to help boost productivity and enhance mindfulness.
Aesthetically pleasing plants
If you are on the hunt for plants for your indoor garden that will match your interior, there are all sorts of house plant varieties to choose from, depending on your style.
Orchids have always been a popular choice due to their unique appearance, but they do require more care and attention than your average houseplant.
If your home has a minimalist style, it can be a blank canvas that can be brightened up with bold leafy plants like a monstera, or prayer plant.
For splashes of colour, you could choose an anthurium or aglaonema, or for a more delicate and romantic vibe, indoor jasmine is always a winner and smells lovely too.
How to create an indoor garden
Now you've got some indoor garden ideas and inspiration, it's time to get planning.
Step 1: Finding the best location
Think practically about how much space you have for an indoor garden and where the natural light comes from.
Step 2: Plant choice
Based on the space you have available and the amount of natural light you have, you can begin researching which plants will work well in your indoor environment. Read up about which plants suit your space and light levels and suit the amount of plant maintenance you are willing to take on.
Step 3: Indoor garden design
Now let your creativity flow. Depending on the type of indoor garden you want to create, play around with the size and potential location of individual plants. If you have the space, you can have a mix of hanging plants, pot-based plants at floor level and shelf-based mini-gardens.
See the tradespeople we've checked and recommend for your job
How much would it cost to create your own indoor garden?
The average cost of your indoor garden will depend on the type of plants you choose, the type of soil or potting material, fertiliser, or plant food that is required. To complete your indoor garden, you may also want to add accessories or consider specialist equipment, including terrariums and smart watering systems.
As an example, a typical house plant can cost as little as £7 per plant for something like a snake plant. For more exotic house plants, prices can start as low as £10 per plant for a small orchid, up to £250 for a large variegated monstera.
Potting soil costs as little as £5 per bag, but check what type of potting material your chosen house plants need. Cacti and succulents require a good amount of drainage, so it's important to buy the appropriate products to provide a healthy environment for them to thrive. Gravel and ornamental accessories start from around £10.
Terrariums can be bought empty for about £30, or you can buy kits for around £50-£70 or even ready-planted versions for £70+, depending on the variety of plants included. If a smart garden takes your fancy, then you'll be looking to spend between £70 – £150 for a basic kit.
Depending on your budget and your chosen indoor garden ideas, you could easily create an indoor garden for less than £100.
FAQs
When is the best time to plant my flower and plant seeds?
Who better to answer this than our very own green-fingered Ali Ahmad from Al's Gardening Services:
"A great time to begin in the greenhouse is in early spring and can then be planted out in early summer. Seeds need warmth to germinate to grow.
Fast-growing vegetables and other biennial flowers can be sowed in early summer."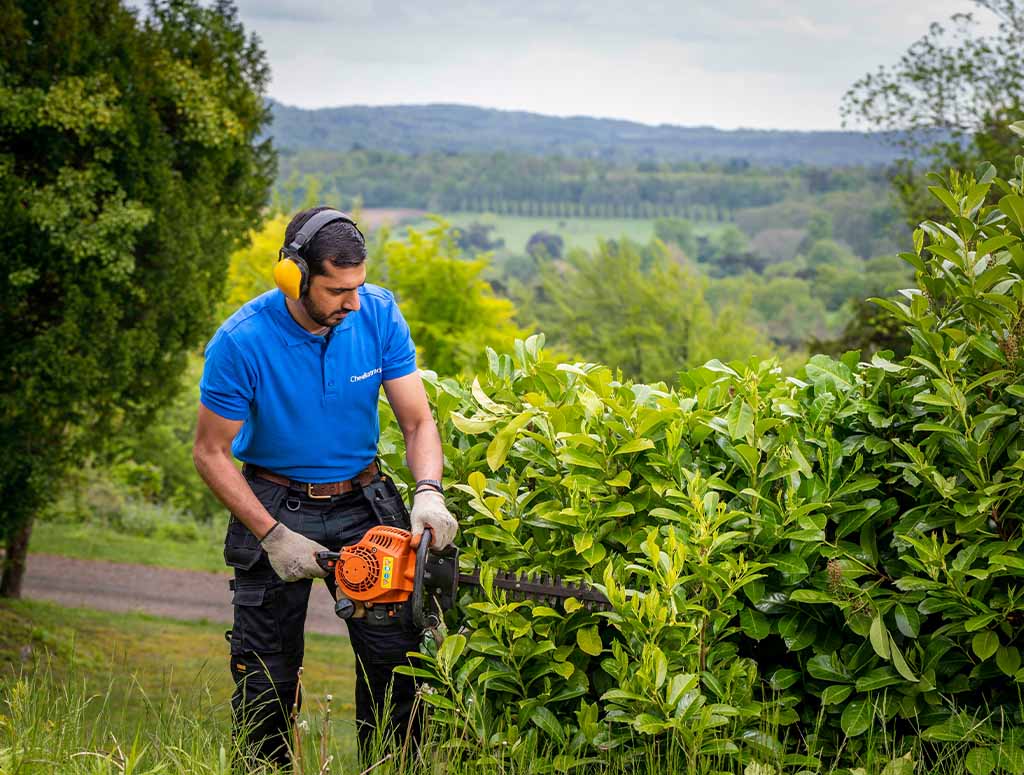 How can I keep my plants from wilting or dying in the hot summer sun?
Ali from Al's Gardening Services said: "The best thing for this is to water little and often! At least once a day in the summer in the early morning would also be ideal."
How often do I have to re-pot the plants?
Young or immature plants may need to be repotted every year to 18 months. More mature plants or those that are slower at growing may only need to be repotted every 2-3 years.
Can I move my plants outside during spring and summer and move them back in during autumn and winter?
House plants can experience shock if you move them from indoors to the outdoors too quickly. Start off by finding them a shaded and protected area on a patio or under a tree and leaving them there for a few hours each day.
Gradually move them to a spot that has more light and leave them out for longer periods of time and eventually leave them outdoors all day.
After 2-3 weeks, houseplants should have adjusted to living outside for the summer months.
How much maintenance would my indoor garden require?
The maintenance of your indoor garden really depends on the plants you choose and the conditions in your home. Cacti are very low maintenance and usually only require watering once the soil around them is dry, whereas orchids like to be misted every couple of days and need their leaves cleaned.
For most indoor gardens, check the moisture of the soil every 2 days and water at least 1-2 times a week and always make sure any leaves are free of dust.
See the tradespeople we've checked and recommend for your job
Tell us what you think
What others think of this article:
Need More Information?
Related posts