Are you searching for playroom ideas? Would you like some top tips and trends to get you started? Well, you've come to the right place! We have all the bright and beautiful design trends to spark your children's imagination and enrich their playtime.
Read on for creative solutions and perfect colour palettes.
Getting creative with children's playroom ideas
It's all about the den
Tipis, tents and playhouses are making a comeback. Adding one to your playroom for your kids to incorporate into their playtime ignites their imaginations and helps them get creative.
Add a theme
Work with your kid/s on this one. Ask them what their favourite colour is, whether they're fairy, pirate, space or ocean centric, or if they've got a favourite programme that you can base your scheme on. The trick is to keep the decor simple and easily changeable, which saves you the expense as they grow and their tastes inevitably change.
Bright and beautiful
Children love patterns, colours and vibrancy. This doesn't mean you have to veer into 'garish' territory, but it does mean getting a little braver with colour clashes and splashes. To make it easier to adapt, consider keeping the colours to wall stickers, rugs, shelves and accessories. If the rest of the playroom is neutral, it won't take long to change it up.
Incorporate child-sized furniture
Although playing on the floor is fun for a short while, having somewhere to colour-in, host a tea party, put together a puzzle, build lego or play with clay is good for their knees and posture. Consider incorporating adorable pint-sized furniture, like this elephant table and chairs, to transform a playroom.
Benefits of a playroom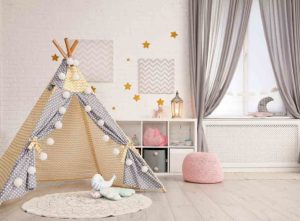 Playrooms offer several benefits – some of which might surprise you. Here are 6 of the most common.
Playrooms enrich and encourage children's cooperative play, creativity and ability to entertain themselves
A playroom with a good toy storage system helps keep your house tidy while teaching them life skills and accountability
Playdates are much easier when there's a dedicated area for interactivity
Organising toys and keeping child-focussed items in one room makes them easier to find and enjoy
Playrooms that are separate from your child's bedroom helps encourage routines
There are no limits when it comes to decorating a playroom compared to the rest of your house
Different types of playroom decor ideas
Colours and what we associate with them matter. Designers, artists and marketers all strongly believe that colours affect our mood, feelings and emotions. There's even an area of psychological study that focuses on colour therapy, so it makes sense to keep it in mind when thinking about kids playroom ideas.
When decorating your child's playroom, consider the following:
Pastels for tranquillity

Warm oranges for creativity and happiness

Splashes of yellow for stimulation and warmth

White or neutral tones for peace and cleanliness

Purple for imagination and confidence

Pink for nurture and kindness
Brown woods for security and strength
Muted blues for productivity and stability
Splashes of red (use sparingly) for energy and confidence
Green for tranquillity and comprehension
Black for boldness, although we don't recommend using this hue in a child's playroom as it's too muted
See the tradespeople we've checked and recommend for your job
Playroom ideas for toddlers
Memory wall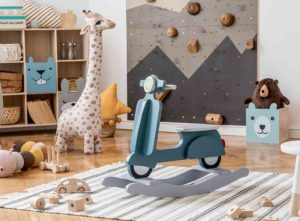 Why not add a large pinboard so your child can add all their favourite drawings, photos, stickers or paintings? Give them a corner of the playroom that is solely theirs to decorate, and let their creativity shine.
Reading nook
Think big cushions, lots of throws and casual soft toy storage! Add a bookshelf or wall caddy and fill it with all their favourite books to lure them to learn whilst having fun!
Accessible storage
Add some easy-to-reach storage solutions to keep the playroom organised and interesting. Also, consider introducing a tidy system (such as one toy out, one toy away) to help teach your child about accountability. This also reduces overwhelm because, instead of having several options laid out before them, they have to think about what they want before finding the right toys or tools to accomplish their ambition.
Check out our toy storage ideas for more inspiration.
Dress up corner
Whether you're looking for girls playroom ideas or boys playroom ideas, a dress-up corner is gender-neutral. Why not install a pegboard or rack to hang the dressing-up clothes on and let them pick and choose depending on where their games take them?
For more unique ideas, check out our carousel content below.
See the tradespeople we've checked and recommend for your job
Like what you see? We have plenty more where this came from. Check out our blog for more ideas, inspiration and how-tos.
Playroom ideas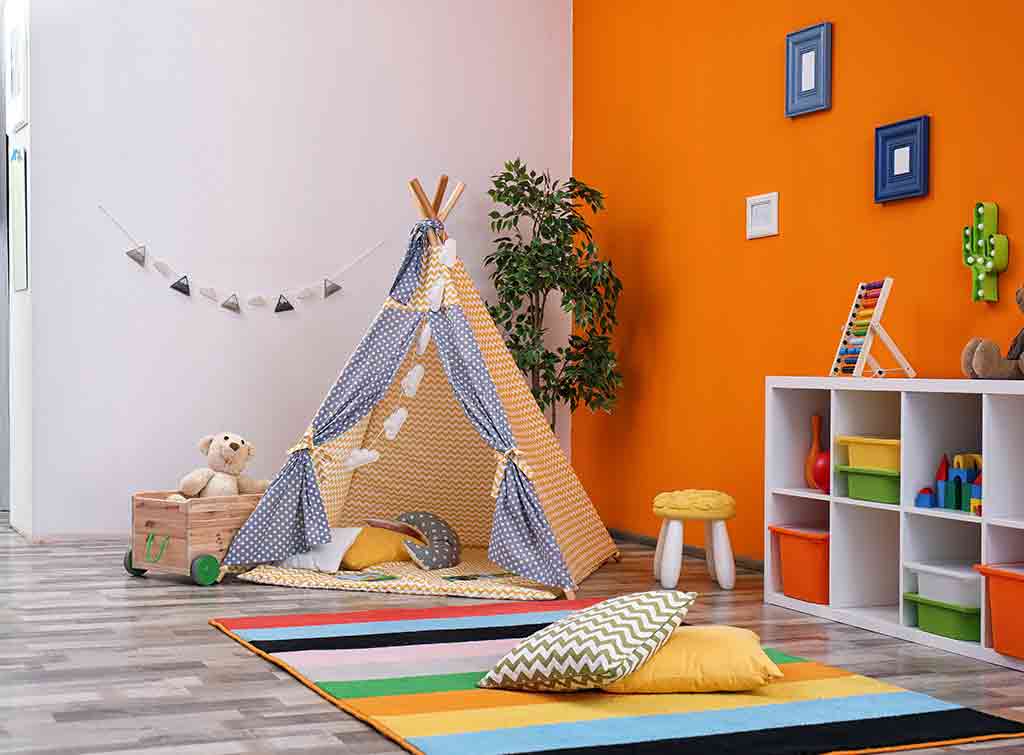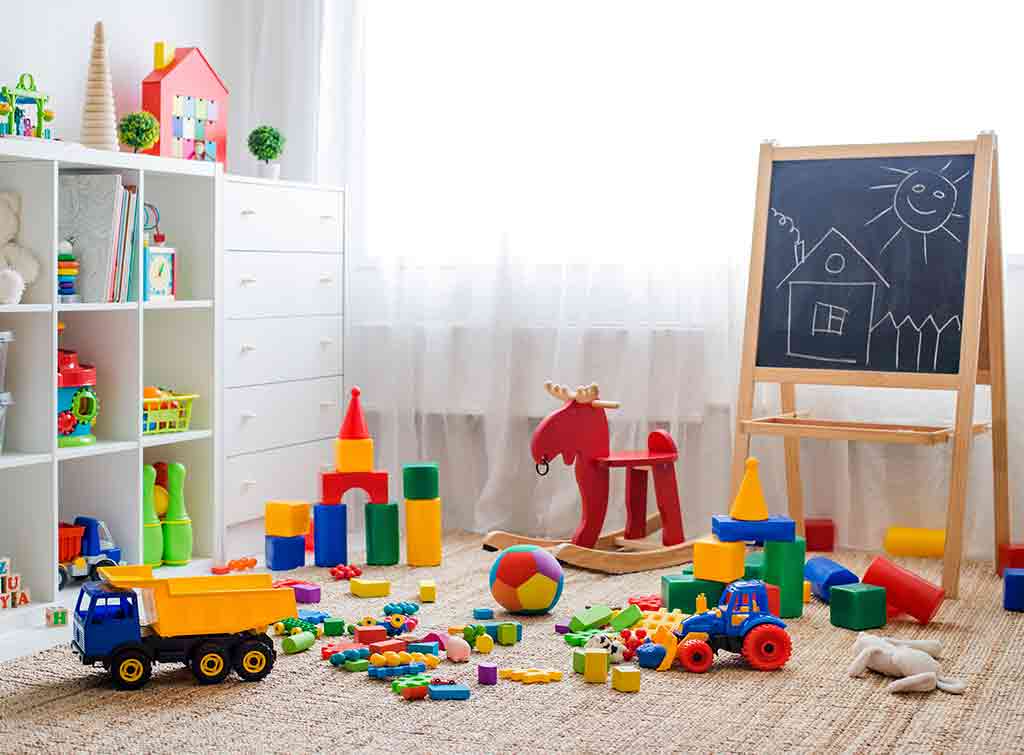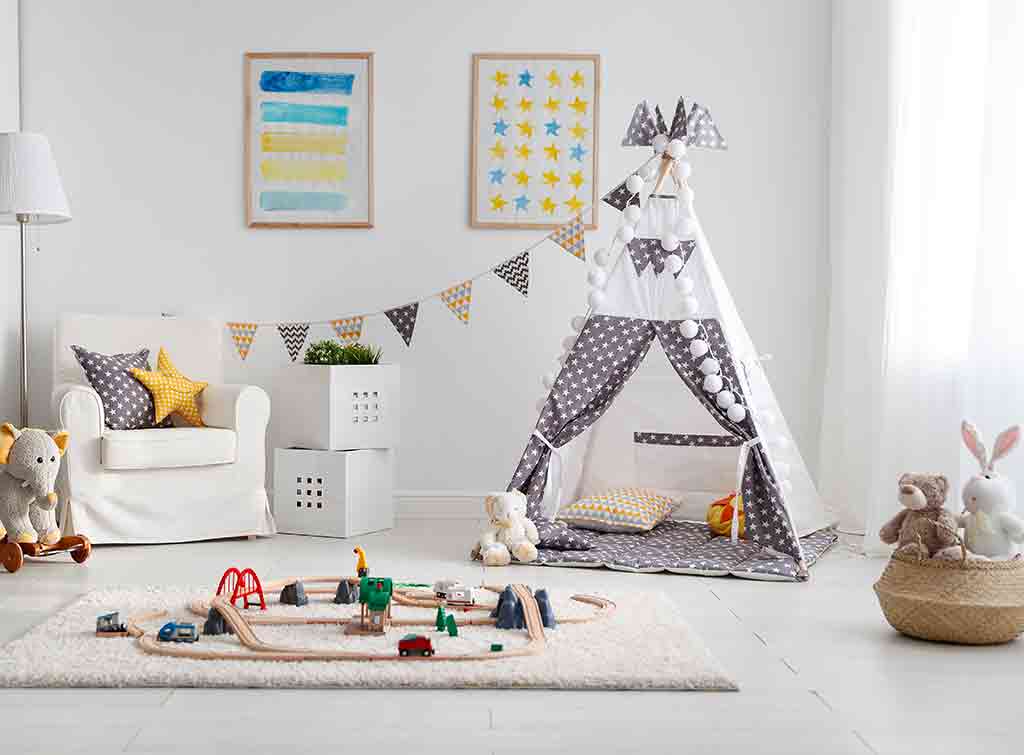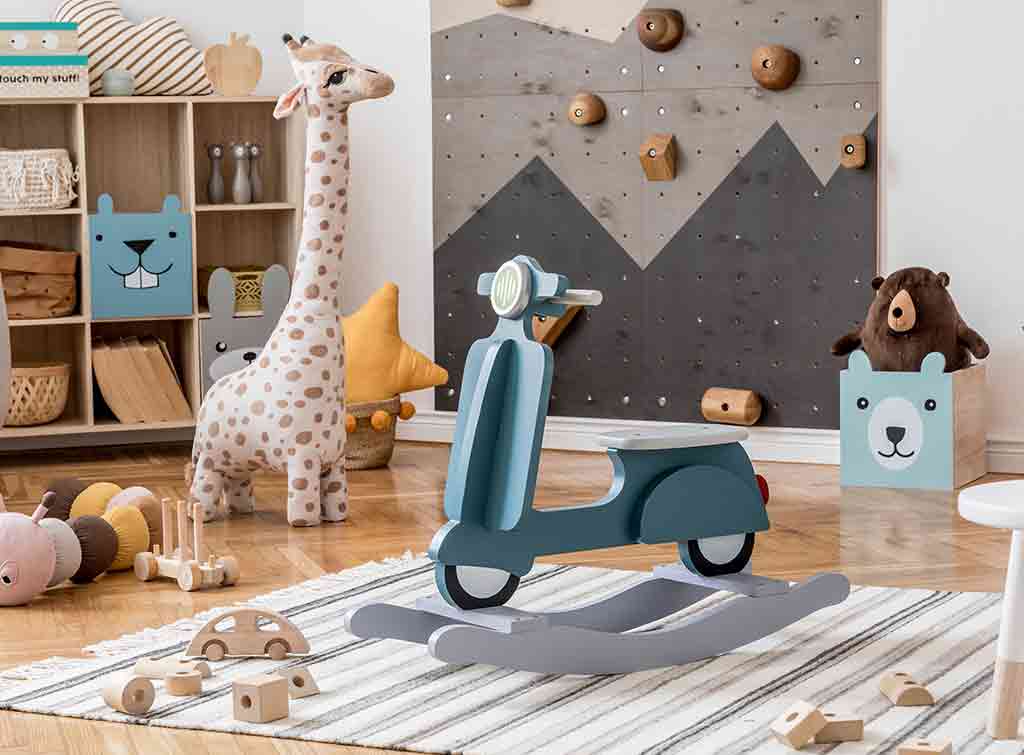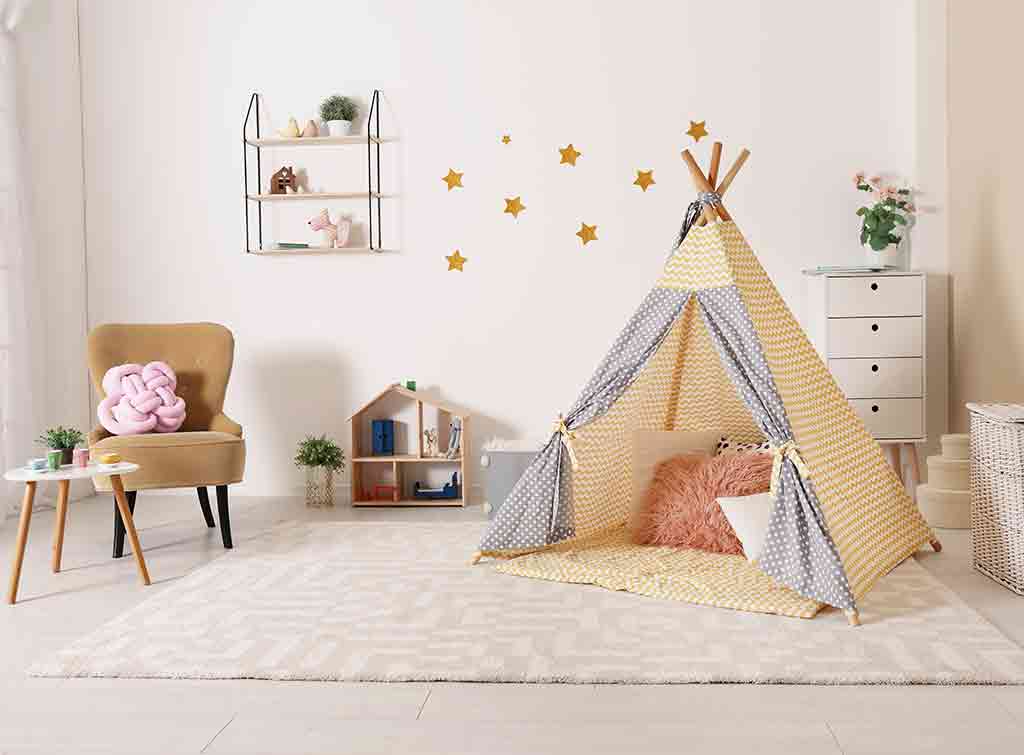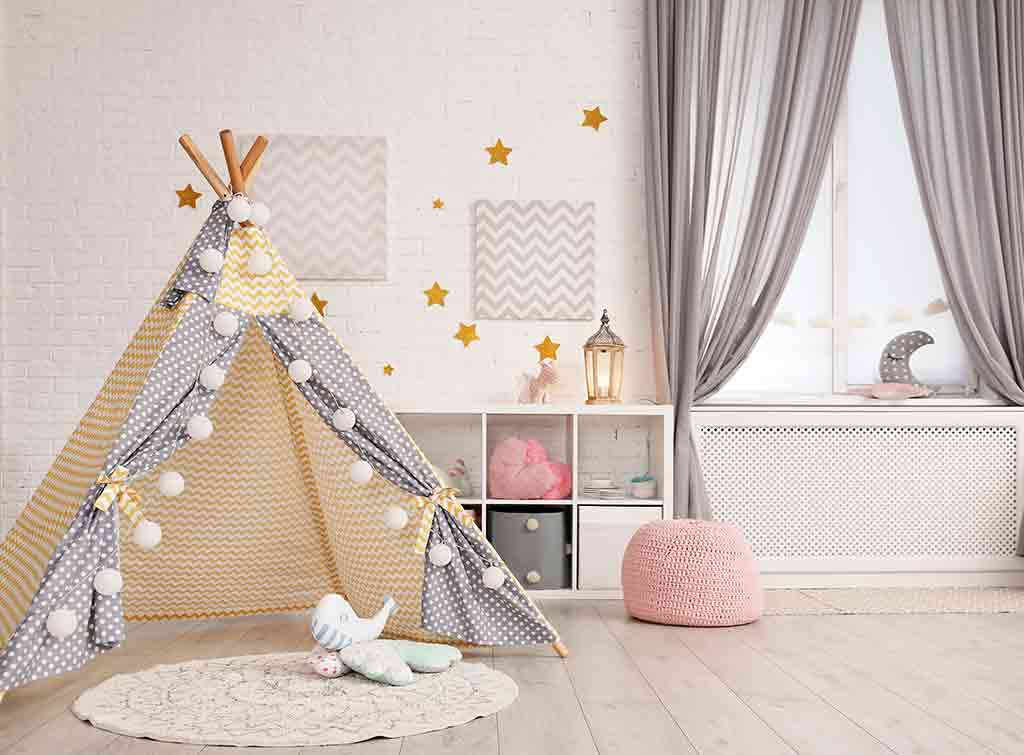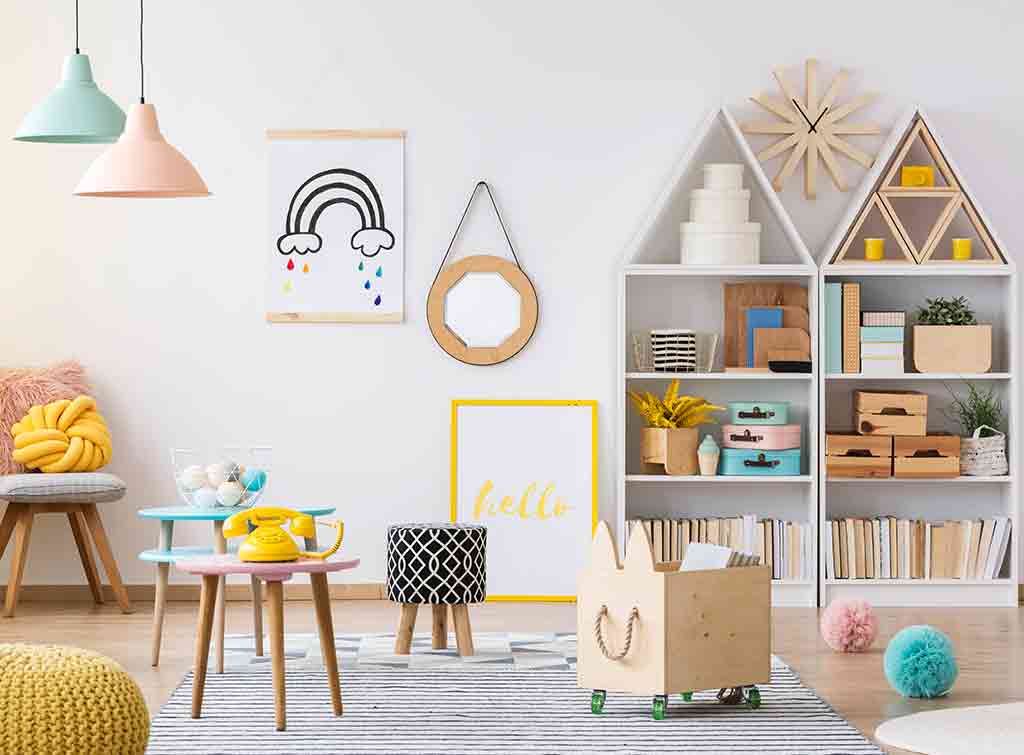 Kids playroom ideas
Be brave and bold with a bright feature wall and matching accessories. The orange here really makes the room pop! Bunting and tipis are also fun features that add an element of whimsy to this playroom.
Playroom ideas for toddlers
Colourful pastels, whiteboards, accessible storage and a toddler-sized seating area make this playroom a wonderful example of design expertise. We particularly love the dusty blue wall with star hanging lights that match the painted ones. Some might say it's out of this world!
Small playroom ideas
For smaller spaces, consider building upwards rather outwards. Opt for taller storage units and bright and light decor to open up the room.
Conservatory playroom ideas
In rooms with lots of light, be careful not to add too many colours in case the sun bleaches them. However, if you do want to add more boldness, opt for colour splashes on plastic items such as units, toys or furniture.
Baby playroom ideas
Incorporating lots of soft and neutral decor in a baby's playroom will avoid accidents and make playtime less stressful. Add secure units that aren't likely to topple over when grabbed, and offer lots of stimulation with shapes and textures. You could also consider an interactive floor mat or overhead mobile unit?
Office playroom ideas
If your office is doubling up as a playroom, your main priority is storage. Think about adding a floor-to-ceiling shelf design with mismatched boxes that separate your items from your child's items. Also, think about acoustics. It won't do to have lots of loud noises when you're trying to work, so opt for soft play items and less noisy activities!
Playroom decor ideas
You can't go wrong with neutral decor, which is both enriching, versatile and adaptable. Add colour with a tipi, cushions, furniture, shelves, rugs, pictures and storage units.
Playroom curtain ideas
Aim for soft but secure curtains that aren't easily pulled down by excitable toddlers. Curtains are the finishing touch to your playroom, so consider their colour, pattern, texture, and height before choosing and hanging them. You might even consider a bespoke design?
Check out our curtain fitting cost for more information.
Playroom seating ideas
Pint-sized furniture is both adorable and essential for messier playtime activities. For smaller rooms, consider stackable tables and chairs, while bigger rooms can handle less compact designs.
Pouffes, oversized cushions, stools, blow up chairs and beanbags are all fun options your children will love.
See the tradespeople we've checked and recommend for your job
Tell us what you think
What others think of this article:
Need More Information?
Related posts