When it comes to u shaped kitchen ideas, the clue is in the name. Designing or renovating your home with these aesthetically pleasing curves is great for maximising capacity and utilising all available space.
A u-shaped kitchen will typically wrap around 3 consecutive sides, creating its namesake. As a result, these designs create an inviting aesthetic that makes these open-plan kitchens versatile and easy to decorate.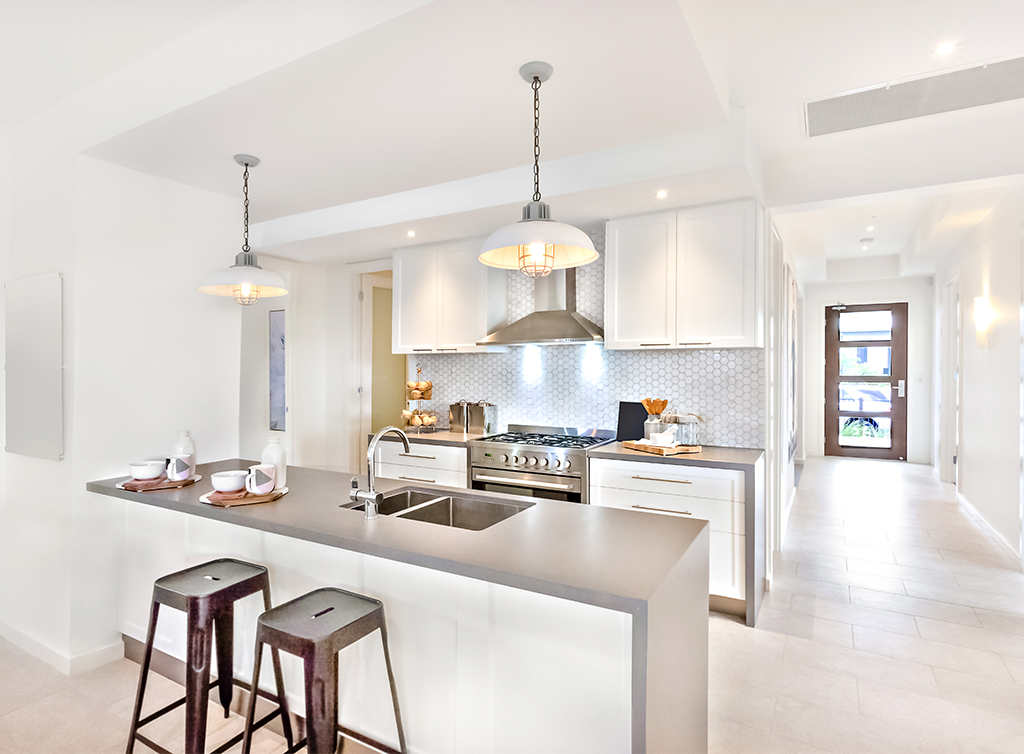 Use our ideas guide to inspire your next renovation project.
Benefits of u shaped kitchen ideas
Characterised by their inviting natures, installing a u-shaped kitchen into your home offers several benefits.
Space-saving designs
No matter what u shaped kitchen you'd like, you can incorporate it anywhere. This makes them excellent space-saving options for smaller spaces and grand open-plan features for larger spaces. In order to walk around easily, you need at least two metres of floor space between your units.
Use our kitchen fitting cost guide for further information on pricing up your u-shaped kitchen renovation.
Kitchen island dreams
Kitchen islands are classy hubs of activity. If you've ever watched an American sitcom, you'll know what we mean. That's why, whether you add casual seating, a separate workstation, additional storage or a unique focal point, they're the perfect finishing touch. So, if you have enough space, we highly recommend adding one to your u shaped kitchen design ideas.
Thinking of installing a kitchen island? Use our kitchen island ideas guide to plan the perfect aesthetic.
Ergonomic layouts
If you like having everything within reach, a u-shaped kitchen is for you. Great if you're a budding chef, enjoy cooking or are always on the go, these curvy kitchens are ergonomic dreamhouses built for easy access and seamless transitions. For that reason, the trick is to have your fridge, cooker/hob and sink arranged in a 'golden triangle,' which is an efficient design concept only achieved in u shaped kitchens.
Like what you see? There's plenty more where this came from. Discover more ideas, inspiration, tips and how-tos via Checkatrade's blog.
U shaped kitchen ideas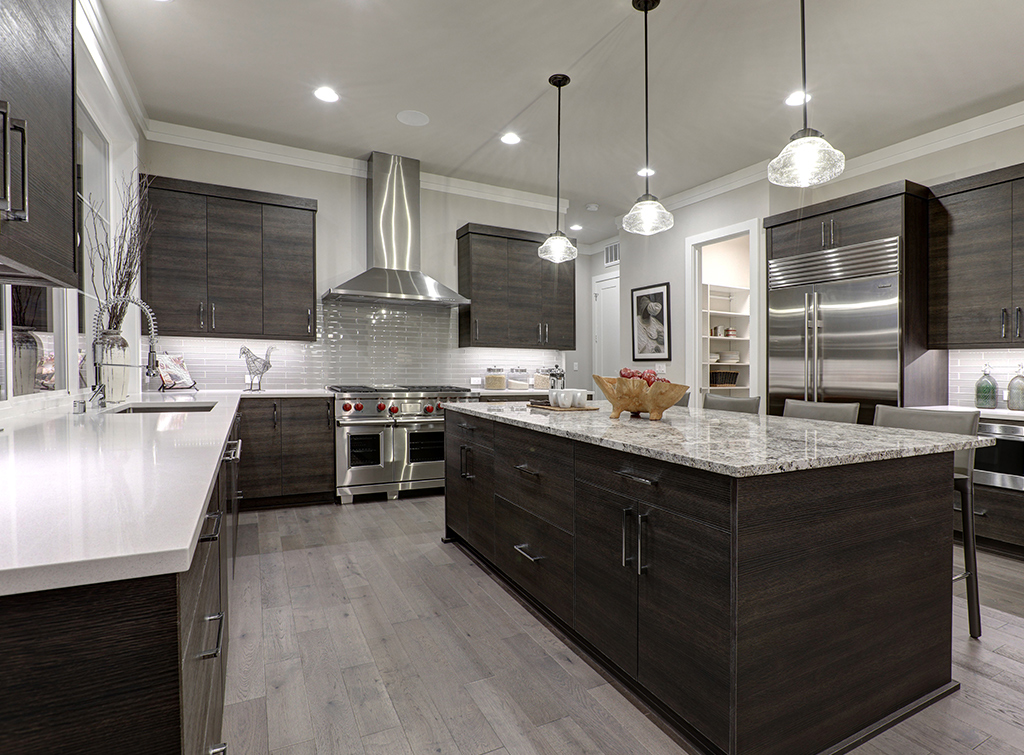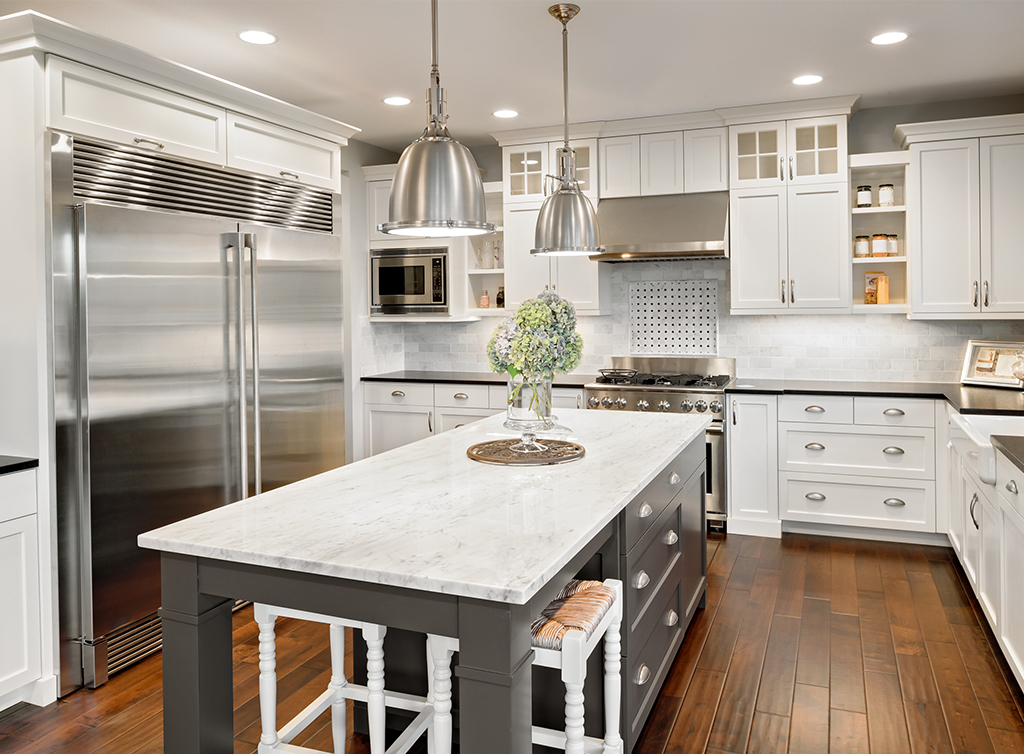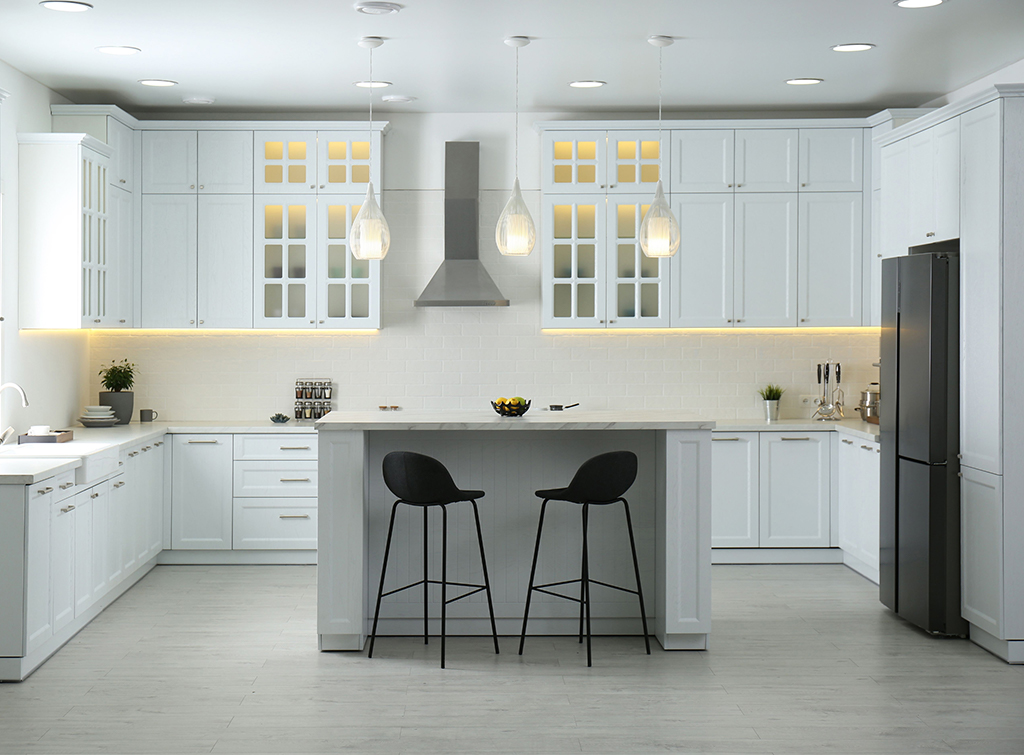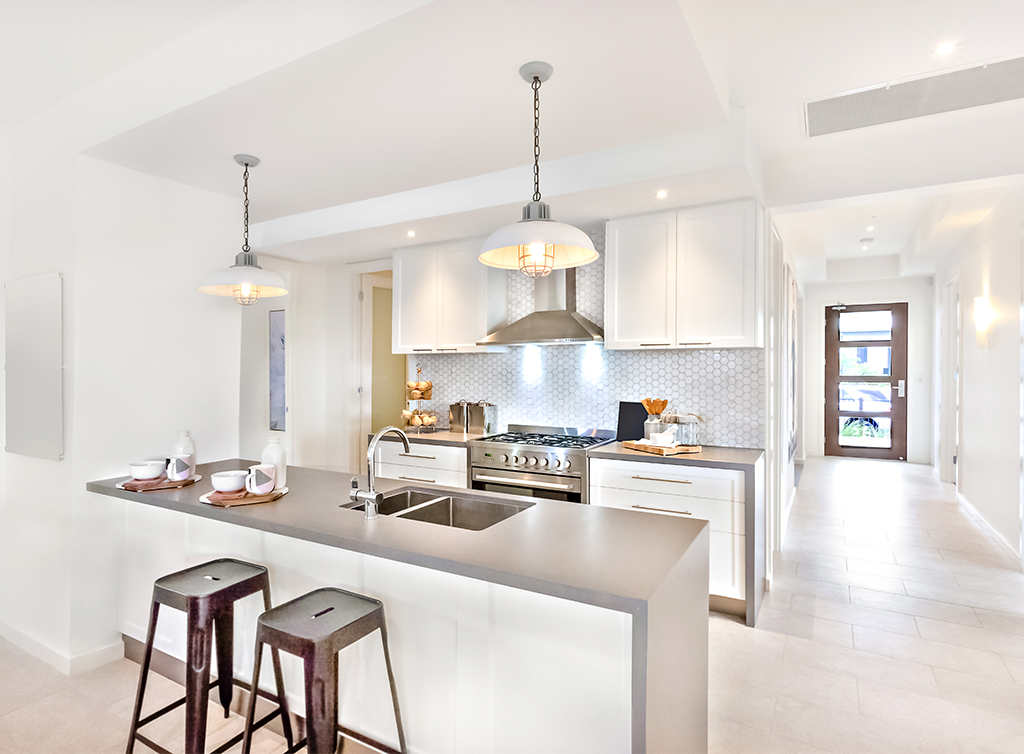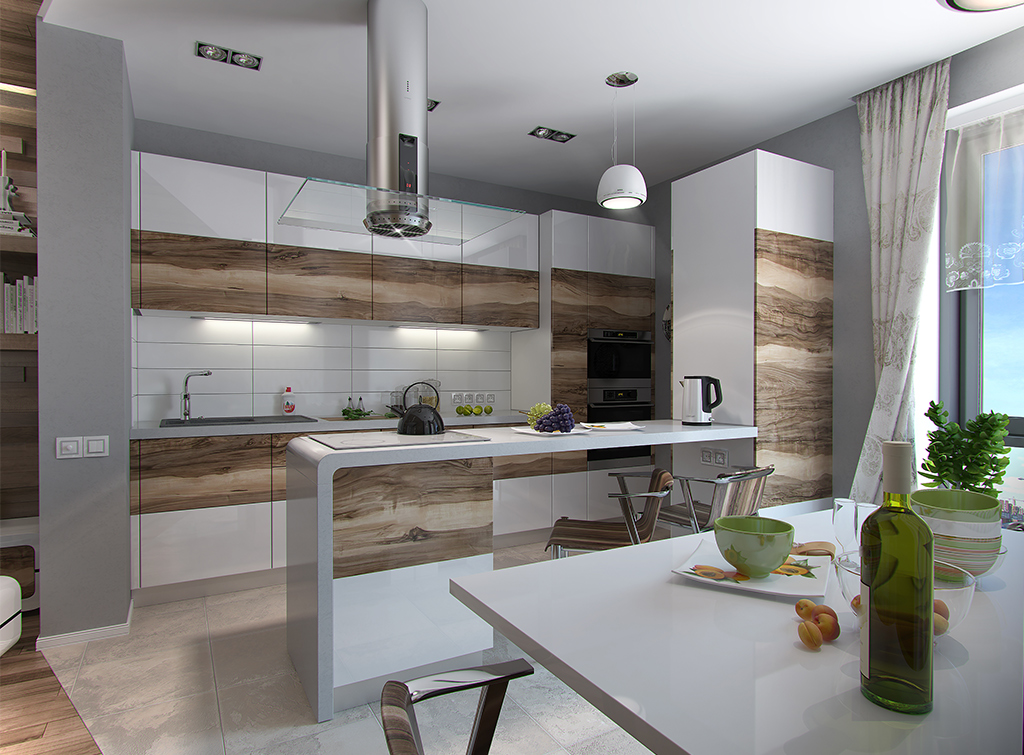 U shaped kitchen design ideas
Keep it smart and clean
When industrial meets rustic, an aesthetically pleasing design is born.
Low hanging ceiling lights and stainless steel white goods look great against dark wood units and white marble surfaces.
Add a few wildflowers to spruce up the space and stick to clear storage containers for rice, flour, cereal and pasta.
Kitchen u shaped design ideas
Stick to two or three colours and create interest by texturising the space with clashing features.
For example, the white, cottage-style units, dark surfaces and industrial fridge, hob and hanging lights create an interesting aesthetic without overcrowding the space.
Swapping the colours around on the kitchen island adds interest, while the wood parquet floors clash perfectly, bringing the space together with two clashing styles that oppose each other perfectly.
Small u shaped kitchen ideas
Bright and light
For smaller u shaped kitchen ideas, think bright and light designs with a minimal vibe.
Turn small galley kitchens into u shapes by adding a short wall. Think about adding a breakfast bar with a stool for extra usefulness. If not, pop an appliance, vase of flowers or utensils on there to keep things tidy. Added storage drawers are great for saving space, while open shelves to store mugs, glasses or plants keeps things neat.
Keep the decor light and bright, but warm-up the space with wooden surfaces made from cherry or walnut to temper the stark.
Modern kitchen ideas u shaped
Monochrome textures
Monochrome kitchens are timeless classics. However, did you know that monochrome doesn't just mean 'black and white?'
Use white and grey variants to transform your kitchen into a clean and classy living space. This muted design is soft-lit and minimal for an ethereal and modern vibe that uses shade to its advantage.
We love these pendant hanging lights. They bathe your clean and crisp kitchen in a warm glow, transforming it into an inviting space fit for a feast or midnight snack.
U shaped kitchen layout ideas
Add a breakfast station
One great layout option for u shaped kitchen designs is to add a breakfast station.
Great for small u shaped kitchens or those with a lowered wall on one side, adding a breakfast bar saves you precious time in the morning.
They're integrated design options that give off open-plan and inviting vibes. They're also great for guests who can sit and talk to you while you make a cup of tea or whip up a quick bite to eat.
Grey u shaped kitchen idea
Grey is a timeless decorating choice that turns any room into a classy and elegant sanctuary. It's also a colour that goes with anything, be it rustic wood, industrial steel, Scandinavian minimalist, classic vintage or modern contemporary.
In short, let your imagination run wild when incorporating this top 2020 design trend. We love this clean u shaped kitchen, with its uniformed textures, clean lines and strip lights. The only thing we'd add are these gorgeous concrete pendant lights.
See the tradespeople we've checked and recommend for your job
Tell us what you think
What others think of this article: