Emergency Matters: What to do when you have a leaking roof
Well, that's jumping the gun a bit, isn't it? Before working out what to do about a leaking roof, you'll need to know what are the signs of a leaking roof! How do you even know if your roof is leaking?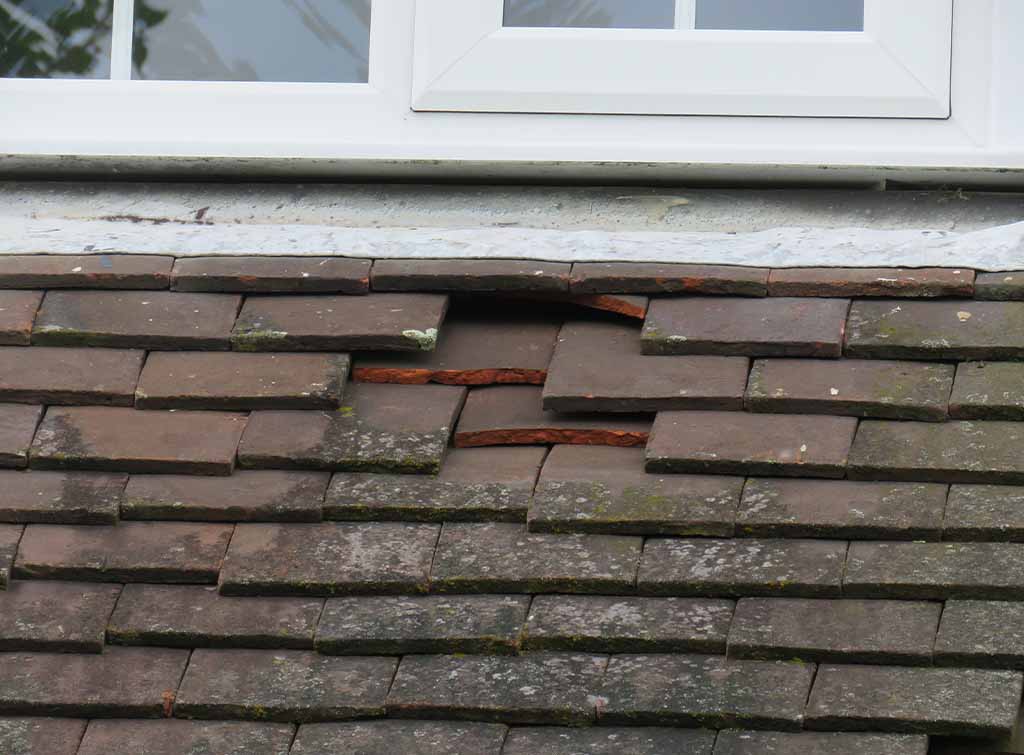 Well, that's jumping the gun a bit, isn't it? Before working out what to do about a leaking roof, you'll need to know what are the signs of a leaking roof! How do you even know if your roof is leaking?
Well, strangely, it's not just about a great big drippy damp patch on your ceiling.
How you know if you have a leaking roof
A water stain. Okay, this one's the obvious one. If you have a big damp patch on your ceiling, the chances are high that your roof is leaking (but not necessarily; you may have a leak from your water tank in your loft instead…)
Something is dripping. It doesn't have to be your ceiling – water will find a way. If there's drips or moisture, then get it checked out, even if it seems to go away. Some leaks are intermittent, may be caused by specific weather, but they still need fixing.
There are damp marks on your outside walls. There can be issues where the roof meets the wall – these won't necessarily show internally, but may still cause damage if left unchecked.
Mouldy walls! Inside or out, stuff growing in your walls is never a good thing and definitely needs looking into. Damp could have any number of causes, but water coming through the roof is a definite suspect, and you'll need to get it checked to establish a source. Moss or mildew on the outside of your house could just mean it's a shady spot that never sees the sun – but it could also mean an issue with your guttering, drainpipes or roof edging.
See the tradespeople we've checked and recommend for your job
I have a leaking roof – what should I do?
Okay, here's the thing. Even if your leak isn't pouring water into your bedroom yet, a roof leak will never get better on its own. It just won't fix itself – and the longer you ignore it, the more chance there is that you will have water pouring into your bedroom.
So, here's what you do for a leaking roof repair – if you just have the first signs of damp then you can skip to step 3 – if the weather is bad, or there is a storm approaching and your roofer can't get to you straight away, then doing some 'first aid' yourself will minimise the damage, the disruption, and ultimately the cost of repair.
Stop the damage! Your very first job is to minimise any damage caused by water being where water shouldn't be. So if it's dripping, or there's a bulge in your ceiling, then you need to catch the water. Grab a bucket, placing it directly underneath to catch the water. Top tips – place an old tea towel in the bottom to stop the annoying dripping sound, and use a long plank leaning into the bucket to direct the water to the right place.
Puncture it! Once your bucket is in place, then you need to release the built-up water before it does any further damage. Use a screwdriver and carefully pierce a hole – yes, it may not feel okay to pop a hole in your ceiling but creating a channel for water to escape from will actually minimise the longer-term damage.
Protect what you can! Move furniture away and lay plastic sheeting over fitted carpets if you can't roll them up.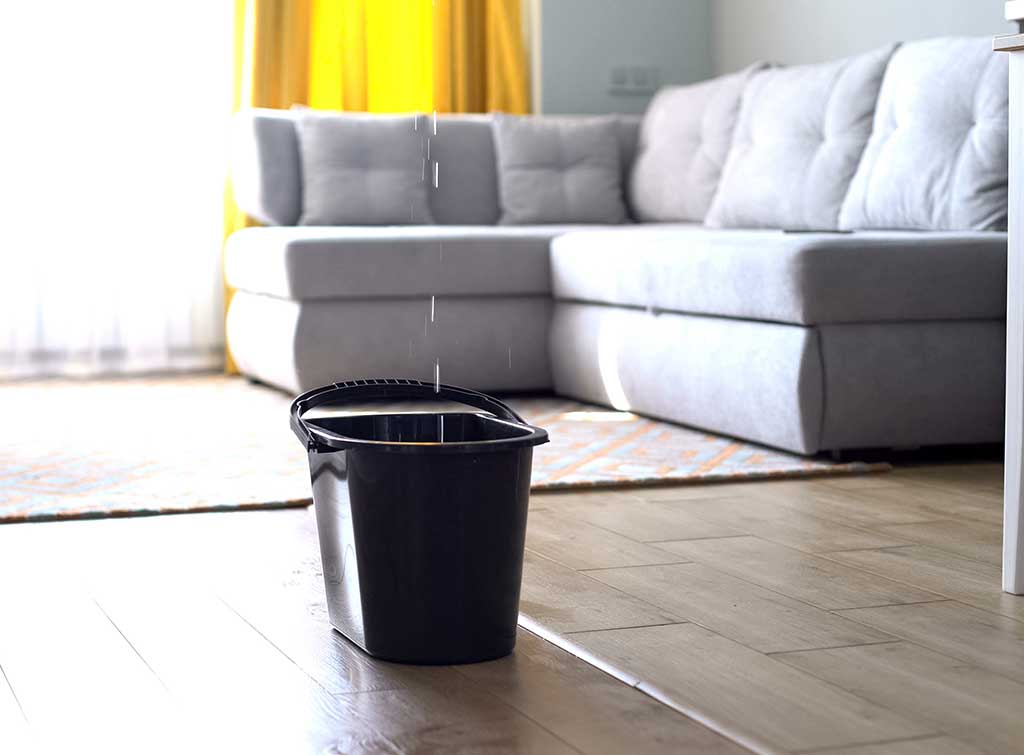 Time to get your roof leak repair
Once you've got everything under control as best you can, and stopped the damage spreading any further, then it's time to get the roof fixed. Don't just repair the damage inside – if you don't get to the root cause and find the source of the leak, then not only will any repairs be a waste of time and money, you're simply storing up more problems. Obviously scrambling up onto the roof is a dangerous idea, not a job for the average homeowner, and not something anyone should attempt. However, there are a few things you can do as a quick check before you call in a professional:
If you can get up in your loft, see if you can see daylight from a slipped tile. If so, your root cause is obvious; a roof with a hole isn't exactly known for being terribly watertight!
See the tradespeople we've checked and recommend for your job
If it's raining, you can also use a torch to look for water on the inside of your roof, showing where it's getting in.
Check your gutters too if you can – they can get blocked with moss, leaves or debris, forcing water into the main structure of your house.
At this point, no matter what the cause, it's time to call a professional roofer. The thing with a roof leak is that it's usually WAY out of sight. When someone is in your kitchen fixing your taps, you can see what they're doing and be reassured that what you paid for is what's being done. But a fix to your roof is probably never going to be seen by you; you have to be able to trust that the person up the top of that ladder is doing the right thing, completing the required work to a high standard.
Make sure you use a qualified professional, who comes with recommendations – using a trusted tradespeople site like Checkatrade means this is a simple thing and you can find local, properly-checked professionals along with recent reviews of their services at the click of a button.
"A staggering 73 per cent of roofers said they had been called upon to rectify 'shoddy' roofing work by a rogue roofer on at least one occasion in the last 12 months." (results of a survey conducted by Chandlers Roofing Supplies in 2018).
Is a leaking roof an emergency?
Well – if you have water pouring into one of your rooms, then yes it's an emergency fix that's needed. If it's simply a small damp spot or water stain, then it's not an emergency – but I'll say it again. A leaking roof will not fix itself if you just ignore it. The problem is only ever going to get worse, and probably end up costing you more. So even if it's not an emergency – pick up the phone and start getting it put right.
Is a leaking roof covered by insurance?
Well, this depends. Home insurance will cover you for a single damaging event; if a major storm hits your area and pulls off your roof then yes, you're covered for the damage. But your home insurance will not cover you for normal wear and tear – you have a duty to maintain your property, and an old roof in need of maintenance isn't classed as a one-off event for obvious reasons.
How much does it cost to fix a leaky roof?
There's no way of knowing until you've had your problem assessed and you know what needs doing – a slipped tile being fixed back into place is a very different animal to a large patch of your roof needing to be replaced. If you know it's going to be a relatively large job, you can use our roof repair cost calculator here once you have some details to get an idea of costs.
Read our roof repair blog article for more detailed insights on where to get started in getting your roof mended by a professional.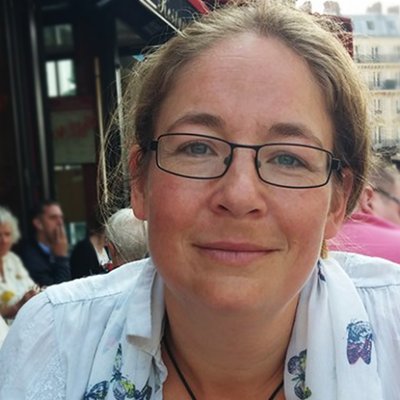 Guest writer who has one of the top 10 UK parent & kids lifestyle blogs. Laura shares her witty insights on all things to inspire your next home project.