10 of the best carpenter hand tools
As a carpenter, you rely on your tools to deliver high-quality work for homeowners. But what are the best carpenter hand tools? We'll break it all down here.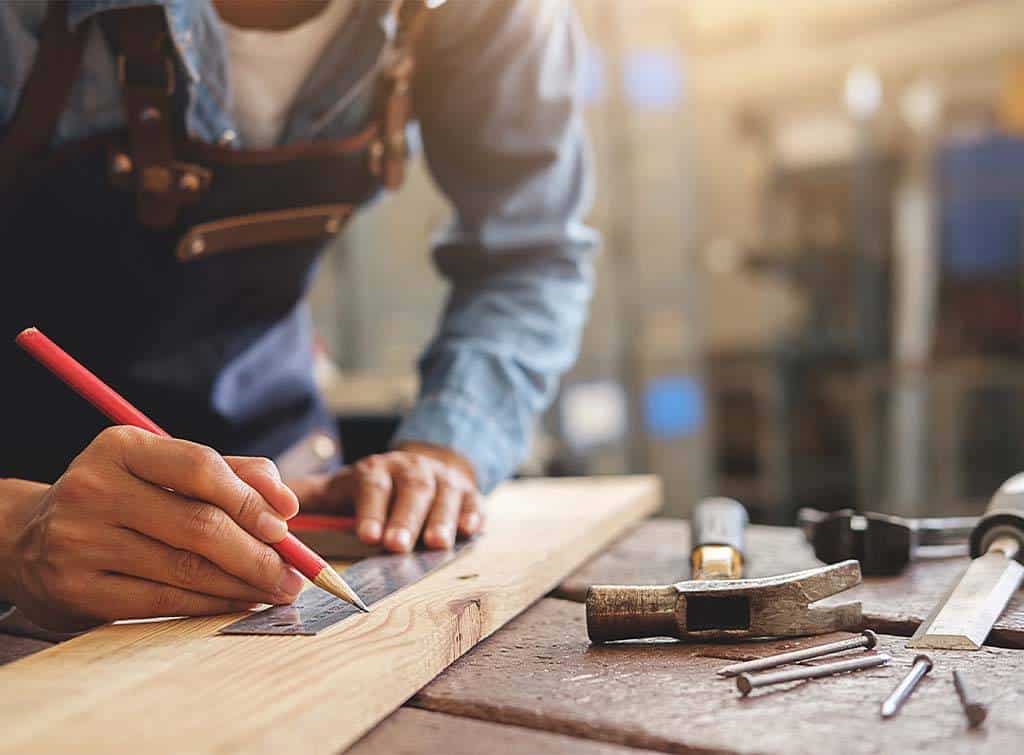 Ever heard the saying 'a good craftsman never blames his tools'? Well, maybe that's because a good craftsperson is meticulous about shopping for the best tools available and replaces any faulty tools quickly.
After all, no matter how talented you are as a carpenter, you can't do your job without them!
With that in mind, we've put together a guide on the best hand tools for woodworking. Take a look at our selection of the best carpenter hand tools and you'll never need to blame your tools again!
Psst! You can find all the tools we'll go on to mention on the website of our partner, Selco. As a Checkatrade member, you'll be able to unlock exclusive rates!
Checkatrade members are enjoying exclusive rates on tools, parts and materials
What are the best hand tools for woodworking?
As time has gone on, lots of power tools have sprung up to make life easier for tradespeople – carpenters included. However, woodworking has been around for much longer than electric tools. And there's still a whole host of hand tools that carpenters require, which don't have cords or batteries.
Hand tools are great for putting a fine point on the details of a project. Plus, they're invaluable for everything from taking accurate measurements to creating perfectly-fitting joints.
The best carpenter hand tools will vary depending on the job you're working on and your own personal preference. However, there are some hand tools that are likely to come particularly in handy.
Top 10 woodworking tools
Here are our top 10 woodworking tools. This is by no means an exhaustive list, but they're all tools that you're likely to find invaluable as a carpenter.
Best carpenter hammer
The best carpenter hammer will depend on your preference and what you're using it for, but the Ox Pro 20oz Claw Hammer is certainly a great option.
The claw hammer is proving most popular – its round, flat face is great for hitting nails squarely, while it can also easily remove nails thanks to the claw on the back.
The Ox Pro Claw Hammer is lightweight and made of steel – so it will last you for years to come. It also has a non-slip grip handle with shock reduction for your safety and it's precision balanced, meaning it'll make driving nails and fitting parts a breeze.
Best chisels for woodworking
Well, there's a lot of choice out there, but we love the Silverline 4-piece Expert Wood Chisel Set.
It's pretty much impossible to deliver high-quality carpentry without a good wood chisel. A chisel can help you to shave rough surfaces, scrape off glue and cut out corners.
The blades on the Silverline 4-piece Wood Chisel Set are sharp and precise. The steel caps and tang-through handles mean these chisels are able to endure all those heavy hits from your hammer or mallet without splitting.
Oh, and they're great value too!
Best hand saw for woodworking
One of the best hand saws for woodworking has to be the Stanley FatMax Fine Cut Handsaw.
It's high-quality and durable, with induction-hardened teeth to allow it to stay sharp for longer. It also has precision set teeth, which means you'll find it easy to cut on both the forward and back stroke – ideal for everything from fixing a shelf to cutting through decking boards.
There are lots of different kinds of saws, including small ones, that are ideal for working in confined spaces. but if you have the luxury of room to manoeuvre within, a full-size saw is almost always best to cut with.
Best circular saw for woodworking
The DeWalt 18V Circular Saw is our top pick. This cordless solution is ideal for trimming and sizing wood for different needs. It's smooth and precise, and it has an intelligent variable speed and lock-off switch to provide optimum speed and control.
This is the only power tool to make it onto our selection. The circular saw is invaluable for carpenters when it comes to cutting through wood and other construction materials quickly and accurately.
Best woodworking planes
Hand planes are a carpenter's best friend, whether you're shaving down a wooden door that's sticking or smoothing the surface of a live edge slab. In fact, they've been around for hundreds of years (although they've definitely improved a bit since then!).
Hand planes come in all sorts of sizes and types that will help you to perform different tasks, so it's impossible to pick out the best woodworking plane overall. That said, you'll make good use of something like the Silverline No.4 Hand Plane. A type of smoothing plane designed to help you prepare wood for finishing.
Number 4 is historically the most common size and is perfect for typical furniture parts and cabinet work.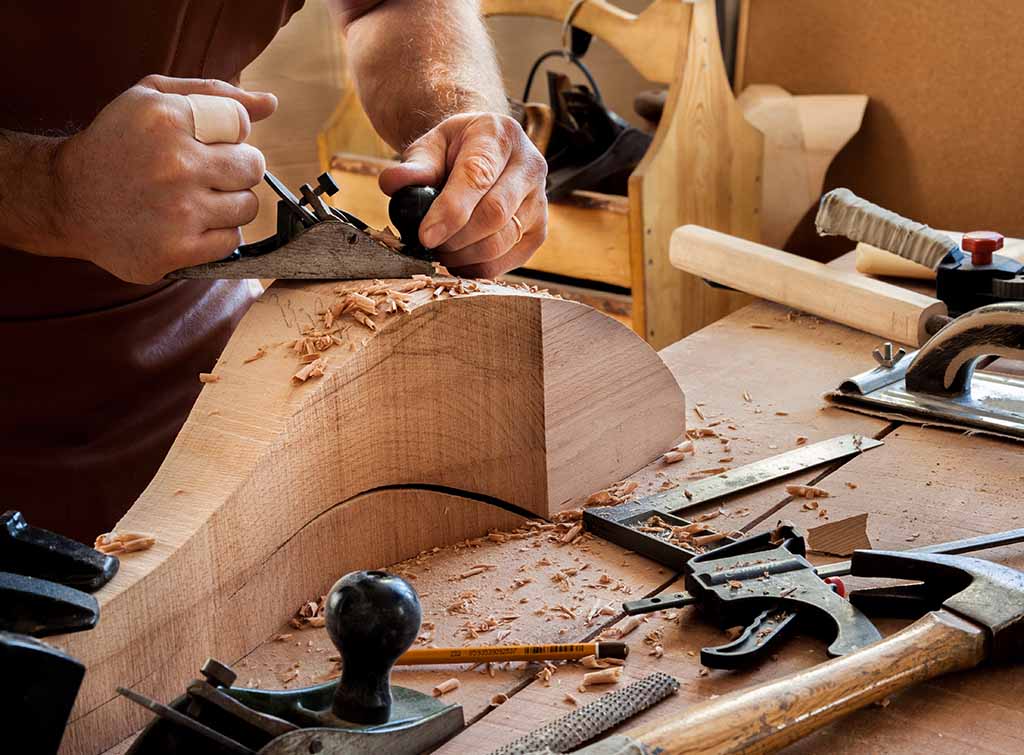 Best speed square for woodworking
Also known as a rafter square, rafter angle square or triangle square, a speed square is a must for carpentry. The best speed squares for woodworking are lightweight, portable and easy to read. Hence why we're fans of the Tracer 12″ Adjustable Pro Square, with its easy-to-read scale markings and adjustable arm.
When you're picking out the best speed square for your needs, you'll need to choose between plastic and metal, which each have their pros and cons. Plastic speed squares are more lightweight, but metal speed squares are more durable and safer to use around power tools.
Best combination square for woodworking
Next, we have another tool for measuring and marking… the combination square! You can't go wrong with Silverline's Combination Square. It's a heavy-duty, easy-to-read tool made of die-cast aluminium with a hardened steel blade and a built-in spirit level. Best of all, it offers excellent value for money!
A combination square, also known as adjustable square, combo square and sliding square, makes it easier to ensure flatness and make circles and is particularly handy if you're after a measuring tool that will fit a diverse range of jobs rather than just woodworking.
Best mallet for woodworking
One of the best carpenter hand tools has to be the mallet. There are several kinds, all designed for different purposes – from the carver's mallet with its cylindrical head (great for hitting chisels and gouges to create details in wood carving) to the journeyman's mallet with its small brass head (perfect for getting into smaller spaces where you need extra power).
A good tool to have up your sleeve will be the Silverline 24oz White Rubber Mallet – rubber mallets are great for the soft striking of woodworking chisels, as they won't damage the handles of chisels and gouges. Plus, a white one won't mark like darker ones can.
Bear in mind that rubber mallets don't have the same power as other types of mallets designed for woodworking.
You'll likely want to invest in more than one mallet so that you're covered for a range of uses. For instance, you should consider what size and weight of mallet will be most appropriate for each job.
Best carpenters pincers
Silverline's Carpenter's Pincers definitely fit the bill. Made from carbon steel, they're strong and durable and very good value for money!
Although you can extract nails with a claw hammer, sometimes a pair of carpenter's pincers (also known as nippers) are what's required. Their strong metal jaws and bevelled edges are broad enough to grip nails and staples without cutting through them.
Best utility knife for carpenters
The Toughbuilt Scraper Utility Knife With 5 Blades is a great option, with its ergonomic non-slip rubber handle and finger-guard ridge for added safety.
As well as offering everything you could want from a utility knife, it actually transforms into a scraper at just the press of a thumb. As a bonus, it includes an integrated paint-can opener and lanyard opening to make your life even easier.
As a carpenter, you won't want to be without a trusty utility knife. Ideal for trimming thin wood and other building materials, it's a convenient tool to have under (or on!) your belt.
Common questions
What is the best brand of carpentry tools?
There are lots of excellent brands when it comes to carpentry tools. DeWalt, Milwaukee and Makita are a few brands offering some of the best carpenter hand tools out there.
What is the most used tool in carpentry?
It's hard to pick just one tool as you need a variety of tools to be a successful carpenter. If you twisted our arm and made us pick the most used tool in carpentry, we'd probably say it's the hammer, as this has been carpenters' signature tool for most of history.
What is the most versatile woodworking tool?
The most versatile woodworking tool is probably the claw hammer. It can be used to drive in nails as well as to easily remove them, thanks to the claw on the back.
Another contender for the most versatile woodworking tool is the chisel, which will help you to shave rough surfaces, scrape off glue and cut out corners.
What are the best woodworking tools for beginners?
Beginners should initially invest in a hammer, a mallet, a set of chisels, a hand plane and a speed square. However, exactly what you need will depend on the project you're attempting to complete.