How to start your own carpentry business
As a skilled carpenter, you possess a range of enviable skills to create top-quality, bespoke joinery. But do you have the skills to go it alone and generate your own income? In this post, we'll guide you through how to start your own carpentry business to help you find that out. Read on to discover if you have what it takes.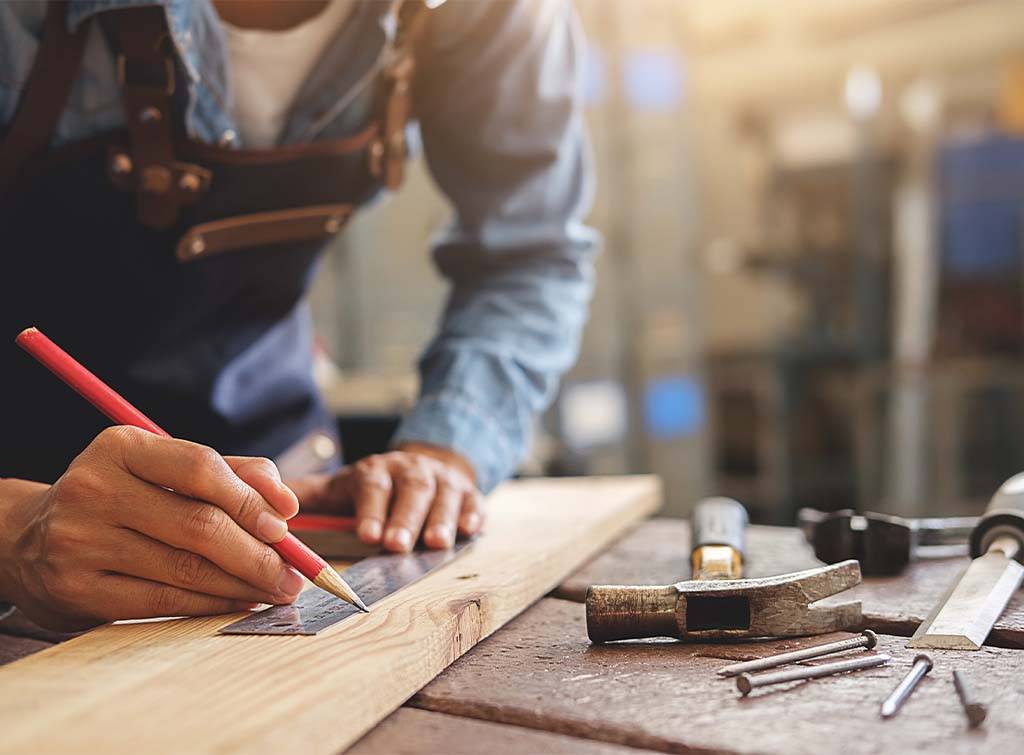 With a huge variety of work, carpentry is one of the most interesting trades to be in. From crafting bespoke installations for homeowners to working as part of a team on a construction site, rarely are two projects the same.
Carpentry is a growing industry, with plenty of potential to diversify into a specific niche or hone your skills to fulfil more detailed tasks.
Last year, the Checkatrade website received an average of 167,400 searches per month for carpenters*, which is a phenomenal amount. It's by far one of our most searched-for trades.
So if you've been working as a carpenter for someone else, or want to find out whether it's feasible to turn your passion into a career, read on to discover how to start your own carpentry business. Don't worry, we'll cover all the details (we know you're detail-orientated!).
We'll cover everything from how to write a business plan (look out for the free template), to business insurance, marketing, and the personal attributes that will help to guarantee a successful venture. Let's get into it.
No time to read all this right now?
Save this page to read later, and for now, sign up for our 'Become the Boss' series for help getting your carpentry business started in no time.
You'll receive eight emails with actionable tips featuring fellow tradespeople who were once in your position with their top advice. At the end of it all, you could be the founder of your new business.
Simply add your email below to make the most of this free business advice.
Create a business plan for your carpentry business
We know you're meticulous about detail, so we don't need to tell you that the very first step for starting your own carpentry business is writing a business plan.
As part of this, you should consider the goals of your business and set realistic financial targets to work towards over the next three to five years so you're financially prepared for the move away from being a salaried member of staff to a self-employed trader.
Based on your skills and expertise, you should also decide your niche, define your target audience and think about what will set you apart from the competition.
Your business plan will help you to stay focused and make informed decisions as your business grows.
Add your email address below to receive your free business plan template:
Training and qualifications
In terms of the qualifications needed to become a carpenter, as with any trade, if you have formal qualifications it will boost your credibility with potential new customers.
So can you become a carpenter without an apprenticeship? Yes. But it's not a bad idea to hone your skills through a certified course before launching your own business. Check out the Site Joinery Level 2 (and Level 3) NVQ with our training partner over at North West Skills Academy.
We know that many people wondering how to become a carpenter with your own business will have built up years of experience, either through personal projects or on-the-job experience.
Without a CSCS card, you won't be eligible to work on building sites, meaning you won't be able to operate on larger projects. This can seriously limit your ability to gain business opportunities. Having a CSCS card is vital for any self-employed carpenter.
Also useful is being a member of the Institute of Carpenters. This will give you greater recognition in the industry plus other benefits including networking opportunities, discounts, and public listings.
What skills do you need to become a carpenter?
There are certain skills required for carpentry (attention to detail, physical strength, technical understanding, and dexterity, plus building and construction knowledge).
But there are other skills that you'll need to understand how to run a successful carpentry business.
How do you measure up?
Numeracy and finance skills
Interpersonal skills
Well organised
High-quality customer service
Management and leadership skills
Problem-solving skills
How to set up your carpentry business – step by step
In this section, we move on to the practical steps you need to take to set up your own carpentry business. This includes guidance on how to register your business, getting the right business insurance, where to get the best deals on tools and equipment, and how to get those all-important customers.
Register your business
First of all, the creative bit; decide on a name for your new business. It should be unique and catchy but also relevant to your business offering.
Next, you have a few decisions to make about how you'll operate your company. For instance, what services will you offer, what hours will you work, and where will your business be based?
Make sure you understand how to pay your taxes, VAT (if relevant), and national insurance. You'll need to register your business with HMRC and complete a self-assessment tax return every year.
We recommend hiring an accountant to help with your finances.
Business insurance
It is strongly advised you obtain insurance for your carpentry business.
Firstly, you are your business. It's important to insure your business properly so that your income is protected if you're unable to work.
Included within your carpentry insurance should be cover for your work vehicle, tools and equipment, and any materials you wish to protect. Without insurance, if any of these items were lost, damaged, or stolen, you'd need to cover the cost of replacement from your own pocket.
Public Liability Insurance (PLI) is highly recommended to cover your liabilities toward your customers, members of the public, and third-party property. All Checkatrade members are required to have PLI to become a member. Employers' liability insurance is a legal obligation if you employ anyone else as part of your business.
Finances
The move to self-employment is a big step to take but it's certainly worth the leap if you want to take your carpentry career to the next level.
Being organised with your finances is key to running a successful carpentry business. Be sure to keep a close eye on your income and expenditure, and manage your cash flow effectively.
How much does it cost to start a carpentry business? It varies. Establishing any start-up can be expensive and you may not have the funding yourself. If that is the case, look into applying for a business loan. This will allow you to fully invest in all the equipment and supplies you need without cutting corners and risking performance.
Looking to save money on business essentials? Checkatrade members receive exclusive member discounts on tools, vans, fuel, insurance, and more.
What tools does a carpenter need?
You know as well as the next person, to deliver exceptional work for your customers, you need the very best tools you can stretch to. These include:
Hand tools — utility knife, chisel, pencil, claw hammer
Tool belt
Power drills
Tape measure
Carpentry squares
Saws
Levels
More than just a directory listing
Our members have access to exclusive discounts, helping to save on average, £470 per year***** on business essentials
Start saving
Check out our guide for more useful tips on starting your business.
Marketing your carpentry business
Now we're onto the fun task of spreading the word and letting potential customers know about your new carpentry business!
For many business owners, marketing can seem overwhelming at times, not least because the rapid growth of digital channels has presented us with so many ways to reach potential customers.
So how do you market yourself as a carpenter? Let's start with the basics first.
Print marketing
Print marketing is a more traditional method of spreading the word about your business; a carpenter advertising in the local paper, for example. Joinery business cards that can be left with potential new customers or in local shops and businesses is another idea.
Checkatrade members have the opportunity to feature in our leading trade directory, which is delivered to homeowners around the country.
While this remains a very valid way of promoting your new business, it's also important to have an online presence, so customers can find you easily.
Digital marketing
People looking for carpenters will also expect your business to have a presence online. Therefore, another very effective way to promote your new business is through digital marketing. This can be achieved in a number of ways:
Create a company website
Use social media. It's free and can help you reach a range of prospective customers
Join a dedicated trade directory such as Checkatrade
Read our dedicated article on marketing your business for further advice.
Save money and time marketing your business
With our digital marketing strategy and strong online presence, becoming a Checkatrade approved and guaranteed member makes it easier for customers to find you.
13 million homeowners searched for tradespeople on the Checkatrade website last year, with customers three times more likely to search with us than any other provider. Carpentry in particular is one of the most searched trade services at over 5,000 searches per day.
And with the Checkatrade tick by your name, it makes your marketing just that little bit easier, as 8/10 people would choose a trade endorsed by Checkatrade, compared to one which isn't**.
As a member, you can display customer reviews, testimonials, and examples of your work on your profile page. We'll also help you with free marketing materials and help to increase your business's visibility on Google.
Carve out a carpentry business of your own
Being Checkatrade approved and guaranteed shows you can be trusted. People buy into trust
Find out more
Quick action: Sign up for our 'Become the Boss' series
You could get your business started in no time with the help of our 'Become the Boss' series.
To get trade business insider secrets sent to your pocket, put your email address in the form below so we can help you to get started.
How to grow your carpentry business
As we mentioned at the start of this post, there is a constant stream of people looking for carpenters; the potential for growth is huge.
Once you've established yourself, you might be wondering how you can expand your carpentry business and take things to the next level.
In this section, we'll guide you through how to grow your carpentry business in a structured way, with clear, achievable targets.
What is business growth?
You might be thinking about how to expand your carpentry business or how to get more customers as a carpenter. Perhaps you're ready to take on an apprentice? All of these things contribute to business growth; it's important to outline the growth targets most appropriate for your business.
In doing so, you'll also need to map out your growth targets in a way that makes sure they're 'SMART'. That is:
Specific – what does the target involve?
Measurable – how will you quantify success?
Achievable – is this attainable given the resources, knowledge, and time available?
Realistic – is the target realistic to the confines of your job and your existing responsibilities?
Time-bound – when should the target be achieved by?
To pull all of your ideas together, why not use our FREE business development strategy template?
Once you've figured out your growth targets, you'll need to plan how you'll achieve them
Let's look at a few examples to get the ball rolling.
If your aim is to get more work, you'll need to attract more customers
Marketing is an effective way to do this. For example, you could:
Use our FREE marketing planning guide and checklist to help you create a clear list of the marketing tactics you'll use.
You need a marketing plan now more than ever – Free marketing planning guide included
If your aim is to increase your revenue, you'll need to increase your sales
To do this, you may need to sharpen your sales toolkit so your customers are left with no doubt that you're the right person for the job. Here's a selection of articles to help you do this:
You can also review your costs to see if there's scope to make your business more efficient and/or increase your pricing to increase your profit margins.
If your aim is to expand your team, you'll need to identify your needs
Is it an apprentice you need, to help you with basic tasks, or a part-time employee to take care of the business admin, freeing you up for more high-value work?
Remember, as an employer, you will need employers' liability insurance – it's a legal requirement.
You'll also need to understand company payroll and learn about holiday pay. Read our checklist for taking on employees and our guide to how to hire employees.
We have a selection of articles to guide you through the process of hiring a team, helping to protect the trusted name and reputation you've worked hard to build:
If your aim is to expand the services you offer, you'll need to consider the what, where, why, and how
What additional services will you offer, will you expand into new markets, have you identified a particular need for these services or lucrative avenue, and will you need any additional training to facilitate these plans?
Lastly, four more areas to consider around business growth
Take a look at our tips to help grow your trade business.
Grow your carpentry business with Checkatrade
Despite best intentions, when you're out working all day as a tradesperson, it can be hard to find the time to put all of this into practice.
However, there is a simpler way to help your business grow – by joining our trusted network of the best trades on the UK's leading trade directory.
Here are just a few of the many reasons you should become a Checkatrade member:
To get more leads
Checkatrade members receive more than 100,000 leads each week. 3 million homeowners used our trades last year. A third of all trade work comes through Checkatrade***. Use our flexible membership to control the number of leads you want to receive.
To help to secure more work
8 out of 10 people would choose a trade endorsed by Checkatrade compared to one that isn't endorsed****. We're the tick that homeowners trust, which helps you to build your reputation and win more business.
To save money
Get exclusive access to trade deals, saving money on business essentials to help keep your profit margins sharp. Checkatrade members save on average £470 per year each***** on everything from equipment, van leasing, insurance, workwear, and more.
More than just a directory listing
Our members have access to exclusive discounts, helping to save on average, £470 per year***** on business essentials
Start saving
FAQs
How much does it cost to start a carpentry business?
The set-up costs will depend on your circumstances.
If you're an experienced carpenter who already has most of the necessary equipment, then you could launch your business with just a few hundred pounds.
However, those earlier on in their career may need to invest in more tools and supplies, which could cost thousands.
How long does it take to start a carpentry business?
If you take the traditional route of a college course or carpenter apprenticeship, this will take up to three years to complete.
After you're qualified, it will probably take a couple of years of on-the-job experience to sharpen your skills and feel confident about starting a business.
Can you become a carpenter without an apprenticeship?
There are a couple of routes to becoming a carpenter without an apprenticeship. You have the option of taking paid intensive courses, which aim to provide you with all the required training in a matter of weeks.
Alternatively, you could start your career as a labourer and gain all relevant training on the job.
Can carpenters make good money?
Choosing to go self-employed as a carpenter can definitely help boost your earnings. If your business offers a unique service or attracts a large client base, you'll be in demand enough to charge higher rates, helping you to earn considerably more than some of your competitors.
Carve out a carpentry business of your own
Being Checkatrade approved and guaranteed shows you can be trusted. People buy into trust
Find out more
*Checkatrade search data 1st January – 31st December 2021
**Deep Blue Thinking 2021 Trade Perception Survey
***Checkatrade brand tracking survey April 2021
****Claims are sourced from a survey conducted by Deep Blue Thinking on a nationally representative UK sample in November 2021.
*****Year runs from April 21' to March 22'. Saving calculation based on average spend across 12,505 members in 2020/2021/2022. Discounts differ depending on the partner. Products range from low value items to high value items. Some exclusions will apply on products.