Celebrating our top-rated members in the Checkatrade Hall of Fame!
We're taking a moment to show our appreciation for our hardworking tradespeople and to celebrate those who have achieved exceptional review scores from the very beginning to now in 2022.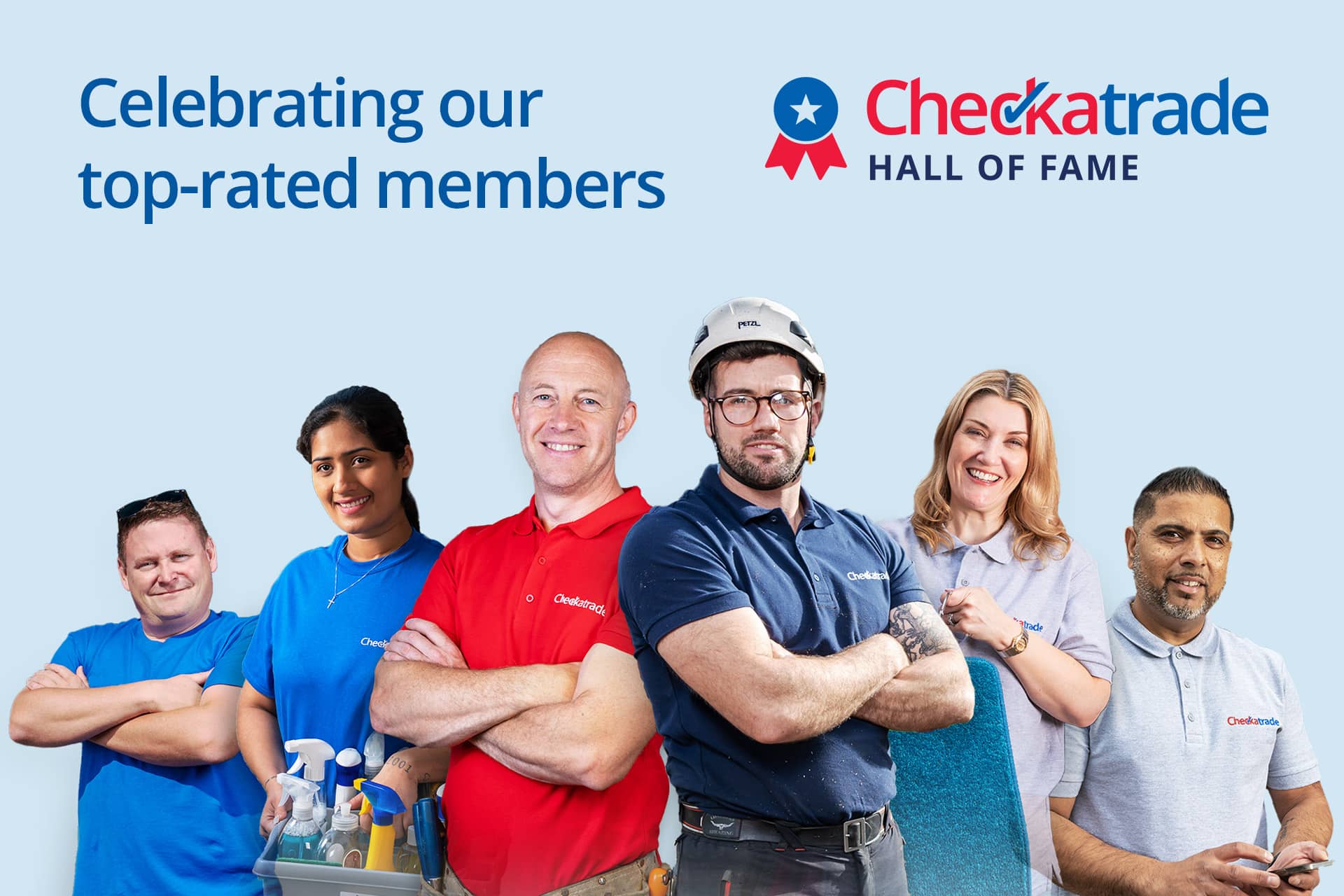 Step inside our hall of fame to see which tradespeople have taken 2022's top spot for:
The perfect 10
Most reviews of all time
Most reviews in 2022
Wow-worthy workmanship
Top tidiness
Revered reliability
Cracking courtesy
We know our tradespeople are brilliant – after all, they've all passed our 12 tough checks and constant vetting in order to become and remain a member.
We've dug into our data to find and recognise some of our longest-standing, most praised members.
The "Perfect 10" for reviews
Achieving the coveted 10/10 score on Checkatrade is something that every tradesperson aspires to. But with a perfect score of 10 from a whopping 2,080 reviews (and counting!), Britannia Master Locksmiths Ltd has outshone the rest.
Britannia Master Locksmiths are an established Hampshire Company specialising in all forms of lock replacement and repairs, from uPVC multi point locking system to British standard 3621 Locks. They have been approved Checkatrade members since 2011 with many happy customers.
Check out some of their fantastic reviews:
"Richard did a fantastic job in quickly coming out to inspect the issue, and completing the repair/replacement part. Everything was left clean and tidy. Also he's a very friendly bloke who left me with advice on how to maintain the door to avoid future repairs. Would definitely recommend."
"Richard was friendly and professional and fixed the door to a high standard. Richard was very reliable, informative, accommodating and efficient. Great job done Thank you"
"Very quick to respond to a Checkatrade email enquiry and to attend. First class work and a very pleasant man. Highly recommended."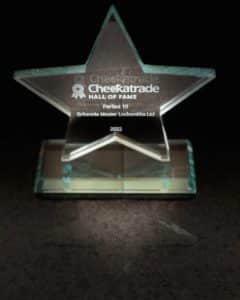 Valliant efforts too from these members, who also both have brilliant "Perfect 10" scores
Netcom Ltd
Checkatrade members since 2012, Netcom Ltd have received 1,600 customer reviews on their profile – 1,689 and counting – and a perfect score of 10/10!
Netcom (previously PW Tech) offer a reliable, friendly and professional service in all aspects of the TV industry and CCTV / Data / Wifi services.
Here are just a few of their perfect 10s:
"Quick to come out and the work was carried out with minimal fuss and very quickly. Super friendly and fair prices. Will use again in the future if needed."
"Great service and prompt service. Very happy and would use again."
"The work was carried out quickly and the property was left tidy. Price as quoted."
RPS Double Glazing Repairs
RPS Double Glazing Repairs (also known as RPS Locks & Glazing) have been members of ours since 2014 and have done a fantastic job of picking up perfect 10s across their over 1500 reviews.
RPS Double Glazing is an independent and local windows, doors and conservatories company serving Alderholt, Bournemouth and the surrounding areas.
Here are a few of their perfect 10s:
"Vince originally fitted our cat flap in the glass panel of our patio door so we didn't hesitate to ask him back years later to remove it after we lost our cat. While here, he lubricated our front door lock that was squeaking and also brought along a packet of window vent covers that he noticed were missing on the outside of our property. A perfectionist who does a professional job and goes the extra mile for customer satisfaction."
"Very pleased with work carried out. Very prompt very tidy. Very professional. Price as quoted."
"Work carried out efficiently and effectively. A pleasure to have in the house."
Most reviews of all time: Surrey Oven Cleaning
Since 1998, almost 6 million reviews have been left on Checkatrade. But with 4,667 reviews (and counting!) and an average score of 9.94, Surrey Oven Cleaning is the individual trade with the most reviews.
Surrey Oven Cleaning & Property Care is a family-run business that provides expert oven cleaning and property care services to residential and commercial customers throughout Surrey and surrounding areas. They have been approved Checkatrade members since 2013.
Here are a small snippet of their reviews:
"Very pleased. Oven looks like new. Thank you."
"Good communication via texts and calls. On time, well mannered, tidy and considerate plus a sparkling clean oven at the end of it."
"Oven like new. Polite and respectful service and were able to come to me exactly when I needed them. I will always use this company in the future."
Most reviewed in 2022: Happy Drains
Well done to Happy Drains Ltd for collecting 631 customer reviews so far in 2022, and a 9.67 average rating.
Happy Drains Ltd has been in business for 25 years and approved Checkatrade members since 2013. They are available nationwide to help you when you need them.
Take a look at some of their rave reviews:
"Quick and professional and we now have very happy drains"
"Great job! Quick to answer the phone and to send someone out. Price quoted was price paid. Highly recommended!"
"It was quality work. The engineer was very friendly and helpful. Cleared up everything after work. Thank you"
10s in 2022 across our top 5 trade categories
In 'Builder': City Damp Solutions Ltd
Great work from City Damp Solutions Ltd for achieving a 10/10 average rating.
Established in 2017, City Damp Solutions Ltd are a Hampshire-based damp proofing, timber treatment and basement waterproofing specialist. They pride themselves in correctly diagnosing damp or condensation and mould problems in their customers' homes. And with over 20 years' experience and perfect 10s, they are doing a fantastic job.
Let's see a couple of their 10/10 reviews:
"James and Jay are both polite, friendly, hard-working and trustworthy. The finished work was of an exceptional standard, they are very tidy in their work and had excellent communication from start to finish."
"Very clean and tidy. Explained everything clearly. Would recommend."
In 'Central Heating': DM – Plumbing and Heating
Priding themselves on their customer service, Havant-based Central Heating business, DM – Plumbing and Heating, has done just that. The proof is in their brilliant 10/10 average rating in 2022.
Let's see a couple of their 10/10 reviews:
"If you're planning on getting your boiler serviced, Danny is your guy!! Quick response, very professional, local and good price. Would 100% recommend and use again."
"Danny gave exceptional customer service when he serviced my boiler, I was so impressed that I will be using him next year."
In 'Plumbing': JC Plumbing Services
With over 35 years' experience, JC Plumbing Services in Canterbury has shown its amazing experience by picking up 10s across the board on their Checkatrade profile.
Here are some of their top reviews:
"What an amazing company Carol who spoke to me Initially was very efficient but also friendly gave me advice and purchased the appropriate shower on my behalf. Joe the plumber was on time friendly efficient and all for a reasonable price. Its hard to get a decent service these days but this company was amazing will definitely use again and highly recommend."
"Absolutely fantastic service, professional and clean. We will be using JC Plumbing Services again and I highly recommend them to anyone who needs a good plumber."
In Roofing: Roofline Roof Restoration Ltd
Roofline Roof Restoration Ltd are a family business with over 30 years experience, covering Kent, South East London and the home counties. They have scored the perfect 10 for 280 reviews – pretty impressive!
Here are some of their reviews:
"Very professional. Great communication. Two new flat roofs delivered to a high standard within quoted price and time. Very happy. Highly recommended."
"Excellent, Morris was a gentleman, Polite and pleasant, came when he said and finished on time. Clean and tidy work. Very pleased. Would recommend 100 per cent."
In 'Electricians': TS Electrics
NAPIT and Competent Person's Scheme registered, TS Electrics in West Yorkshire, added to their 336 10/10 reviews this year. Since joining Checkatrade in 2014, TS Electrics have been providing a broad range of services; from the smallest of jobs, like adding more sockets, to much bigger jobs, like a home to full rewires.
Here are a couple of their top reviews:
"I would highly recommend Toby, provided an excellent all-round service from enquiry to completion of works. His work speaks for itself, meticulous and an excellent communicator. It was a pleasure having you work on our home. No doubt I'll be calling upon your services in the not-too-distant future."
"Full electrical check and installation of new consumer unit – Toby did an amazing job and made something which is obviously very complex look very easy. I can't recommend him highly enough!"
Wow-worthy workmanship 2022: The Fascia Company
We're recognising The Fascia Company for their 64 reviews so far this year, with a score of 10/10 for their workmanship. Not only that, but they've also got perfect 10s in tidiness and reliability as well.
The Fascia Company has been specialising in high-quality PVCu installations for 31 years and has been a proud Checkatrade member since 2007.
Customer reviews showing their wow-worthy workmanship:
"Good communication from my first enquiry until the work was complete. Work completed to a good standard and in a timely manner."
"Work completed to a high standard. We were kept informed of progress throughout the job. Amy and all her workforce very friendly and helpful. Also helped with repointing the side gable."
"A first class job performed by the team. Arrived on time. Kept me informed. Polite and professional. Thanks again to the fantastic team."
Top tidiness 2022: SmokyPistols'
SmokyPistols' has got our attention for their tidiness this year. From their 108 ratings, they've scored 10/10 in tidiness. Not only that, they've scored a 10 in Courtesy too.
SmokyPistols' is a family-run chimney sweeping business based in Chessington, Surrey. They serve a 7-mile radius around Chessington, including Kingston, Wimbledon, Sutton, Epsom and Cobham.
Take a look at some of their tidy reviews:
"Good preparation prior to sweeping to avoid making a mess, great tidy afterwards, safety inspection carried out all in less than an hour."
"Neat and tidy, punctual, and lays fire ready to go."
"Left the area spotless with a lovely display on the hearth."
Revered reliability 2022: P&S Gas Consultancy and Services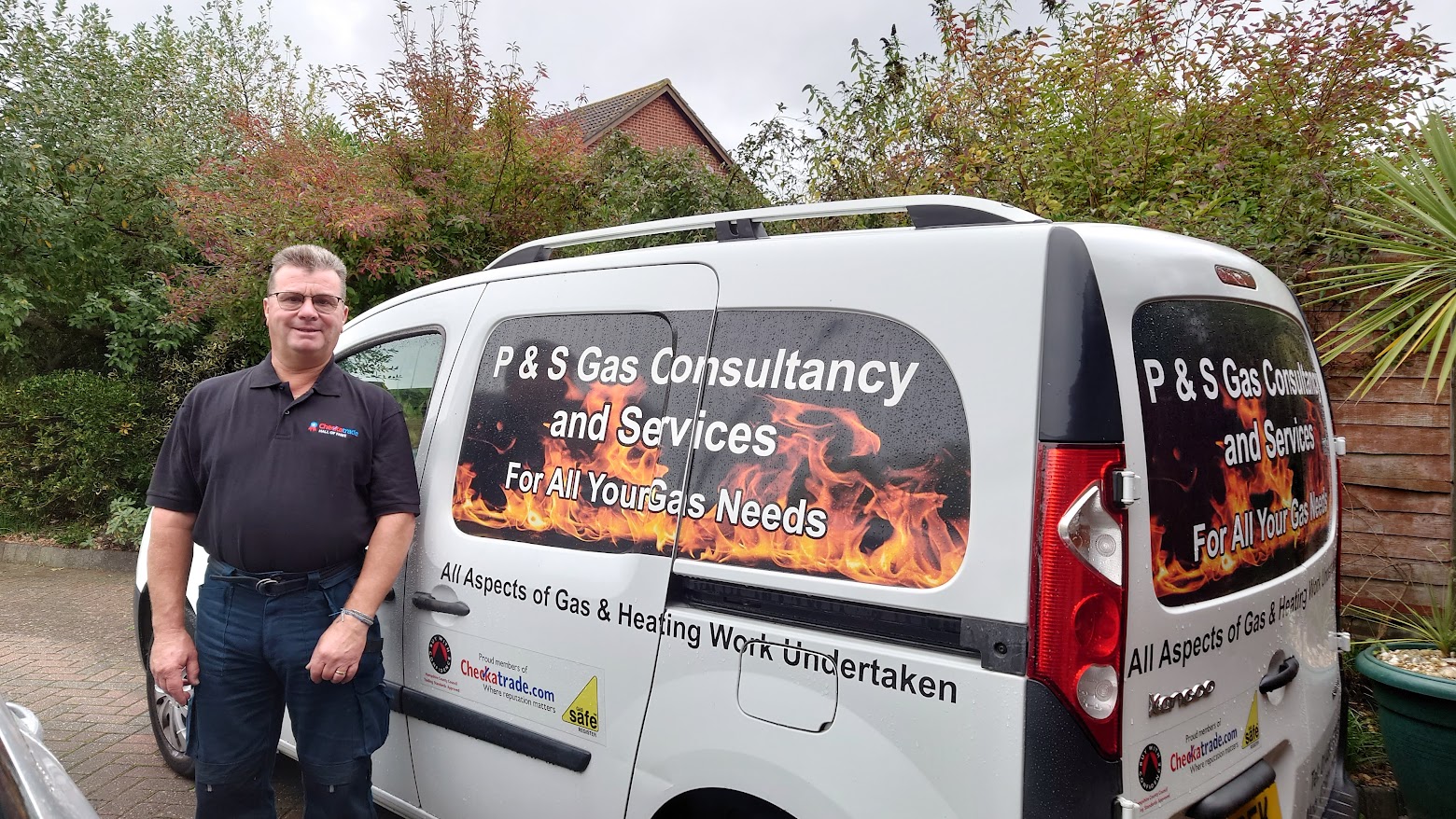 Achieving a perfect 10 for reliability is P&S Gas Consultancy and Services. From their 73 reviews this year, they have scored 10/10 for reliability, adding to their fantastic 9.99 average score from 1,651 reviews in total.
P & S Gas Consultancy and Services is a family-run business established in 2009 in Locks Heath. They have been approved Checkatrade members since 2012 and pride themselves on their reliability.
Take a look at some of their brilliantly reliable reviews:
"Flawless in customer service; clearly experienced, knowledgeable, and technically skilled in the trade; responsive, warm and friendly."
"Very good. Punctual. Explained everything clearly. Accurate estimate. Clan and efficient"
"I have been using Phil for years now and have never had any issues. He is prompt, efficient, tidy and always does a thorough job. Wouldn't hesitate to recommend him."
Cracking courtesy 2022: Building Solution
When it comes to courtesy, Building Solution took top marks – and achieved the coveted title of being Checkatrade's top-rated builder of 2022 so far, with an average 9.98 rating in 2022.
Building Solution specialises in full house refurbishments, taking on carpentry, plumbing, tiling and decorating (to name a few!).
They're building something special with these reviews:
"Great communication, very friendly people and work completed to a very high standard. Would highly recommend and would use again!"
"Really went the extra mile to make sure we were happy with everything. 100% recommend!"
"Such a great company , they done everything I asked for and more. I would defiantly recommend and they were so tidy throughout the job."
Congratulations to all our top-rated tradespeople, who are proving there's no tradesperson quite like a Checkatrade tradesperson!
Selection criteria: All the data used to identify our members from our member profile data on checkatrade.com – information accurate as of August 30th 2022.