You need a marketing plan now more than ever – Free marketing planning guide included
During Covid and lockdowns, it was pretty likely that you were getting a lot of leads coming your way. Now in the current climate, you need to work harder to get your business seen to get those important calls and messages from customers.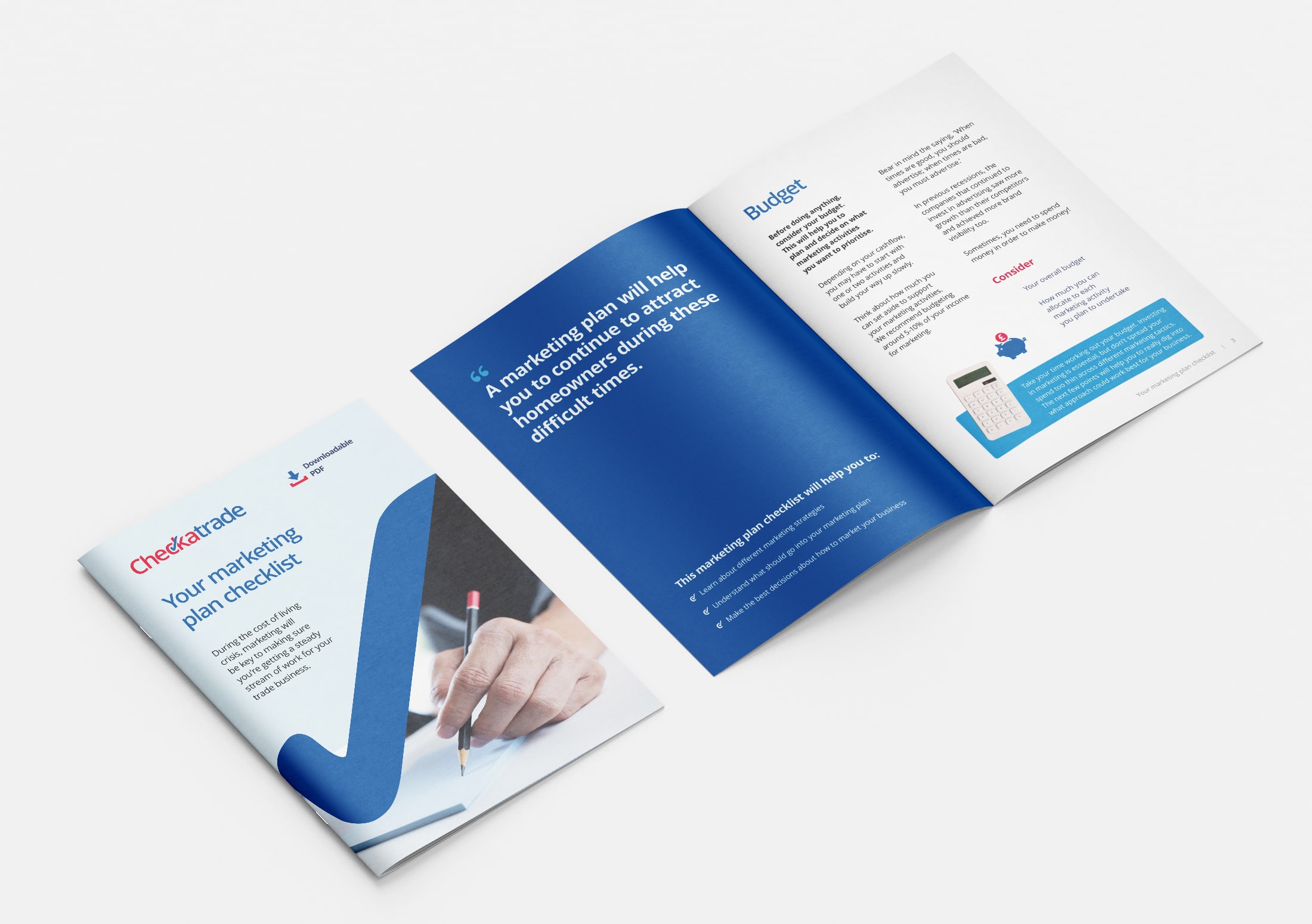 Over the last couple of years, demand for trades has been through the roof. So, until now, you might have got away without needing to invest in much marketing at all – if any.
However, with the recent cost of living increase, homeowner demand has started coming down and work has been drying up. Marketing is absolutely vital for tradespeople in the current climate, and creating a marketing plan will help to make sure you get a steady stream of leads in these difficult times.
What is a marketing plan?
A marketing plan is a document that outlines how you plan to market your business over a given period. You can use it to organise, execute and track your marketing strategy.
What's included in a marketing plan?
A marketing plan will include lots of different marketing strategies and techniques that you plan to use to reach your business goals. By writing them all down in one place, you'll be able to stay on track and make sure everyone in your team knows who is responsible for what.
The main reason to create a marketing plan
Creating your marketing plan will help you to make sure that you leave no stone unturned when it comes to marketing your business. It will also encourage you to think of each campaign's mission, your buyer personas and budget – and to measure what works and what doesn't.
Do trade business owners need a marketing plan?
Yes, tradespeople definitely need a marketing plan. You guys need one more than ever.
You might be thinking, "a marketing plan sounds handy. But why do I need one?"
Between 2020 and 2021, the average UK homeowner's disposable income increased substantially because of reduced travel and general spending. Many homeowners chose to invest this extra cash in their properties, leading to soaring demand for trades – meaning the chances are you didn't need to do much marketing at all during this time.
Now the cost of living is at a 40-year high, we've seen fuel costs rise along with materials and energy. And homeowners are feeling the squeeze, meaning they're less likely to carry out non-essential work on their homes.
Some trades will be more affected than others, but we've noticed across the board, demand has dropped. However, there is still work out there, which is why you need to market your business and make sure you get seen by your customers that are willing to spend.
Ultimately, tradespeople will need to look for new ways to attract customers and to persuade them that investing in your services is worthwhile.
Read more about the drop in homeowner demand in our dedicated guide.
How to create your marketing plan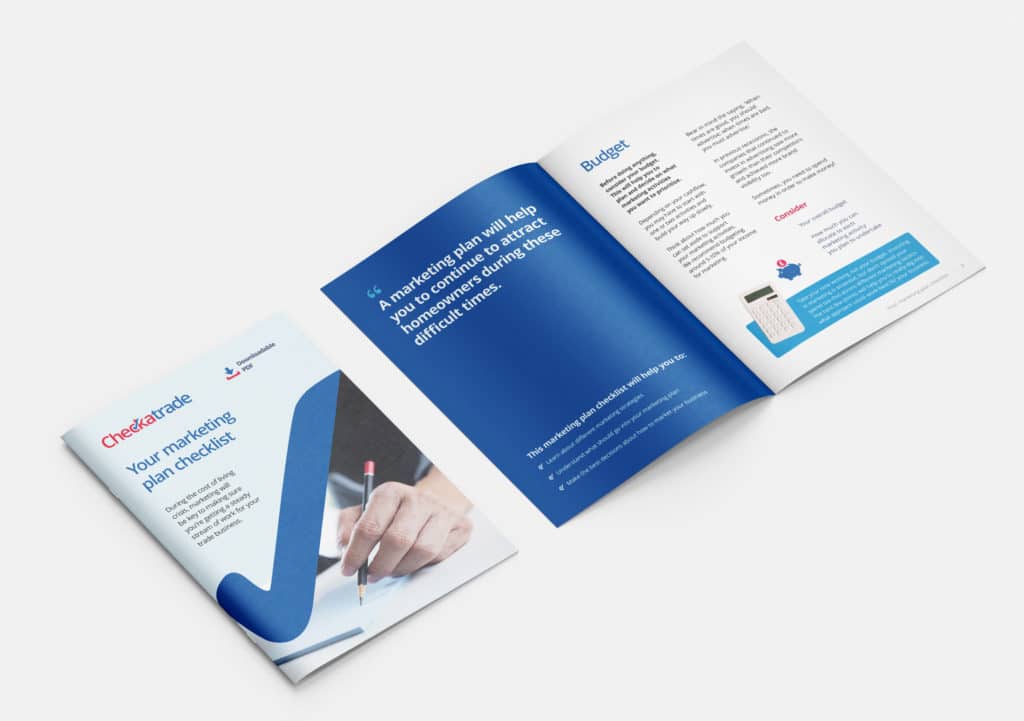 So, how do you actually create a marketing plan?
Our free marketing plan checklist breaks down some marketing tactics you'll want to consider in your plans – download it now to take a look. It'll save you some guesswork and really get you thinking about your customers.
Some other things you'll want to consider when you're putting together your marketing plan include:
1. Your goals
Your marketing plan should be geared towards helping you to meet your business goals. So, consider what it is you're trying to achieve. Perhaps you want more leads or more repeat business. Alternatively, you might want to increase sales of a particular service you offer – like boiler servicing.
2. Your KPIs
KPI stands for 'key performance indicator.' When you put your marketing plan together, you'll need to consider how you'll know whether the tactics you try are successful or not. By identifying KPIs that you intend to measure, you'll be able to determine what's worked and what hasn't.
3. Your buyer personas
A buyer persona is a fictional person that helps you to envisage your ideal customer. You'll create them based on data and research. Meanwhile, they'll help you to get to know the needs of your target customers, and focus your time on qualified prospects.
When you create your marketing plan, it's important to keep your buyer personas in mind, so that you're clear on who you're targeting with each strategy you list.
4. Your budget
You'll need to decide on a marketing budget, and consider how much to allocate to each strategy. It can be scary spending money on marketing when times are tough and money is tight – but remember, sometimes you need to spend money in order to make money!
5. Responsibilities
Finally, it's a good idea to include information about which team members are responsible for which activities outlined within your marketing plan. Consider whether you'll be able to carry out each activity solely in-house, or whether you'd rather outsource it. By delegating who's responsible for what, you can ensure that everyone is on the same page and your plans stay on track.
Key takeaways
Homeowner demand has dropped, meaning tradespeople will have to find new ways to get customers online.
A marketing plan is a document that outlines how you plan to market your business over a given period.
Your marketing plan should list all the strategies you plan to use to market your business, and who's responsible for them.
It's never been more important to create a marketing plan for your business, to continue bringing in leads during this difficult time. For help putting one together, download our free marketing planning checklist.