Which trades could use drone surveying and mapping?
Drone surveying and mapping is becoming more common in the construction industry, but what is it, how is it used, and is it accurate?
In this article, we'll cover:
What is drone surveying and mapping?
Drone surveying and mapping uses a drone and specialist cameras to survey an area from overhead.
The drone survey results provide critical information to help make informed decisions regarding planning, design, construction, and more.
Results are typically presented in the form of highly-accurate videos, photos, 3D representations, and a detailed report.
As well as being extremely accurate and detailed, drone surveying has the added advantage of safely accessing high-risk or difficult-to-reach areas with ease and speed.
The applications of drone surveying and mapping include:
Roof inspections
Building surveys
Site inspections
Land surveying
Thermal inspections
Solar farm inspections
360 Virtual Reality walkthroughs for the interiors of properties, for example, for use in real estate and hospitality
Promotional videos and photos for marketing use.
How is drone surveying used in construction?
Drone surveying can be incredibly useful in construction, saving contractors time and money, while helping to make the surveying process much more efficient.
Mark Elliott of S4G Drone Services explains how his company is able to collaborate with other tradespeople:
"I was on a job the other day, surveying a roof for a customer who needed photographic and thermal photography evidence, of the root cause of a leak in their roof. I provided accurate data and images to support their case – and spotted the root cause of the leak, which wasn't as obvious as it may have seemed nor visible to the naked eye, the thermal images picked it out.
"During the job, some tradespeople got chatting with me, I explained what I was doing and that I can survey in absolute detail all elements of a roof that they would like, small or large and at height (the one I was doing was over 3 stories). Completing the work on-site in about 3hrs and delivering the 'evidence' within 48hrs.
"They asked me whether I could fly roofs they think need redoing, or the customer thinks need looking at, and provide the information so they can evidence why and how their roofing company could help the customer?
"I told them I could, without ladders or scaffolds, in a rapid turnaround time and with detail that would give the customer confidence that the works are required.
"They took my business card and have been in touch since with work that's now planned."
Want to collaborate with trusted tradespeople?
Join our members-only, Checkatrade trades community
Start our checks now
Four ways to use drone surveying for your business
Drone surveying can be a useful service for many trades, including building developers, property management, architects, land developers, and construction site managers.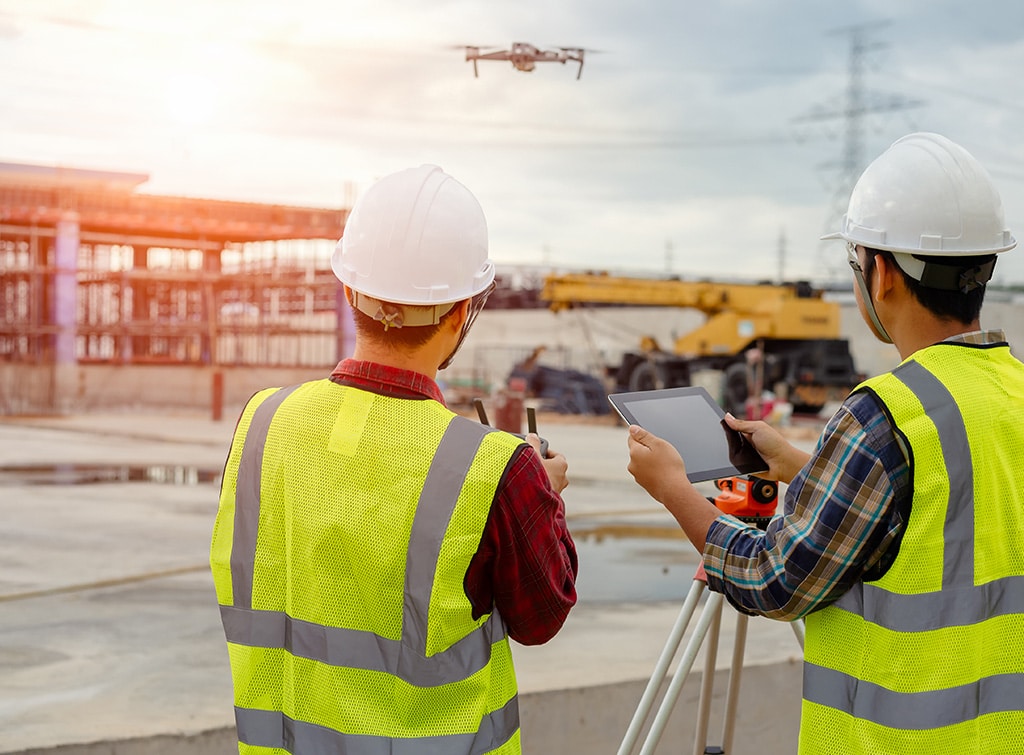 1. Drone site survey
A drone site survey takes accurate measurements of a site from an aerial view. It can be extremely helpful in high-risk areas, such as railway lines or bridges, or on rough terrains where access is difficult.
Drone site surveys are often used when a site manager needs to deliver progress reports, where a surveyor needs accurate measurements, or where thermal investigations are required.
Site measurements taken from a drone can include distance, depth, volume, and pitch. Visual models can also be produced.
2. Drone roof survey
A drone roof survey eliminates the need for scaffolding, allowing the roof condition to be inspected using accurate videos, images, and a detailed report.
The results are typically available on the same day, getting the job done quickly, efficiently, and in a cost-effective way.
As a contractor, it gives you the scope to appoint a roofing company of your choice for the works, rather than opting for the one that was willing to erect scaffolding.
3. Drone land survey
A land survey often covers a vast area and can take days or weeks to complete. Traditionally, a land survey involves a fair amount of equipment, that often has to be carried over challenging terrain.
A drone land survey, however, can complete aerial mapping of the land using less equipment, time, and money.
Drone land surveys offer surveyors a safer and more efficient means to obtain the accurate data they need.
4. Drone building survey
Similar to a drone roof survey, a drone building survey can quickly and safely inspect the building condition without the need for scaffolding, zooming in on particular areas where needed, such as brickwork, leadwork, or asbestos.
Drone building surveys are an incredibly useful tool for property owners, leasehold tenants, chartered surveyors, consultants, local councils, and religious organisations as the first port of inspection.
This type of survey can be really helpful with the restoration plans of a listed building, repair work on towers and landmarks, the inspection of hard-to-reach structures such as wind turbines, or vast buildings such as retail or industrial sites.
Is drone surveying accurate?
Yes, drone surveying is accurate. It has to be in order to help with planning applications, budgeting for material costs, and assessing land borders.
The accuracy of a drone survey can be narrowed down to +/-1cm. This does, however, depend on the drone being used, along with the accompanying equipment and processing software.
Always look for a drone surveying and mapping company that is fully qualified and insured, such as S4G Drone Services.
FAQs
What is mapping with a drone?
Drone mapping is surveying an area by taking hundreds of aerial images and stitching them together using specialist software to create an accurate image or even a 3D model.
How much area can a drone survey?
Drones can cover huge expanses of land quickly and efficiently.
Most modern drones can cover up to about 100 acres of land on one charge. However, long-range drones will go even further.