Hiring a contractor vs an employee
When you need extra hands on deck, it's good to know there are different ways to recruit people for your trade business. In this post, we look at the benefits and risks of hiring a contractor vs an employee. The best option for your business? We'll present the facts so you can decide.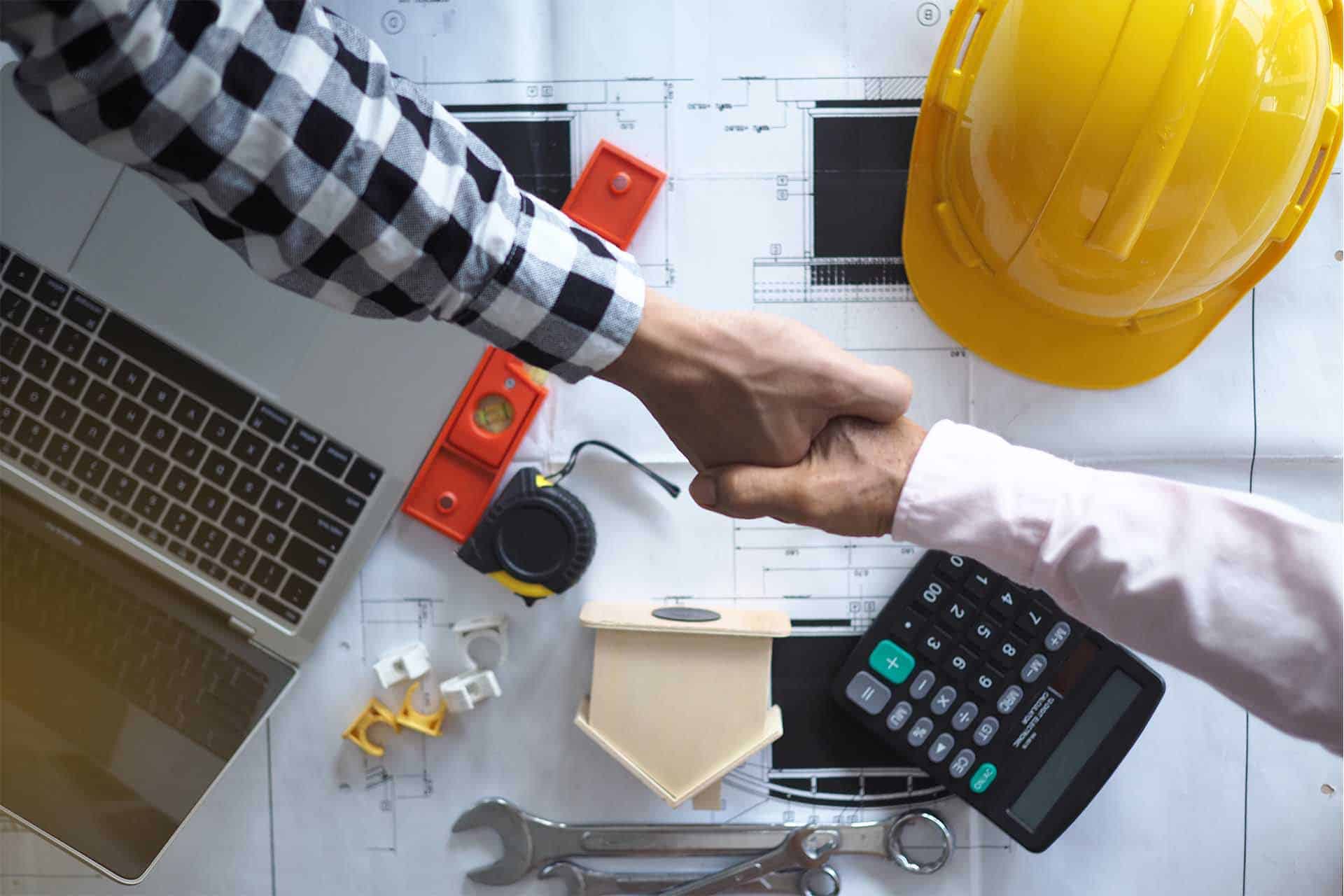 Should I hire employees or contractors?
There's a lot to consider when weighing up the best staffing option for your growing business. Is it best hiring a contractor vs an employee? Which one is most cost-effective, straightforward, and less risky?
It can depend on a number of factors. Let's break it down so you can assess the best solution for your needs.
What's the main difference between an employee and a subcontractor?
An employee has a long-term, permanent commitment to a company as outlined in their employment contract. In return, they must receive and complete work on a regular, ongoing basis.
A subcontractor is either a company or an individual who carries out work for another company as part of a larger project. They have no permanent obligation to that company outside of the project they're contracted for.
Find out more about the differences between labour-only subcontractors (LOSC) and bona-fide subcontractors (BFSC).
Contractor vs employee calculator (UK)
For a fledgling business, in particular, cash flow is really important. It's often cited as one of the top reasons for a start-up failing.
The cost of hiring a contractor vs an employee is understandably going to be one of your key considerations.
Benefits of hiring an independent contractor vs an employee
When making any business decision, you're likely to look at the pros and cons. First, let's look at the case for why you'd hire contractors instead of employees.
1. Access to specialist skills
When you take on a contractor, you get instant access to specialist skills which can strengthen your company's offering and increase efficiency. This can provide the opportunity for you to take on larger projects that might require skills you don't currently have within your business.
2. Greater flexibility
If your work ebbs and flows, or is the type of business that has seasonal fluctuations, a contractor can help to 'plug the gap' without the pressure of an ongoing financial commitment. For example, a landscape gardener might choose to contract more labourers during spring and summer.
Bear in mind, however, that an employee does not necessarily need to be full-time – an employment contract can be for part-time or fixed-term work.
Another benefit of hiring a contractor over an employee is if it doesn't work out, it's much easier to let them go.
3. Less time-consuming
An independent contractor, in particular, will likely be ready to step into work, fully insured, and fully competent from day one.
An employee, on the other hand, might need training and guidance. You'll need to spend time onboarding them, and they may need a health and safety briefing if required for the role.
An independent contractor is responsible for completing the project they're contracted to do to the standard expected. So if a snagging list highlights things that fall within the scope of that contracted work, it's up to them to remedy it, at their expense.
As mentioned above, there are differences between an independent (bona-fide) contractor and a labour-only subcontractor, so make sure you know what you're getting.
When taking on employees, you'll also have the extra work of registering as an employer and running payroll.
Find out more about how to pay employees.
4. More cost-effective
The question, "is it cheaper to employ or contract", is not cut and dry.
If you're looking to plug skills gaps for specific projects, then arguably hiring a contractor could be cheaper than hiring an employee.
If your business is lacking skills that you'll require on an ongoing basis, it might work out more cost-effective to hire a permanent member of staff than paying a premium for contractors over a longer period.
Weighing up the cost of employees vs contractors
Even though an employee might receive a lower hourly rate than a contractor (because they benefit from greater job security and other employee benefits), it will typically cost more to go through the recruitment process to take on an employee than it would be to hire a contractor.
Also bear in mind, an employee's salary is a longer-term commitment, compared with paying one-off project fees to contractors.
As an employer, you also have responsibilities and obligations towards your employees, which add up:
Sick pay
A workplace pension scheme, if applicable
Training costs
Additional employee benefits package
Risks of hiring independent contractors
Now that we've outlined the benefits of hiring an independent contractor over an employee, let's assess the risks of hiring independent contractors.
1. Uncertainty and less control
You're signing up for a degree of uncertainty when you choose to hire a contractor over an employee.
Independent contractors work under their own supervision with their own way of doing things, dictating their own working hours. There's no expectation of loyalty toward your company.
On the other hand, an employee works under your instruction and you can train them to complete tasks the way in which you want them to be done.
After the project ends, there's no guarantee the contractor will be available for more work, which can make it difficult to manage your future commitments and plan your work schedule.
2. Not all contractors are the same
There are two types of subcontractors: labour-only subcontractors (LOSC) and bona-fide subcontractors (BFSC). Bona-fide subcontractors are also referred to as 'independent contractors'.
It's important to understand the difference, and know the status of your hire for the following reasons:
Insurance
If hiring an independent contractor, you must make sure they have their own insurance. Their Public Liability Insurance (PLI) should have a level of indemnity that's not less than your own.
Labour-only subcontractors and employees will not be expected to have their own insurance – you will need to contact your insurance provider to make sure they're covered under your policy.
Health and safety
An independent (or bona-fide) contractor will be responsible for their (and their team's) own health and safety, whereas you take full control over the health and safety training of labour-only subcontractors (and employees).
3. Tax liabilities
Independent contractors are expected to pay their own self-employment taxes and NI contributions.
If they don't, you could be liable for any outstanding debt owed to HMRC. Register for the Construction Industry Scheme (CIS) to mitigate this risk.
Why hire contractors instead of employees
In general, contractors are thought to be the easier and cheaper option for many businesses.
But it doesn't have to be 'one or the other'. You may find that a combination of both options will be beneficial to the needs of your growing business.
In fact, with some trusted employees in the mix, you might actually get to have some time off in the knowledge that your business is still ticking along!
We have two articles you may find useful to help make your final decision:
For tips to find the right subcontractor, how to create a subcontractor agreement, how to verify a subcontractor, and working out how much to pay them.
For a handy checklist for hiring employees, including hiring temporary staff, processing payroll, and red flags to help spot 'bad employees'.
FAQs
Why is it legally necessary to distinguish between employees and independent contractors?
It is necessary to distinguish between employees and independent contractors to make sure both sides understand their legal rights and responsibilities. Getting this wrong could see you in breach of IR35 tax legislation.
Why do companies choose contractors instead of employees?
Companies choose contractors instead of employees because it can be a more cost-effective way of bringing specialist skills into a business for certain projects without the long-term commitment of taking on permanent members of staff.