How to recycle scrap metal for the best price
This post will share how to recycle scrap metal for the best price, and cover the rules and regs you need to be aware of before you convert your metal into money.
In this article, we'll cover:
Recycling scrap metal will not only earn you some extra money, but it's also much better for the environment.
The energy it takes to recycle scrap metal vs using new materials is significant. Plus, recycling scrap metal reduces the volume of waste that goes to landfill.
In a world of increasingly climate-conscious people, disposing of your scrap metal responsibly could help to give your business an edge with potential new customers. It's also just the right thing to do!
Where to recycle scrap metal
To recycle scrap metal legally, head to a licensed scrap metal yard, such as EMR.
If you're a Checkatrade member, then you'll get a way better deal with EMR. Checkatrade members get an extra £50 per tonne for non-ferrous metals and an extra £15 per tonne on ferrous metals at any UK EMR scrap metal yard.
You can open an account on arrival at the scrap yard, or save time by doing it online in advance.
Before visiting your local scrap yard, make sure your scrap metal is separate from non-metallic items, for example, plasterboard, wood, and aggregates.
Next, sort your scrap metal into:
Ferrous metals, e.g. iron and steel. Generally speaking, if it's magnetic, it's classed as ferrous.
Non-ferrous metals, e.g. aluminium, copper, brass, household cable, lead, stainless steel, and zinc. Basically, everything that's not magnetic.
Waste electricals, e.g. power tools.
Scrap metal rules and regulations
The Scrap Metal Dealers Act 2013 forces all scrap metal buyers to ask for proof of identity with a photo ID.
It's illegal to pay for scrap metal in cash. A scrap metal dealer can only pay for your scrap metal by electronic transfer or cheque.
What documents do you need to sell scrap metal?
To sell scrap metal at a scrap yard, you will need to:
Verify your identity with a photo ID, e.g. a driving licence or passport.
Show proof of your residential address, e.g. a bank statement or utility bill. The Scrap Metal Dealers Act 2013 states that dealers must check your proof of address every three months.
The simplest way to tick both boxes is to show your UK driving licence.
Some scrap yards can cash your payment cheque on-site. If you want to use this service, you'll need to take additional proof of address.
How much is scrap metal worth?
Metal is a commodity, therefore the price of scrap metal fluctuates with the worldwide markets.
Some metals will fluctuate in price more than others. To give an idea of the variance in the value of different metals:
Heavy steel and cast iron was worth £0.22/kg in October 2021.
Heavy copper was worth £6.30/kg in April 2022.
Aluminium was valued at £0.80/kg in March 2022.
To get the best price for your scrap metal, especially something such as copper, clean it up and make it as pure as possible, i.e. remove any additional materials.
When you take your scrap metal to a dealer, they will grade and weigh it and calculate the price based on the current market value.
It's often best to phone a selection of local scrap yards to get a price comparison before you visit. Checkatrade members get special rates with our partners over at EMR.
Scrap metal price calculator
For a ballpark figure, use this scrap metal price calculator to find out how much your scrap metal is worth per kilo before visiting your scrap yard.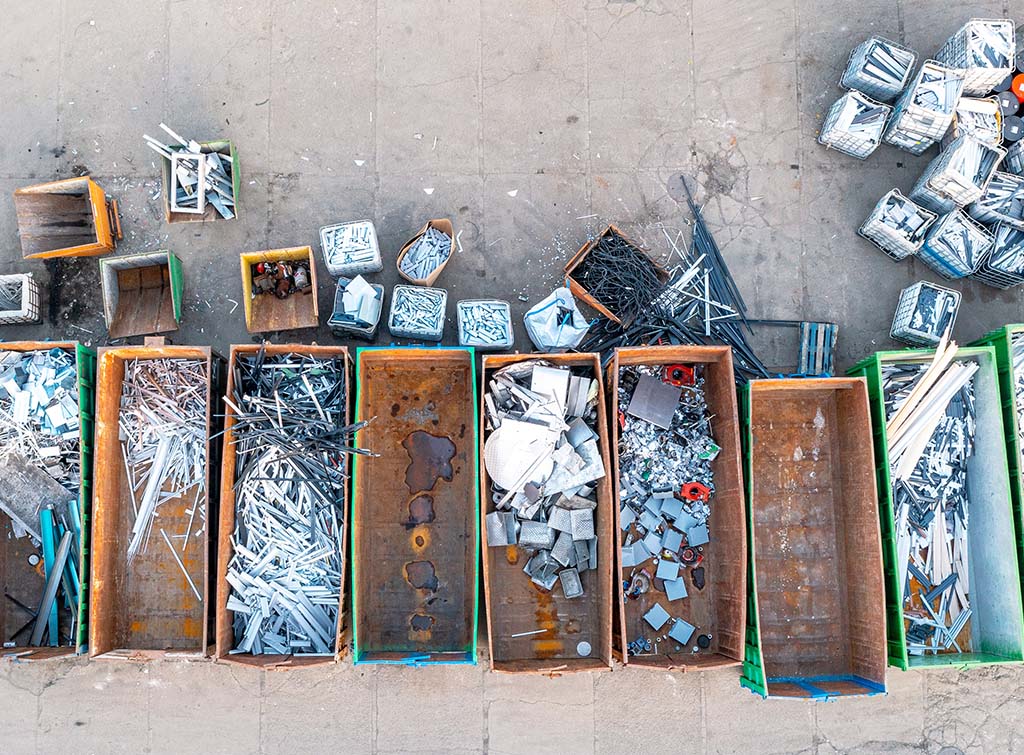 Quick summary
Recycling scrap metal is a great way to earn extra money and is better for the environment than using new materials.
To sell scrap metal, you must go to a licensed scrap metal yard and show proof of ID and residential address.
It's illegal to trade scrap metal for cash. A dealer must pay you via electronic transfer or cheque.
Before going to a scrap metal yard, sort your metal into ferrous and non-ferrous materials.
Your scrap metal will be graded and weighed and you'll be given a price based on the current market value.
FAQs
What scrap metal is worth the most money?
The scrap metal that's worth the most money is Copper.
Is it legal to collect scrap metal?
To trade scrap metal you must, by law, have a licence from your local council. The Scrap Metal Dealers Act 2013 aims to clamp down on rogue traders, and gives authorities new powers to inspect premises where they suspect illegal activity.
Under this act, scrap metal dealers must verify the name and address of the seller and make payment via electronic transfer or cheque only – no cash.
Do you have to pay tax on scrap metal?
Yes. Just like any other form of income, you must pay tax on the scrap metal you sell.