Seasonal workwear options for tradespeople
With the seasons turning, you might be wondering what that means for your workwear. Here, we look at some tried and tested seasonal workwear options for trades.
In this article, we'll cover:
The leaves are falling from the trees and the days are getting shorter. But what does that mean for you in terms of your workwear?
Workwear should keep you safe and comfortable no matter what the weather or season. To help you make sure your work clothes are appropriate for the time of year, we've taken a look at some tried and tested seasonal workwear options. Enjoy!
Why is workwear for different seasons important?
Adapting your workwear for different seasons is really important for trades. Here are the two main reason why:
1. Safety
First things first, it's important to stay safe at work, no matter what the season. But different seasons can come with different hazards.
For instance, the shorter days in winter or the fog in spring might call for extra hi vis workwear. Similarly, hazards don't disappear in summer, so it's important for trades to keep all their PPE in use without the risk of overheating.
2. Comfort
Investing in work clothes that are appropriate for the temperature and weather will allow you to stay comfortable while you're working.
For example, you're likely to need more waterproof clothing to counter the wet weather in winter and spring if you work outdoors. Likewise, in summer, you'll need lightweight, breathable clothing that can help to keep you cool in hot weather.
Winter workwear
During winter, you'll often be dealing with short days and cold, blustery weather. When you're considering what workwear would be appropriate, remember to take into account whether you'll be working indoors or outdoors, and whether you need PPE like hi vis workwear.
As a general rule, it's best to dress like an onion for winter. In other words, layer up! Usually, it's recommended to aim for at least three layers – a base layer, a mid-layer and an outer layer.
Winter work jackets and winter work coats
Winter work jackets and coats are the ideal top layer. In general, you'll need something warm that's also safe, lightweight and functional so that you can move around and get the job done with ease.
When you're buying a winter work coat, think about your typical work environment. For instance, will it mainly be used outdoors? Will you be on-site at night? You can get winter work jackets that double up as hi vis jackets so that you're both warm and visible!
One great example of a winter work jacket is the Result Work-Guard Sabre Pilot Jacket from Workwear Giant. It's waterproof, windproof and micro fleece-lined making it both warm and comfortable. Plus, it has reflective piping for safety.
Winter work trousers
Winter work trousers should provide both protection and warmth. But they'll also need to practical for whatever job you're carrying out – that probably means you'll want to find a pair with plenty of pockets, holders and straps for all of your tools.
Not only that, but you might find you're more comfortable in workwear trousers with stretch. These allow you to move dynamically, which can make it even easier to get the job done.
Just remember to consider the conditions and what level of hi vis clothing you might need. For instance, it might be that hi vis or waterproof trousers are the most sensible for the work you're undertaking. You can also get waterproof overtrousers like the Regatta Linton Waterproof Overtrousers from Workwear Giant – these can be really useful if you want to be prepared for wet weather without having to spend the whole day in waterproof clothing.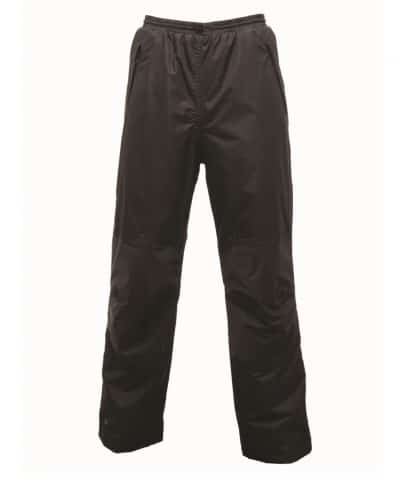 Winter work boots
If you're working outdoors in winter, the chances are you'll want waterproof work boots.
Waterproof boots are usually naturally warm. However, to keep your feet especially toasty, we'd recommend choosing boots with thick insulated soles. You should also wear wool socks underneath.
Just make sure that you don't wear multiple pairs of socks and squeeze your feet into your boots. This will squeeze the air out – and usually, it's the trapped air that keeps your feet nice and warm!
Wool hats or liners
Studies have shown that you lose between 20% and 50% of heat through your head. So, you can see why it's important to invest in a good wool hat or liner if you're working in winter – and particularly if you're working outdoors.
If you work in construction, you can also wear your wool hat or liner under your hard hat, so that you don't compromise on warmth or safety.
The Result Lightweight Thinsulate Hat from Workwear Giant is a great option if you're looking for something warm but thin and lightweight. You can even get it in fluorescent yellow or orange if you're concerned about remaining visible!
Summer workwear
In summer, you might be dealing with heatwaves. It can be tempting to do away with some elements of PPE when it's hot – like gloves – but if you need them, don't skip them. Hazards don't just disappear in summer. Plus, remember that you can claim the cost of PPE as a business expense, so it's worth investing in weather-appropriate PPE!
Similarly, bear in mind that the best summer workwear for women might at times be different from the top picks for mens summer workwear. After all, one of the most important aspects of safe workwear is that it fits the wearer properly. Our guides to the best best women's workwear and the best men's workwear can help.
Here, we'll take a look here at some summer workwear that can help you to stay cool as well as comply with safety standards.
Summer workwear tops
When you're looking for summer workwear tops, you'll need something lightweight and breathable. A light cotton t-shirt could do just the trick. However, there are also lots of brands that are innovating in fabric technology and have created t-shirts that can wick moisture away from the body.
If you're in need of hi vis summer clothing, there are lots of short-sleeved hi vis t-shirts and polo shirts on the market, which will allow you to remain compliant with safety standards without overheating. For instance, the Portwest Hi-Vis Two Tone Polo Shirt from Workwear Giant is both smart and comfortable.
You can also customise it with your logo to help you increase brand awareness and gain new leads – head to our guide on embroidered workwear to find out more.
Summer workwear shorts
Shorts are a summer workwear staple! They're naturally cooler and less restrictive than trousers, but it's still important to look for features that will help you to move dynamically, like a stretch waistband. Plus, make sure your shorts offer the same practicality as your work trousers, like pockets, belt loops and straps.
When it comes to practical and comfortable workwear shorts, we love the Result Work-Guard Action Shorts from Workwear Giant. They feature an expandable waistband, plenty of pockets and a hammer loop.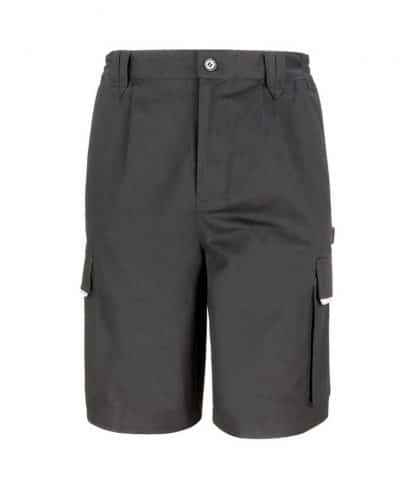 Summer cap
If you're going to be working outdoors in summer, you'll need to protect yourself from the sun. So, you'll need a cap!
The best caps for trades are likely to be lightweight. Some caps even have mesh panels, which can help to keep your head cool and wick moisture away. A cap that can be customised with your company's branding is a must as well.
The Beechfield Organic Cotton Trucker Cap from Workwear Giant is a great example. It's lightweight, comes in a range of colours and can be easily customised with your logo.
Spring workwear
As an in-between season, it can be tempting not to give much thought to your spring workwear. However, your workwear will be just as important during spring as in winter or summer.
In particular, we'd recommend wearing layers. Spring is one of those tricky times of the year where it could be warm and sunny or it could be chilly and rainy. In fact, in the UK, you can expect a lot of those famous spring showers!
By layering up, you can be prepared for every eventuality. Some useful items to invest in include:
A fleece or hoodie
A softshell or waterproof jacket
Moisture-wicking boots
Autumn workwear
Similarly to spring, your autumn workwear will need to be versatile enough to see you through those warmer 'end of summer' days as well as those chillier times that feel almost like winter. So, layers are a must again!
However, you'll also need to consider that as you head into autumn, the days are getting shorter. It's vital that you don't get caught out, as visibility can quickly become an issue if you're working outdoors. In fact, according to HSE, workers are more likely to have an accident in the low-light conditions of October through to January than at any other time of year – so think about your hi vis clothing carefully.
A few items you should consider investing in include:
A waterproof jacket
A body warmer
A fleece or hoodie
Lined trousers
Slip-resistant safety boots
FAQs
What is the best work clothes for hot weather?
A lightweight t-shirt and shorts are often thought of as the best clothes for hot weather. Remember to wear a cap and suncream too if you're working outdoors.
What should I wear to work on a summer day?
Trades should wear clothes that are comfortable, practical and cool. However, it's important not to do away with PPE during hot weather as hazards don't just disappear in summer. You might want to consider investing in a hi vis lightweight t-shirt so you can stay cool and safe at the same time.
Is polyester bad for hot weather?
Yes. It's generally best to avoid polyester during hot weather as it's made from plastic fibres and isn't breathable. Although it wicks moisture and dries quickly, it does also tend to retain bad smells.